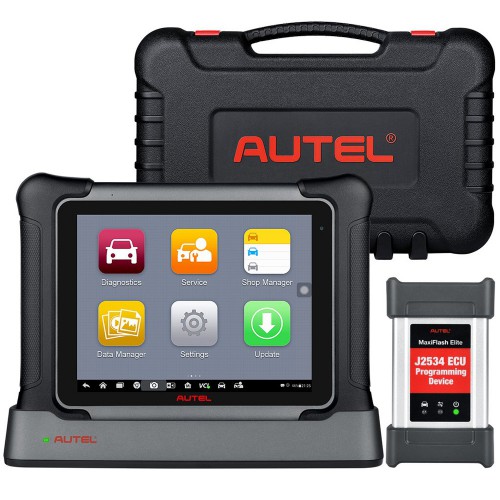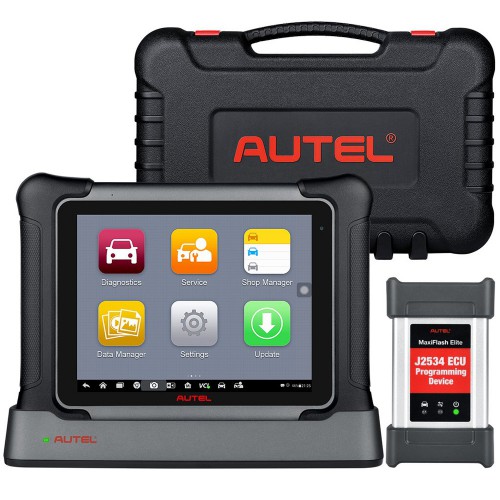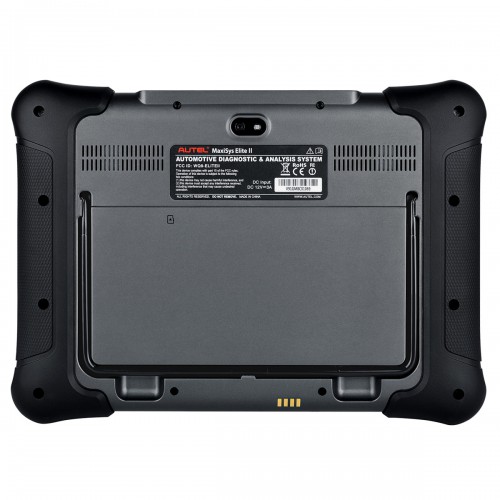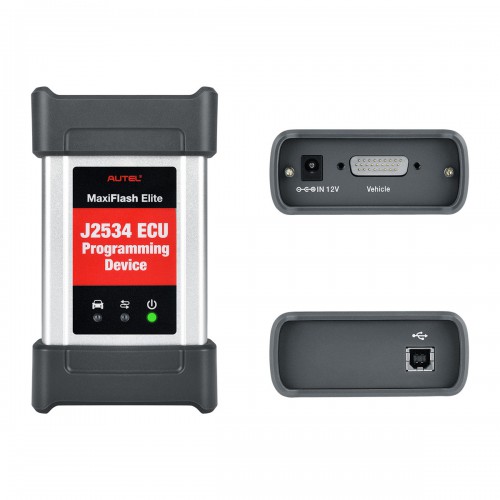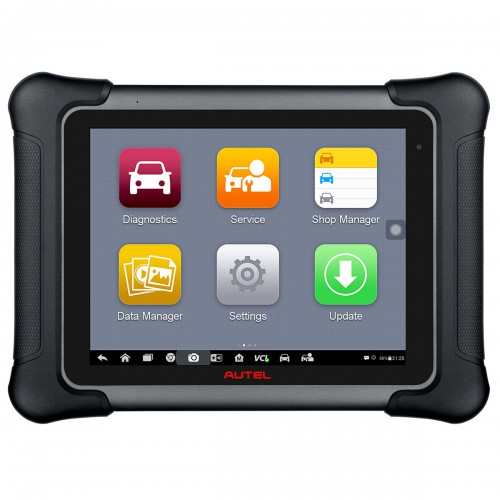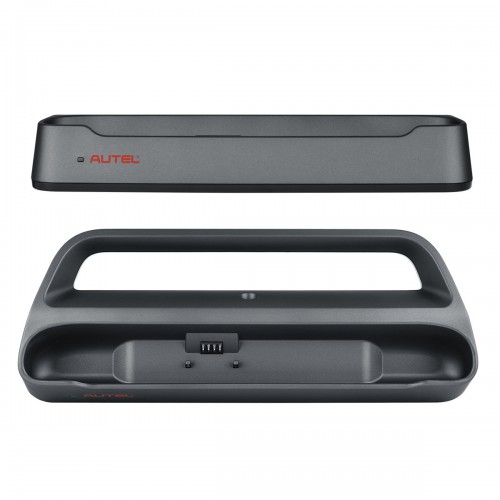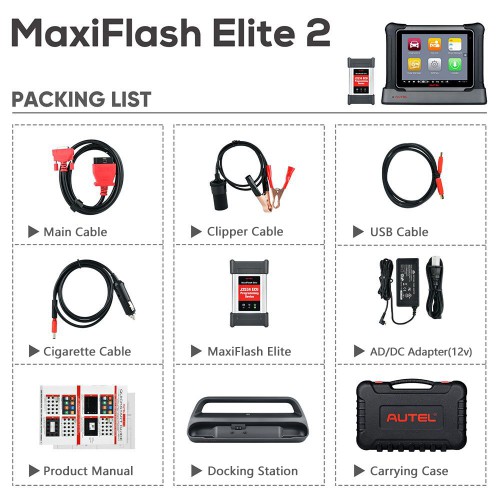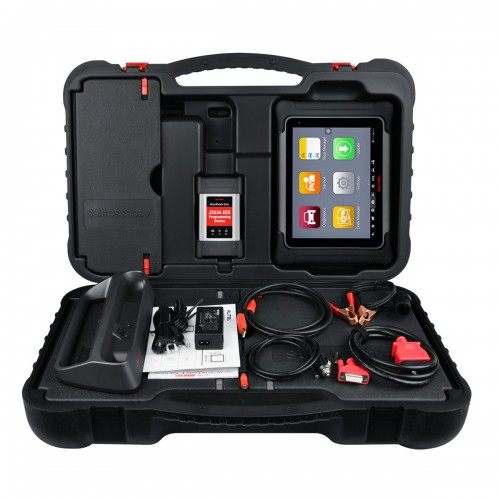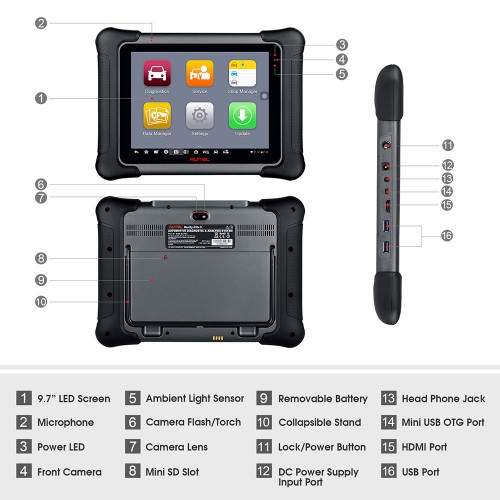 2022 Autel Maxisys Elite II Automotive Full Systems Diagnostic Tool with J2534 ECU Programming
Autel Maxisys Elite II is a latest version of the Maxisys Elite series, that upgraded from Autel Maxisys Elite. It improves hardware and software, same hardware as MS909, Adds more expansion functions, replacing the exsiting software/ firmware in the ECUs, programming new ECUs for BMW and Benz, ADAS, oscilloscope, GPS, Support MaxiFix cloud service, etc
Shipping:

Express Shipping Service


Estimated delivery time: 3-15 Days.

See details »

Returns:

Return for refund within 7 days,buyer pays return shipping.

Read details »

Support:
Product Details

Product's Reviews
Autel Maxisys Elite II OBD2 Diagnostic Scanner Tool with J2534 Programming
Autel Maxisys Elite II is a latest version of the Maxisys Elite series, that upgraded from
Autel
Maxisys Elite. It improves hardware and software, same hardware as MS909, Adds more expansion functions, replacing the exsiting software/ firmware in the ECUs, programming new
ECU
s for
BMW
and
Benz
, ADAS, oscilloscope, GPS, Support MaxiFix cloud service, etc .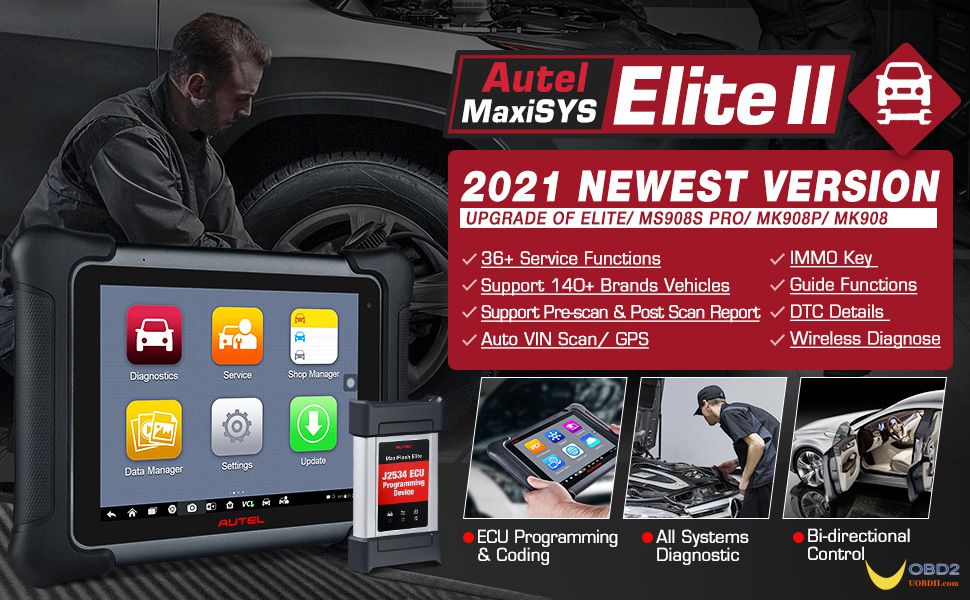 What's New in Elite II?A. Hardware and software platform upgrade, a new operating experience
1. Samsung Exynos8895 8 core hardware platform.
2. Equipped 5M/16M camera.
3. Equipped 4G/128G super memory.
4. Equipped 15400mAh battery
B. Support more expansion functions, easy to manage various repair scenarios
1. Battery detection (BT506)
2. Support ADAS calibration, oscilloscope, GPS
C. Support MaxiFix cloud service, efficiency enhancement at your fingertips
1. Support Remote expert service, RealFix, SMS.
2. Device management/report management, data on the cloud without fear of loss
What Makes Autel Maxisys Elite II "Elite"?1. Full System Diagnosis & Full OBDII functions
Using the additional OEM software, the Maxisys Elite II can be used as a Pass-Thru diagnostics tool as well, which allows users to read and clear Diagnostic Trouble Codes (DTCs) and data log PIDS, collect sensor data and log generic OBDII data, etc.
Similar to many Autel scan tools, the Autel Maxisys Elite II can perform all the OBD II test modes. These include the latest powertrain diagnostic data, freeze frame data, emission diagnostic trouble codes, emissions diagnostic data, oxygen sensor monitoring test results, onboard monitoring tests, VIN, and many more
2. 36+ Advanced functions & Online Programming
Maxisys Elite II diagnostic scanner comes with 36+ service functions, such as ABS Brake Bleeding( also for VAG cars), SRS Reset, SAS Calibration, Oil Reset, EPB, BMS, injector coding, DPF, Throttle Body, etc to meet your various needs. Online Programming is available on Maxisys Elite II.
3. Extensive vehicle coverage & Extra Vehicle Adapter
Maxisys Elite II is one of the most extensive diagnostic scan tools with complete system coverage for more than 80 US domestic, European, and Asian vehicle makes and models.
Even though it is an OBD II Scanner, it as well works on some OBD 1 vehicles. Some of the famous car brands that this scan tool is compatible with include GM, FORD, Chrysler, Audi, TOYOTA, Nissan, HONDA, BMW, Benz, Chevrolet, etc.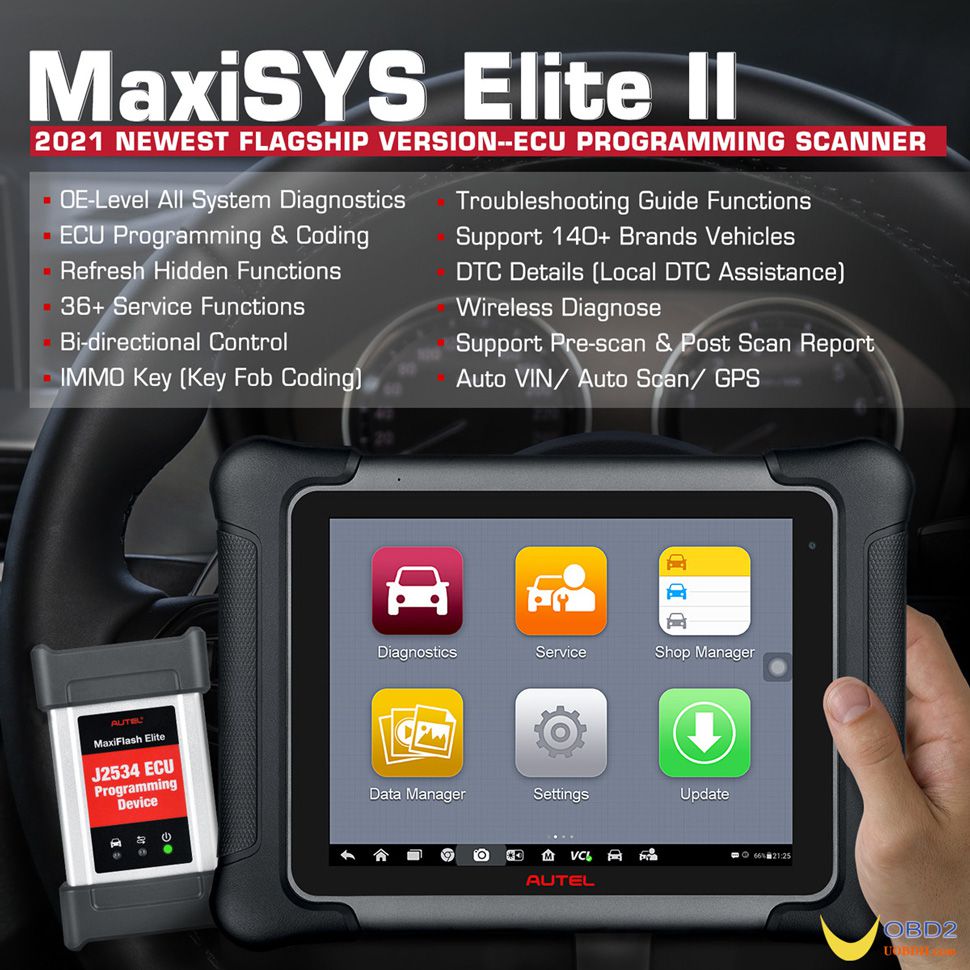 Autel Maxisys Elite All System Diagnosis:
1. I/M Readiness, O2 Sensor Monitor, On-Board Monitor, Vehicle Information and Vehicle Status
2. Retrieve and display
ECU
information of tested control unit, including unit type, version numbers and other specifications;
3. Read all kinds of
DTC
s from vehicle's control systems to locate problem areas and offer possible solutions;
4. Erase the codes easily after
DTC
s retrieving and certain repairs have been carried out;
5. Live data of each parameter item displayed in analog, text, waveform graph, digital, or full screen display modes;
6. Active test used to access vehicle-specific subsystem and component tests.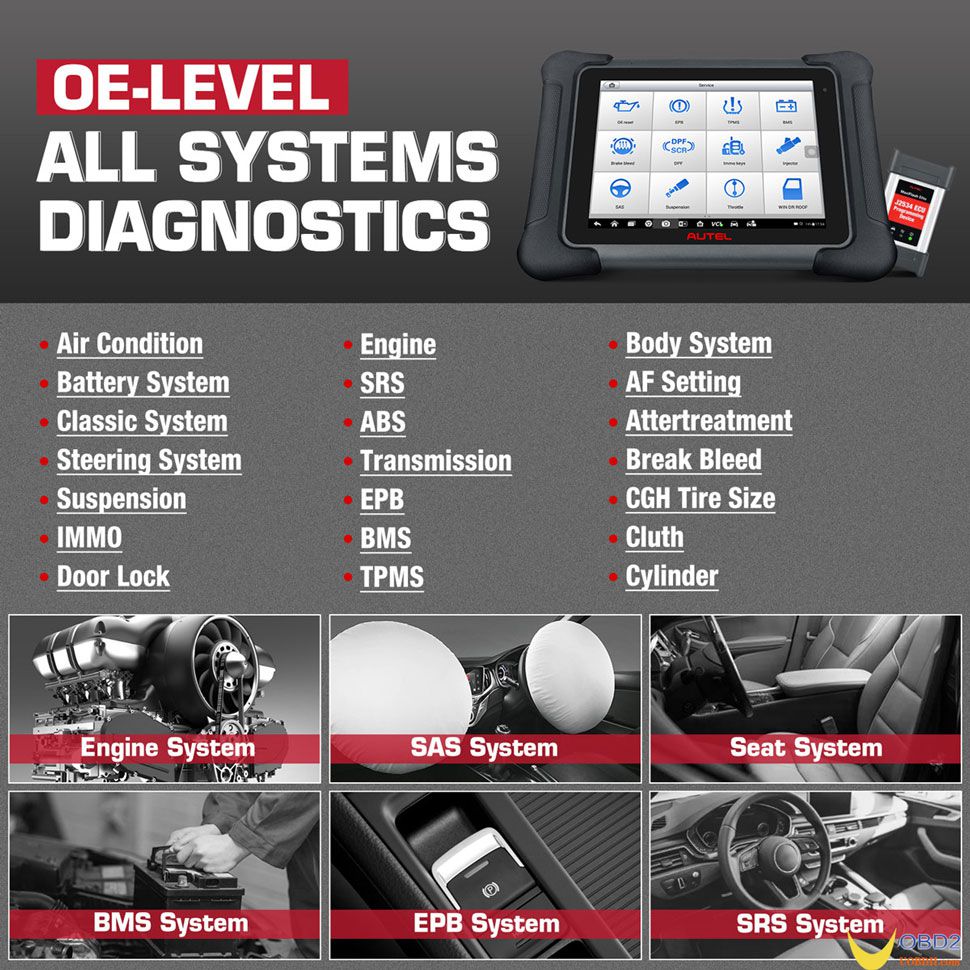 Autel Maxisys Elite Special Functions:1. Oil Reset Service:
To reset the Engine Oil Life system, which calculates an optimal oil life change interval depend on the vehicle driving conditions and climate. The Oil Life Reminder must be reset every time the oil is changed, so the system can calculate when the next oil change is required.
2. Tire Pressure Monitor System (TPMS) Service:
allows you to look up the tire sensor IDs from the vehicles
ECU
, as well as to perform
TPMS
programming and reset procedures after tire sensors are replaced.
3. Electric Parking Brake (EPB) Service:
Deactivating and activating the brake control system, assisting with brake fluid control, opening and closing brake pads, and setting brakes after disc or pad replacement, etc.
4. ABS/SRS Services:
To perform various bi-directional tests to check the operating conditions of both the Anti-lock Braking System and the Supplemental Restraint System, such as Automated Bleeding, Pump Motor Test, and checking Module information, etc.
5. Steering Angle Sensor (SAS) Service:
Allowing you to perform calibration for the Steering Angle Sensor, which permanently stores the current steering wheel position as the straight-ahead position in the steering angle sensor
EEPROM
. On successful completion of the calibration, the steering angle sensor fault memory is automatically cleared.
6. Diesel Particulate Filter service (DPF):
Designed to perform the regeneration procedure which is the DPF cleaning operation to clear the blockage through continuous burning of the particulate matter captured in the DPF filter. If the DPF light on the vehicle comes on and you successfully complete a DPF regeneration cycle, you will notice that the
DPF
light will automatically turn off.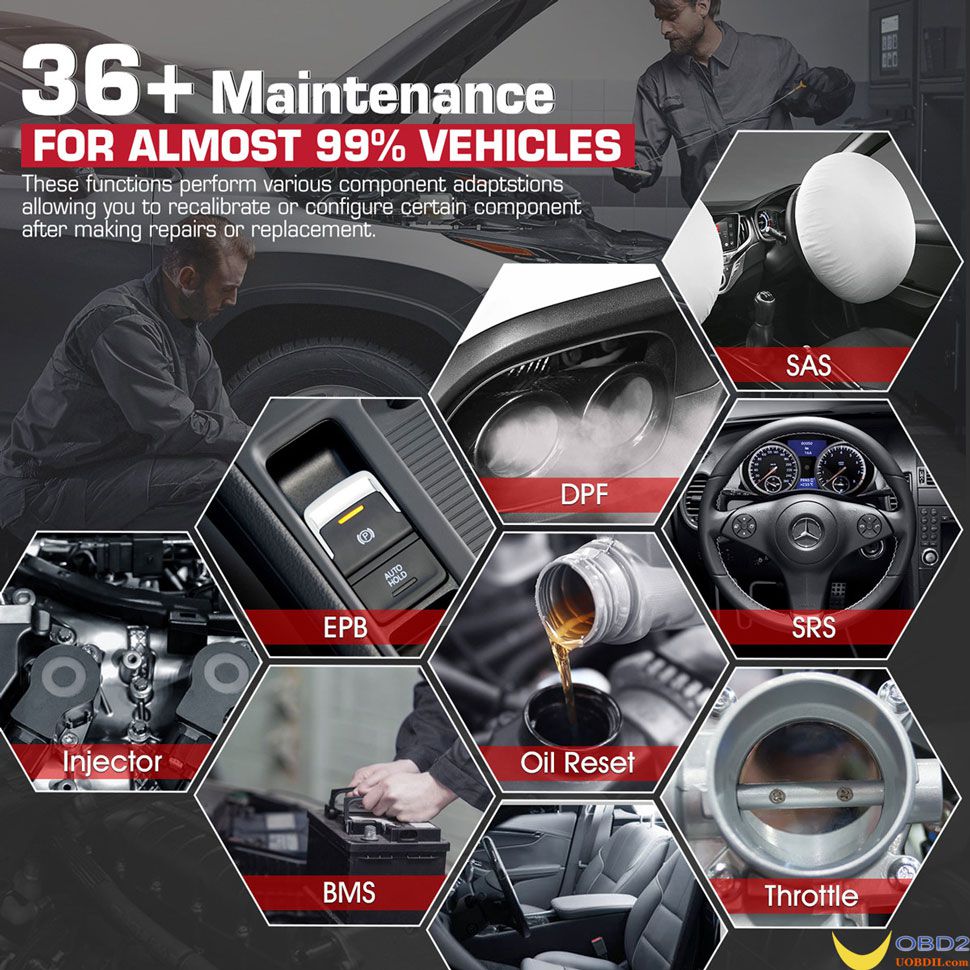 Autel Maxisys Elite II Online Programming

Maxisys Elite diagnostic tool come with Autel MaxiFlash Elite which allows it to process online ECU programming on Benz and BMW vehicles. This is the most advanced and valuable function for many mechanics and professional DIYers. Just do it as instructed, you will find it is easy to fix the complex problem with the guidance.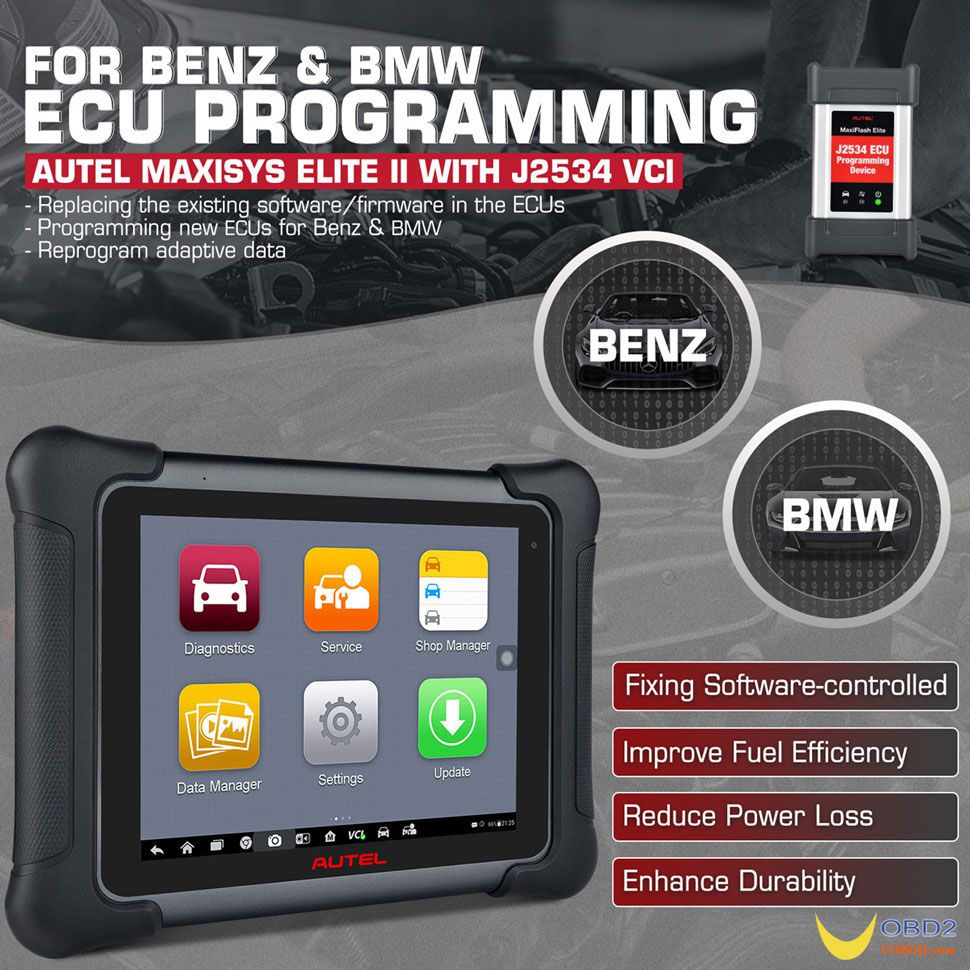 Autel Maxisys Elite II Vehicle Coverage:

The Latest Maxisys Elite II support almost 90% vehicles all around the world. These multi-functions perform various componet adaptions allowing you to recalibrate or configure certain componet after making repaires or replacement.

1) Supported Vehicle List: Audi, BENZ, BMW, DACIA, EU FORD, AU Ford, FORD, Holden, LANDROVER, MINI, OPEL, Peugeot, RENAULT, SEAT, SKODA, VW, VOLVO, SMART,?Jaguar, BENZ SPRINTER, SAAB, FIAT, ABARTH, LACIA, ALFA ROMEO, VAUXHALL, MAYBACH, BENTLEY, BUGATTI, Porsche,GM, Chrysler, FORD,SUZUKI,?KIA, DAWEOO, ISUZU, TOYOTA, SUBARU, SCION, Nissan, MITSUBISHI, LEXUS, INFINITI, Hyundai, HONDA, ACCURA, MAZDA.

2) Supported Protocols: ISO 9142-2, ISO 14230-2, ISO 15765-4, K/L lins, Flashing Code, SAE-J1850 VPW, SAE-J1850 PWM, CAN ISO 11898, Highspeed, Middlespeed, Lowspeed and Singlewire CAN, GM UART, UART Echo Byte Protocol, HONDA Diag-H Protocol, TP 2.0, TP 1.6, SAE J1939, SAE J1708V

Autel MaxiSys Elite vs Autel MaxiSys Elite II vs MaxiSys MS909
Hardware Comparison:
Item
Autel MaxiSys Elite
Autel MaxiSys Elite II
Maxisys MS909
CPU
Nvidia T40S

(4*A15 1.8G)

Samsung Exynos8895 8 Core (

4*M2 2.3G +

4*A53 1.7G)

Samsung Exynos88958 Core (

4*M2 2.3G

+ 4*A53 1.7G)

EMMC
32GB/64GB
/64GB
/64GB
DDR
2GB
4GB
4GB
Android

System

Android4.4
Android 7.0
Android 7.0
LCD

9.7 inch

2048*1536

9.7 inch

2048*1536

9.7 inch BOE

1536×2048

Battery
15400mAH
15400mAH (Elite)
15000mah
Power
(9V, 2A) / (12V, 3A)
(12V, 3A)
(12V, 3A)
TP
10
10
5
Front camera
2M
5M
5M
Rear camera
8M
16M
16M
Microphone connector
1Mic
1Mic (Elite)
1Mic
WiFi module
wifi5
wifi5
Dual wifi5
Docking station
Yes
Yes
No
GPS
No
Yes
Yes
Battery tester
No
Optional BT506
Optional BT506
VCI
MaxiFlash Elite
MaxiFlash Elite
MaxiFlash VCI
Software Function Comparison:
Item
Autel MaxiSys Elite
Autel MaxiSys Elite II
MaxiSys MS909
Immobilizer
IMMO Function
No
No
No
Diagnostic
Test Plan
Benz BMW VW Audi Jaguar Land rover
Benz BMW VW Audi Jaguar Land rover
Benz BMW VW Audi Jaguar Land rover
DTC description (Help)
Benz BMW VW Audi Ford TOYOTA Nissan Honda
Hyundai Land rover Jaguar Peugeot Citroen
Benz BMW VW Audi Ford TOYOTA Nissan Honda
Hyundai Land rover Jaguar Peugeot Citroen
Benz BMW VW Audi Ford TOYOTA Nissan Honda
Hyundai Land rover Jaguar Peugeot Citroen
Fault code

guidance

No
No
Benz BMW VW Audi GM (Cruze)
Technical Bulletin
No
No
Benz BMW VW Audi Ford Chrysler GM Honda
Toyota Jaguar Land rover
DTC analysis
No
No
Benz BMW VW Audi Chrysler Ford GM Nissan
Toyota Honda Land rover Jaguar
Repair case
No
No
Benz BMW VW Audi Chrysler Ford GM Nissan
Toyota Honda Land rover Jaguar
Topology
No
No
Ford Chrysler Nissan Land rover Jaguar Honda
Porsche Toyota Benz Hyundai
Calibration
ADAS
Yes
Yes
Yes
Battery test
No
Yes
Yes
Oscilloscope
Yes with MP408
Yes with MP408
No
MaxiFix
Shop Manager (SMS)
Yes
Yes
Yes
Remote Expert service
No
Yes
Yes
Digital Vehicle Diagnostic Report
Yes
Yes
Yes
---
Autel Maxisys Elite II Tablet Display: