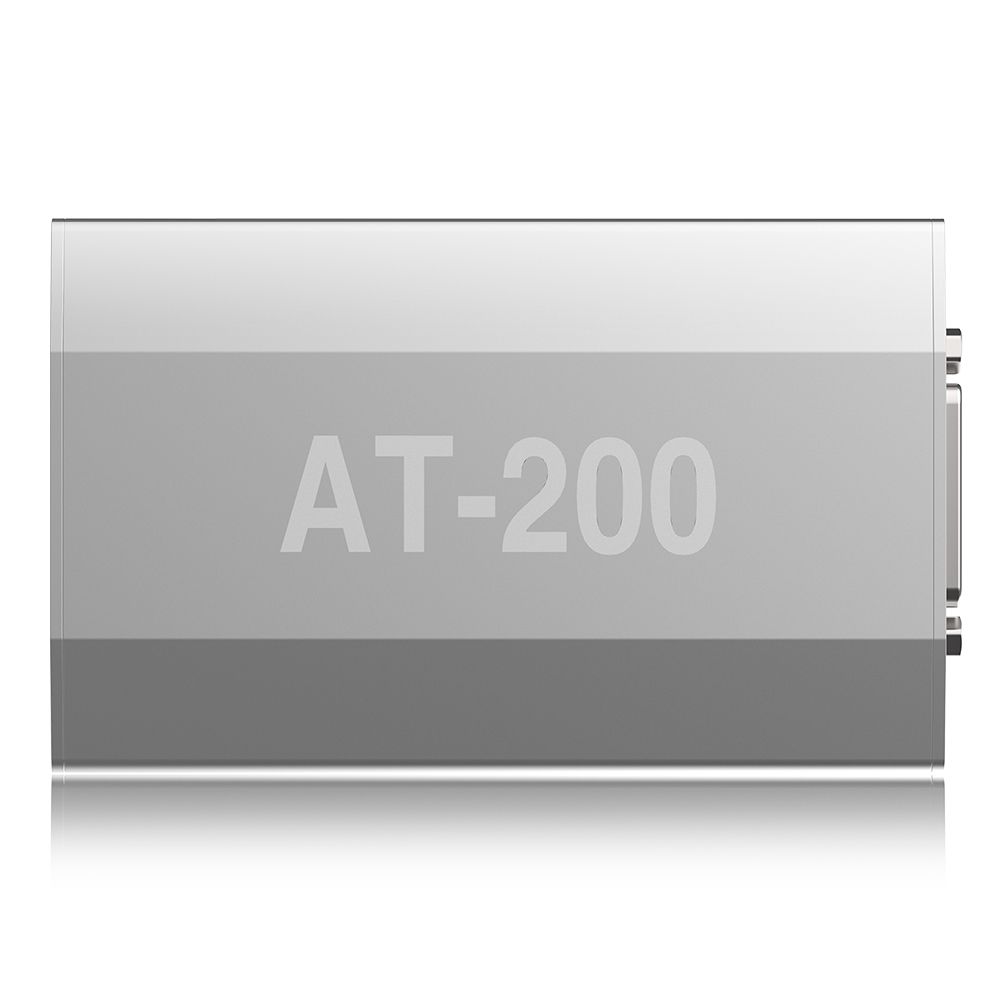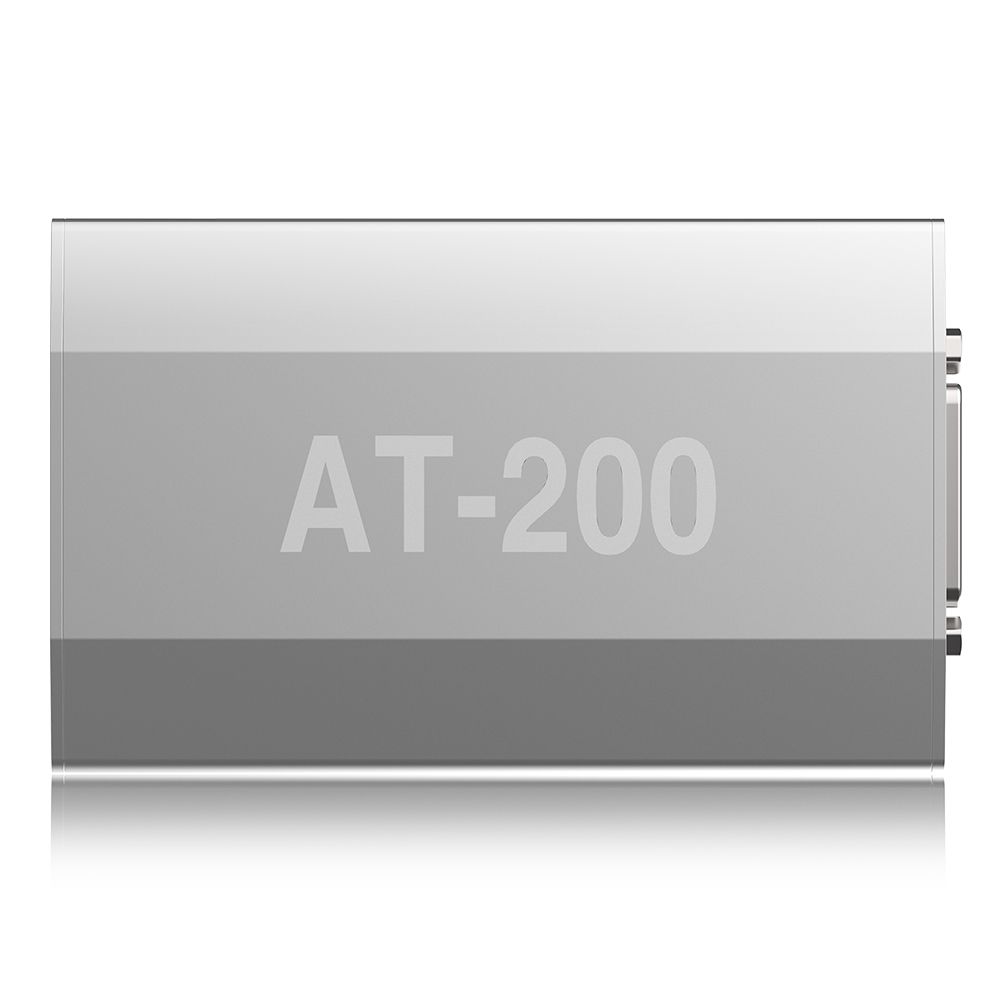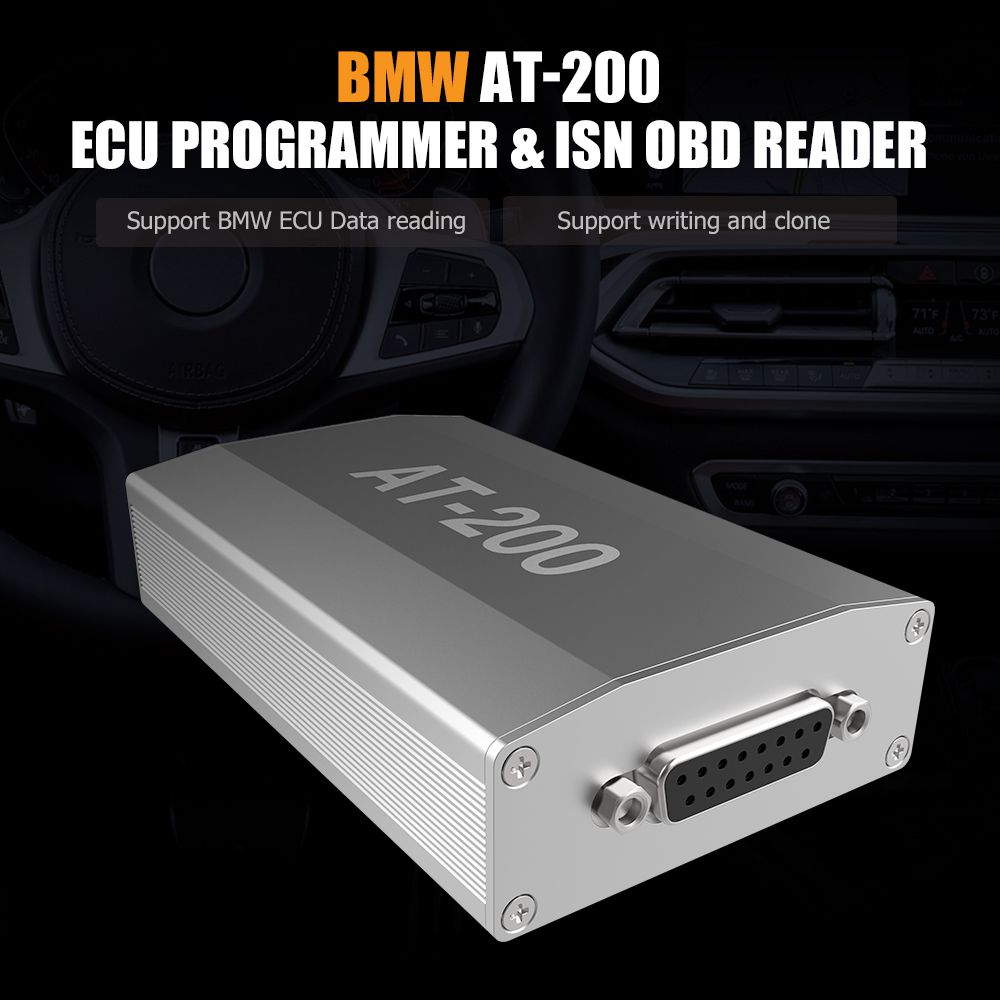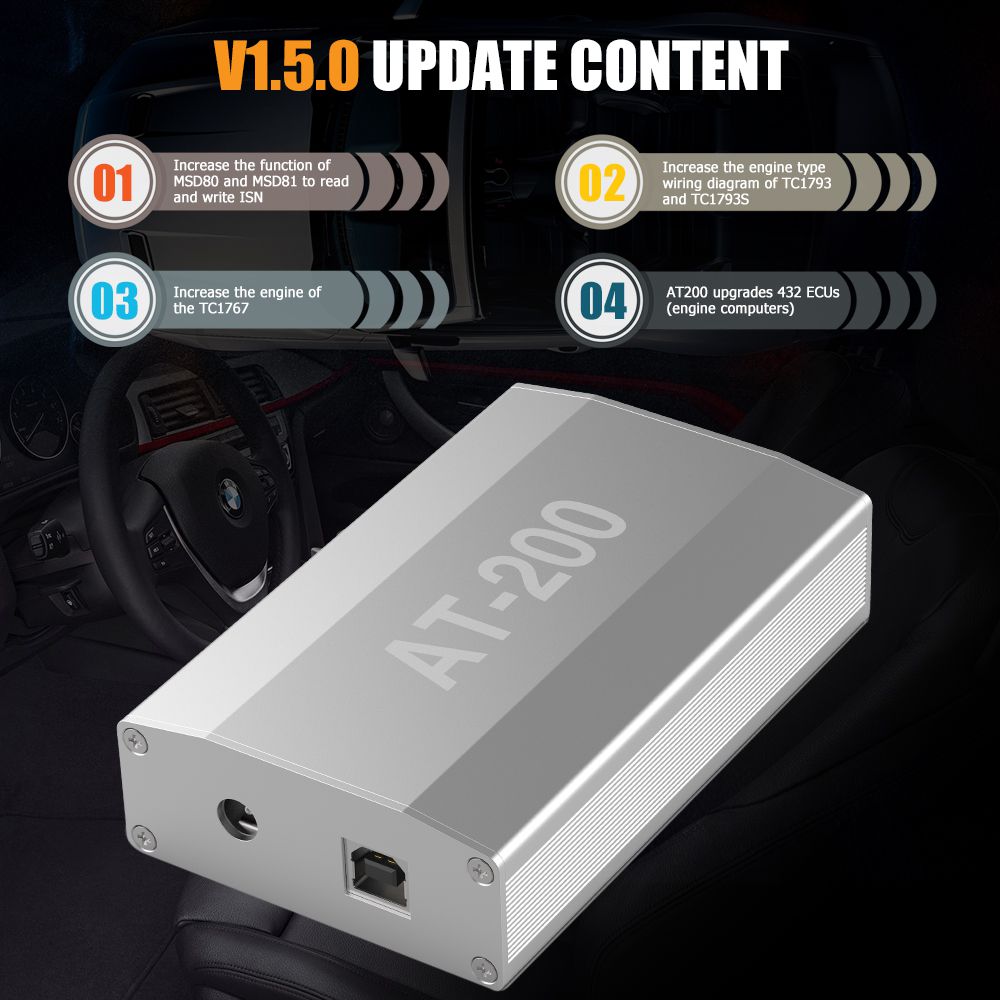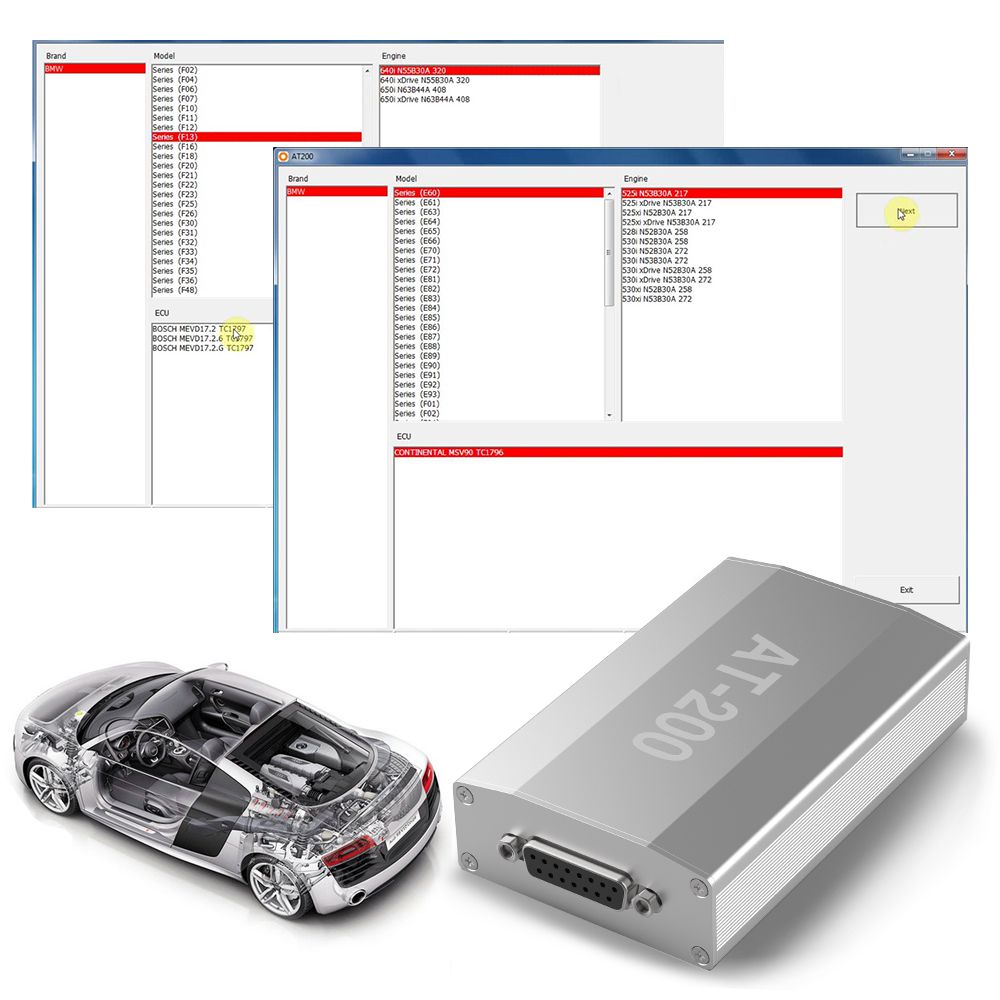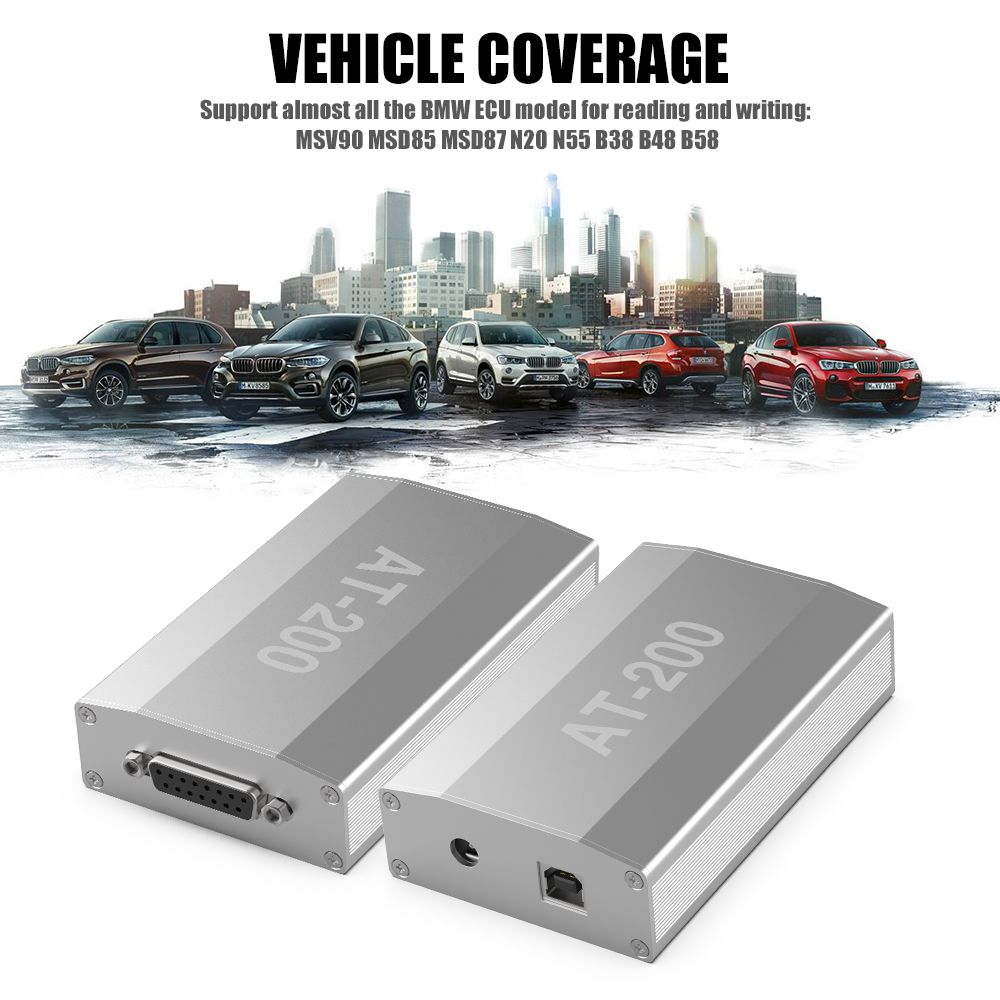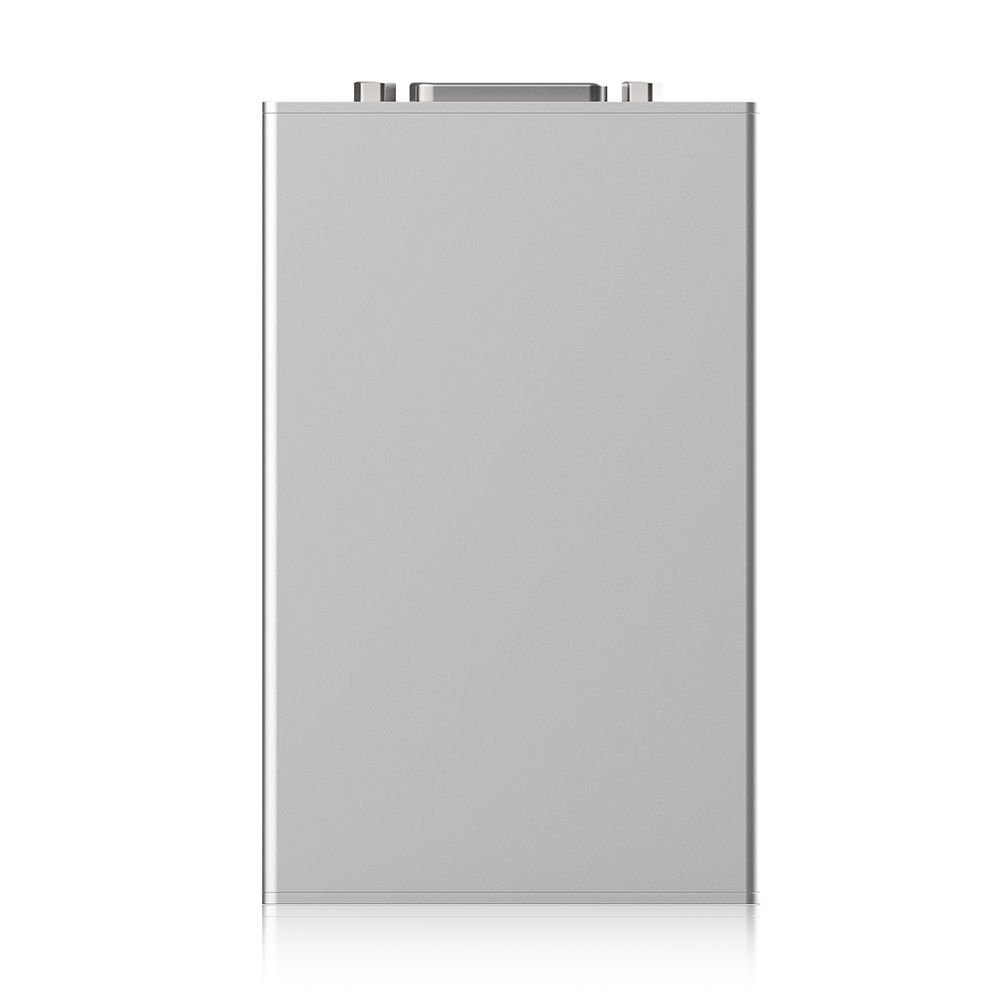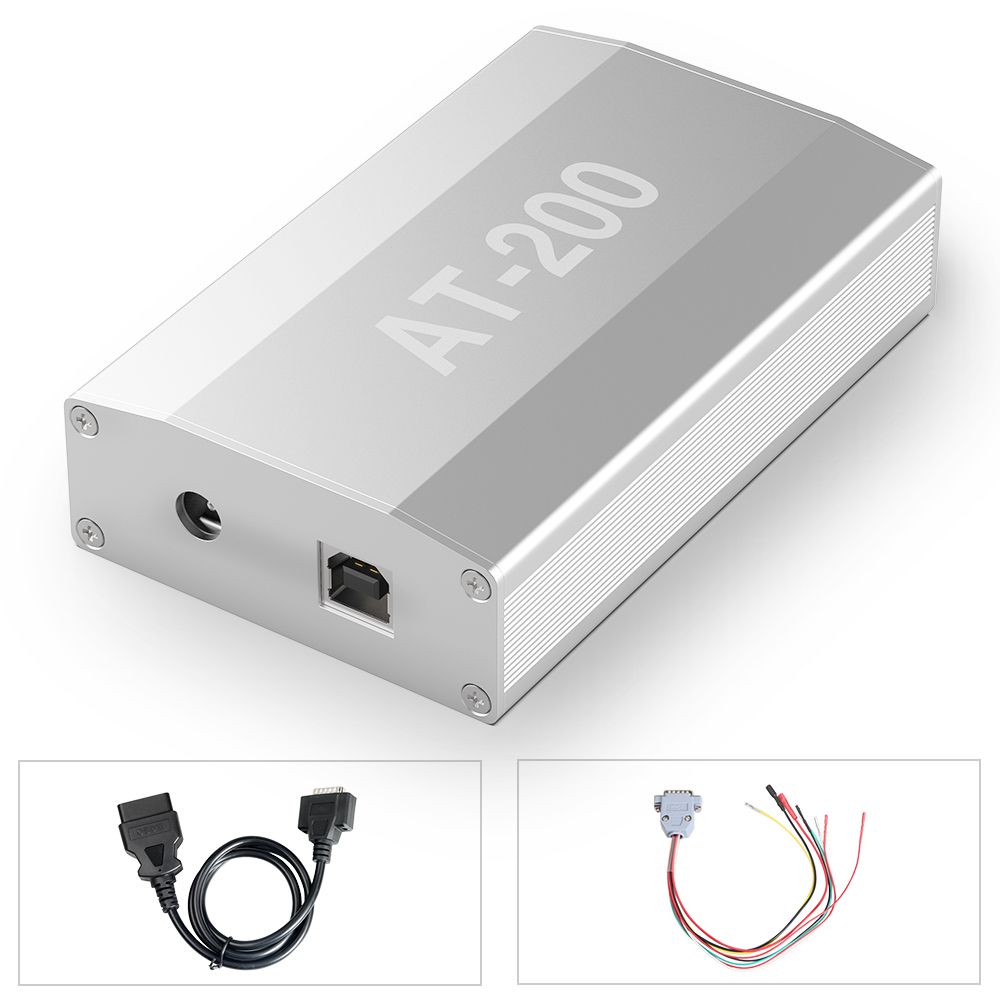 BMW AT-200 AT200 V1.6.1 ECU Programmer & ISN OBD Reader Support MSV90 MSD85 MSD87 B48 etc
BMW AT-200 support BMW ECU Data reading, writing and clone, like MSV90 MSD85 MSD87 N20 N55 B38 B48Support BMW IMMO functions, read BMW ISN Code by OBD. With free update online, AT-200 now not only support BMW ECU but also cover over three thousands of ECUs like KTAG.
Shipping:

Free Shipping

Airmail Post


Estimated delivery time: 7-45 working days.

See details»

Returns:

Return for refund within 7 days,buyer pays return shipping.

Read details »

Support:
Product Details

Product's Reviews
BMW AT-200 ECU Programmer & ISN OBD Reader

Top 5 Reasons to Get BMW AT-200:
1. Auto ECU Programmer for repair necessary--Support BMW ECU Data reading, writing and clone.
Effectively solve the problem of replacing the second-hand computer after the damage of BMW
ECU
control unit, just need to read the original computer data and then clone it.
Support almost all the BMW
ECU
model for reading and writing: MSV90 MSD85 MSD87 N20 N55 B38 B48
Successfully make up the market for BMW ECU reading and writing equipment, save you high equipment costs.
2. Auto Locksmith necessary-Support BMW IMMO functions, Read BMW ISN Code by OBD
Quickly solve the problem for data collection of bmw
all key lost
.
With more stable and efficient unremovable functions.
If you want to do
all key lost
for BMW 3 Series 5 Series 7 Series X5 X6 GT535 Six-cylinder engine, must need ISN code to program the keys.
3. Can be used together with Yanhua Mini ACDP, CGDI BMW , Xhorse VVDI, AP and other equipment to program keys, and save your money.
(The cost of similar equipment is very expensive).
4. With stable and effictive functions by professional quality test. and easy to operate and quick to start.
5. Will add Mercedes-Benz 271 Audi Volkswagen 06J and other ecu types in next updates.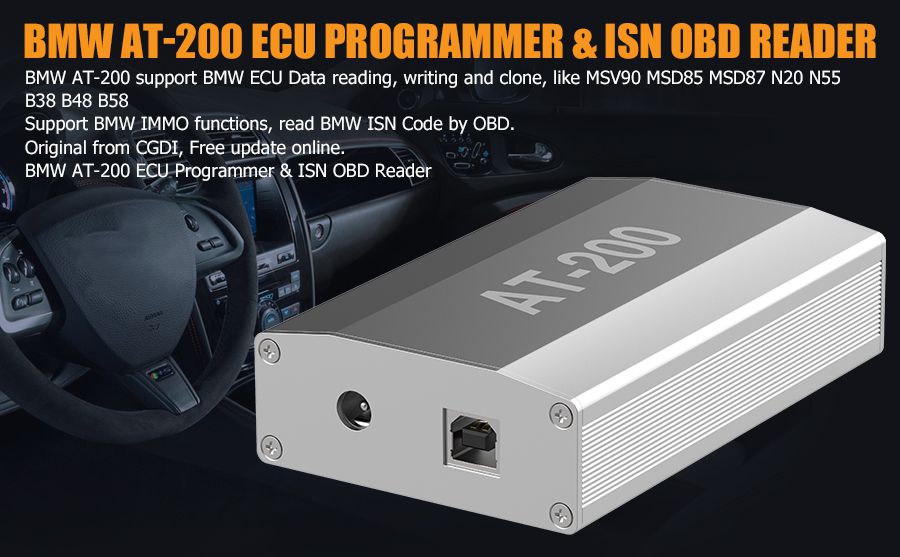 BMW AT-200 Update Information:

AT200 V1.6.1 Update (2019-11-19):
1. Added MSV80 read ISN, write ISN, Backup Data and Restore Data
2. Added MSD80/D81/D85/D87/MSV90 write ISN
3. Added the engine type of the TC1766:
Alfa Romeo,
Audi
, BMW, Citroen, Dacia,
Dodge
, Ford,
Hyundai
, Indian, Kia, Lada, Lancia,
Nissan
, Mini,
Opel
,
Peugeot
, Polaris,
Renault
,
Saab, Sea Doo,
Seat
,
Skoda
,
Subaru
, Suzuki, Toyota, UAZ, Vauxhall,
Volkswagen
(
VW
)
Kindly note these three authorizations are PAID service:
Mercedes SIM271 Read/Write Data
: 299USD
BMW MSV80 Read/Write Data and MSD80/MSD81/MSD85/MSD87/MSV80/MSV90 Write ISN together
: 229USD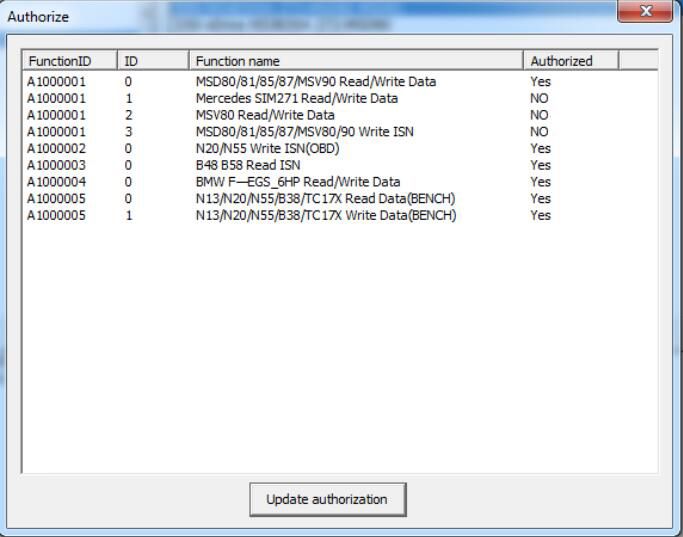 AT-200 Stunning V1.5.0 Upgrade (Set 11th, 2019)
Note: Update online
AT-200 Stunning V1.4.0 Upgrade (Aug 27th, 2019)
BMW AT-200 Software V1.4.0 Free Download
1. Upgrade B38 read and write ISN copy clone
2. Upgrade 1272 car series + ECU
3. Support
Mercedes
-
Benz
/BMW/
Audi
/Off-road vehicles/
Porsche
and more
4. Support MSN90/N20/N55/N13/MSD85/MSD87, BMW 7 Series 6HP VGS clone and BWM ISN code reading, including B48 B58 F Series/N20 /N55 /B58 /MSV90
BMW AT200 Newest Update Note v1.3.1(08.21.2019)
For V1.3 Newly Add Vehicle List, please check AT200 V1.3 Version Newly Add Vehicle List
Support data cloning of 1272 different ECU
Support
Mercedes Benz
, BMW, Audi,landrover,porshe etc .
Support data clong of MSN90 N20 ,N55,N13,MSD85 MSD87, BMW7 series 6 HP VGS, and suppoet ISN code reading of BMW including B48 F series, N20, N55, B58, MSV90,B48 etc. The best price and amazing cost effective.
BMW AT-200 Software Latest Version: V1.3.0!!!
1. Add function for N13 N20 N55 Platform mode read ISN;
2. Optimized B48 read ISN function;
3. EGS_6HP Increased programming status judgement.
When you update BMW AT-200 to V1.3.0 and newer, please change the diagram connection as below: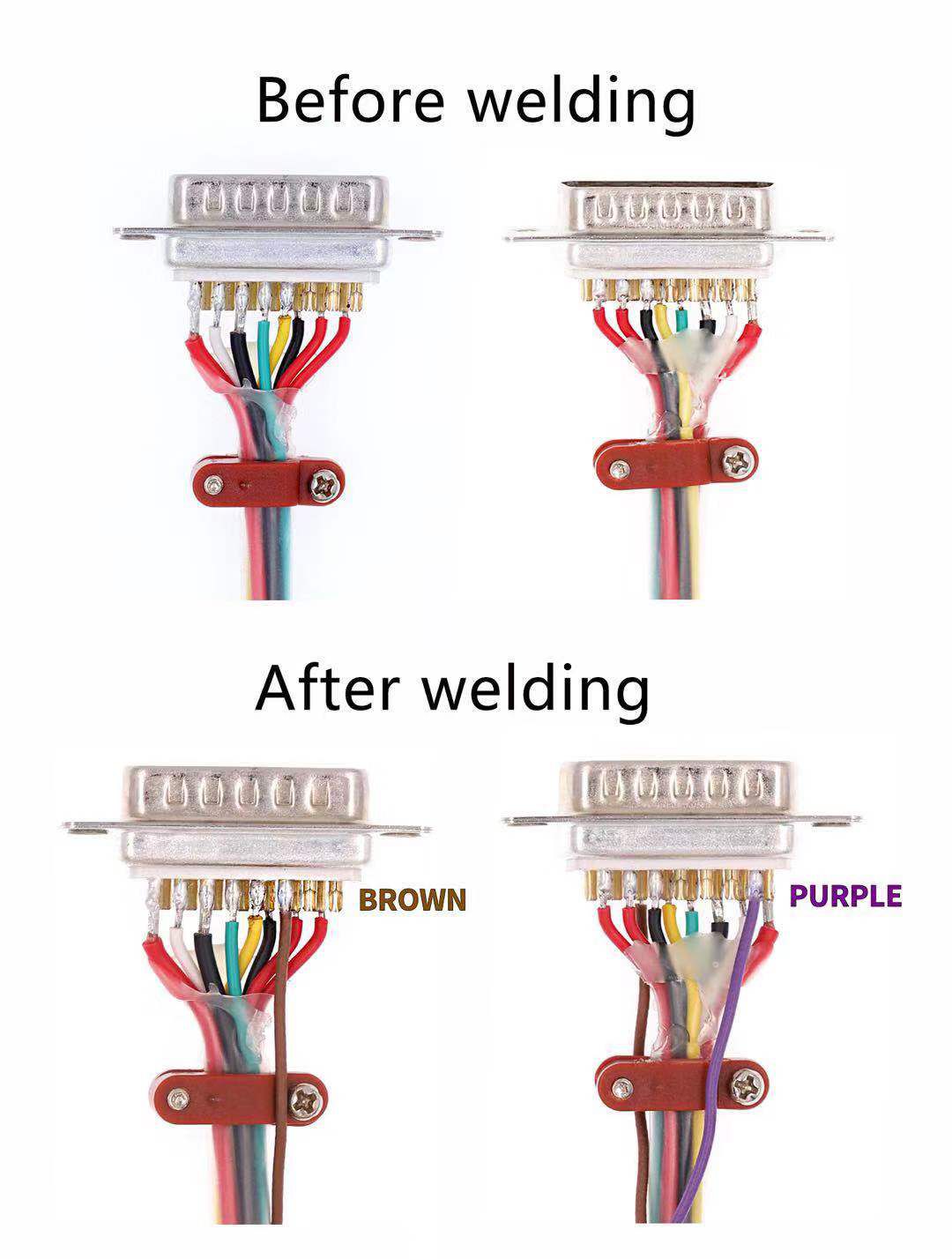 BMW AT-200 Software Display: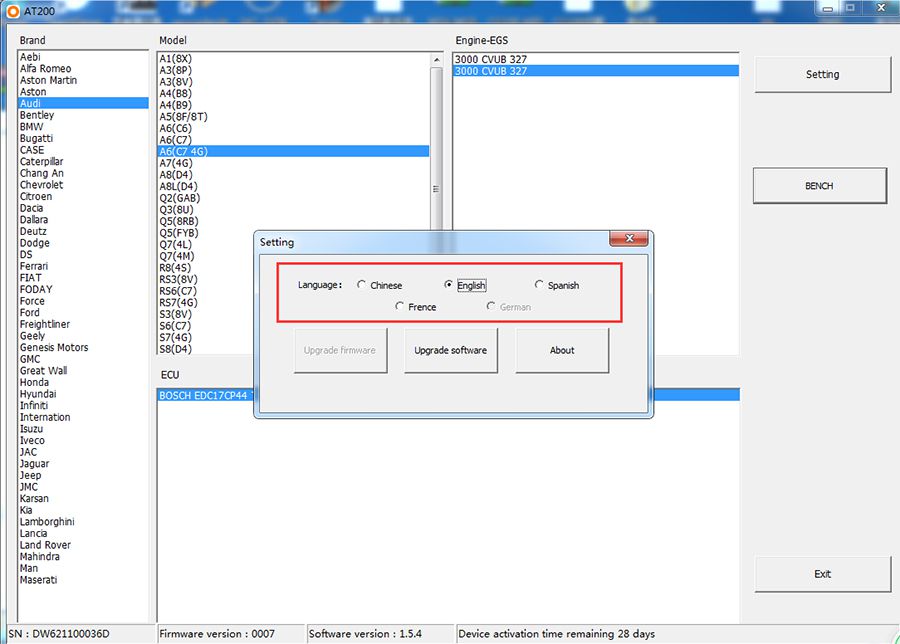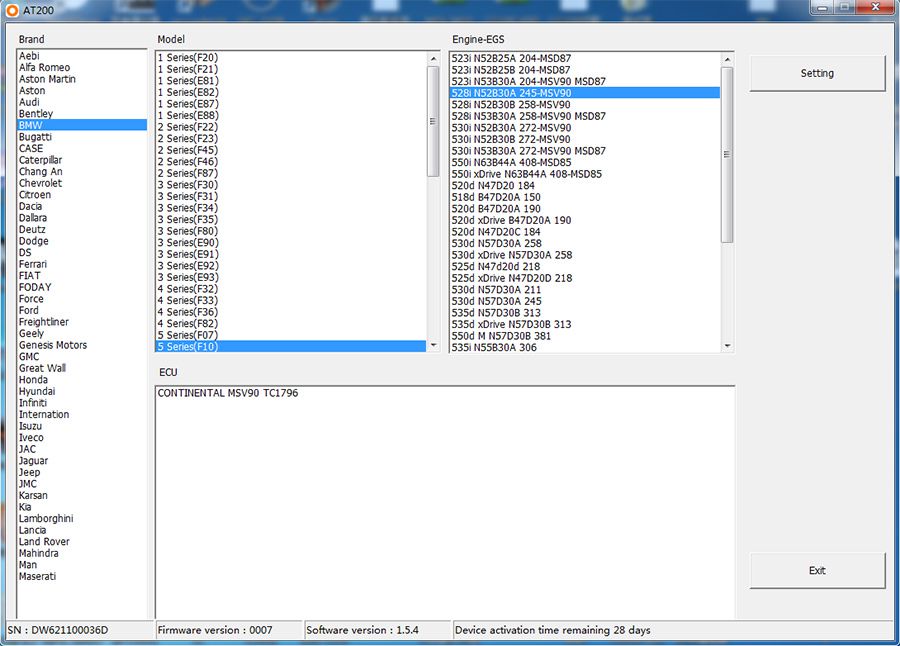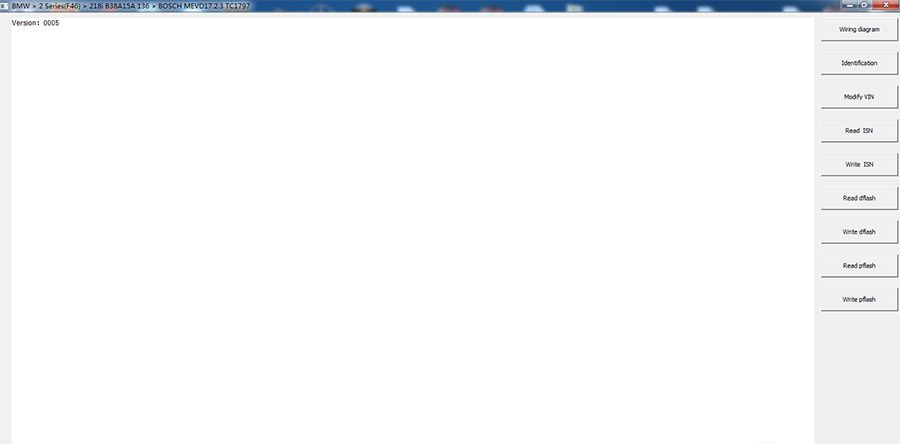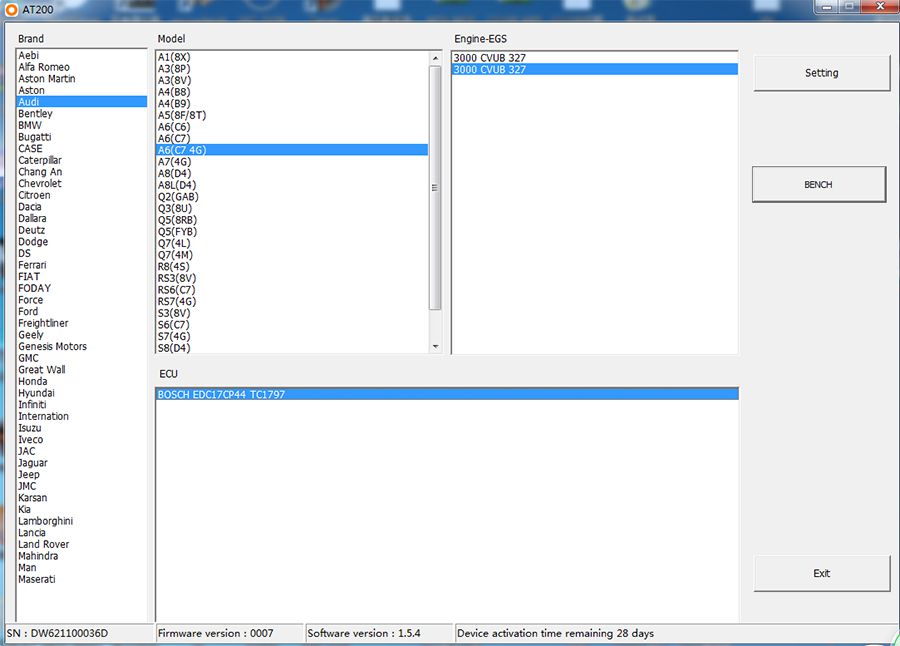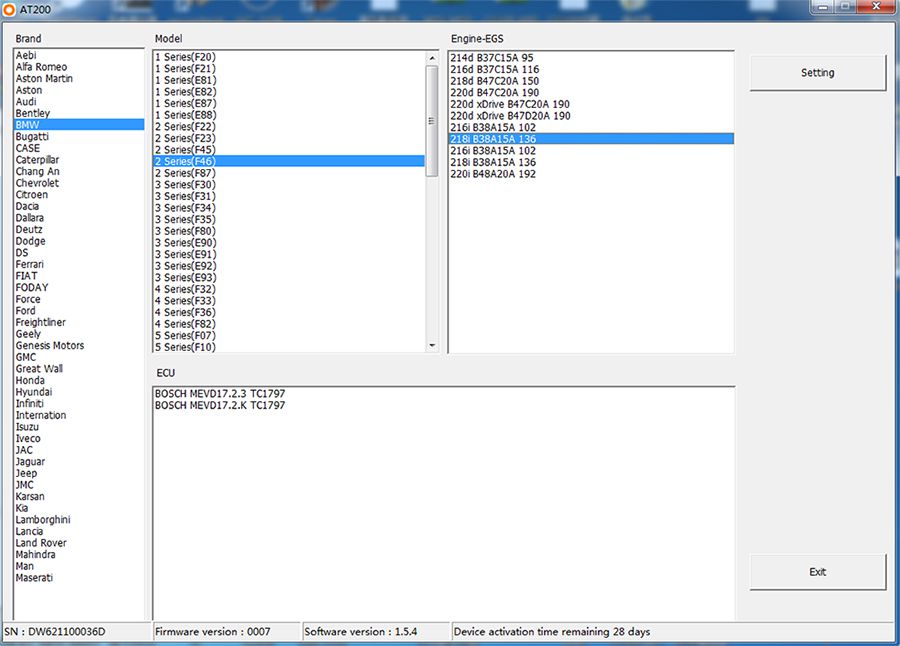 BMW AT-200 Support ECU List with V1.5.0 Version:
TC1793
Car
Name
Series
Engine
ECU
ECU
Alfa Romeo
4C
960
1750 TBI 960.A1.000 240
BOSCH MED17.3.3
Giulia
952
2900 Twin Turbo 670050436 510
BOSCH MED17.3.5
2200 Multijet 55266388 150
BOSCH EDC17C69 ver3
2200 MUltijet 55266388 136
BOSCH EDC17C69 ver3
2200 MUltijet 55266388 209
BOSCH EDC17C69 ver3
Giulietta
940
1750 TBI 960.A1.000 240
BOSCH MED17.3.3
2000 JTDM 2 940.B4.000 175
BOSCH EDC17C69 ver1
Stelvio
-
2900 Twin Turbo 670050436 510
BOSCH MED17.3.5
Aston
Vantage
IV
4000 M177 510
BOSCH MED17.7.5
Audi
A3
8P
1400 TFSI e-tron CUKB 150
BOSCH MED17.1.21
A4
B9
2000 TFSI quattro CPMB 220
BOSCH MED17.1.10
2000 TFSI quattro flexible fuel CPMB 220
BOSCH MED17.1.10
2000 TFSI 190
BOSCH MED17.1.10
A5
8F/8T
2000 TFSI quattro CPMB 220
BOSCH MED17.1.10
2000 TFSI quattro flexible fuel CPMB 220
BOSCH MED17.1.10
A6
C7
3000 TDI 218
BOSCH EDC17CP54
3000 TDI quattro 218
BOSCH EDC17CP54
A7
4G
3000 TDI 313
BOSCH EDC17CP54
3000 TDI Ultra
BOSCH EDC17CP54
Q5
8RB
2000 TFSI quattro CPMB 220
BOSCH MED17.1.10
2000 TFSI quattro flexible fuel CPMB 220
BOSCH MED17.1.10
Q7
4M
3000 TDI CRTD 272
BOSCH EDC17CP54
3000 TDI Ultra CRTE 218
BOSCH EDC17CP54
3000 TDI Ultra CZZA 218
BOSCH EDC17CP54
BMW
all bikes
-
all engines
BOSCH ME17.2.4
1
F20
116i B38B15A 109
BOSCH MEVD17.2.3
118i B38B15A 170
BOSCH MEVD17.2.3
F21
116i B38B15A 109
BOSCH MEVD17.2.K
118i B38B15A 170
BOSCH MEVD17.2.K
2
F22
218i B38B15A 136
BOSCH MEVD17.2.3
220i B48A20A 192
BOSCH MEVD17.2.3
218i B38B15A 136
BOSCH MEVD17.2.3
220i B48A20A 192
BOSCH MEVD17.2.3
F23
218i B38B15A 136
BOSCH MEVD17.2.K
220i B48A20A 192
BOSCH MEVD17.2.K
218i B38B15A 136
BOSCH MEVD17.2.K
220i B48A20A 192
BOSCH MEVD17.2.K
F45
216i B38A15A 102
BOSCH MEVD17.2.3
BOSCH MEVD17.2.K
218i B38A15A 136
BOSCH MEVD17.2.3
BOSCH MEVD17.2.K
225xe B38A15A 224
BOSCH MEVD17.2.3
BOSCH MEVD17.2.K
220i B48A20A 192
BOSCH MEVD17.2.3
BOSCH MEVD17.2.K
F46
216i B38A15A 102
BOSCH MEVD17.2.3
BOSCH MEVD17.2.K
218i B38A15A 136
BOSCH MEVD17.2.3
BOSCH MEVD17.2.K
220i B48A20A 192
BOSCH MEVD17.2.3
BOSCH MEVD17.2.K
3
F30
320d 184
BOSCH EDC17C76
320d xDrive 184
BOSCH EDC17C76
318i B38B15A 136
BOSCH MEVD17.2.3
BOSCH MEVD17.2.K
F31
320d 184
BOSCH EDC17C76
320d xDrive 184
BOSCH EDC17C76
318i B38B15A 136
BOSCH MEVD17.2.3
BOSCH MEVD17.2.K
F34
320d 184
BOSCH EDC17C76
320d xDrive 184
BOSCH EDC17C76
4
F32
418i B38B15A 136
BOSCH MEVD17.2.3
BOSCH MEVD17.2.K
F36
418i B38B15A 136
BOSCH MEVD17.2.3
BOSCH MEVD17.2.K
5
F07
535d 258
BOSCH EDC17C76
535d xDrive 258
BOSCH EDC17C76
F10
535d 258
BOSCH EDC17C76
535d xDrive 258
BOSCH EDC17C76
F11
535d 258
BOSCH EDC17C76
535d xDrive 258
BOSCH EDC17C76
X1
F48
16i sDrive B38A15A 136
BOSCH MEVD17.2.3
BOSCH MEVD17.2.K
25i xDrive B48A20B 231
BOSCH MEVD17.2.3
BOSCH MEVD17.2.K
X3
F25
20d xDrive N47D20C 184
BOSCH EDC17C76
X5
F15
30d xDrive N57D30A 258
BOSCH EDC17C76
i
I12
i8 B38K15A 362
BOSCH MEVD17.2.3
BOSCH MEVD17.2.K
Chang An
SC7143C
-
1400 Turbo K14C 140
BOSCH MED17.9.63
Citroen
C4
B71
1600 BlueHDi BHZ 120
BOSCH EDC17C60
C4 Cactus
I
1600 HDi 110
BOSCH EDC17C60
C4 Grand Picasso
B78
1560 BHZ 120
BOSCH EDC17C60
1600 THP 5GY(EP6FDTM) 163
BOSCH MED17.4.4
1600 THP 5GZ(EP6FDT) 165
BOSCH MED17.4.4
C4 Picasso
B78
1560 BHZ 120
BOSCH EDC17C60
DS3
A55
1600 BlueHDi BHZ 120
BOSCH EDC17C60
1600 THP 5GZ(EP6FDT) 165
BOSCH MED17.4.4
A56
1600 BlueHDi BHZ 120
BOSCH EDC17C60
DS4
B75
1600 BlueHDi BHZ 120
BOSCH EDC17C60
1600 HDi 90
BOSCH EDC17C60
1600 HDi 110
BOSCH EDC17C60
DS5
B81
1600 BlueHDi BHZ 120
BOSCH EDC17C60
1600 HDi 90
BOSCH EDC17C60
1600 HDi 110
BOSCH EDC17C60
1600 THP 5GZ(EP6FDT) 165
BOSCH MED17.4.4
DS
DS3
A55
1600 BlueHDi BHZ 120
BOSCH EDC17C60
DS4
B75
1600 BlueHDi BHZ 120
BOSCH EDC17C60
DS5
B81
1600 BlueHDi BHZ 120
BOSCH EDC17C60
Dallara
Stradale
I
2300 YVD 400
BOSCH MED17.3.5
FIAT
500 X
334
1600 Multijet 2 120
BOSCH EDC17C69 ver2
Doblo
334
1600 Multijet 2 263.A8.000 105
BOSCH EDC17C69 ver2
Toro
334
2000 16v MJET 4x4 ECD 170
BOSCH EDC17C69 ver2
334
2000 Multijet ECD 170
BOSCH EDC17C69 ver2
Ferrari
488
I
3900 V8 GTB F154CB 670
BOSCH MED17.3.5
3900 V8 Spider F154CB 670
BOSCH MED17.3.5
California T
I
3900 V8 Twin Turbo Turbo F154CB 560
BOSCH MED17.3.5
Ford
B-Max
II
1500 TDCi XUJA 75
BOSCH EDC17C70
1500 TDCi XUJB 75
BOSCH EDC17C70
1500 TDCi XVJA 95
BOSCH EDC17C70
1500 TDCi XVJB 95
BOSCH EDC17C70
C-Max
DXA
1500 TDCi ECOnetic AEDA 105
BOSCH EDC17C70
1500 TDCi XWDA 120
BOSCH EDC17C70
1500 TDCi XWDB 120
BOSCH EDC17C70
1500 TDCi XXDA 95
BOSCH EDC17C70
Ecosport
JK8
1500 TDCi XVJD 120
BOSCH EDC17C70
Fiesta
Jx8
1500 TDCi XUJA 75
BOSCH EDC17C70
1500 TDCi XUJB 75
BOSCH EDC17C70
1500 TDCi XVJA 95
BOSCH EDC17C70
1500 TDCi XVJB 95
BOSCH EDC17C70
Focus
DY
1500 TDCi ECOnetic AEDA 105
BOSCH EDC17C70
1500 TDCi XWDA 120
BOSCH EDC17C70
1500 TDCi XWDB 120
BOSCH EDC17C70
1500 TDCi XXDA 95
BOSCH EDC17C70
1500 TDCi XVDC 95
BOSCH EDC17C70
1500 TDCi XVDD 95
BOSCH EDC17C70
Mondeo
V
1500 TDCi UGCC 120
BOSCH EDC17C70
1500 TDCi ECOnetic XUCA 120
BOSCH EDC17C70
Tourneo
-
1500 TDCi XUCC 75
BOSCH EDC17C70
1500 TDCi XUCD 75
BOSCH EDC17C70
1500 TDCi XUGA 75
BOSCH EDC17C70
1500 TDCi XVCA 95
BOSCH EDC17C70
1500 TDCi XVCB 95
BOSCH EDC17C70
1500 TDCi XVCC 95
BOSCH EDC17C70
1500 TDCi XVGC 101
BOSCH EDC17C70
1500 TDCi XWGA 120
BOSCH EDC17C70
1500 TDCi XWGB 120
BOSCH EDC17C70
Transit
VIII
1500 TDCi XUCC 75
BOSCH EDC17C70
1500 TDCi XUCD 75
BOSCH EDC17C70
1500 TDCi XUGA 75
BOSCH EDC17C70
1500 TDCi XVCA 95
BOSCH EDC17C70
1500 TDCi XVCB 95
BOSCH EDC17C70
1500 TDCi XVCC 95
BOSCH EDC17C70
1500 TDCi XVGC 101
BOSCH EDC17C70
1500 TDCi XWGA 120
BOSCH EDC17C70
1500 TDCi XWGB 120
BOSCH EDC17C70
1500 TDCi XXGA 101
BOSCH EDC17C70
Honda
CR-V
RM
1600 i-DTEC N16A2 120
BOSCH EDC17C58
1600 i-DTEC N16A4 160
BOSCH EDC17C58
1600 i-DTEC 4WD N16A4 160
BOSCH EDC17C58
Civic
FB
1600 i-DTEC N16A1 120
BOSCH EDC17C58
1600 i-DTEC BiTurbo 160
BOSCH EDC17C58
2000i Type R K20C1 306
BOSCH MED17.9.3
1800 i-VTEC R18Z4 141
BOSCH MED17.9.3
FK
1600 i-DTEC N16A1 120
BOSCH EDC17C58
1600 i-DTEC BiTurbo 160
BOSCH EDC17C58
2000i Type R K20C1 306
BOSCH MED17.9.3
2000i Type R K20C1 320
BOSCH MED17.9.3
1000 VTEC P10A2 129
BOSCH MED17.9.3
1800 i-VTEC R18Z4 141
BOSCH MED17.9.3
FC
2000i Type R K20C1 320
BOSCH MED17.9.3
1000 VTEC P10A2 129
BOSCH MED17.9.3
HR-V
RU
1600 i-DTEC N16A3 120
BOSCH EDC17C58
Hyundai
Grandeur
HG
2200 E-VGT EU6 202
BOSCH EDC17C57
Tucson
iX
1700 CRDi D4FD 116
BOSCH EDC17C57
i40
I
1700 CRDi 141
BOSCH EDC17C57
Isuzu
D-MAX
-
1900 RZ4E 150
BOSCH EDC17C83
Jaguar
F
X152
2000 D 204PT 180
BOSCH MED17.9
2000 D AWD 204PT 180
BOSCH MED17.9
XE
X260
2000 163
BOSCH EDC17CP55
2000 185
BOSCH EDC17CP55
2000 20d 204PT 180
BOSCH MED17.9
2000 E-PERFORMANCE 204PT 163
BOSCH MED17.9
XF
X260
2000 20d 204PT 180
BOSCH MED17.9
2000 20d AWD 204PT 180
BOSCH MED17.9
2000 E-PERFORMANCE 204PT 163
BOSCH MED17.9
Jeep
Cherokee
KL
2200 CRD 4x4 185
BOSCH EDC17C69 ver2
2200 CRD 4x4 200
BOSCH EDC17C69 ver2
Renegade
-
2200 CRD 4x4 170
BOSCH EDC17C69 ver2
Wrangler
JK
2800 CRD 200
BOSCH EDC17C69 ver2
Kia
Crarnival
II
2200 E-VGT EURO6 202
BOSCH EDC17C57
Rio
III
1400 CRDi D4FC 90
BOSCH EDC17C57
Sorento
UM
2000 CRDi D4HA 185
BOSCH EDC17C57
BL
2000 E-VGT EURO6 186
BOSCH EDC17C57
2000 E-VGT EURO6 202
BOSCH EDC17C57
Stinger
-
2200 CRDi 200
BOSCH EDC17C57
Land Rover
Discovery
Sport
2000 TD4 AWD AJ200 150
BOSCH MED17.9
2000 TD4 AWD AJ200 180
BOSCH MED17.9
Evoque
LV
2000 TD4 AWD AJ200 150
BOSCH MED17.9
2000 TD4 AWD AJ200 180
BOSCH MED17.9
2000 Cabrio TD4 AWD AJ200 150
BOSCH MED17.9
2000 Cabrio TD4 AWD AJ200 180
BOSCH MED17.9
2000 TD4 eD4 AJ200 150
BOSCH MED17.9
Rang Rover
Sport
3000 TDV6 Euro5 258
BOSCH EDC17CP55
IV
3000 TDV6 255
BOSCH EDC17CP55
3000 TDV6 245
BOSCH EDC17CP55
4400 SDV8 334
BOSCH EDC17CP55
Maserati
Levante
-
3000 V6 670031346 349
BOSCH MED17.3.5
3000 V6 4WD 670031346 430
BOSCH MED17.3.5
Mercedes
C
W205
180 CDI BlueTEC OM626.951 116
BOSCH EDC17C66
200 CDI BlueTEC OM626.951 136
BOSCH EDC17C66
63 AMG M177.980 476
BOSCH MED17.7.5
63 AMG S M177.980 510
BOSCH MED17.7.5
CLS
W219
350 CDI EU6 250
BOSCH EDC17C57
E
W212
350 3000 CDI 258
BOSCH EDC17C57
GLC
W253
250d OM 651.921 204
BOSCH EDC17C57
GLE
W166
250d OM 651.960 204
BOSCH EDC17C57
BOSCH EDC17C60
350d 4MATIC OM642.826 258
BOSCH EDC17C57
250d 4MATIC OM651.960 204
BOSCH EDC17CP60
GLS
W166
350d OM642.826 258
BOSCH EDC17C57
GT
C190
4000 V8 AMG GT M178.980 462
BOSCH MED17.7.5
4000 V8 AMG GT-R M178.980 585
BOSCH MED17.7.5
4000 V8 AMG GT-S M178.980 510
BOSCH MED17.7.5
M
W166
250 BlueTEC 4MATIC OM651.960 204
BOSCH EDC17CP60
S
W222
350 3500 BlueTEC
BOSCH EDC17CP57
V
W447
114 CDI OM 651.950 136
BOSCH EDC17C66
116 CDI OM 651.950 150
BOSCH EDC17C66
119 CDI BlueTEC OM 651.950 190
BOSCH EDC17C66
200 CDI OM 651.950 136
BOSCH EDC17C66
220 CDI OM 651.950 163
BOSCH EDC17C66
250 CDI BlueTEC OM 651.950 190
BOSCH EDC17C66
109 CDI OM622.951 88
BOSCH EDC17C66
109 CDI OM622.951 114
BOSCH EDC17C66
Valente
W447
114 CDI OM 651.950 136
BOSCH EDC17C66
116 CDI OM 651.950 150
BOSCH EDC17C66
119 CDI BlueTEC OM 651.950 190
BOSCH EDC17C66
109 CDI OM622.951 88
BOSCH EDC17C66
109 CDI OM622.951 114
BOSCH EDC17C66
Viano
W639
114 CDI OM 651.950 136
BOSCH EDC17C66
116 CDI OM 651.950 150
BOSCH EDC17C66
119 CDI BlueTEC OM 651.950 190
BOSCH EDC17C66
109 CDI OM622.951 88
BOSCH EDC17C66
109 CDI OM622.951 114
BOSCH EDC17C66
W447
114 CDI OM 651.950 136
BOSCH EDC17C66
116 CDI OM 651.950 150
BOSCH EDC17C66
119 CDI BlueTEC OM 651.950 190
BOSCH EDC17C66
119 CDI BlueTEC OM 651.950 190
BOSCH EDC17C66
109 CDI OM622.951 88
BOSCH EDC17C66
109 CDI OM622.951 114
BOSCH EDC17C66
116 CDI OM 651.950 163
BOSCH EDC17C66
Mini
ClubMAN
F54
Cooper 1500 B38A15A 136
BOSCH MEVD17.2.3
BOSCH MEVD17.2.K
One 1500 B38A15A 102
BOSCH MEVD17.2.3
BOSCH MEVD17.2.K
Cooper S B48A20A 192
BOSCH MEVD17.2.3
BOSCH MEVD17.2.K
Cooper S ALL4 B48A20A 192
BOSCH MEVD17.2.3
BOSCH MEVD17.2.K
Cooper S
F56
2000T XM71 192
BOSCH MEVD17.2.3
2000T XM71 192
BOSCH MEVD17.2.K
Mini
F55
One 1200 B38A12A 75
BOSCH MEVD17.2.3
One 1200 B38A12A 102
BOSCH MEVD17.2.3
Cooper 1500 B38A15A 136
BOSCH MEVD17.2.3
Cooper S B48A20A 192
BOSCH MEVD17.2.3
One 1200 B38A12A 75
BOSCH MEVD17.2.K
One 1200 B38A12A 102
BOSCH MEVD17.2.K
Cooper 1500 B38A15A 136
BOSCH MEVD17.2.K
Cooper S B48A20A 192
BOSCH MEVD17.2.K
F56
One 1200 B38A12A 75
BOSCH MEVD17.2.3
BOSCH MEVD17.2.K
One 1200 B38A12A 102
BOSCH MEVD17.2.3
BOSCH MEVD17.2.K
Cooper 1500 B38A15A 136
BOSCH MEVD17.2.3
BOSCH MEVD17.2.K
Cooper S B48A20A 192
BOSCH MEVD17.2.3
BOSCH MEVD17.2.K
JCW 2000 B48A29B 231
BOSCH MEVD17.2.3
BOSCH MEVD17.2.K
F57
One 1200 B38A12A 102
BOSCH MEVD17.2.3
BOSCH MEVD17.2.K
Cooper 1500 B38A15A 136
BOSCH MEVD17.2.3
BOSCH MEVD17.2.K
Cooper S B48A20A 192
BOSCH MEVD17.2.3
BOSCH MEVD17.2.K
JCW 2000 B48A29B 231
BOSCH MEVD17.2.3
BOSCH MEVD17.2.K
Peugeot
2008
A94
1560 BHZ 120
BOSCH EDC17C60
208
A9
1560 BHZ 120
BOSCH EDC17C60
1600 THP 5GZ(EP6FDT) 165
BOSCH MED17.4.4
1600 THP GTI 210
BOSCH MED17.4.4
3008
T8
1560 BHZ 120
BOSCH EDC17C60
1600 THP 5GZ(EP6FDT) 165
BOSCH MED17.4.4
308
T9
1600 BlueHDi BHZ 120
BOSCH EDC17C60
1600 BTP 5GY(EP6FDTM) 163
BOSCH MED17.4.4
1600 BTP 5GY(EP6FDTM) 205
BOSCH MED17.4.4
5008
T8
1560 BHZ 120
BOSCH EDC17C60
508
W2
1600 BLueHDi BHZ 120
BOSCH EDC17C60
Seat
Leon
5F
1400 TSI CUKB 150
BOSCH MED17.1.21
Suzuki
New SX4
-
1400 Turbo K14C 140
BOSCH MED17.9.63
S-Cross Fengyu
-
1400 Turbo K14C 140
BOSCH MED17.9.63
SX4 Crossvoer
-
1400 Turbo K14C 140
BOSCH MED17.9.63
SX4 S-Cross
-
1400 Turbo K14C 140
BOSCH MED17.9.63
Swift
SHVC
998 K10C 111
BOSCH MED17.9.63
Vitara
-
1600 Multijet 2 120
BOSCH EDC17C69 ver2
1400 Turbo K14C 140
BOSCH MED17.9.63
Toyota
Proace
MDZ2xx
1600 120
BOSCH EDC17C60
Volkswagen(VW)
Amarok
S6
3000 TDI DDXA 163
BOSCH EDC17CP54
3000 TDI 4Motion DDXA 163
BOSCH EDC17CP54
3000 TDI 4Motion DDXB 204
BOSCH EDC17CP54
3000 TDI 4Motion DDXC 224
BOSCH EDC17CP54
3000 TDI 4Motion DDXD 224
BOSCH EDC17CP54
S7
3000 TDI DDXA 163
BOSCH EDC17CP54
3000 TDI 4Motion DDXA 163
BOSCH EDC17CP54
3000 TDI 4Motion DDXB 204
BOSCH EDC17CP54
3000 TDI 4Motion DDXC 224
BOSCH EDC17CP54
3000 TDI 4Motion DDXD 224
BOSCH EDC17CP54
Crafter
-
2000 BiTDI 202
BOSCH EDC17CP54
Golf
VII
1400 GET CUKB 150
BOSCH MED17.1.21
Jetta
VI
1400 TSI CUKB 122
BOSCH MED17.1.21
TC1793S
Car
Name
Series
Engine
ECU
ECU
Audi
A3
8V
2000 TDI 150
BOSCH EDC17C74 ver1
2000 TDI quattro 150
BOSCH EDC17C74 ver1
2000 TDI quattro 184
BOSCH EDC17C74 ver1
A4
B9
1400 TFSI CVNA 150
BOSCH MED17.1.61
A5
8F/8T
2000 DEUA 150
BOSCH EDC17C74 ver2
A8
D4
6300 W12 FSI quattro CTNA 500
BOSCH MED17.1.61
BOSCH MED17.1.61
MASTER/SLAVE
A8L
D4
6300 W12 FSI quattro CEJA 500
BOSCH MED17.1.61
BOSCH MED17.1.61
MASTER/SLAVE
6300 w12 FSI quattro CTNA 500
BOSCH MED17.1.61
BOSCH MED17.1.61
MASTER/SLAVE
Q2
GAB
2000 TDI DFGA 150
BOSCH EDC17C74 ver1
2000 TDI quattro DFGA 150
BOSCH EDC17C74 ver1
Q5
FYB
2000 DETA 190
BOSCH EDC17C74 ver2
RS3
8V
2500 RS DAZA 400
BOSCH MED17.1.62
2500 RS quattro DAZA 400
BOSCH MED17.1.62
TT
FV
2500 RS DAZA 400
BOSCH MED17.1.62
2500 TFSI RS quattro DAZA 400
BOSCH MED17.1.62
2500 RS quattro DAZA 400
BOSCH MED17.1.62
Bentley
Bentayga
-
2000 DDKA 238
BOSCH MED17.1.62
MASTER/SLAVE
Bugatti
Veyron
16.4 GSV
8000 CYHA 1200
BOSCH MED17.1.12
MASTER/SLAVE
Ford
F-150
XIII
3000 V6 Powerstroke 258
BOSCH EDC17CP65
F-250
XIII
6700 V8 Powerstroke 446
BOSCH MED17.1.62
Genesis Motors
EQ900
-
5000 GDI G8BE 413
BOSCH MED17.9.30
5000 GDI HTRAC G8BE 413
BOSCH MED17.9.30
G90
-
5000 GDI G8BE 413
BOSCH MED17.9.30
5000 GDI HTRAC G8BE 413
BOSCH MED17.9.30
Hyundai
Equus
VI
5000 GDI V8 G8BE 430
BOSCH MED17.9.30
Genesis
DH
5000 GDI V8 G8BE 425
BOSCH MED17.9.30
Veracruz
I
3000 CRDI 4x4 D6EB 260
BOSCH EDC17CP62
ix55
I
3000 CRDI 4x4 D6EB 260
BOSCH EDC17CP62
Jaguar
E-Pace
X450
2000 Ingenium 300
BOSCH MED17.9.9
2000 Ingenium 250
BOSCH MED17.9.9
F-Pace
X761
2000 Ingenium 240
BOSCH MED17.9.9
F-type
X152
2000 Ingenium 300
BOSCH MED17.9.9
XE
-
2000 Ingenium 200
BOSCH MED17.9.9
2000 Ingenium 240
BOSCH MED17.9.9
2000 Ingenium 250
BOSCH MED17.9.9
2000 Ingenium 300
BOSCH MED17.9.9
XEL
-
2000 Ingenium 200
BOSCH MED17.9.9
2000 Ingenium 240
BOSCH MED17.9.9
2000 Ingenium 250
BOSCH MED17.9.9
2000 Ingenium 300
BOSCH MED17.9.9
XF
X260
2000 Ingenium 240
BOSCH MED17.9.9
XFL
X260
2000 Ingenium 240
BOSCH MED17.9.9
Kia
K9
-
5000 GDI V8 G8BE 425
BOSCH MED17.9.30
K900
-
5000 GDI V8 G8BE 425
BOSCH MED17.9.30
Mohave
I
3000 e-VGT 2WD D6EB 260
BOSCH EDC17CP62
3000 e-VGT 4WD D6EB 260
BOSCH EDC17CP62
Quoris
-
5000 GDI V8 G8BE 425
BOSCH MED17.9.30
Land Rover
Velar
-
2000 Ingenium 300
BOSCH MED17.9.9
McLaren
720S
-
4000 Twin Turbo M840T 720
BOSCH ME17.8.3.3
Mercedes
A
W177
2000 M260DE20AL 190
BOSCH MED17.7.7
2000 M260 224
BOSCH MED17.7.7
2000 M260 306
BOSCH MED17.7.7
B
W247
2000 M260DE20AL 190
BOSCH MED17.7.7
2000 M260 224
BOSCH MED17.7.7
2000 M260 306
BOSCH MED17.7.7
C
W205
1500 M264 197
BOSCH MED17.7.7
2000 M264DE20L 258
BOSCH MED17.7.7
CLA
C118
2000 M260DE20AL 190
BOSCH MED17.7.7
2000 M260 224
BOSCH MED17.7.7
CLS
C257
2000 M264DE20LA 299
BOSCH MED17.7.7
E
W213
2000 M264DE20LA 299
BOSCH MED17.7.7
Seat
Arona
KJ7
1000 TSI DKJA 116
BOSCH MED17.1.27
Ibiza
6P
1000 TSI DKJA 116
BOSCH MED17.1.27
Leon
5F
2000 TDI FR 184
BOSCH EDC17C74 ver1
Skoda
Fabia
NJ
1000 TSI DKJA 116
BOSCH MED17.1.27
Kodiaq
NS7
2000 TDI DFGA 150
BOSCH EDC17C74 ver1
2000 TDI 4x4 DFGA 150
BOSCH EDC17C74 ver1
Superb
3V
1600 TDI DCXA 120
BOSCH EDC17C74 ver1
2000 16v TDI(CR) 190
BOSCH EDC17C74 ver1
2000 16v TDI 4x4(CR) 190
BOSCH EDC17C74 ver1
3V3
2000 CRLB 150
BOSCH EDC17C74 ver1
Volkswagen(VW)
Arteon
3H7
2000 DFHA 190
BOSCH EDC17C74 ver1
2000 TDI 4Motion DFHA 190
BOSCH EDC17C74 ver1
Golf
BQ1
2000 GTD DGCA 184
BOSCH EDC17C74 ver1
BV5
2000 GTD DGCA 184
BOSCH EDC17C74 ver1
VII
1600 TDI
BOSCH EDC17C74 ver1
Passat
B8
1600 TDI DCXA 120
BOSCH EDC17C74 ver1
2000 TDI 150
BOSCH EDC17C74 ver1
2000 BiTDI CUAA 240
BOSCH EDC17CP74
Polo
6C1
1000 TSI DKJA 116
BOSCH MED17.1.27
T-Roc
A11
2000 TDI DFFA 150
BOSCH EDC17C74 ver1
2000 TDI 4Motion DFHA 150
BOSCH EDC17C74 ver1
Teramont
-
2500 TSI DDKA 299
BOSCH MED17.1.62
Tiguan
AD1
2000 TDI DFGA 150
BOSCH EDC17C74 ver1
2000 TDI 4Motion DFGA 150
BOSCH EDC17C74 ver1
2000 TDI DFGC 116
BOSCH EDC17C74 ver1
Touareg
7P
3000 TFSI Hybrid
BOSCH MED17.1.61
Transporter
T6
2000 BiTDI CUAA 240
BOSCH EDC17CP74
Up
122
1000 GTI DKRA 116
BOSCH MED17.1.27