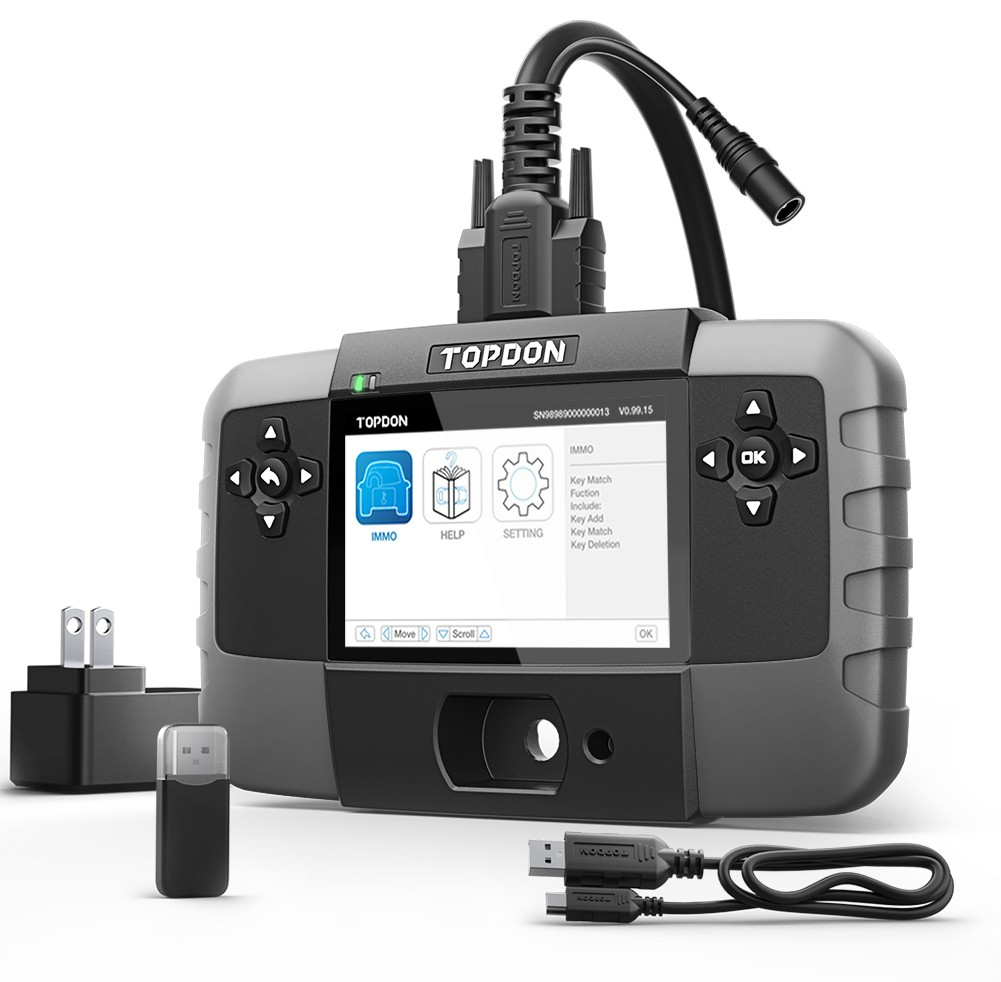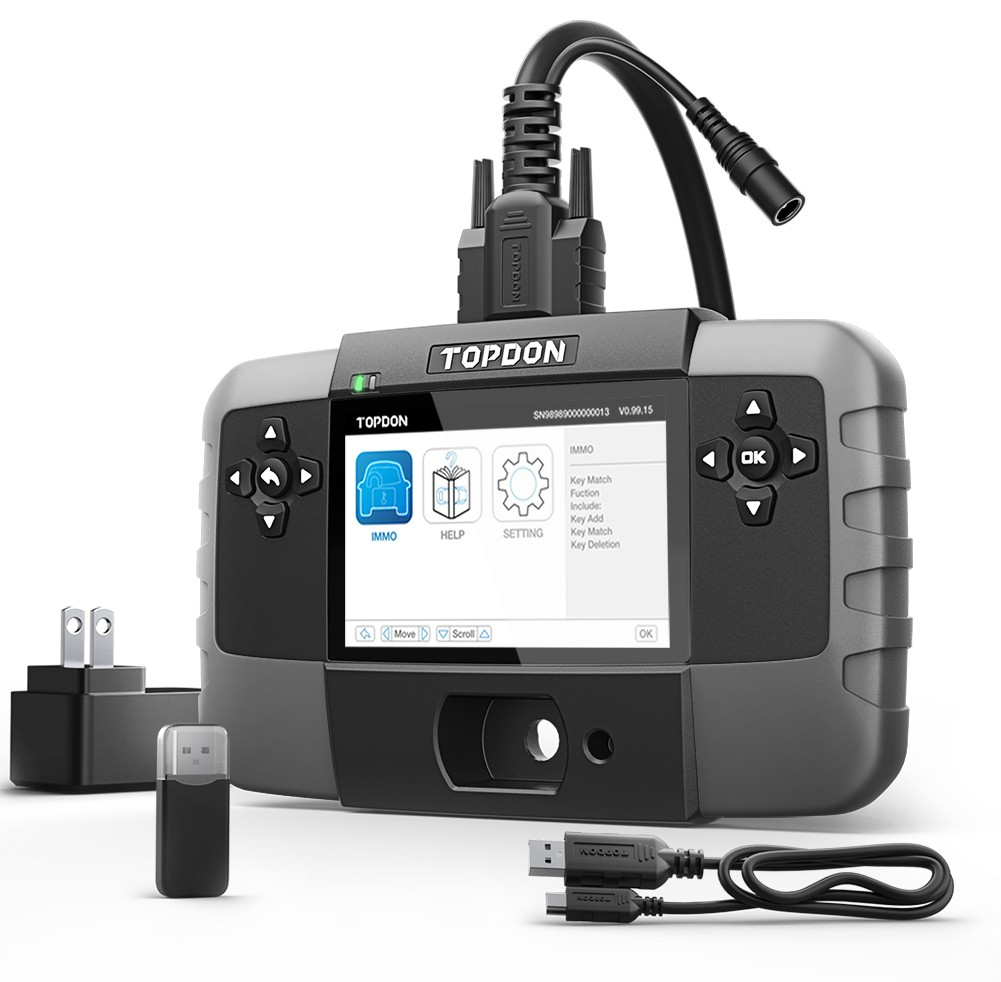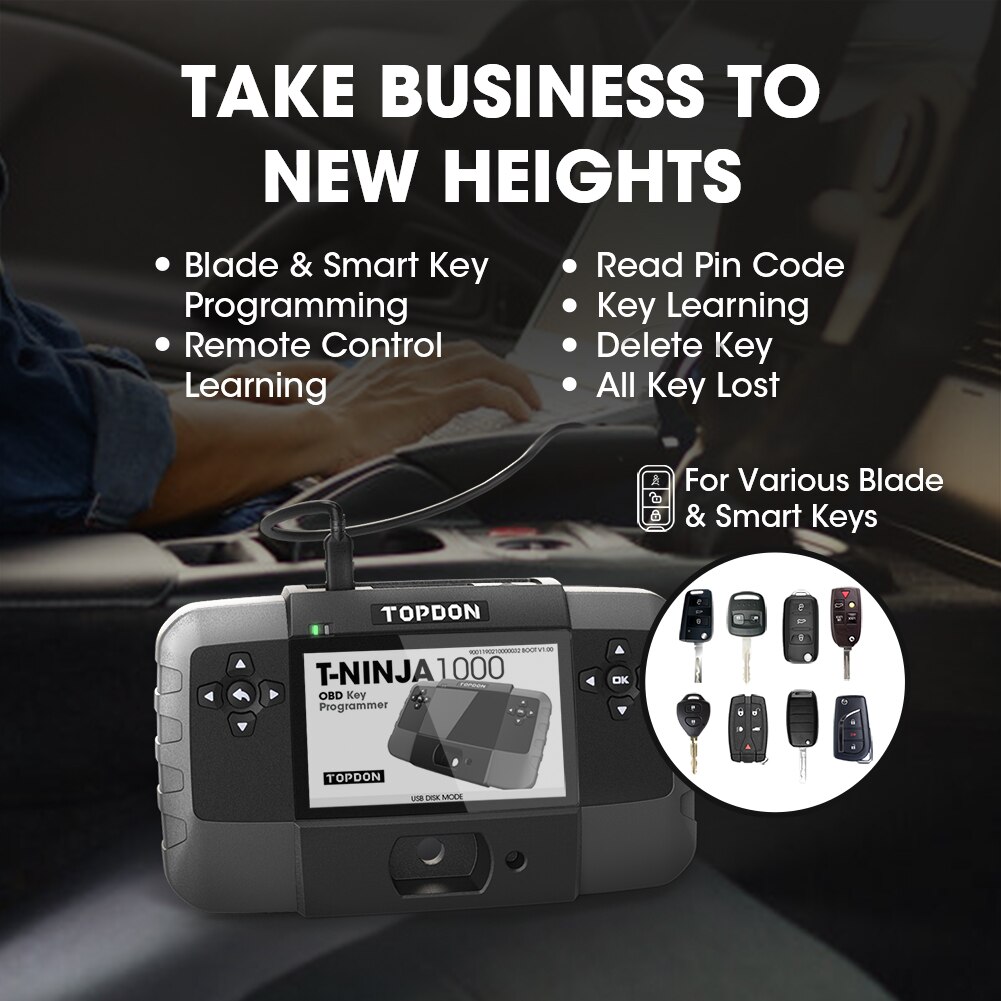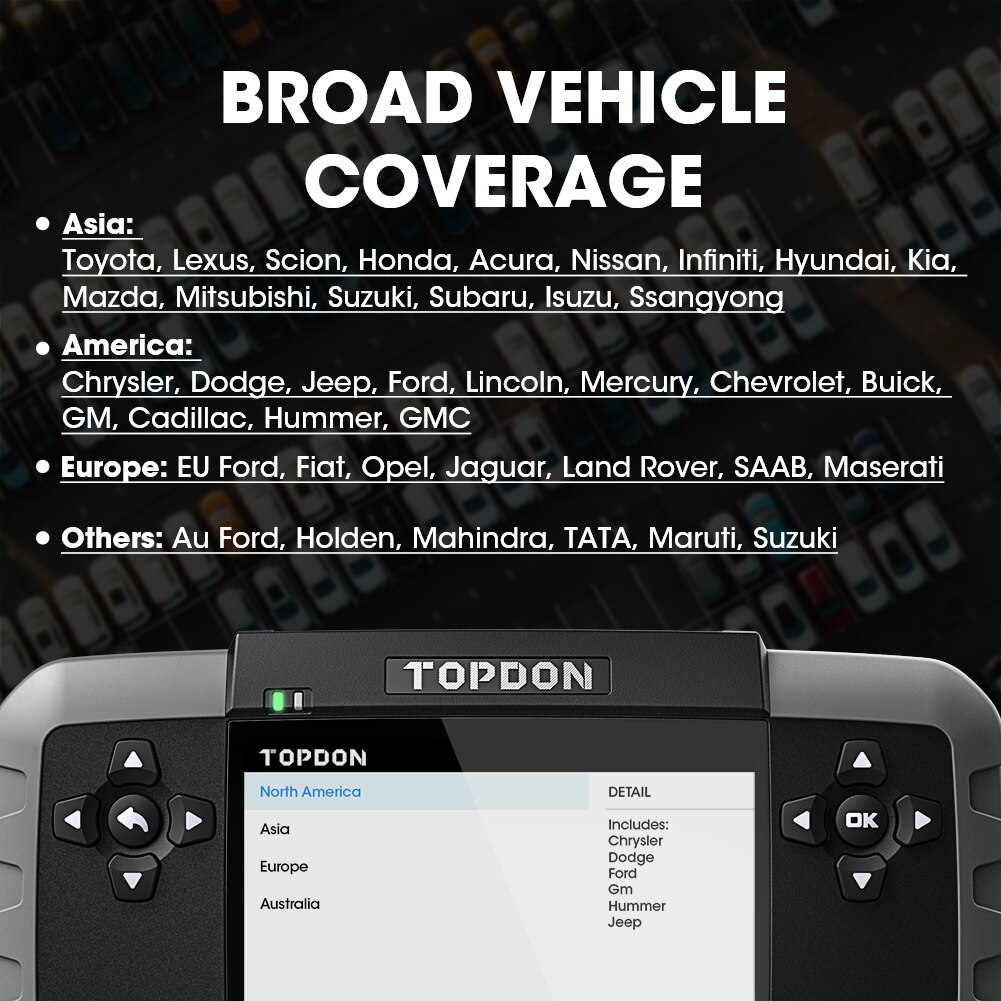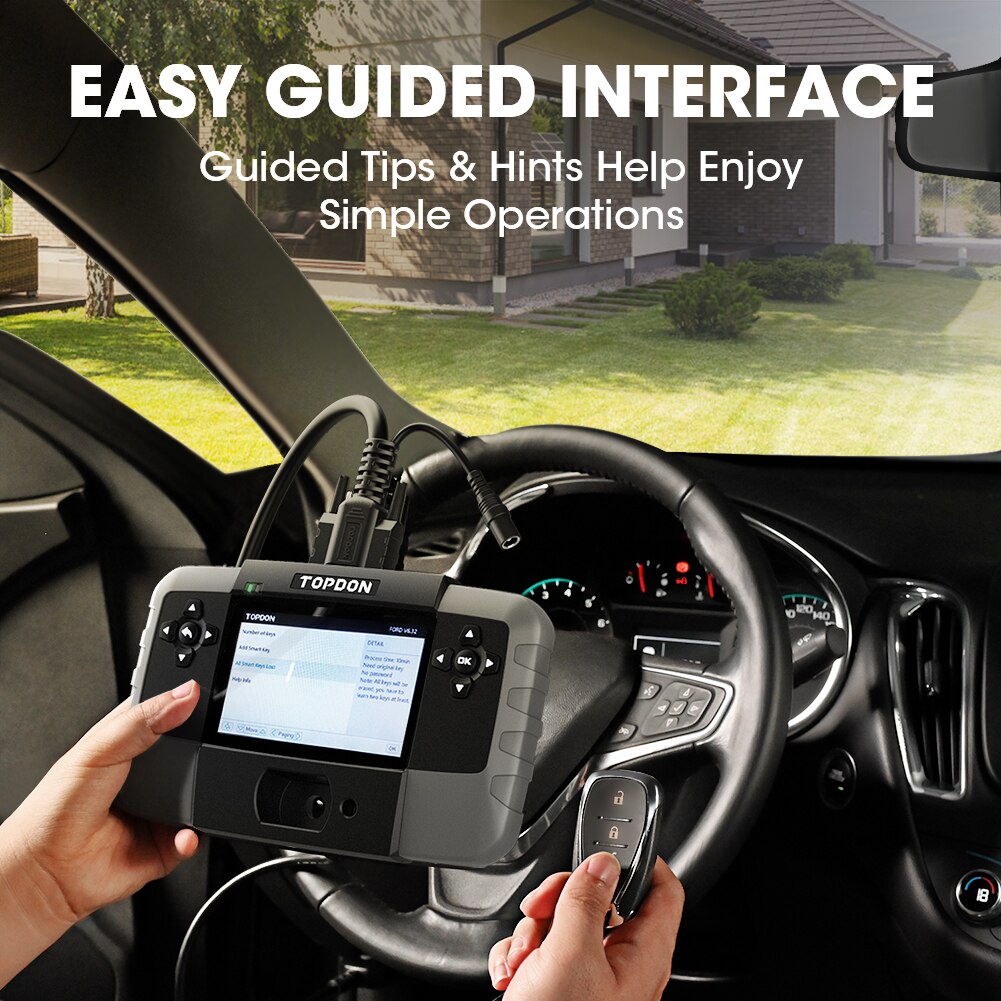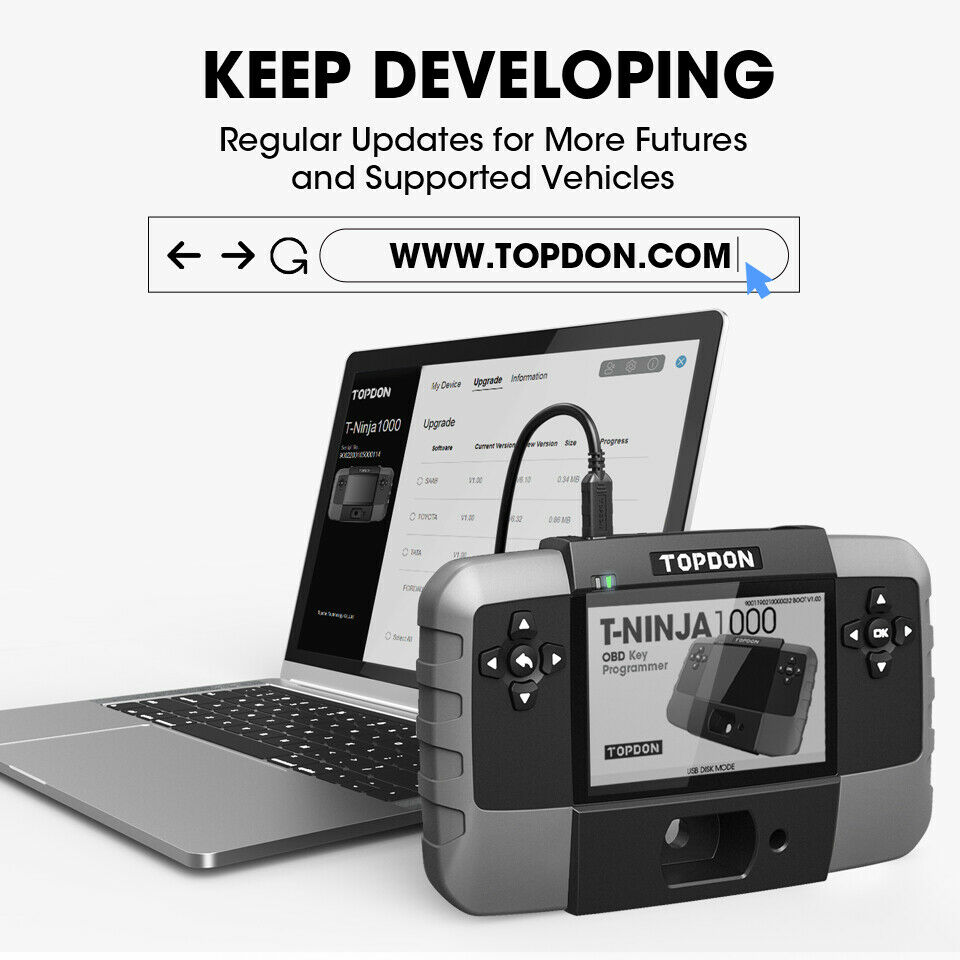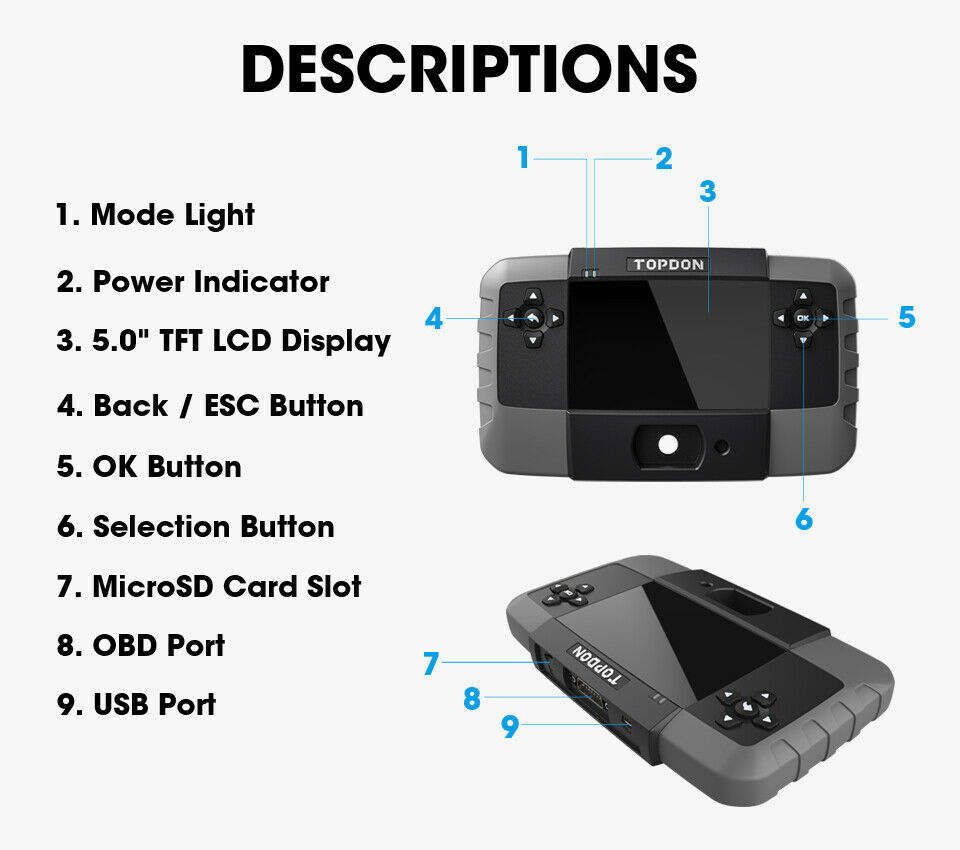 TOPDON T-Ninja1000 Key Programmer Immobilizer All Keys Lost for Entry-Level Locksmiths Professional Mechanics Automotive Tool
TOPDON T-Ninja1000 Key Programmer with an array of powerful features including Key Generation, PIN Reading, Key Learning, Remote Learning, Key Deletion, All Key Lost, and more, are all covered.
Shipping:

Free Shipping

Express Shipping Service


Estimated delivery time: 3-15 Days.

See details »

Returns:

Return for refund within 7 days,buyer pays return shipping.

Read details »

Support:
Product Details

Product's Reviews
TOPDON Key Programmer Immobilizer T-Ninja1000 Add, Delete Key, Read Pin, All Keys Lost for Entry-Level Locksmiths, Professional Mechanics, Automotive Technicians
As the newest addition to the TOPDON family of highly advanced Smart diagnostic tools, TOPDON T-Ninja1000 serves as the OBD key programming tool for the automotive Immobilizer system. An array of powerful features including Key Generation, PIN Reading, Key Learning, Remote Learning, Key Deletion, All Key Lost, and more, are all covered.
With its real-time guided operation, immense online database, robust hardware, and intuitive software, you now have an effective and easy-to-use key programming machine for automotive locksmiths and technicians alike.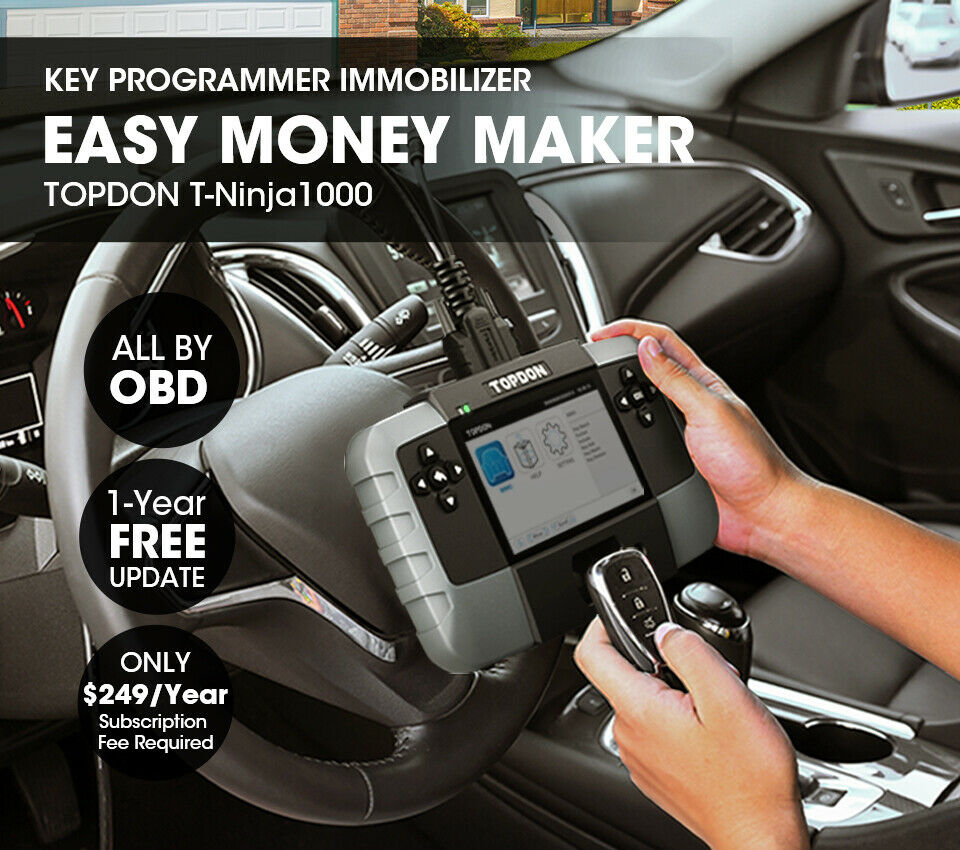 Top Advantages of TOPDON T-Ninja1000
TOPDON T-Ninja1000 is developed with the growth of automotive key programming market, due to the fact that there are about 4.5-5 million auto repair stores, and 150-200 thousands of registered locksmiths serving in the US auto aftermarket according to the statistics:
√ Cost-effective; low price to meet the economic crisis, and paid for itself in just one use;
√ Support most vehicles in North America, and some Japanese brands, and growing;
√ Practical and money-making functions: Read Pin Code, All Keys Lost, Add and Erase Keys and more;
√ Step-by-step guidance through a series of functions;
√ Read Pin Code for most vehicles;
√ Online Technical Assistance Center with a constantly updated database;
√ Regular update for more futures and supported vehicles;
√ All by OBD, no soldering, no EEPROM;
√ No tokens needed. Unlimited uses;
√ No battery issue. Plug and program keys;
√ User-friendly design: integrated RFID induction slot, easy-to-store carrying box etc.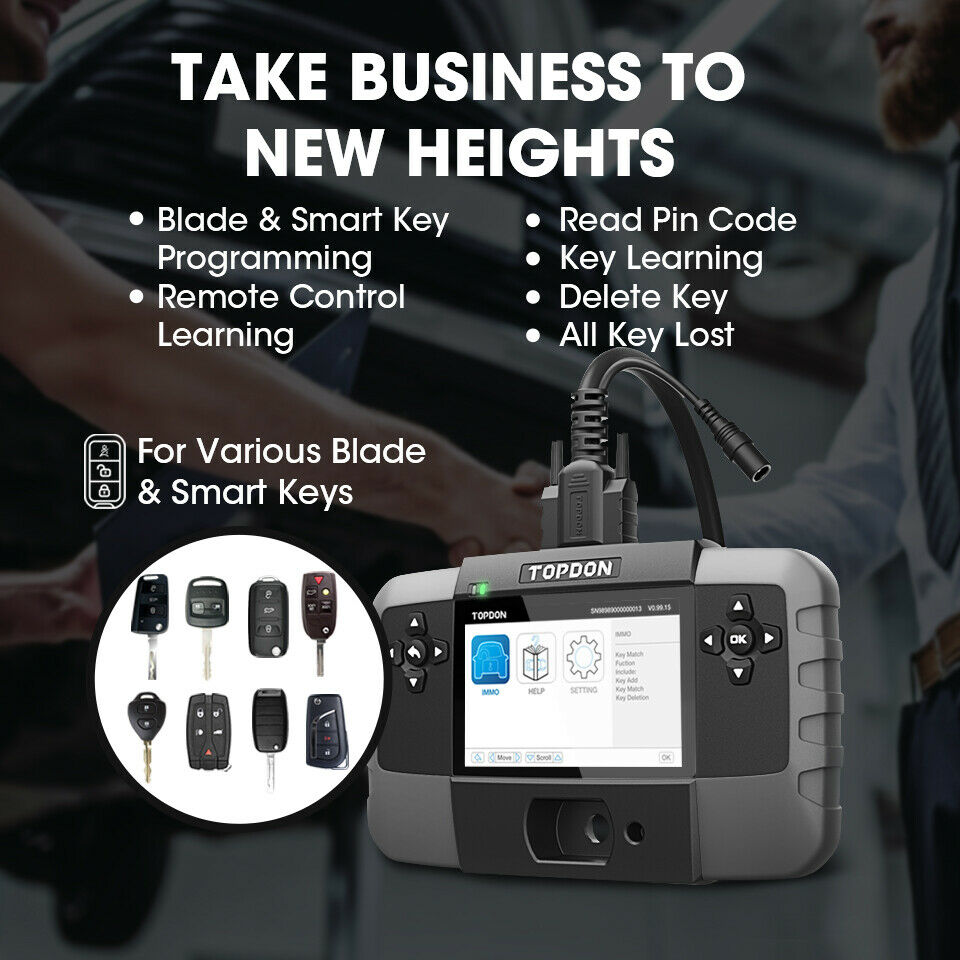 = A Glimpse of T-Ninja1000 =
The TOPDON T-Ninja1000 offers a range of simple and easy auto locksmith solutions for:
√ Key Learning:
Generate Blade / Smart car key replacements if losing an original, or even all originals.
√ Remote Control Learning:
Generate car remote control replacements if losing an original.
√ Delete Key:
Delete the unneeded key if necessary to prevent from being stolen.
√ Read Pin Code (All Key Lost):
Access the Pin Code for Key / Remote Control Learning.
= Easy Money Maker, It's a Steal! =
This Key Programmer is specially designed to cover most-commonly used locksmith functions for highly reliable, timely, and affordable services, with a surprisingly low price:
√ Competitive price (< $1000) with features that rivals some advanced locksmith tools;
√ 1-Year Free Update Service for counting features and vehicles covered;
√ Only a 249$/Year subscription fee after the expiration.
It is a great investment that has undoubtedly paid for itself in just one use. It will give you the opportunity to simplify and expand your business, and to bring in new business with the help of our expertise and information.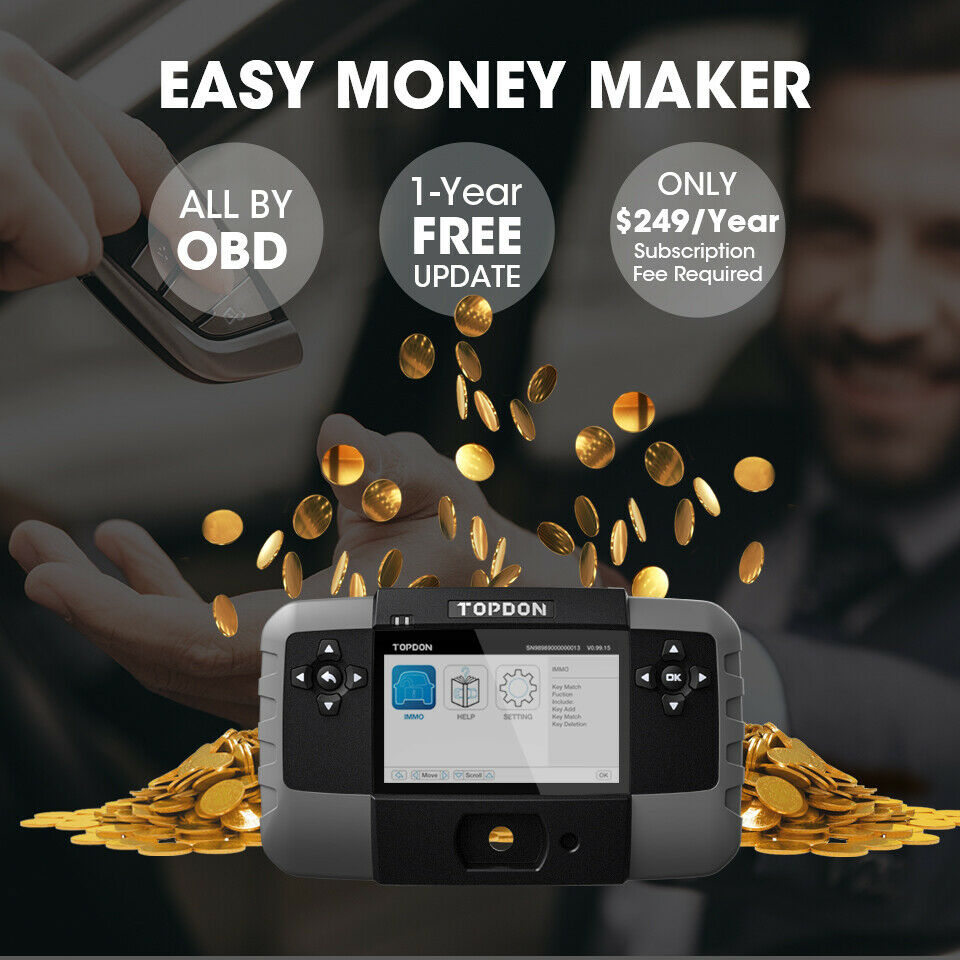 = Easy to Use Guided Interface =
Skip the frustration of learning a new tool, T-Ninja1000 features Guided Tips & Hints to help you enjoy simple step-by-step procedures at your fingertips.
It provides advice and suggestions for carrying out all the programming procedures in a more streamlined way, without going through a lengthy or complex process.
Also, the user interface is intuitive in plain English.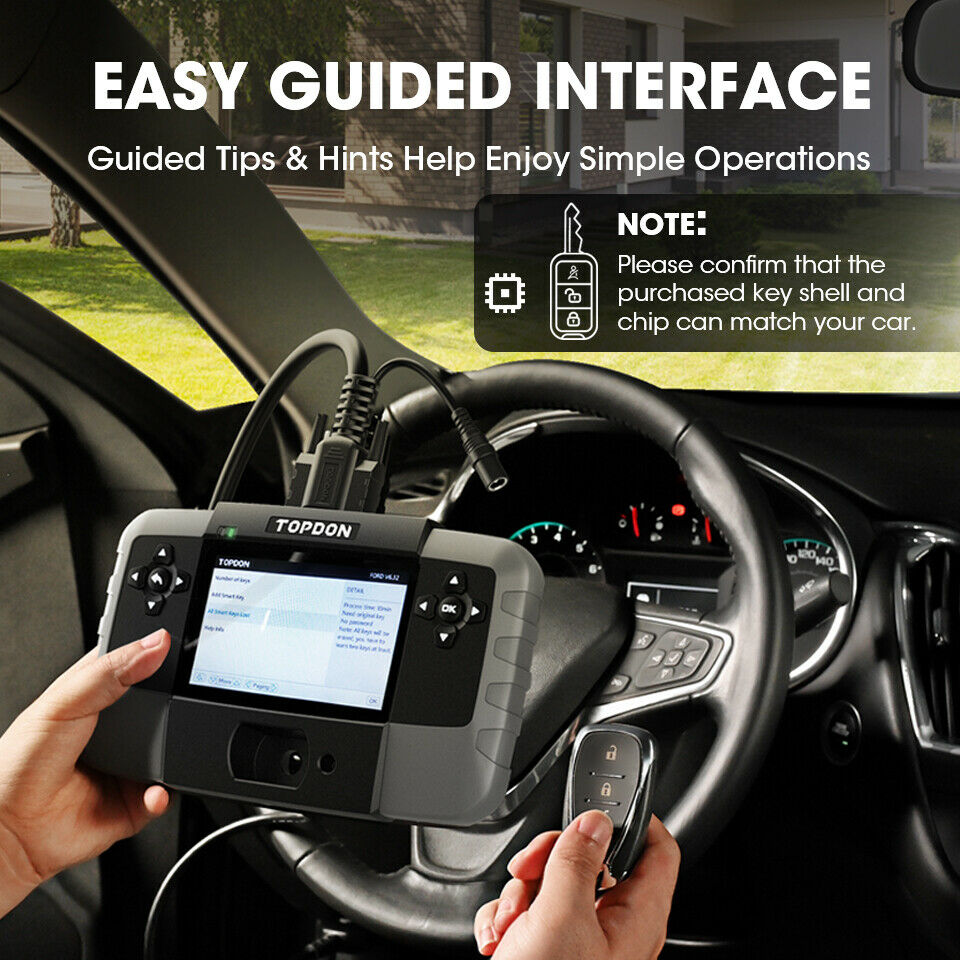 = Check the Data Anytime, Anywhere =
This tool is plug-and-go with a quick 3 seconds' boot-up time.
It can also be turned on by connecting to an independent power source, allowing you to effortlessly run through its menu, and check out related technical materials anytime, anywhere.
= Online Database for Information =
All the information needed to program a key is collected at the TOPDON T-Ninja1000 Technical Assistance Center, always updated and immediately available.
It covers massive vehicle model details with information as follows:
1.Vehicle General Information: (Region, Make, Model, Year, Photo etc.)
2.Key Information:
√ Key Type
√ Chip ID
√ Frequency
√ Photo
3.Key Programming Instructions:
√ Supported Devices
√ Pin Reading
√ Remote Programming
√ Videos for Training
√ Photos for OBD Port Location, Key Sensing Area etc.
√ Programming Tips
√ Other Related Files
This database offers great help for the key programming task. You're well on your way to looking like, and feeling like, the key programming expert you are.
= Over 60% Vehicle Coverage =
The results show that T-Ninja1000 has covered all major car brands in the U.S. as Ford (Lincoln, Mercury, etc.), GM (Buick, Cadillac, Chevrolet, GMC, etc.), Chrysler (Chrysler, Dodge, Jeep) and some Asian brands, after several months of field testing by our technicians in North America, being much better than many competitors in the industry:
-Asia:
Toyota, Lexus, Scion, Honda, Acura, Nissan, Infiniti, Hyundai, Kia, Mazda, Mitsubishi, Suzuki, Subaru, Isuzu, Ssangyong
-America:
Chrysler, Dodge, Jeep, Ford, Lincoln, Mercury, Chevrolet, Buick, GM, Cadillac, Hummer, GMC
-Europe:
EU Ford, Fiat, Opel, Jaguar, Land Rover, SAAB, Maserati
-Others:
Au Ford, Holden, Mahindra, TATA, Maruti, Suzuki
And counting.
*For vehicle comparability check, visit the TOPDON T-Ninja1000 official site (www.topdon.com) for details.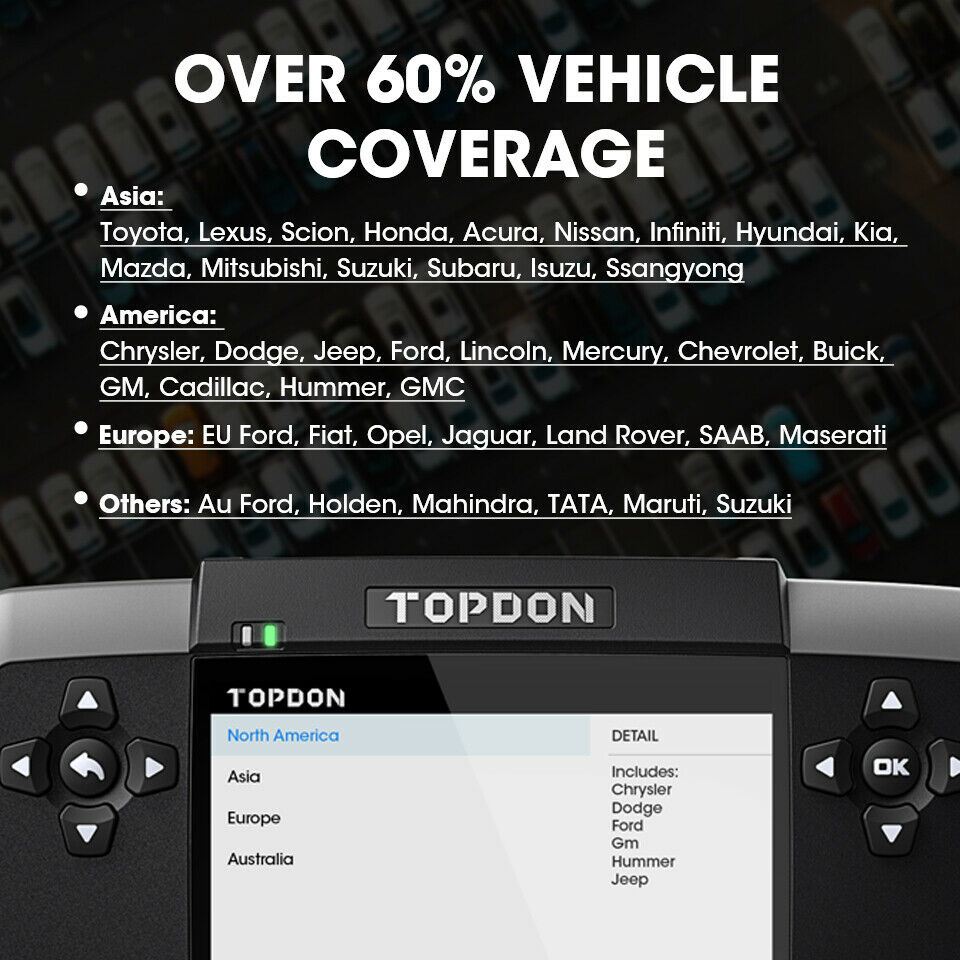 = Activation and Update =
1.Visit www.topdon.com, go to Key Programming Tool section. Select "Support" and click "Download". Download and install the TOPDON PC Suite software package into your Windows computer.
2.Select "create an account", input the email address, click "Get Code" to obtain the verification code from the email, and input the code. After that, set your login password.
3.Connect T-Ninja1000 to the PC via the USB cable. Sign in the TOPDON PC Suite with the account you created.
4.TOPDON PC Suite will automatically detect the registration status. Click "Register now" to activate the device. After the registration, the My Device page will list all the devices and show their related information under your account.
5.Enter the Upgrade menu, and select the software you need to update. Please ensure a steady USB commutation while upgrading.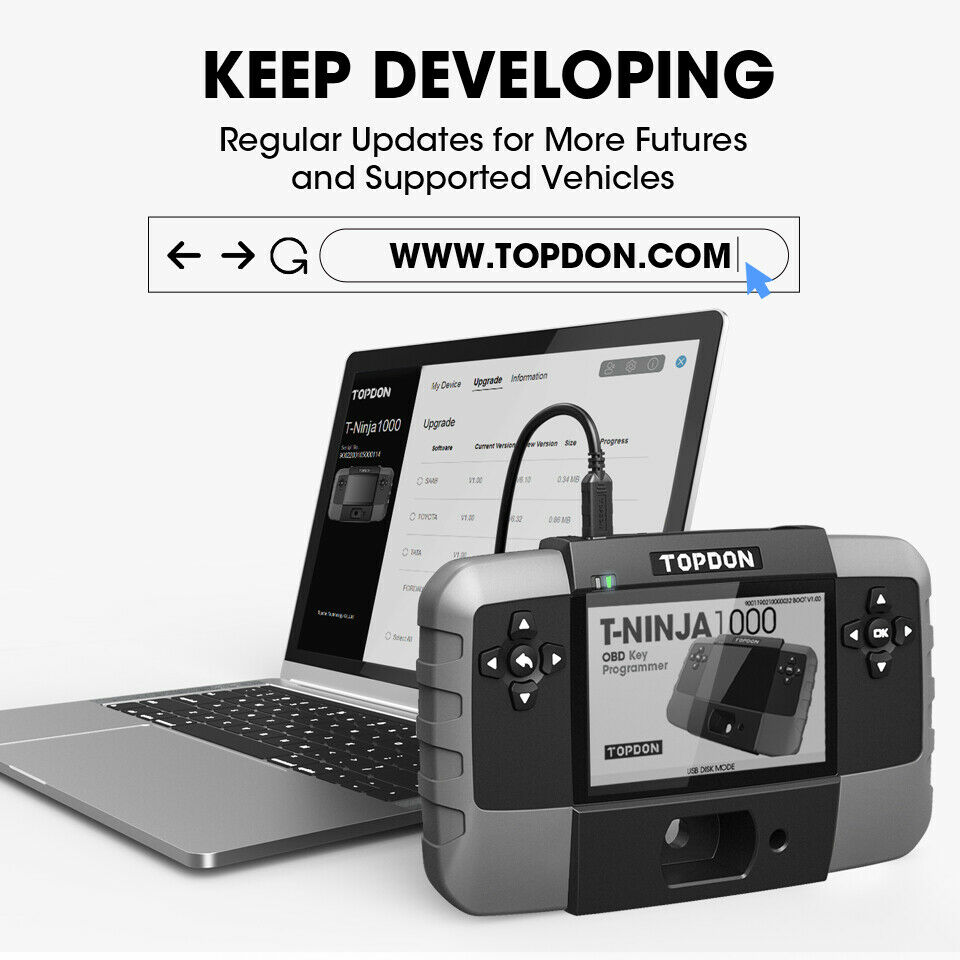 SPECIFICATIONS:
Operating System: Rt-thread
CPU: ARM Cortex-M4, 180MHz
Display: 5.0" TFT LCD, 800*480 Resolution
Memory: 256M RAM, 128M ROM, 16G Micro SD
Material: ABS Plastic Shell, Silicone Button
Starting time: ≤3S
Connectivity: USB1.1
OBD Interface: OBD-II 16PIN
Buzzer: 85db / min at 10cm
Current: 500mA (typical)
Input Voltage: DV 12V
Power Consumption: 1.8W (typical)
Battery: 350mAh Button Battery (not rechargeable)
Working Humidity: ≤95% RH
Working Voltage: 12V ± 25%
Working Temperature: -10℃~45℃ (14℉~113℉)
Storage Temperature: -20℃~50℃ (-4℉~122℉)
Dimensions: 231.5*141.5*35 mm (9.11*5.57*1.38 inches)
Weight: 480g (16.93oz)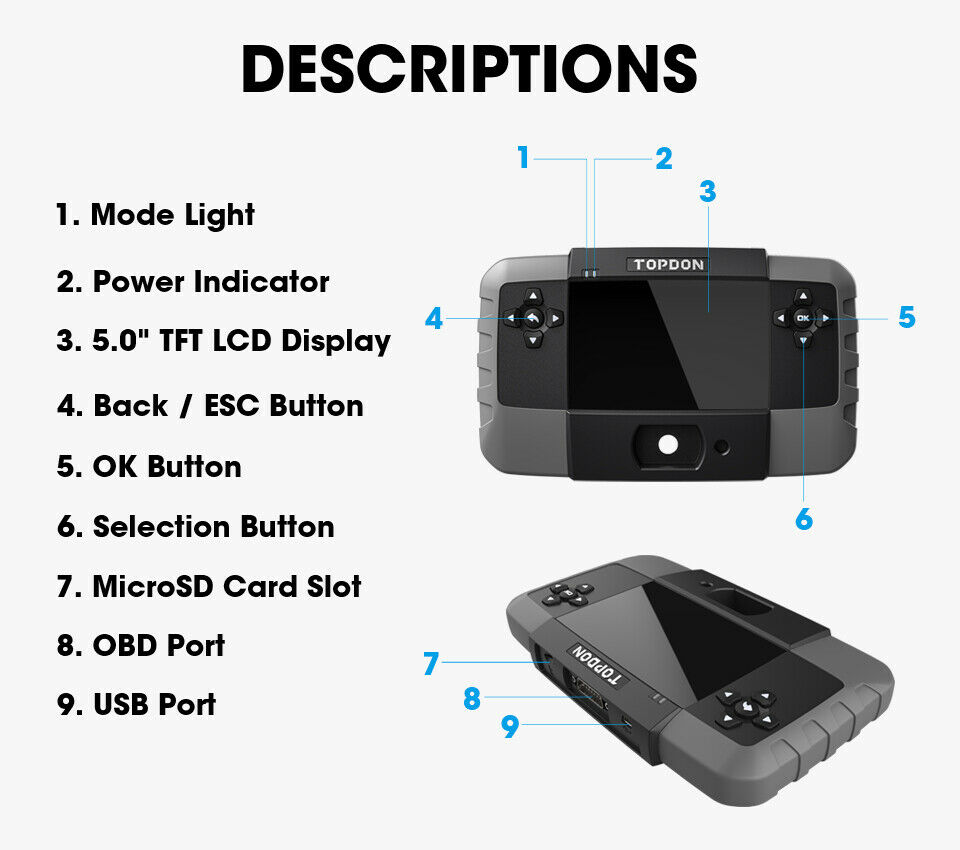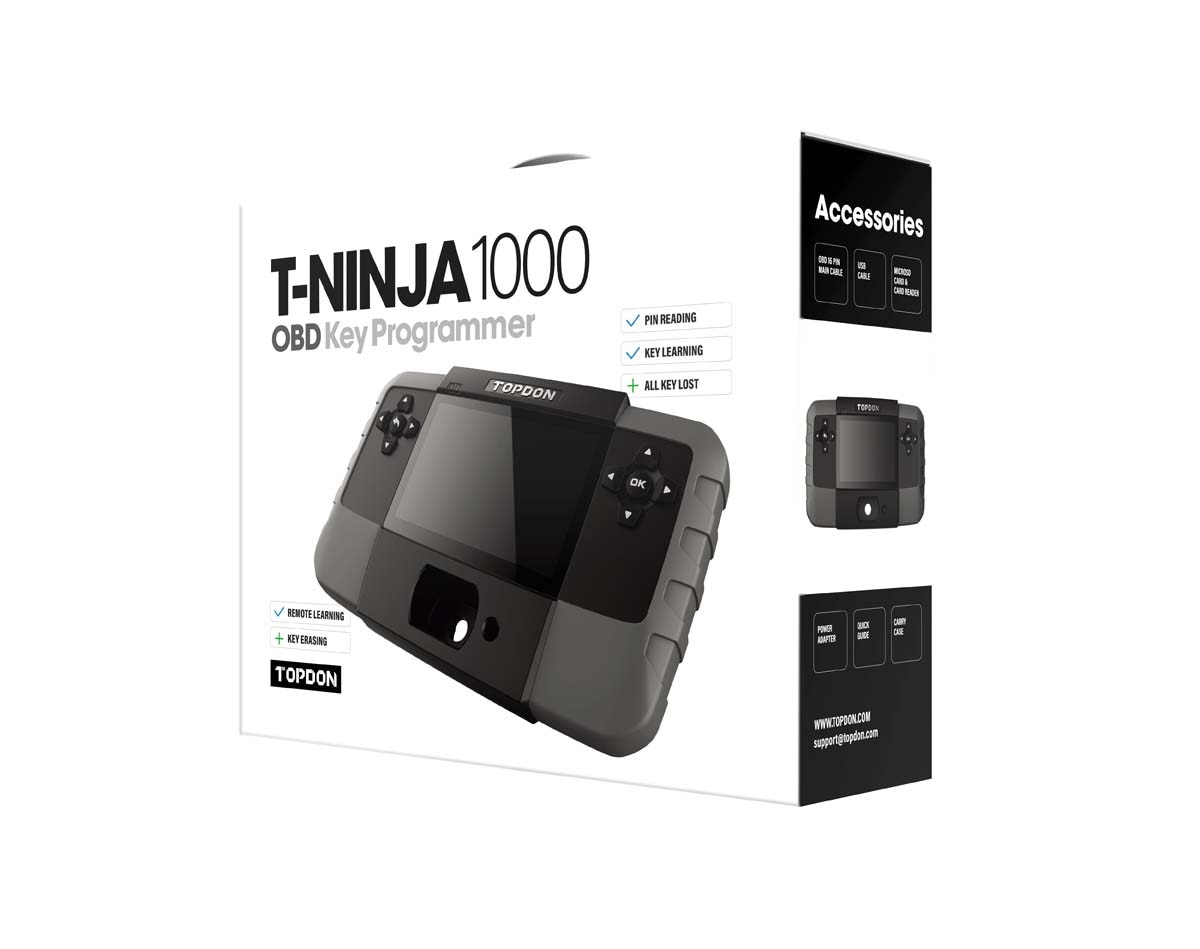 PACKAGE LISTS:
1*TOPDON T-Ninja1000
1*OBD 16PIN Main Cable
1*USB Cable
1*MicroSD Card Reader
1*12V Power Adapter
1*Quick Guide
1*Carry Case
1*Package List