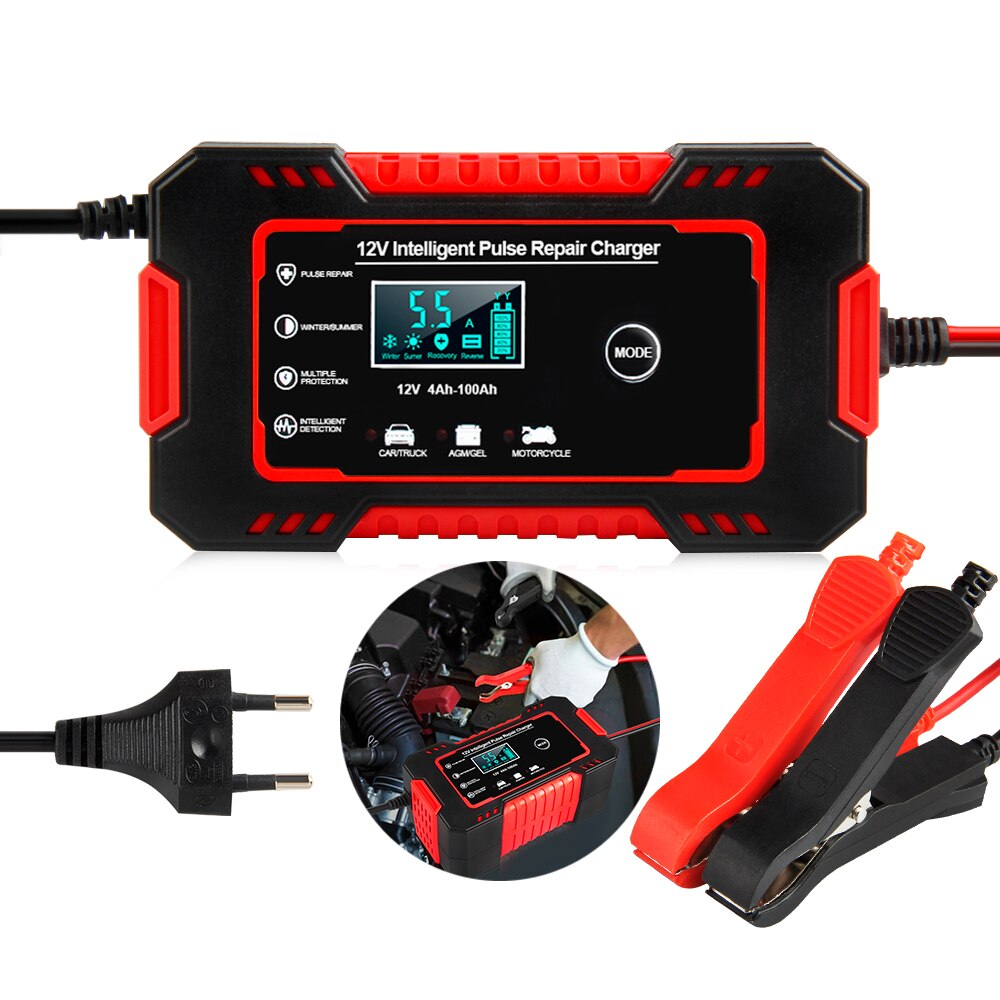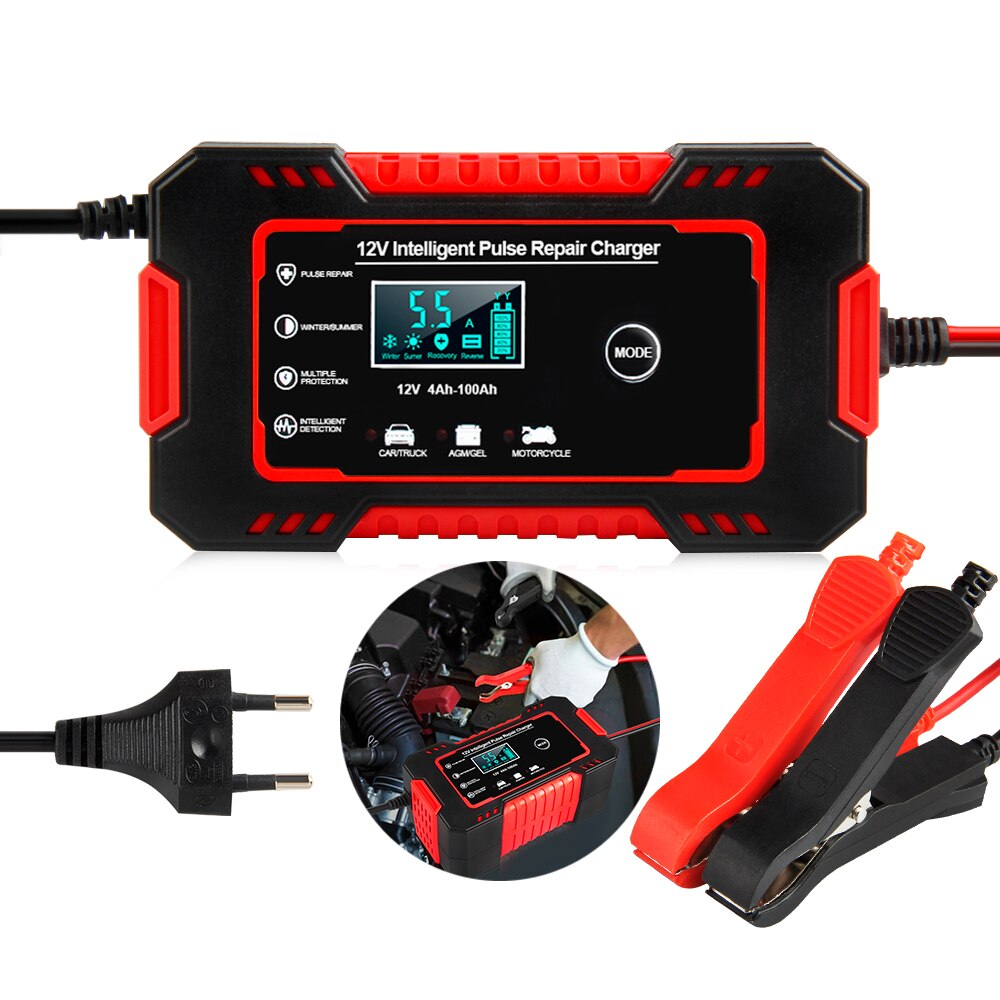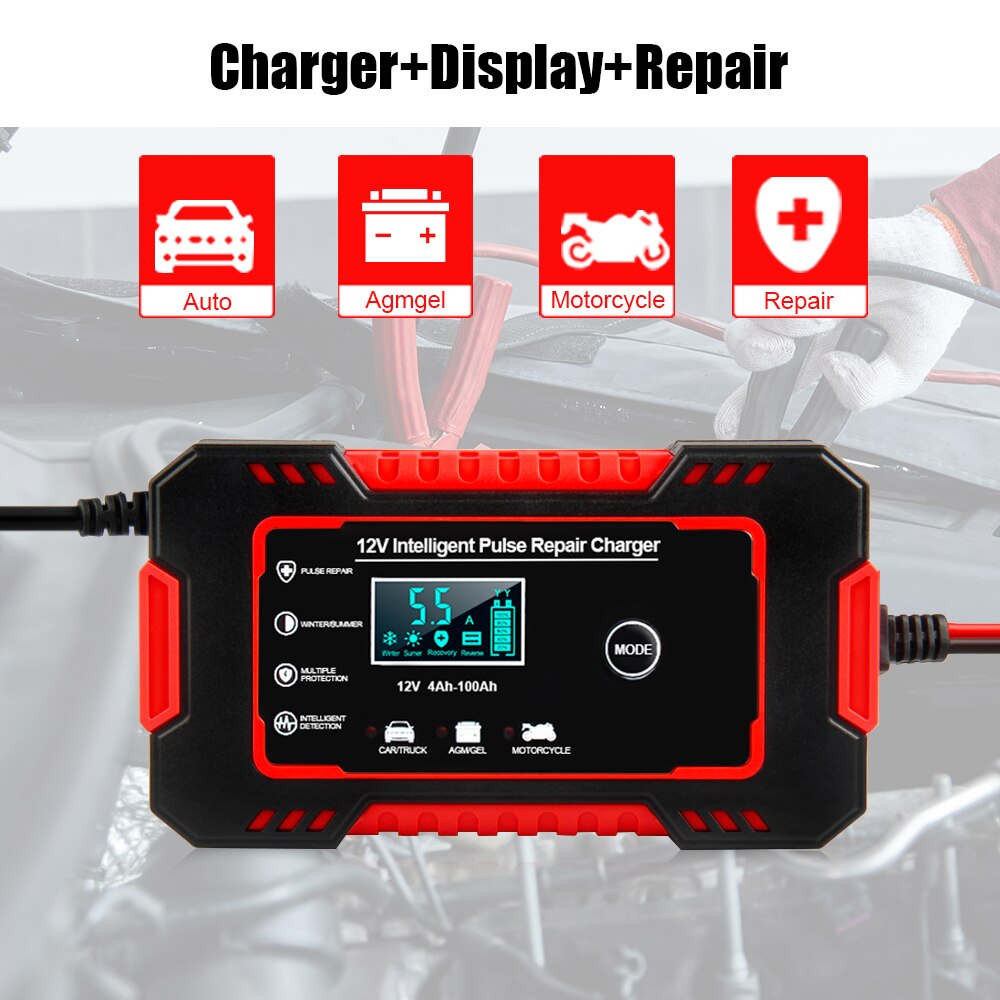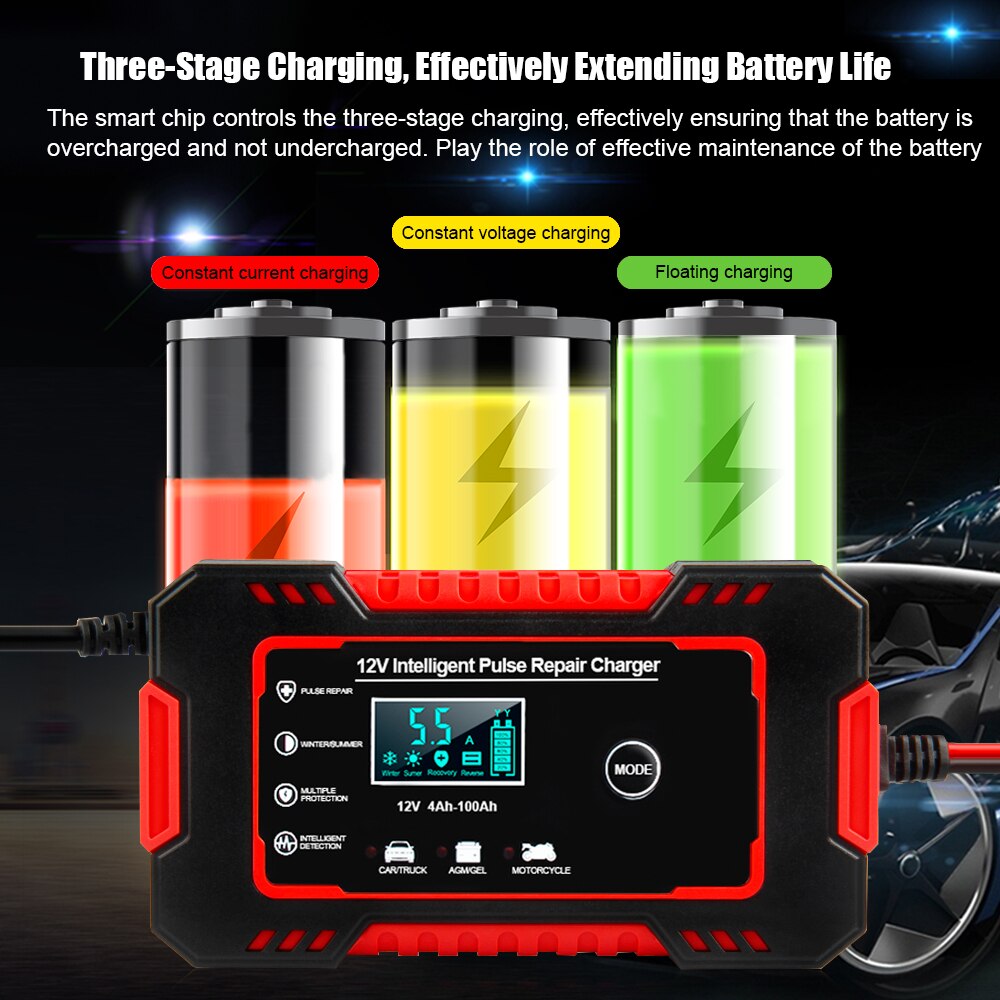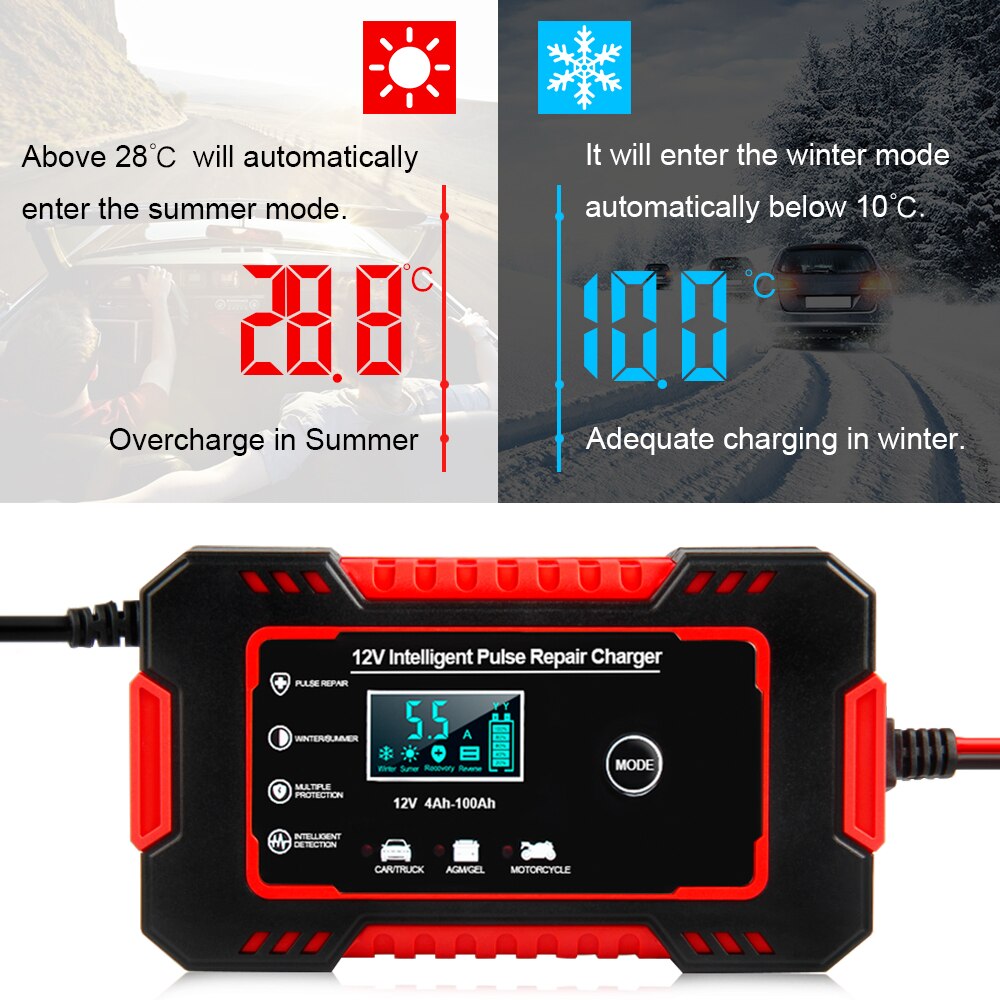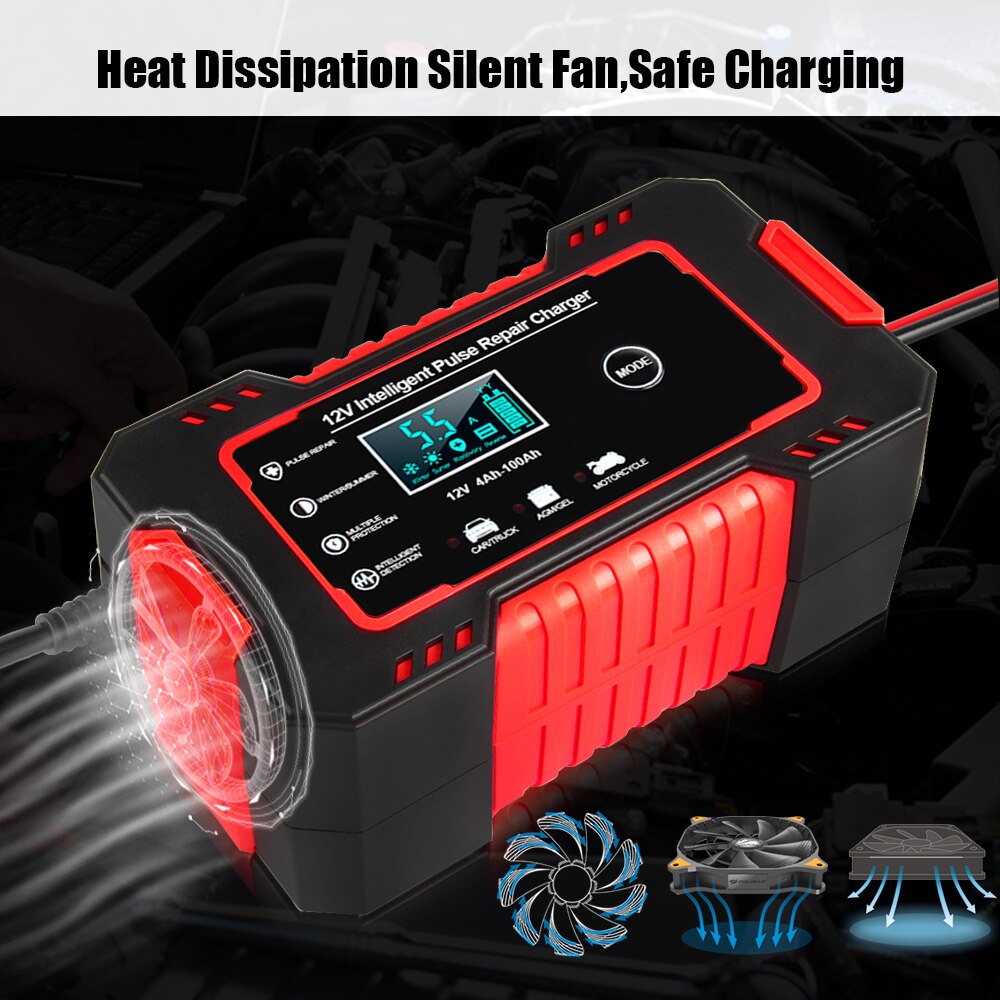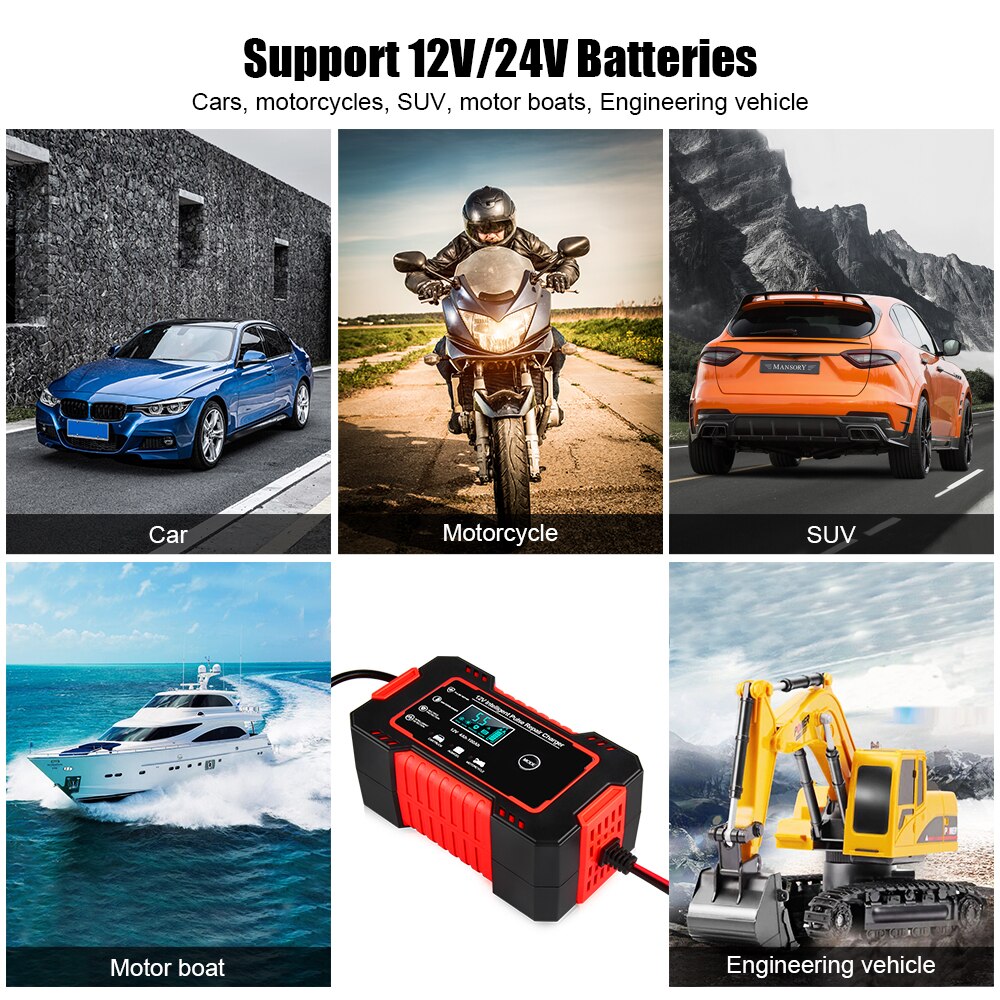 Car Battery Charger 12v fully automatic 6A Pulse Repair Battery Charger For Car Motorcycle Lead Acid Battery Car Diagnosis Tool
Car Battery Charger 12v fully automatic 6A Pulse Repair Battery Charger For Car Motorcycle Lead Acid Battery Car Diagnosis Tool Automatically charge the battery with a suitable voltage according to the detected temperature
Shipping:

Airmail Post


Estimated delivery time: 7-45 working days.

See details»

Returns:

Return for refund within 7 days,buyer pays return shipping.

Read details »

Support:
Product Details

Product's Reviews


Full Automatic Car Battery Charger 12V Digital Display Battery Charger Power Puls Repair Chargers Wet Dry Lead Acid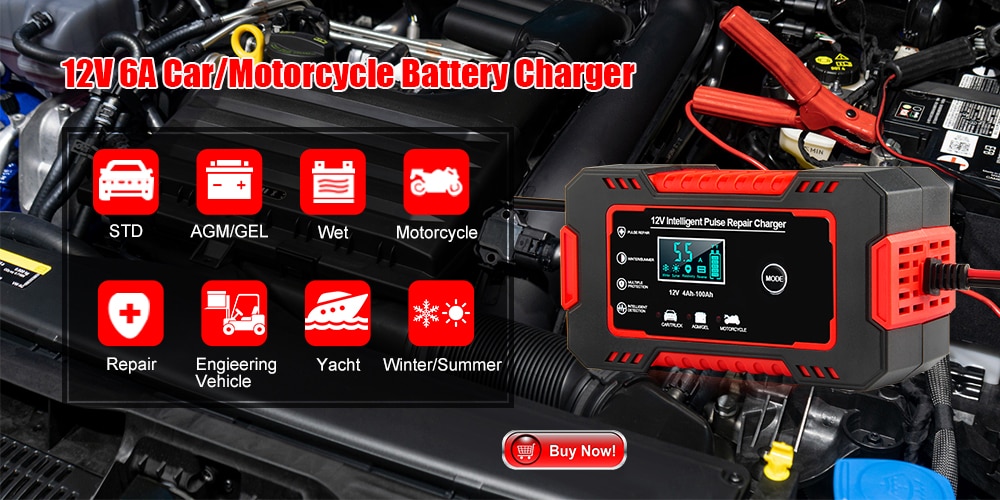 Ten reasons to choose 12V 6A car battery charger
1. Multiple modes, car/motorcycle charging + pulse repair
2. Wide range of adaption 12V general
3. Intelligent chip full power automatic shutdown
4. Automatically recognize the ambient temperature and adjust the appropriate charging voltage in seasons to extend battery life
5. Current can be adjusted according to the mode (6A, 4A, 5.5A 2A) to protect the battery
6. Wide voltage support 110-250V input
7. Heat dissipation silent fan, safe charging
8. Flame retardant shell strong and durable
9. The Smart LED liquid crystal display shows the temperature, current, voltage, and power inside the battery at the same time.
10. The length of the cable is long enough, charging is more convenient
Multiple modes, car/motorcycle charging + pulse repair
1. LED Dispaly 2.Voltage Detection 3. Pulse Repair 4.Multiple Protection 5.Temperature Detection 6.Automatic stop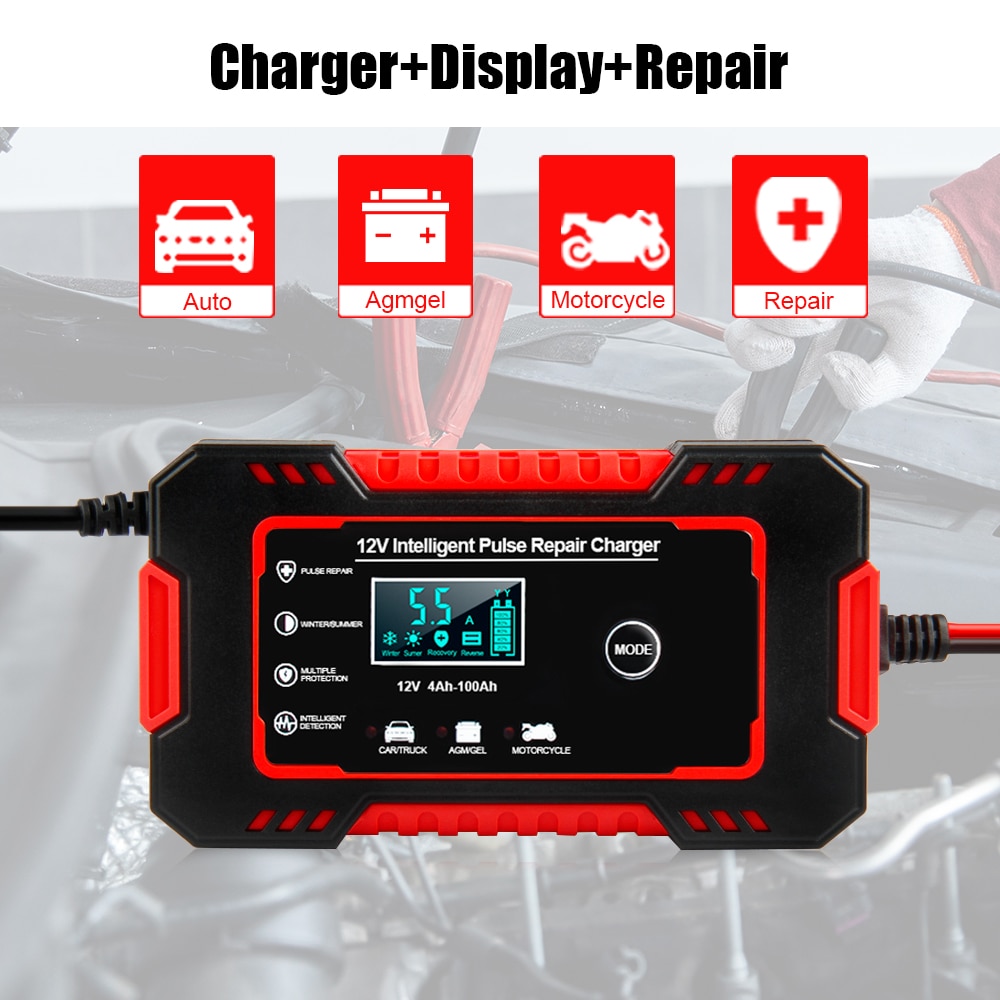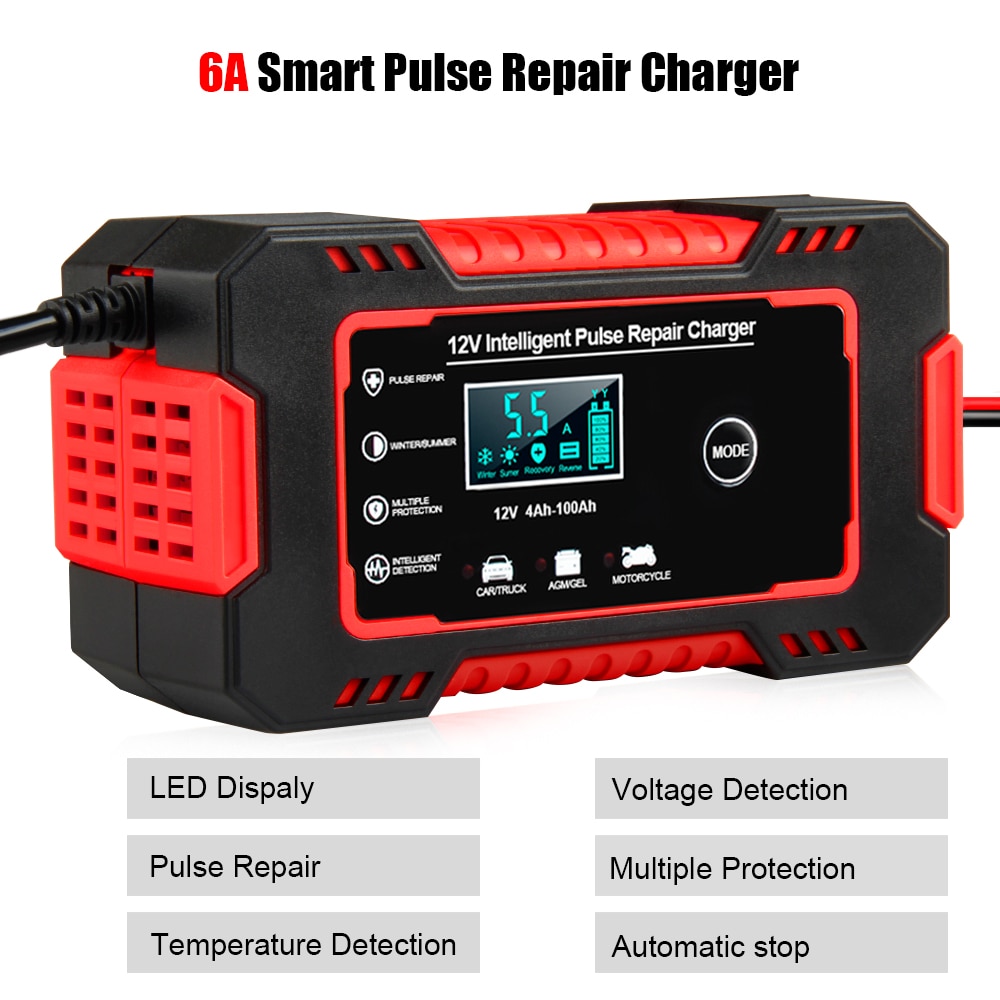 One-Click Repair To Activate The Battery. Solve the problem of battery feeding, no charging, and large internal resistance
1. The electric pressure is poor in starting power
2. Vehicle is idle for a long time
3. Old battery cannot be charged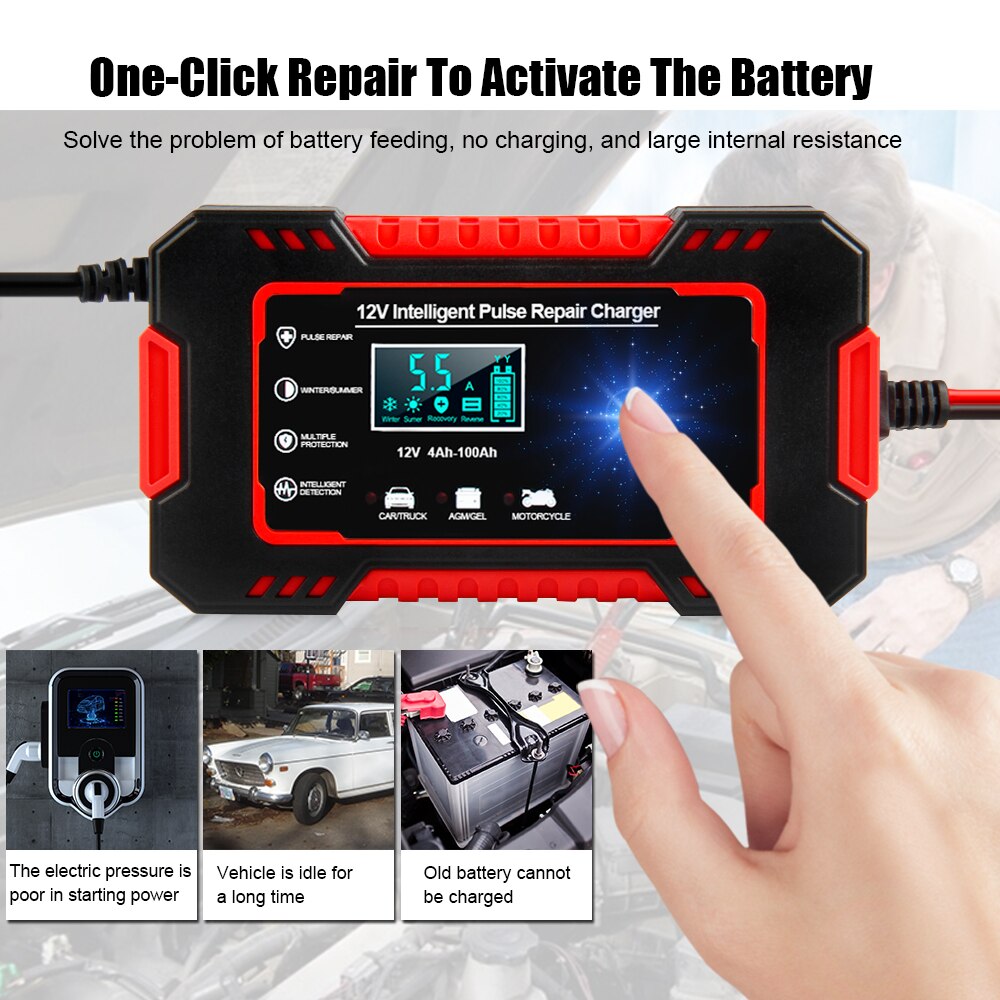 Multiple modes Cars, motorcycles/start-stop/repair
One-key switch: start and stop the battery/normal battery, dual-mode battery charge separately, no damage to the battery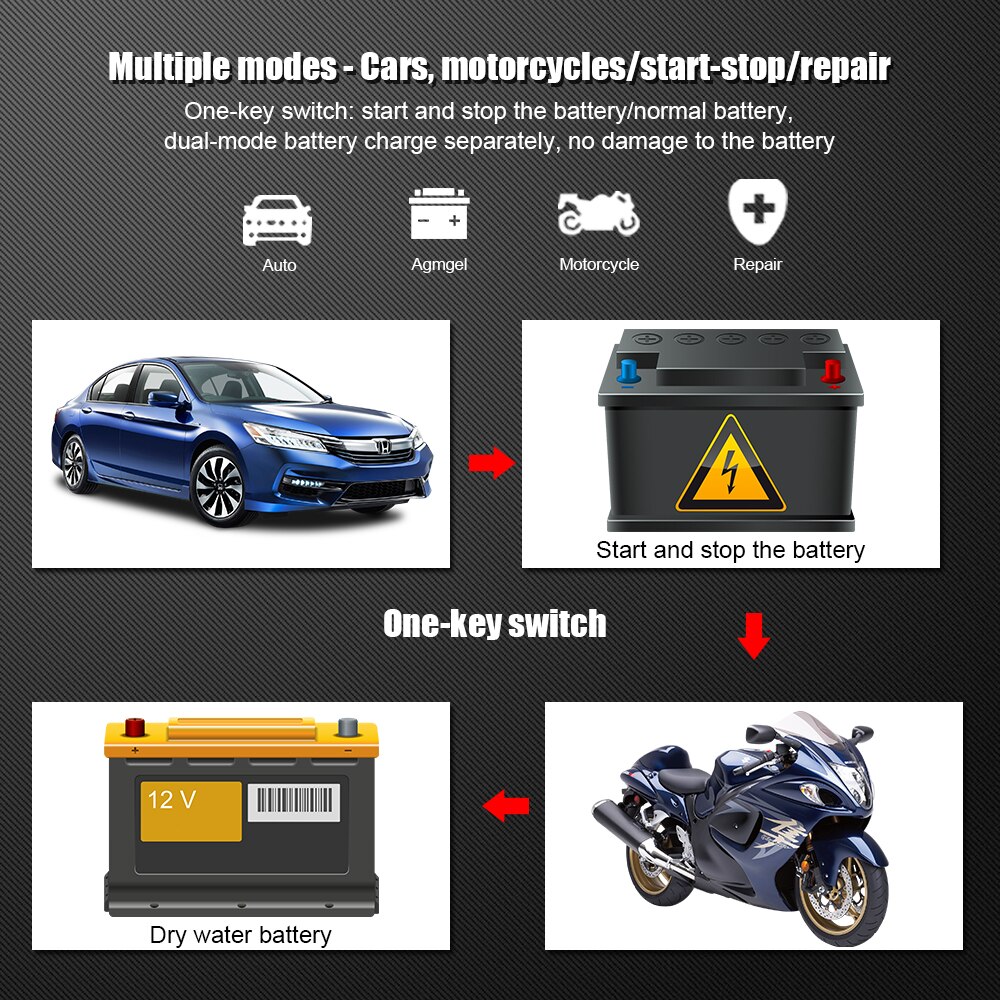 Support 24V/12V Batteries
Cars, motorcycles, SUV, motor boats. Engineering vehicle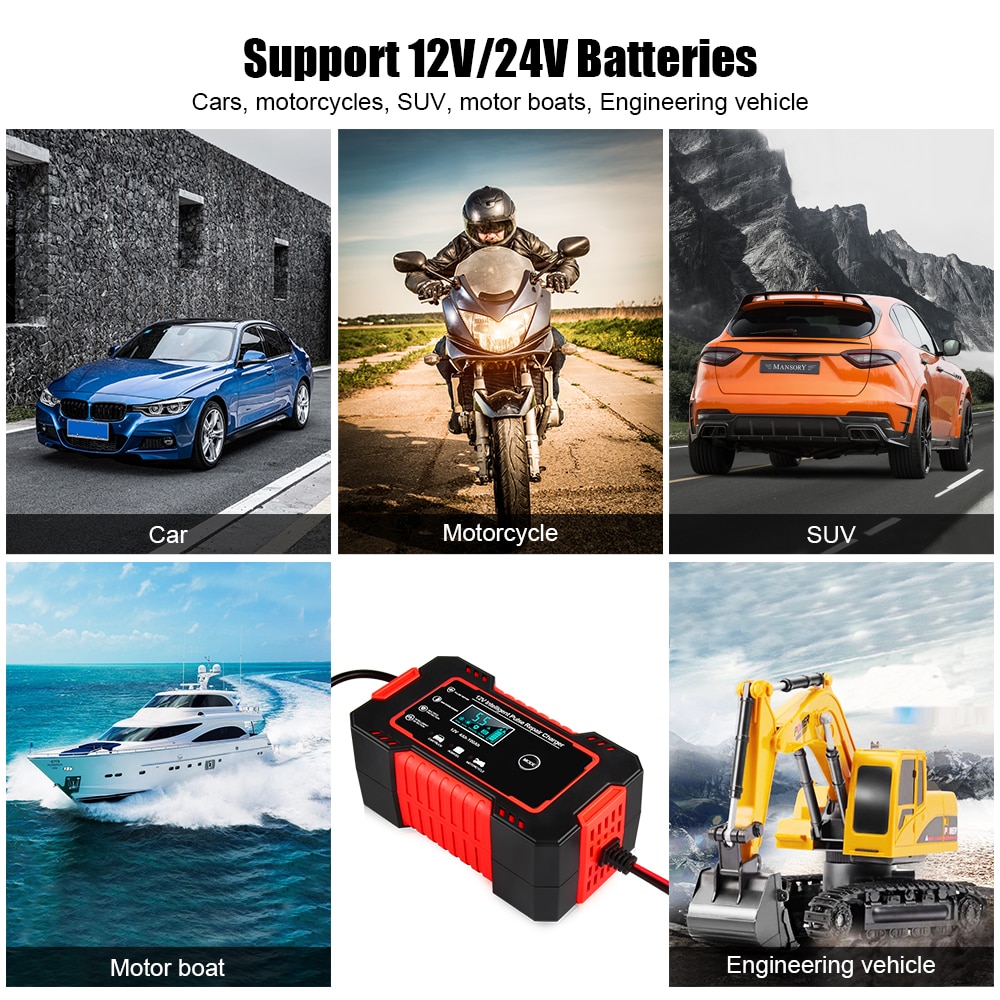 Three-Stage Charging, Effectively Extending Battery Life
The Smart chip controls the three-stage charging, effectively ensuring that the battery is overcharged and not undercharged. Play the role of effective maintenance of the battery. Constant current charging Constant voltage charging, floating charging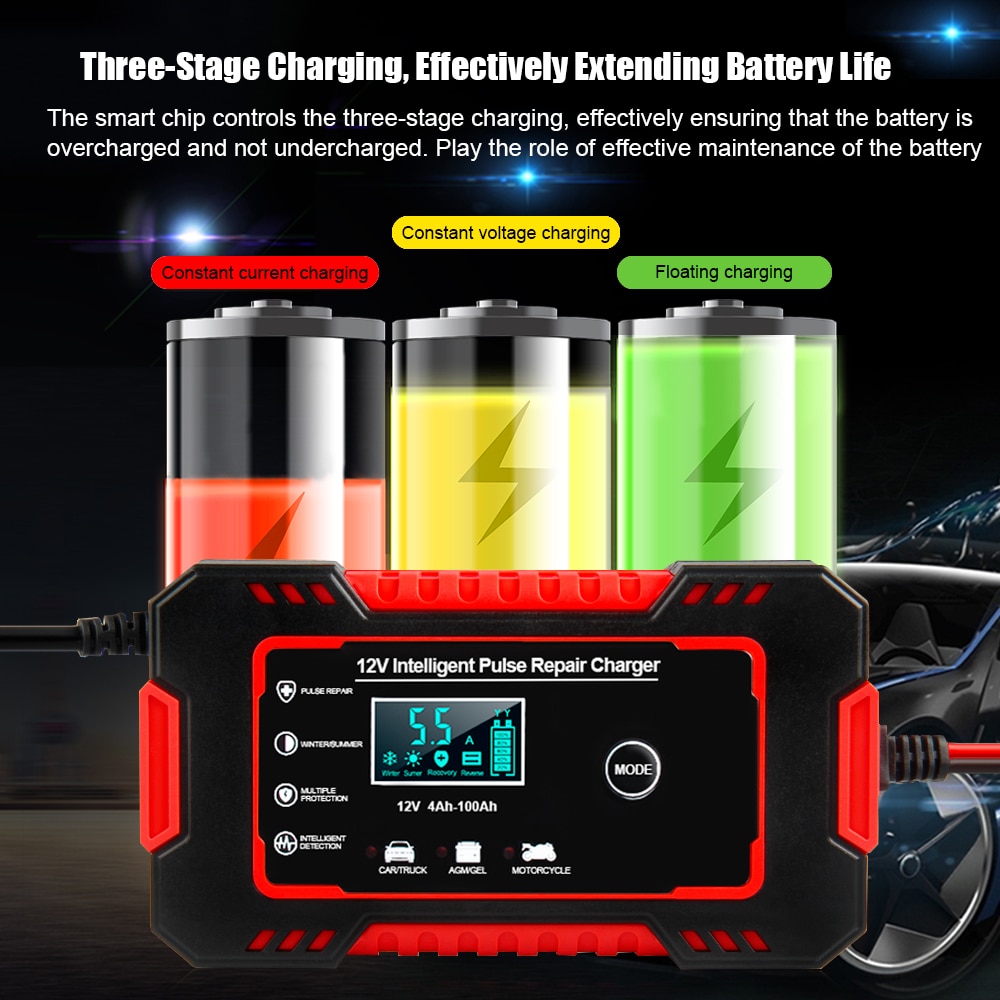 Automatically recognize the ambient temperature and adjust the appropriate charging voltage in seasons to extend battery life
"1.Above 28℃ will automatically enter the summer mode.
Overcharge in Summer
2. It will enter the winter mode automatically below 10℃. Adequate charging in winter."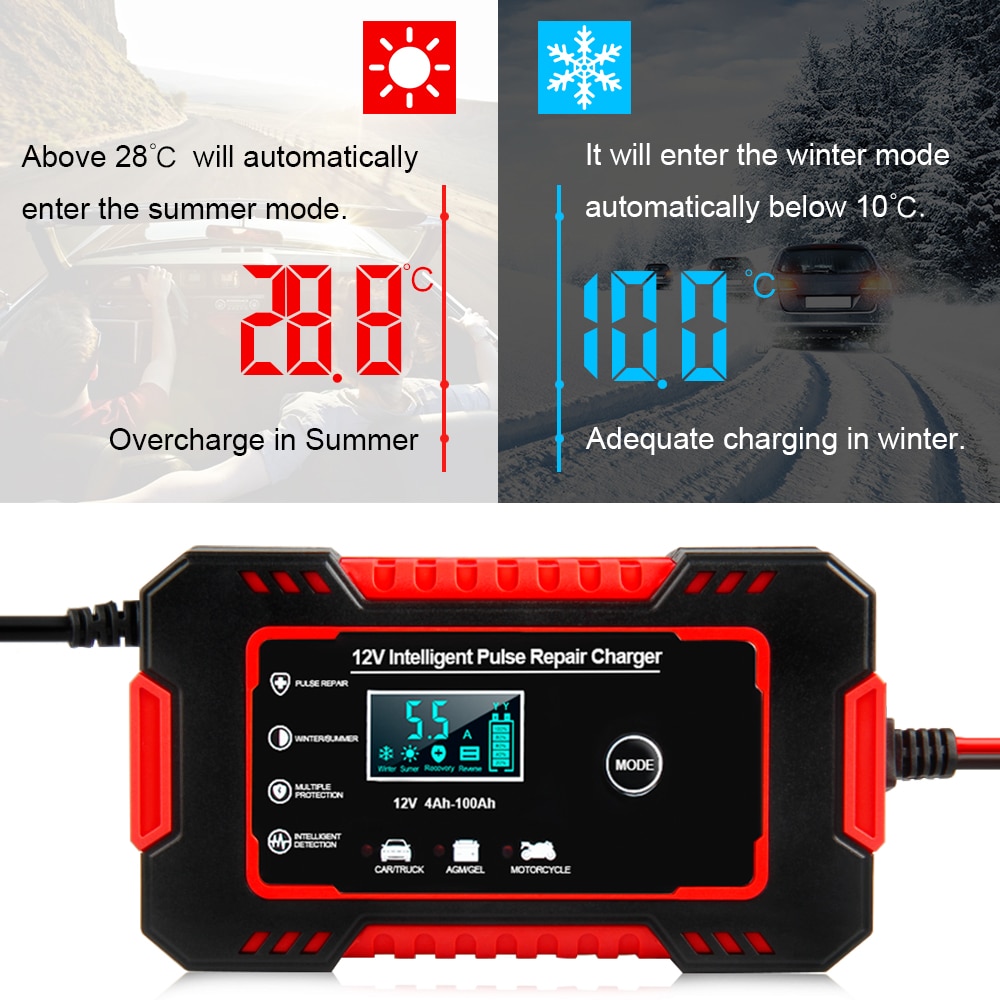 Six Safety Protections
1.Voltage stabilization protection, 2. overcharge protection 3.short circuit protection 4.high temperature protection 5.overcurrent protection 6. Reverse connection protection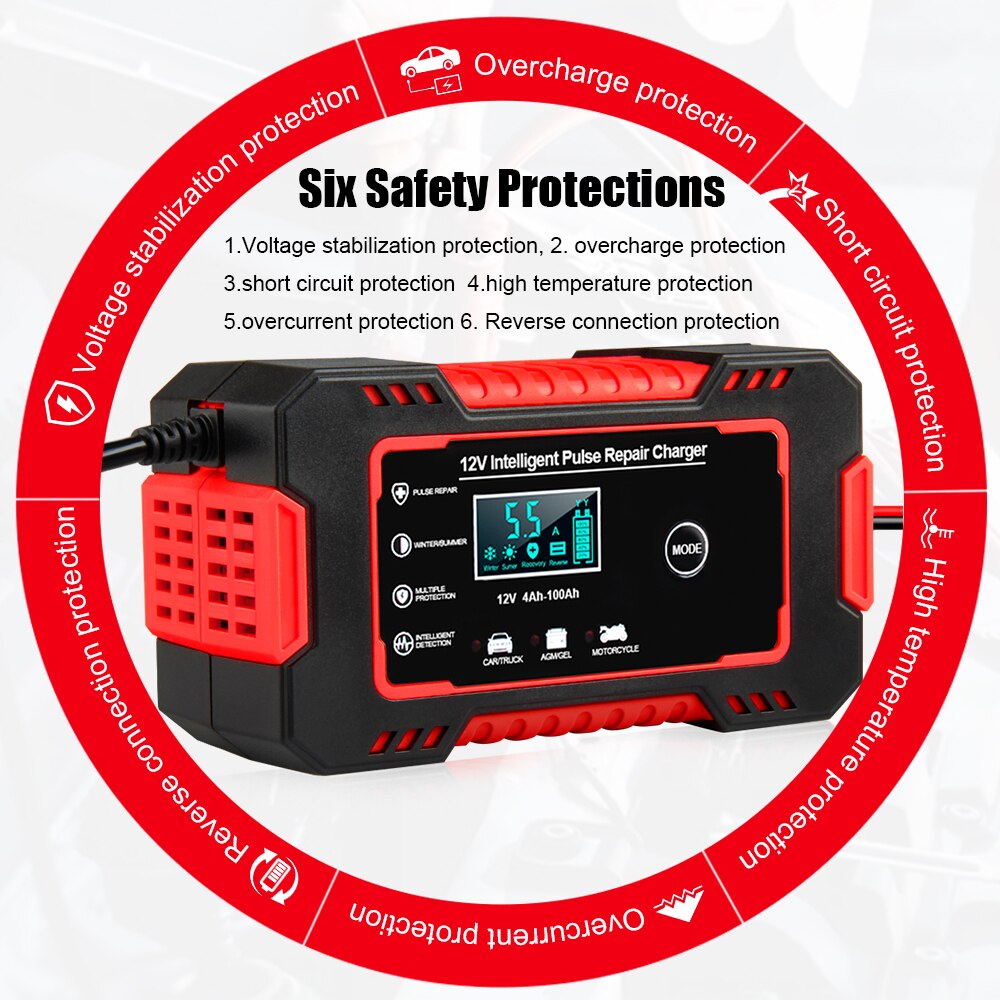 Car Battery Charge & Check
1.Remaining Battery Detection
The remaining power of the battery can be checked at any time to see if it needs to be charged

2. Battery Voltage Detection
The battery voltage can be checked at any time to check whether the battery is working properly.

3. Automatic Temperature Detection
Automatically charge the battery with a suitable voltage according to the detected temperature

4. Anomaly Detection Display
Abnormal prompts during use to protect the safety of batteries and people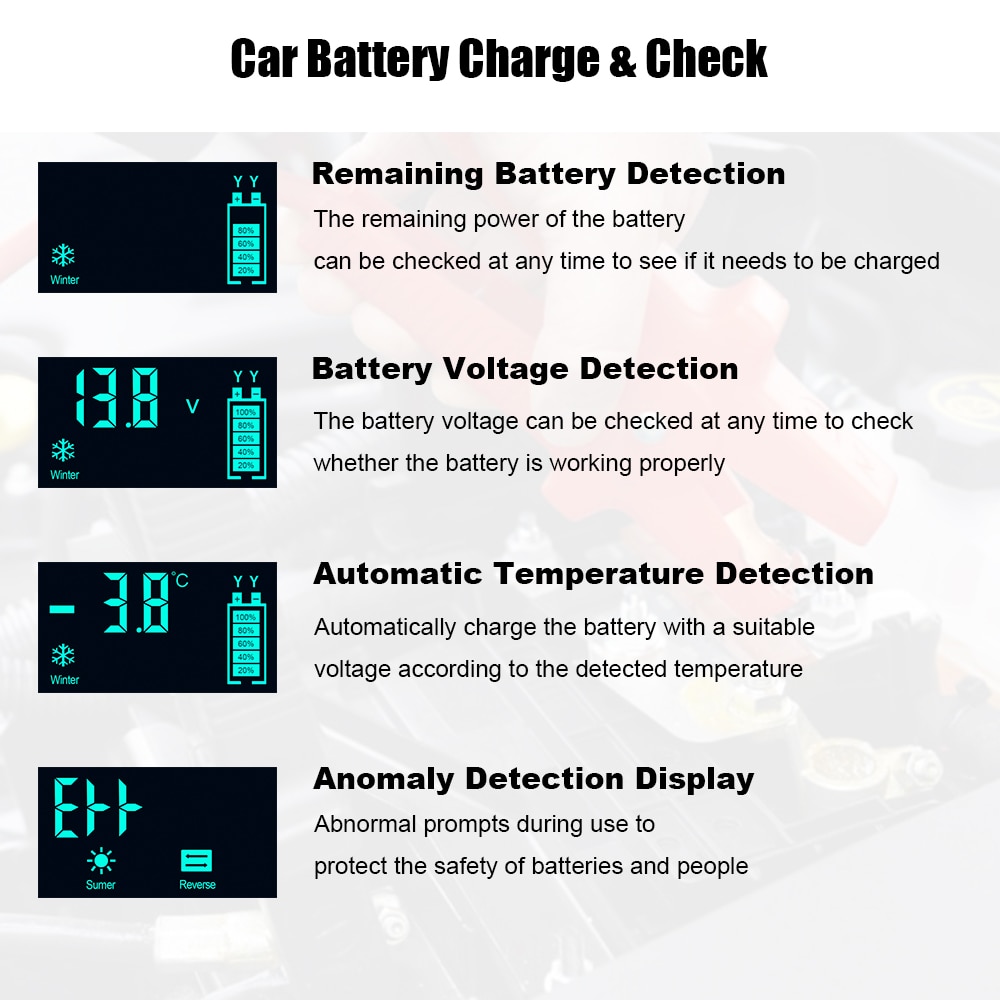 Heat Dissipation Silent Fan,Safe Charging
Stronger heat dissipation, low noise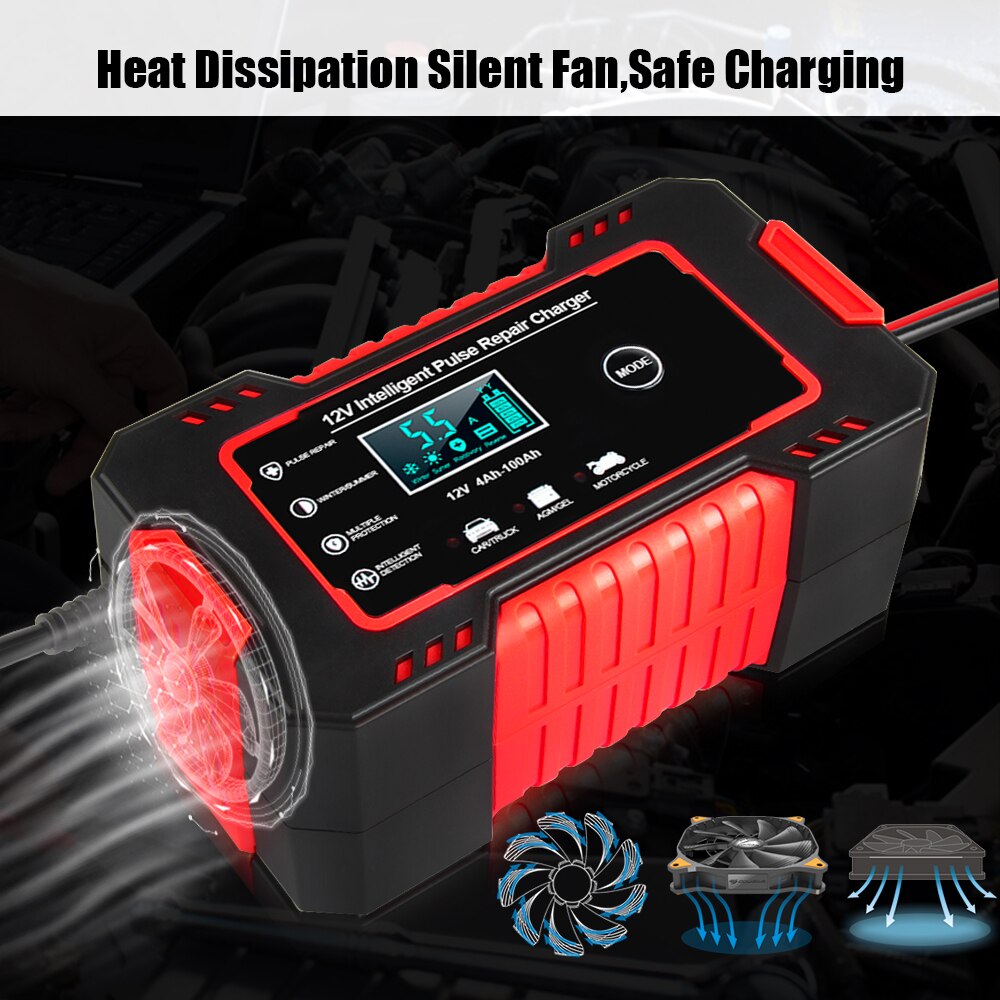 Smart Chip, Full Power Automatic Shutdown
Adopt CUP precise control and multiple protection charging, use more at ease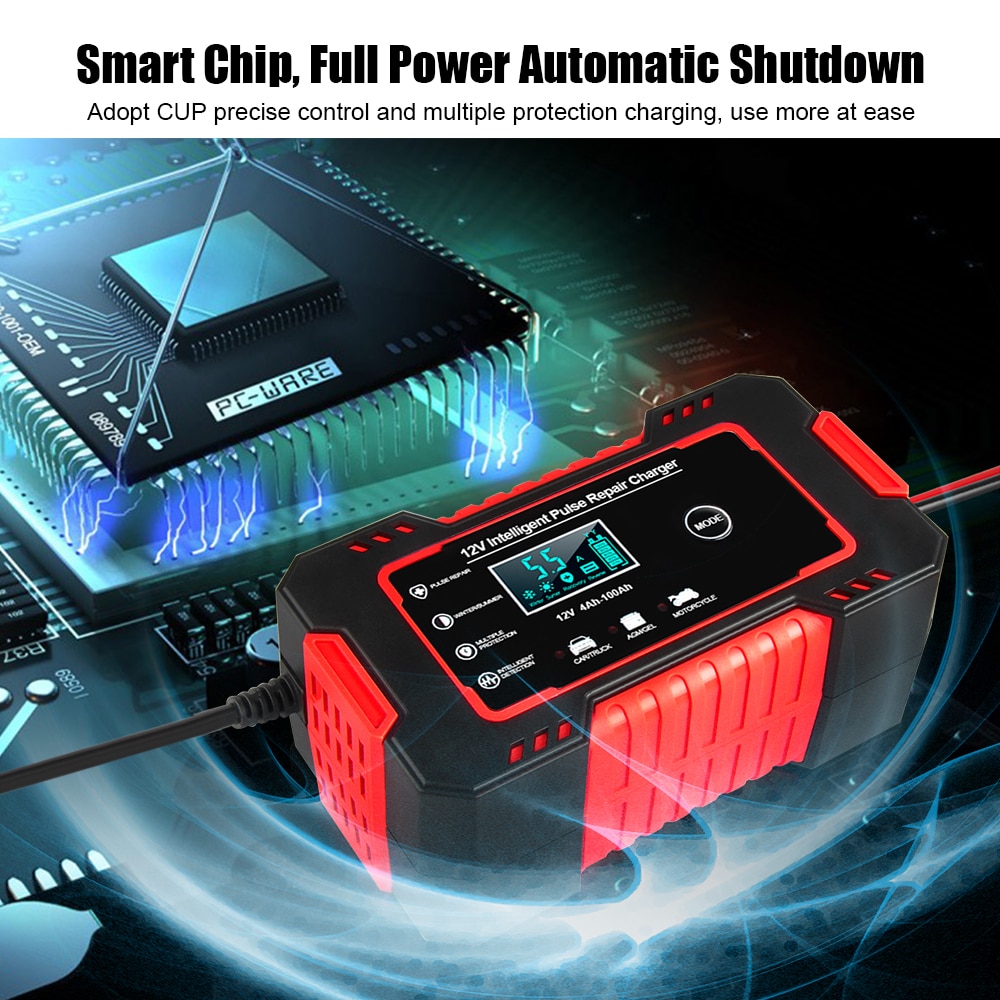 Intelligent Pulse Repair
The output has a phased pulse wave voltage, which has an obvious repair effect on the sulfide layer on the plates at both ends of the battery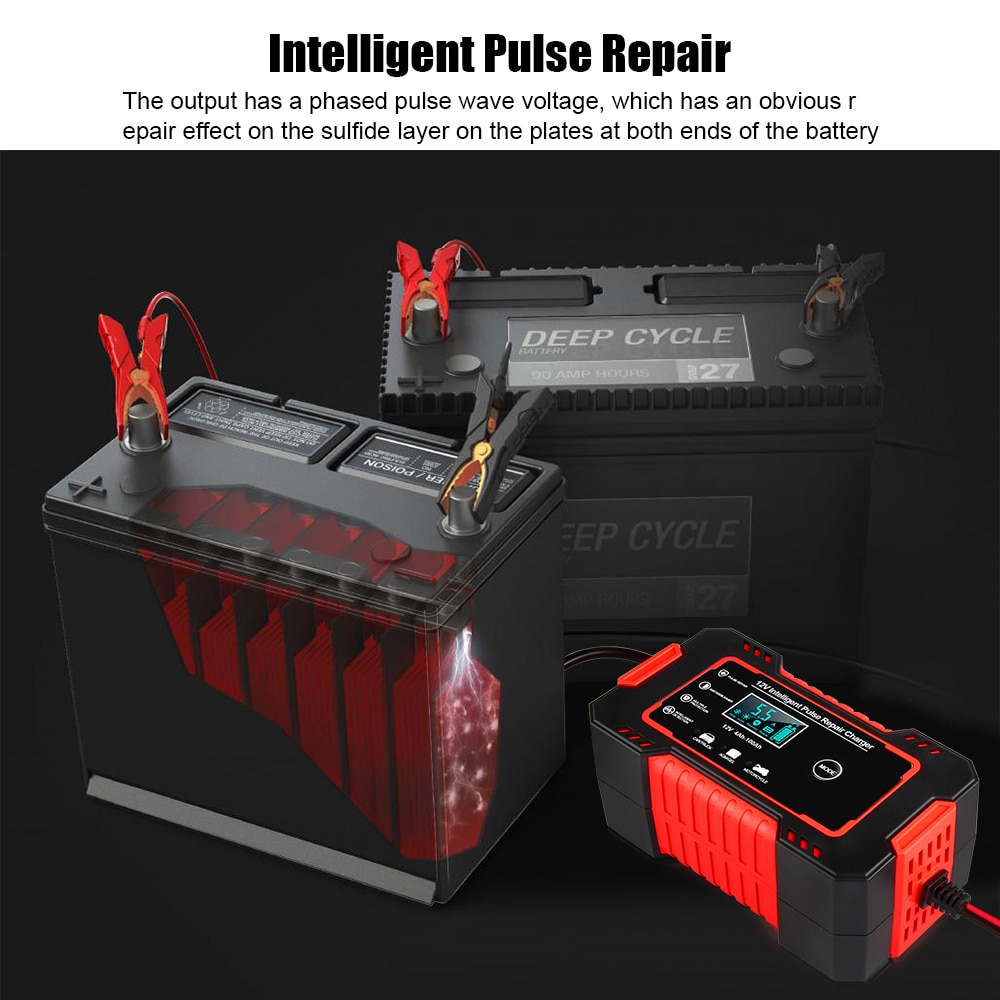 155cm Lengthened And Thick Line . Output line length 65cm + output line length 90cm.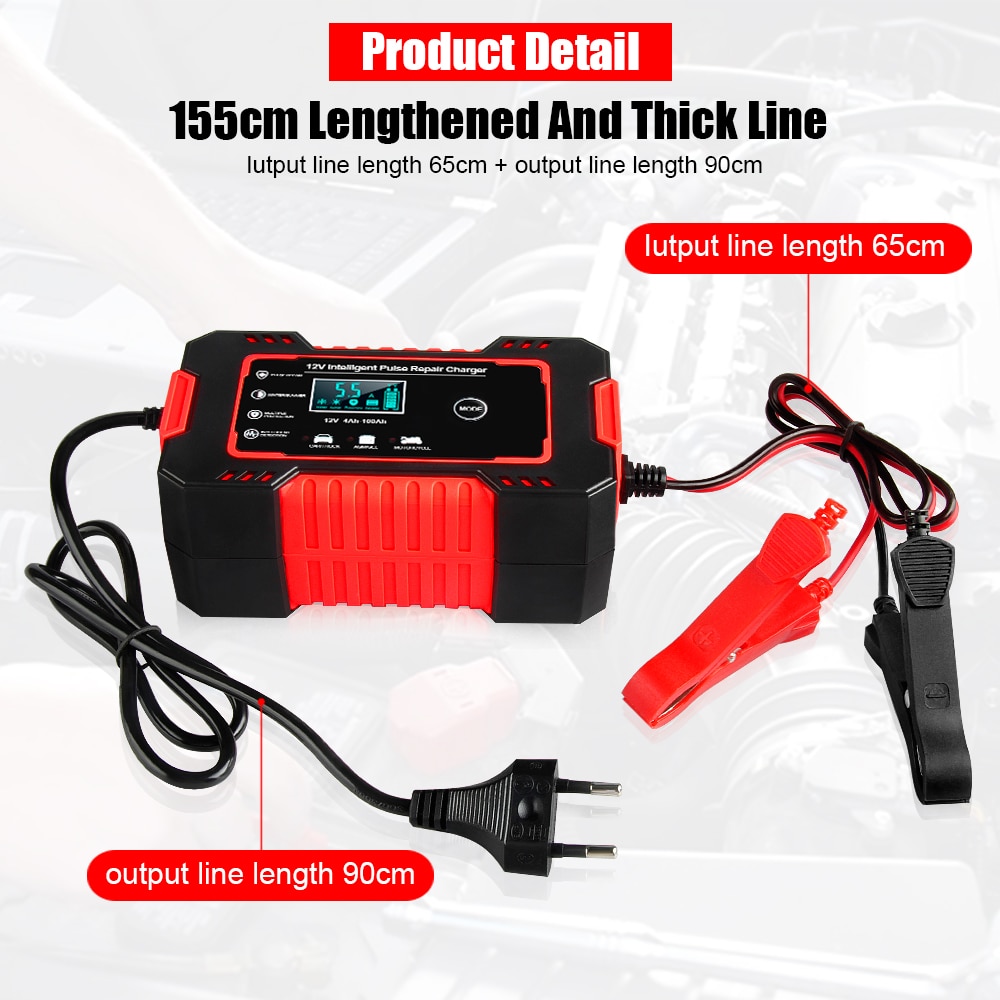 Flame Retardant Shell Strong and Durable
Adopt brand-new ABS flame-retardant shell, corrosion-resistant, insulated, sturdy and durable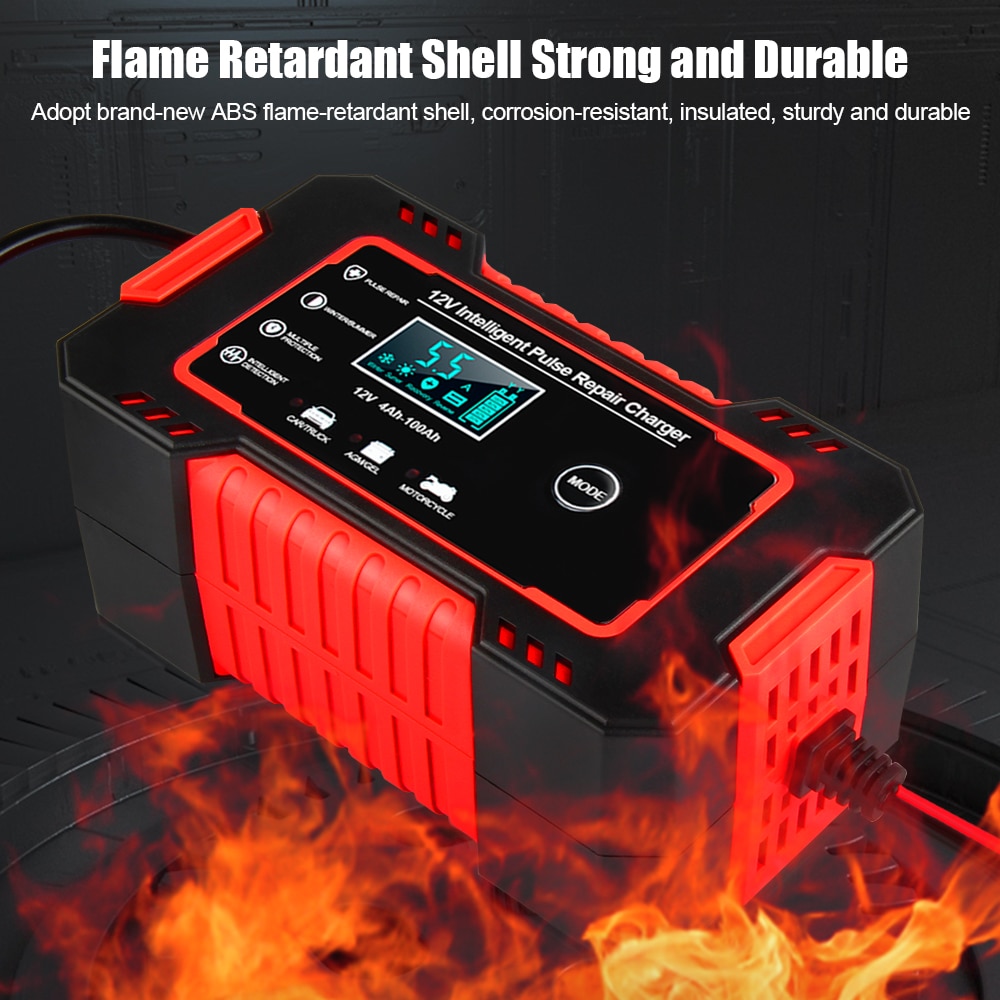 Pure copper material, quality and safety, cold and frost-proof
1.Thick pure copper soft core material to ensure stable current output. It can ensure that the wire does not heat up in the state of long-term charging, and the battery life is prolonged

2. It adopts full-wrapped high-conductor clips, which is beautiful and insulated at the same time sturdy and durable, safe to use.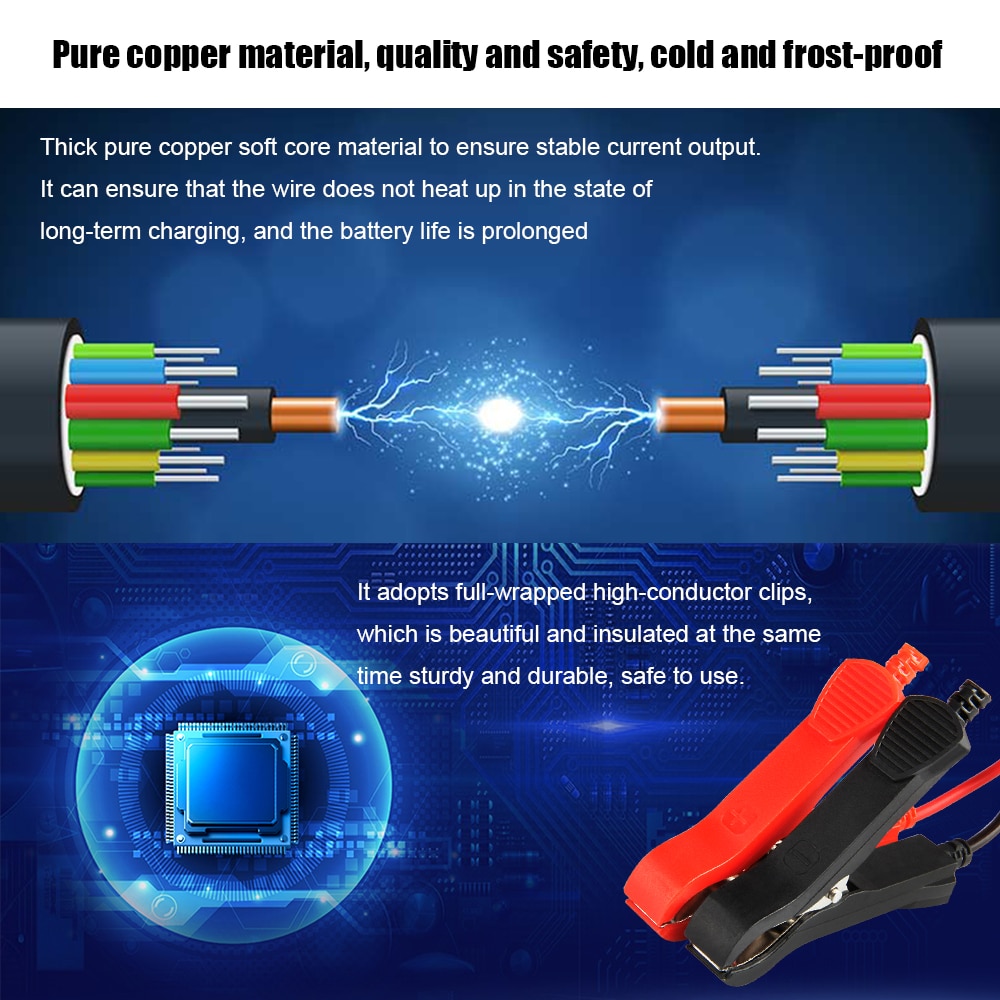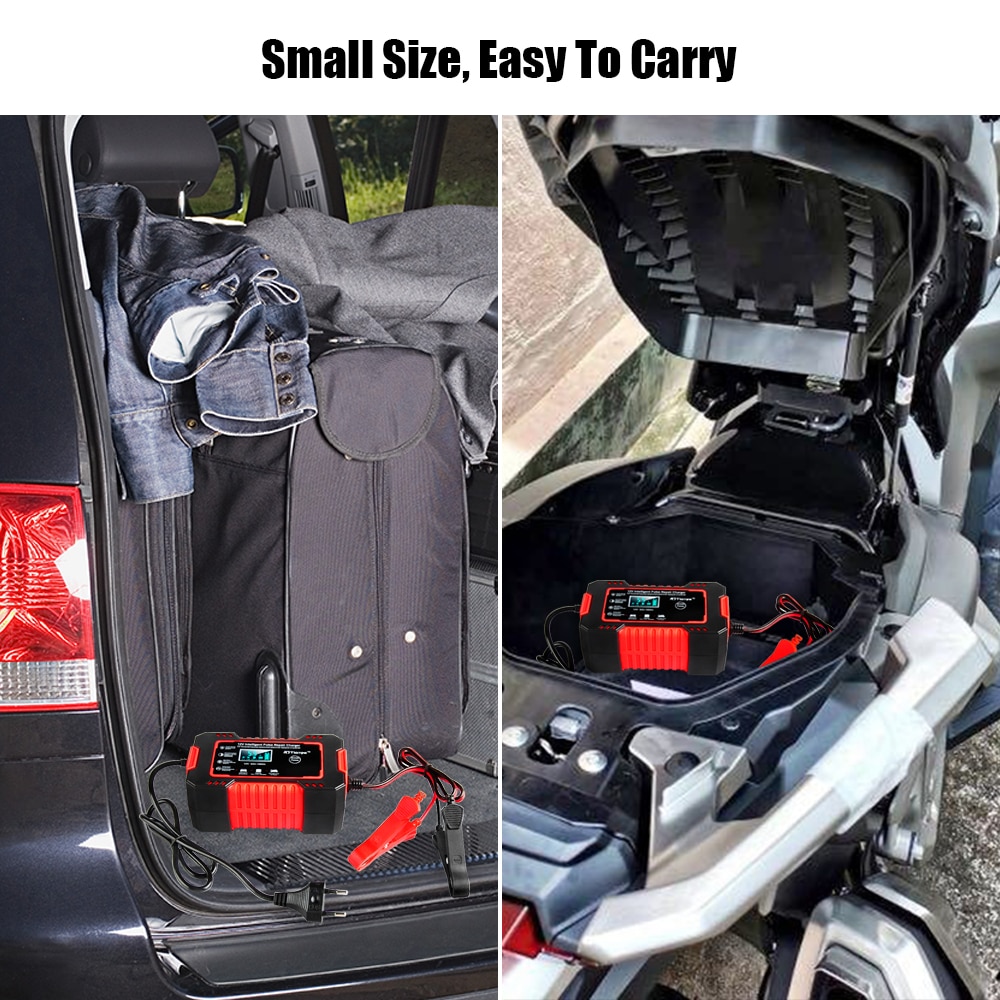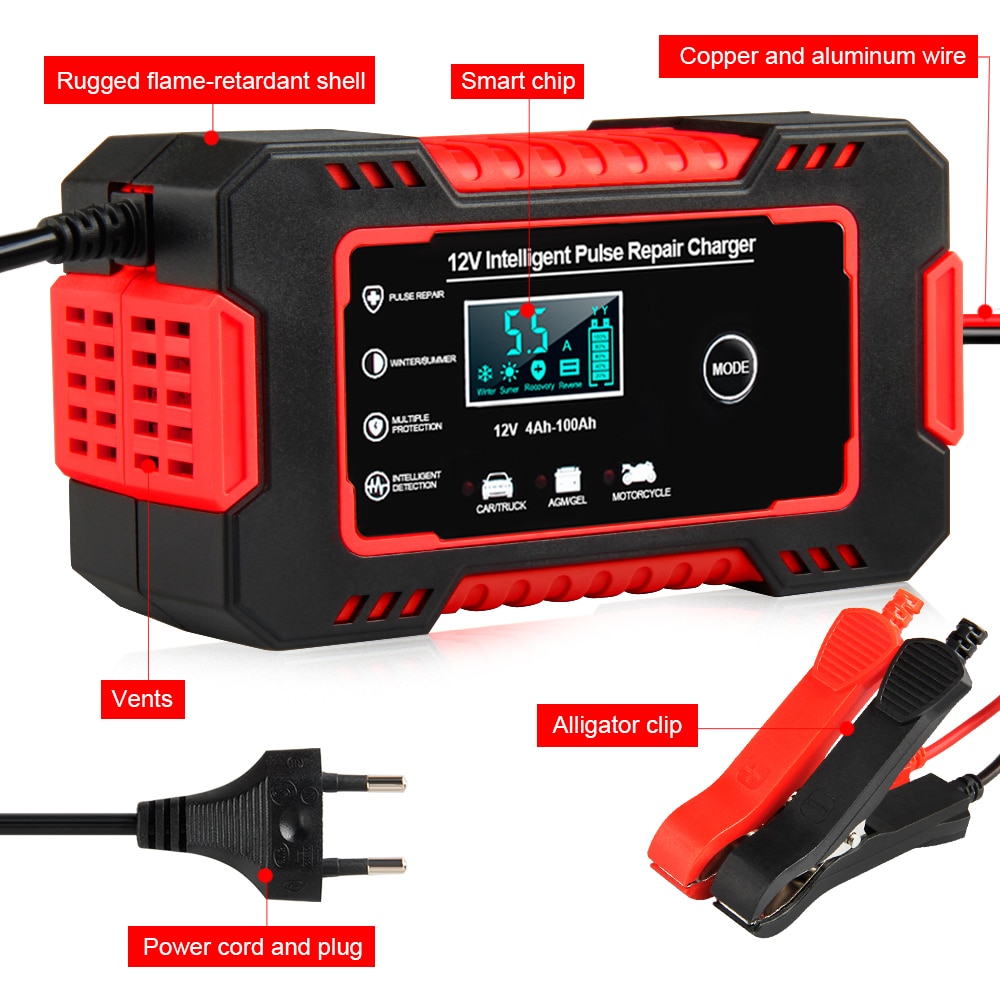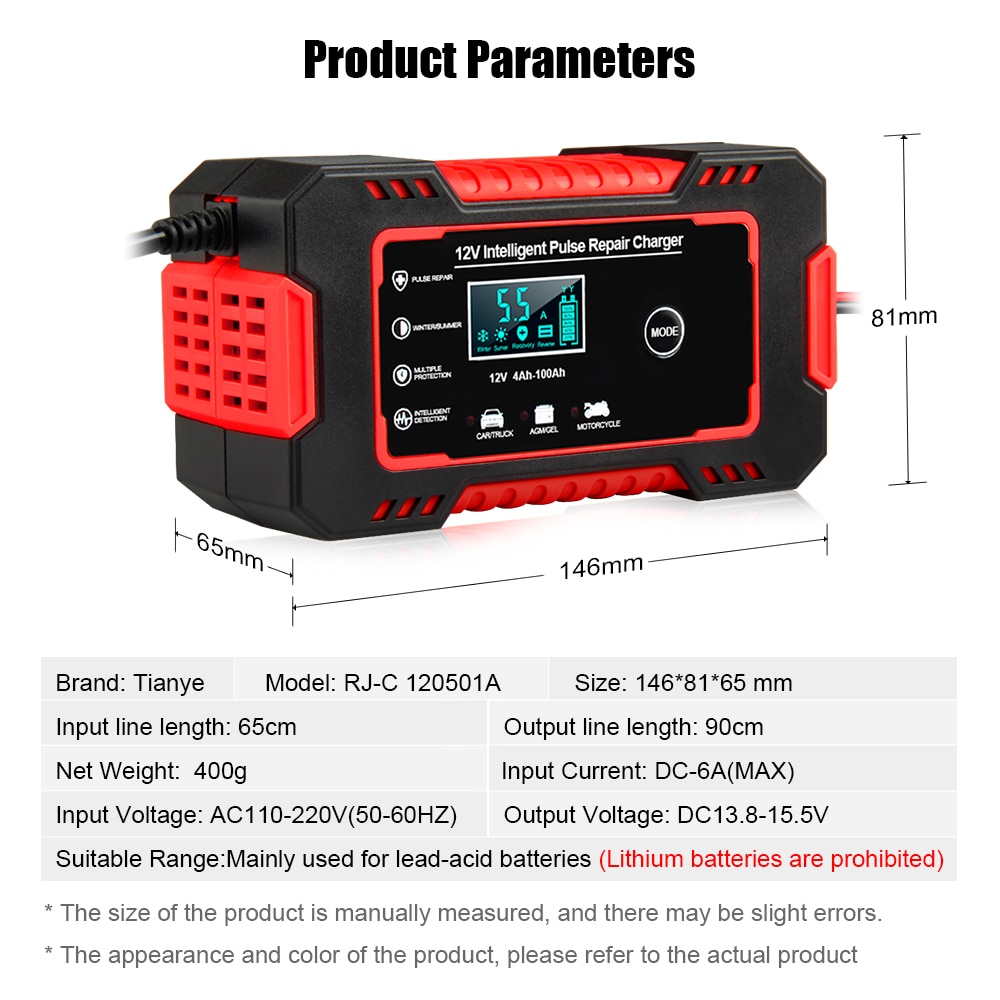 Product Parameters
Brand: Tianye Model: RJ-C 120501A Size: 146*81*65 mm
Input line length: 65cm Output line length: 90cm
Net Weight: 400g Input Current: DC-6A(MAX)
Input Voltage: AC110-220V(50-60HZ) Output Voltage: DC13.8-15.5V
Suitable Range:Mainly used for lead-acid batteries (Lithium batteries are prohibited)The size of the product is manually measured, and there may be slight errors. The appearance and color of the product, please refer to the actual product
Package list
1* 12V car battery charger
1* English user manual