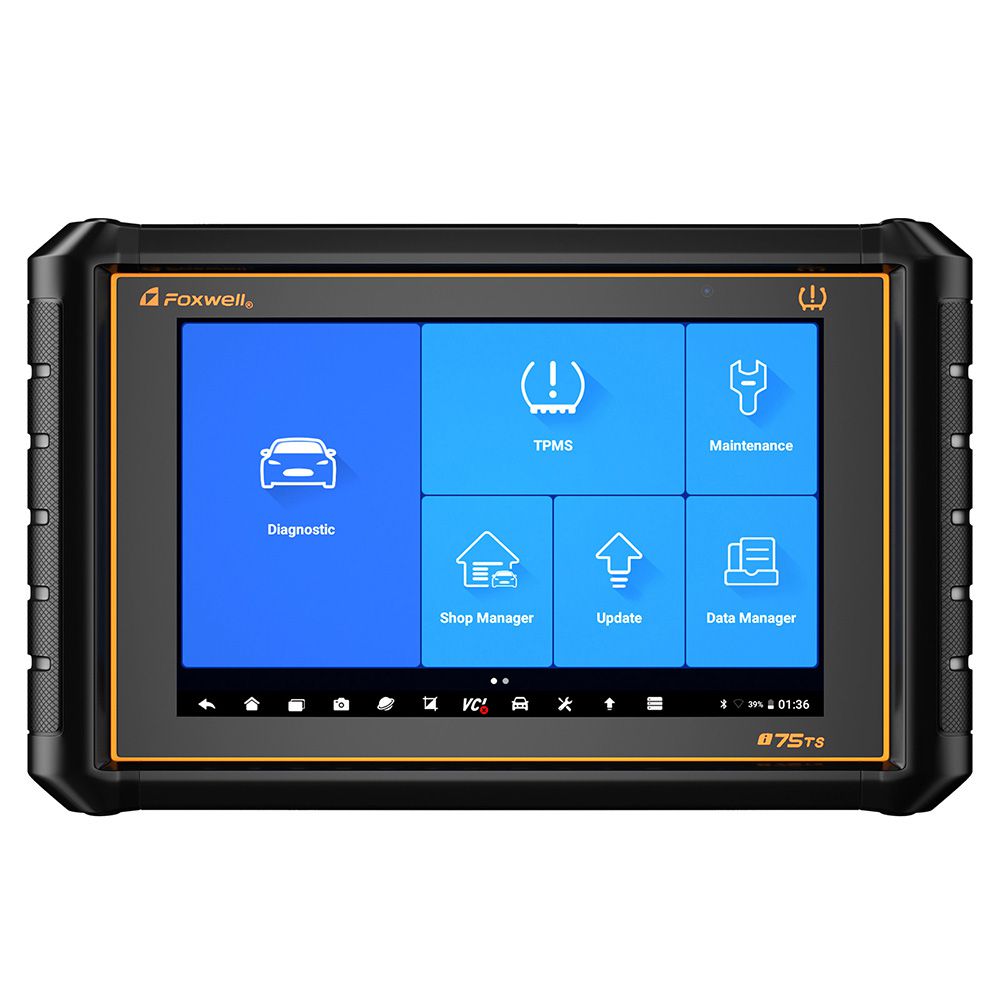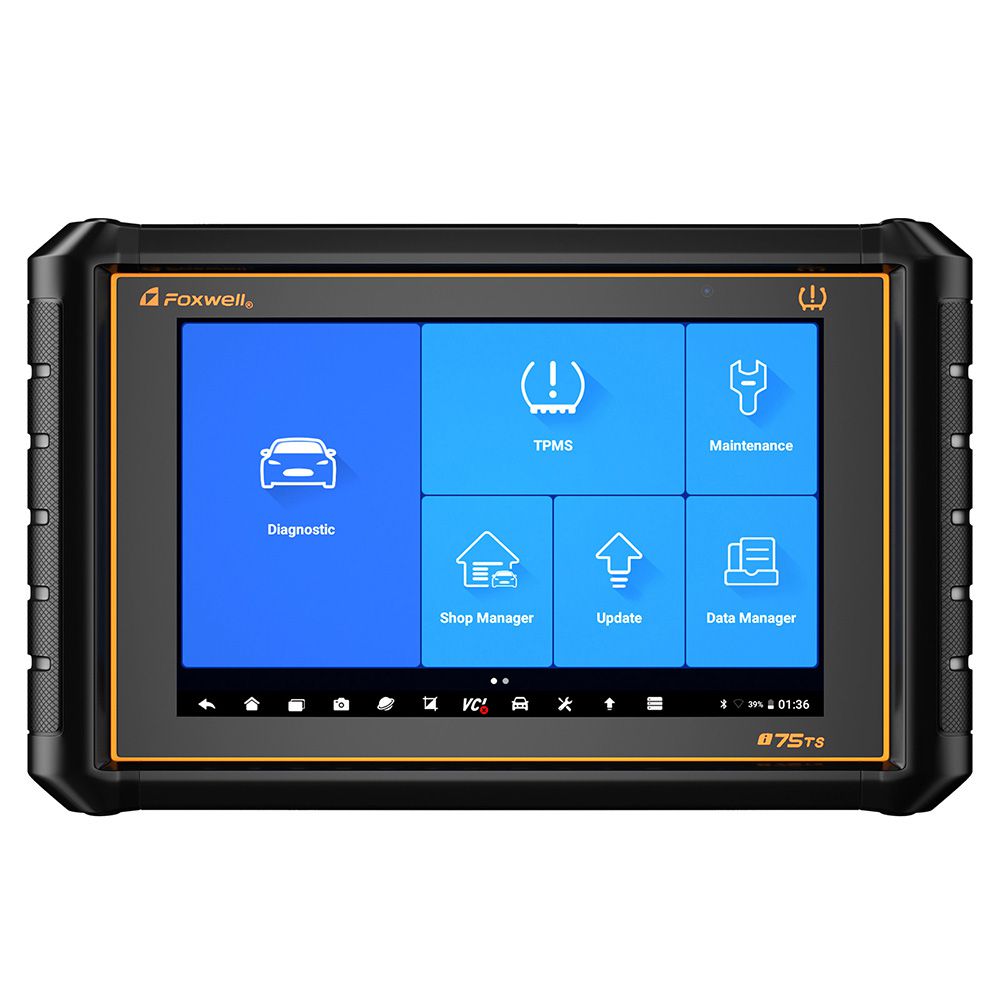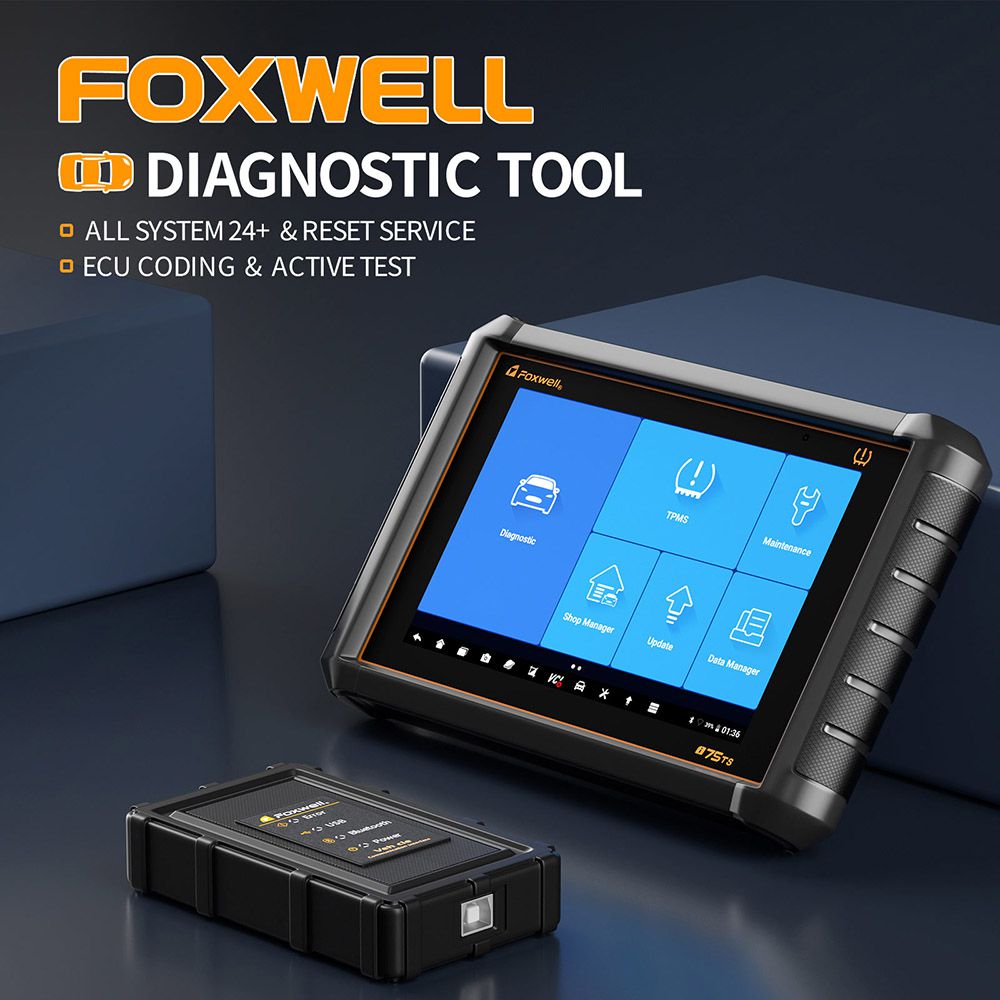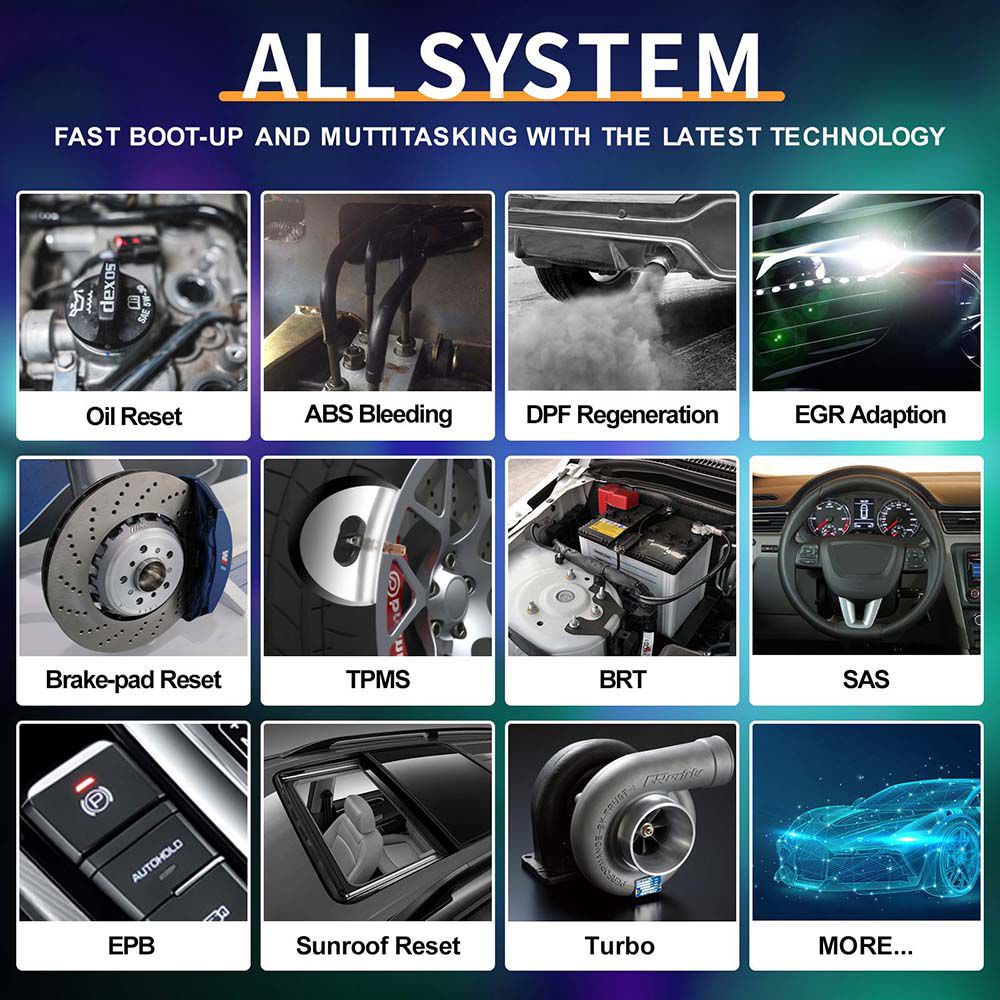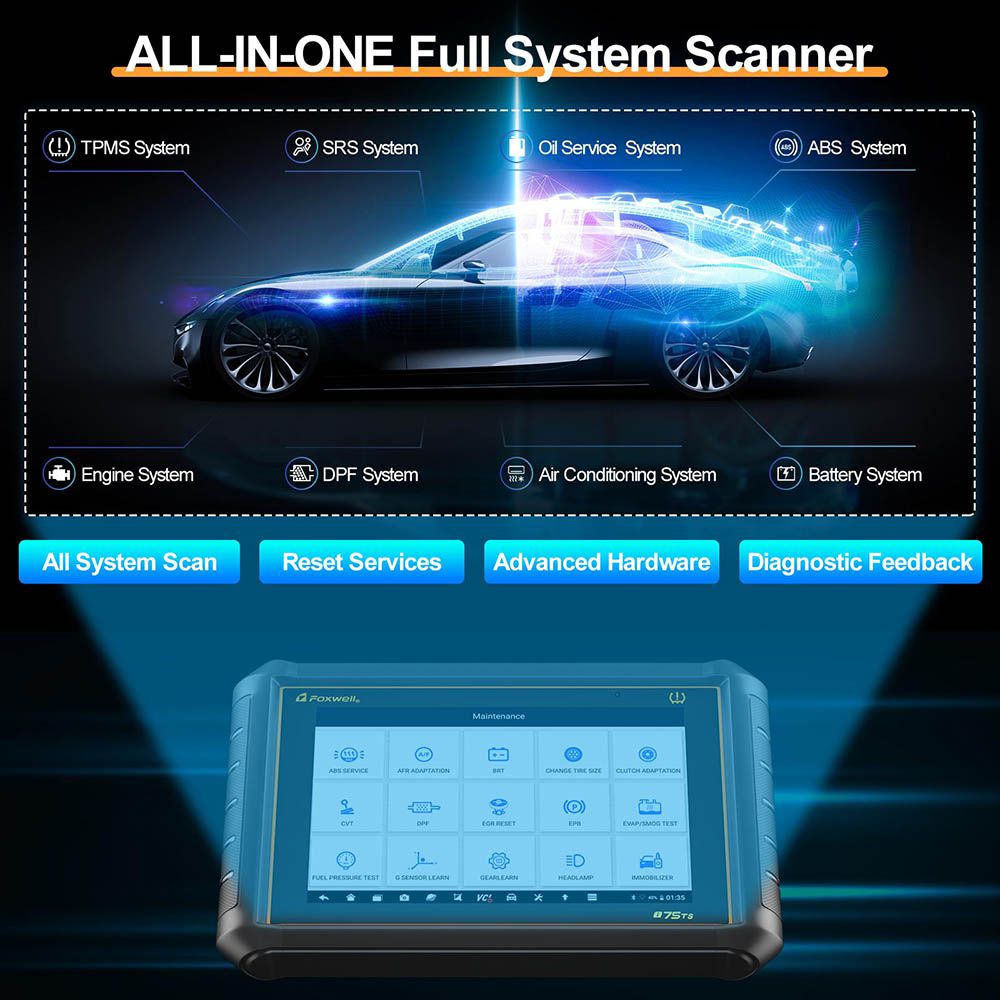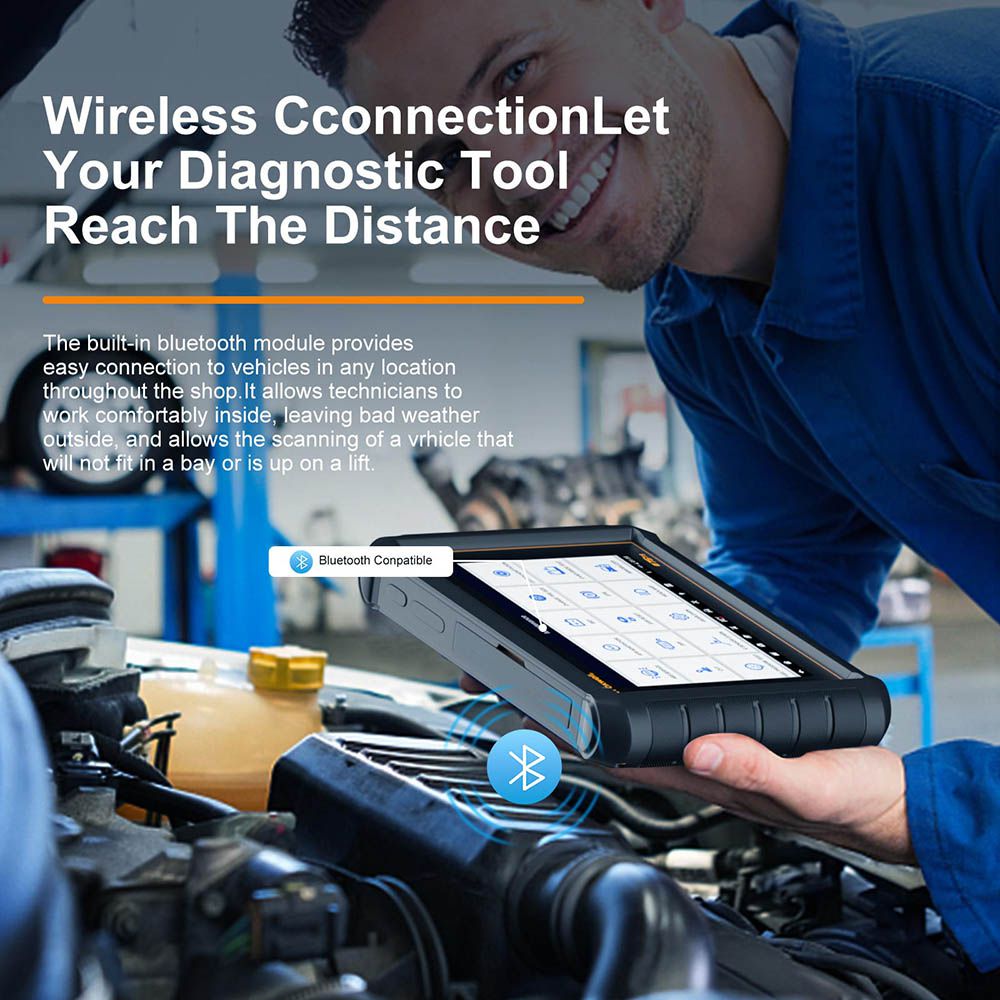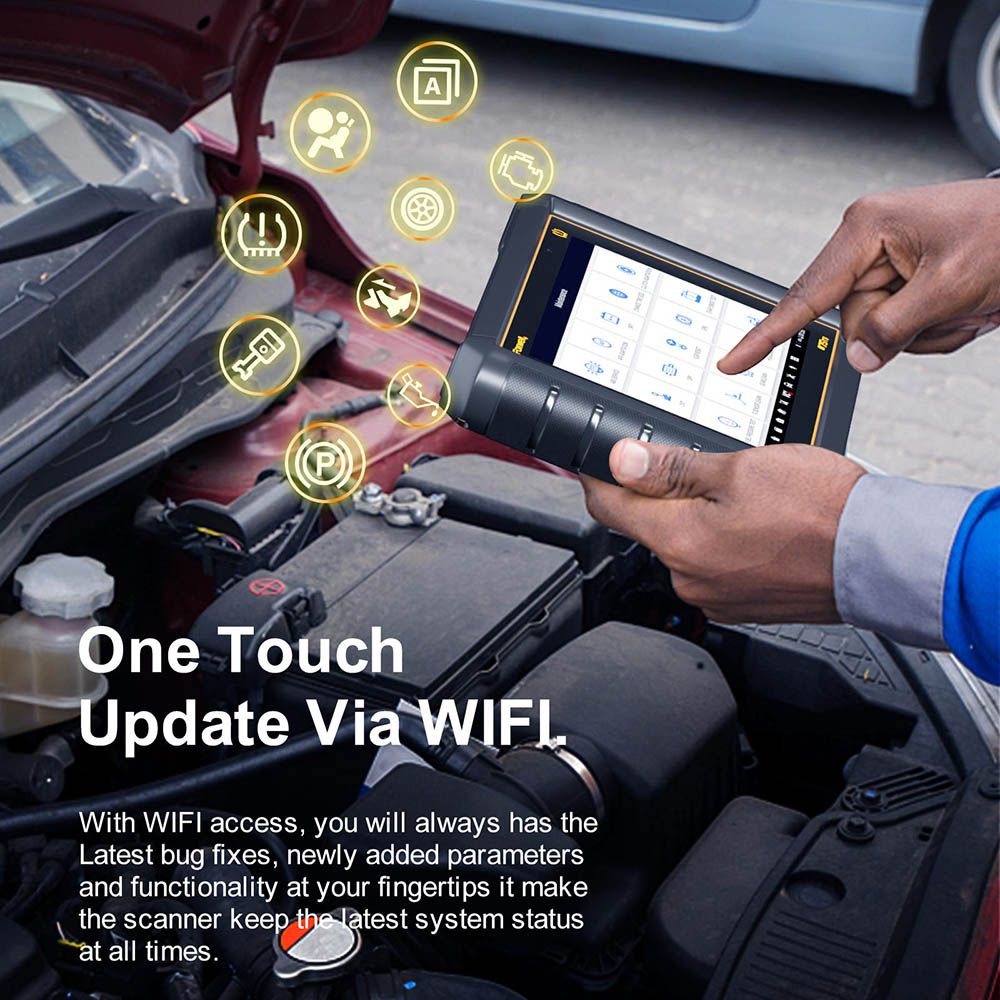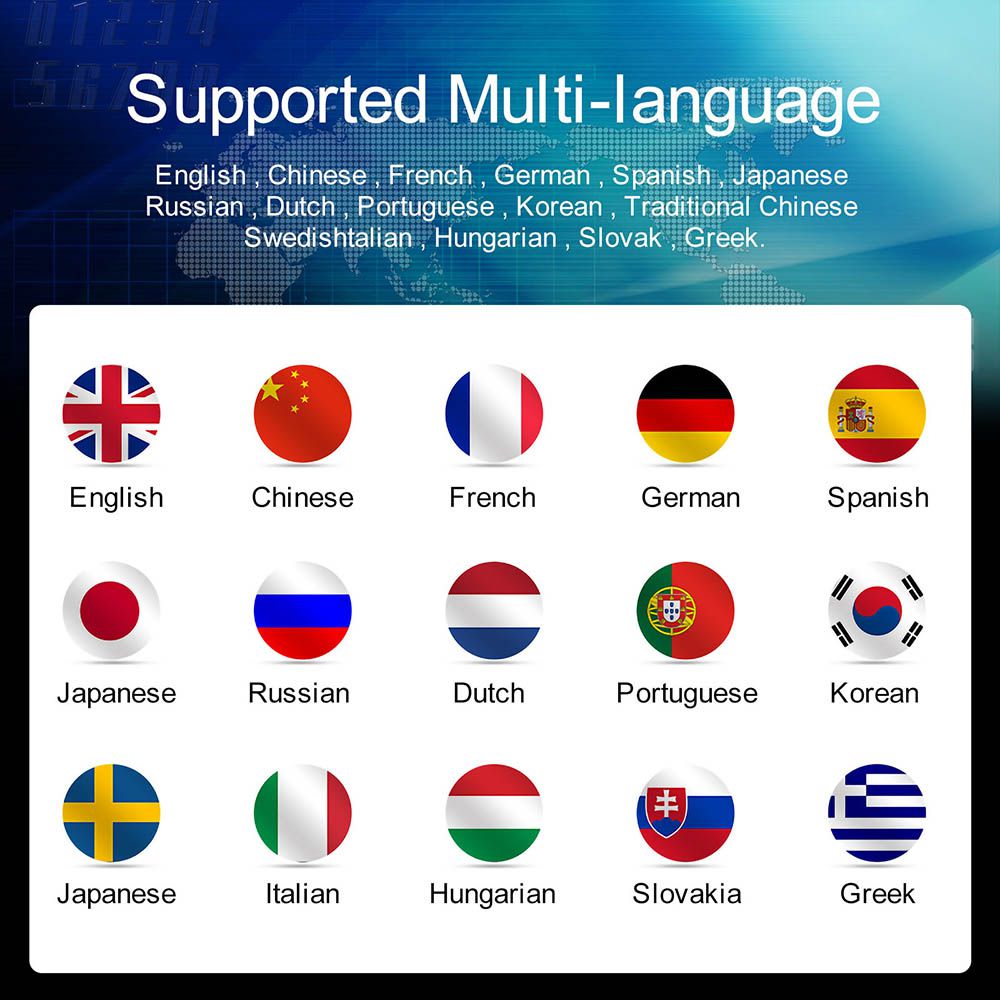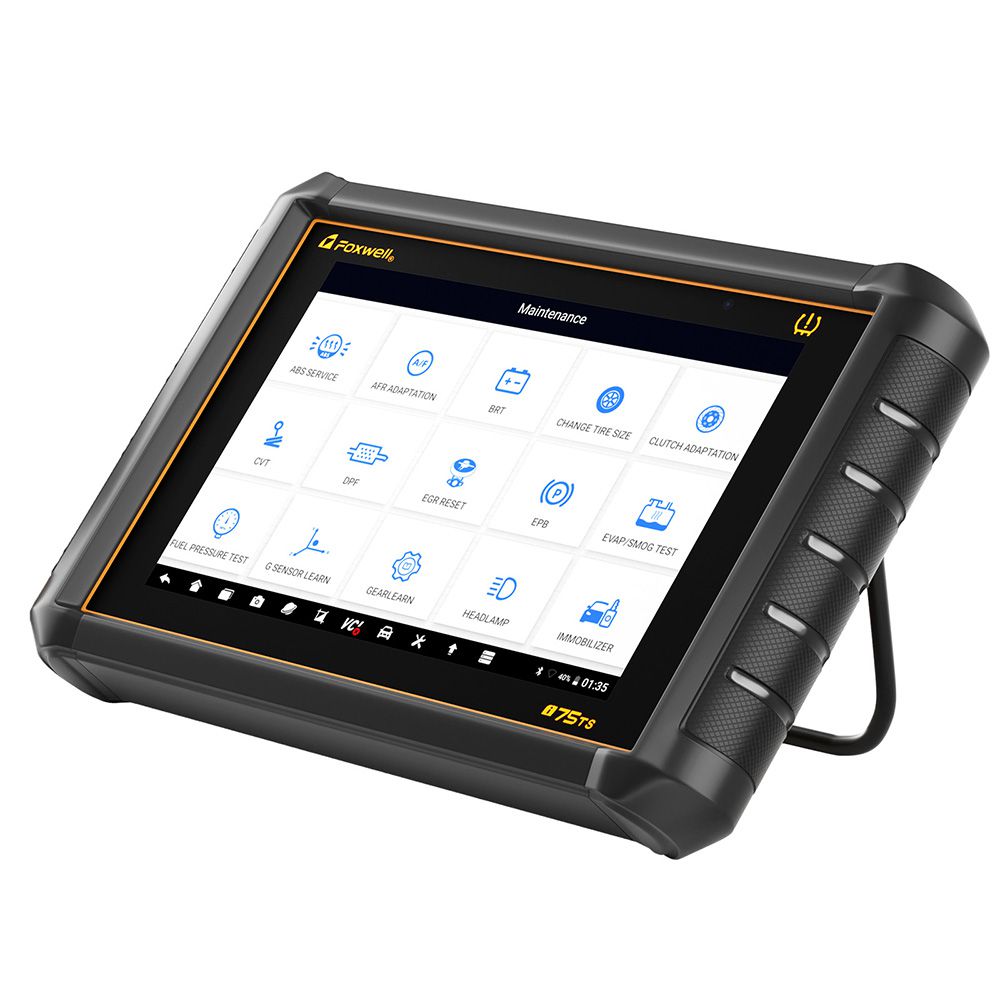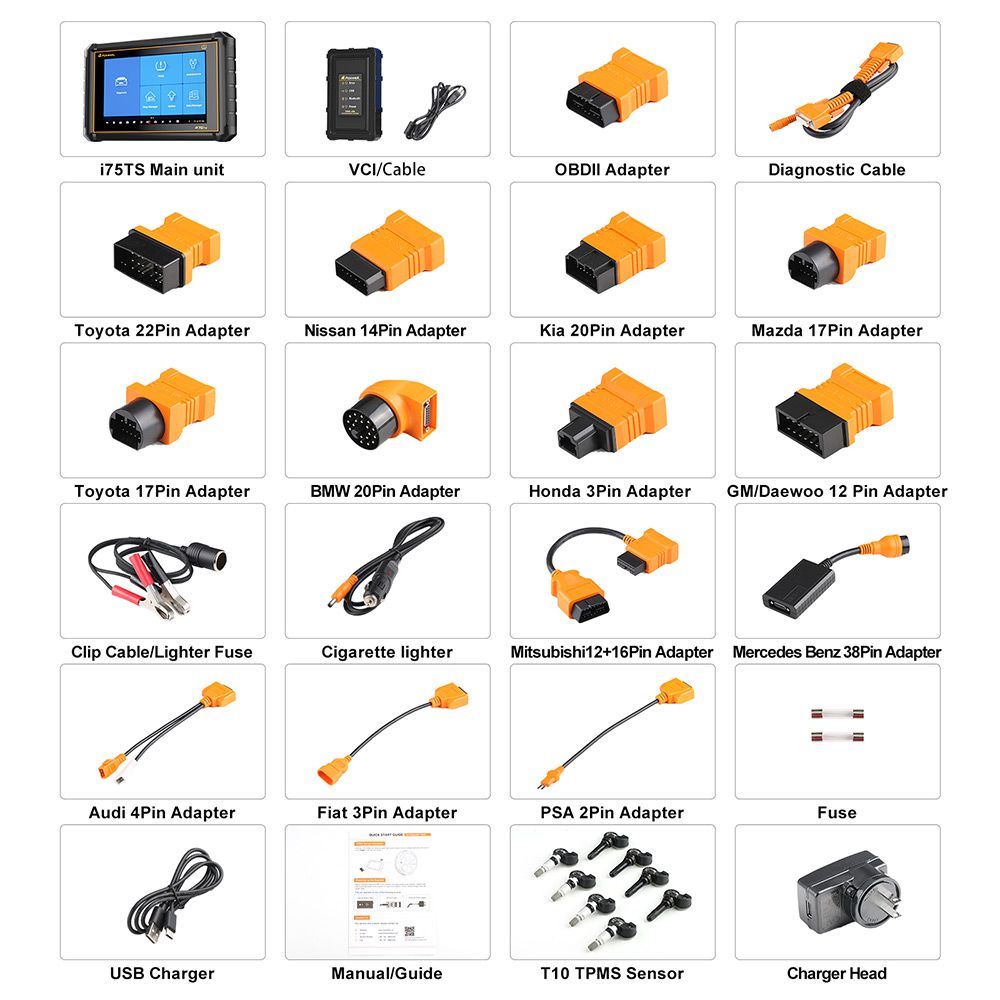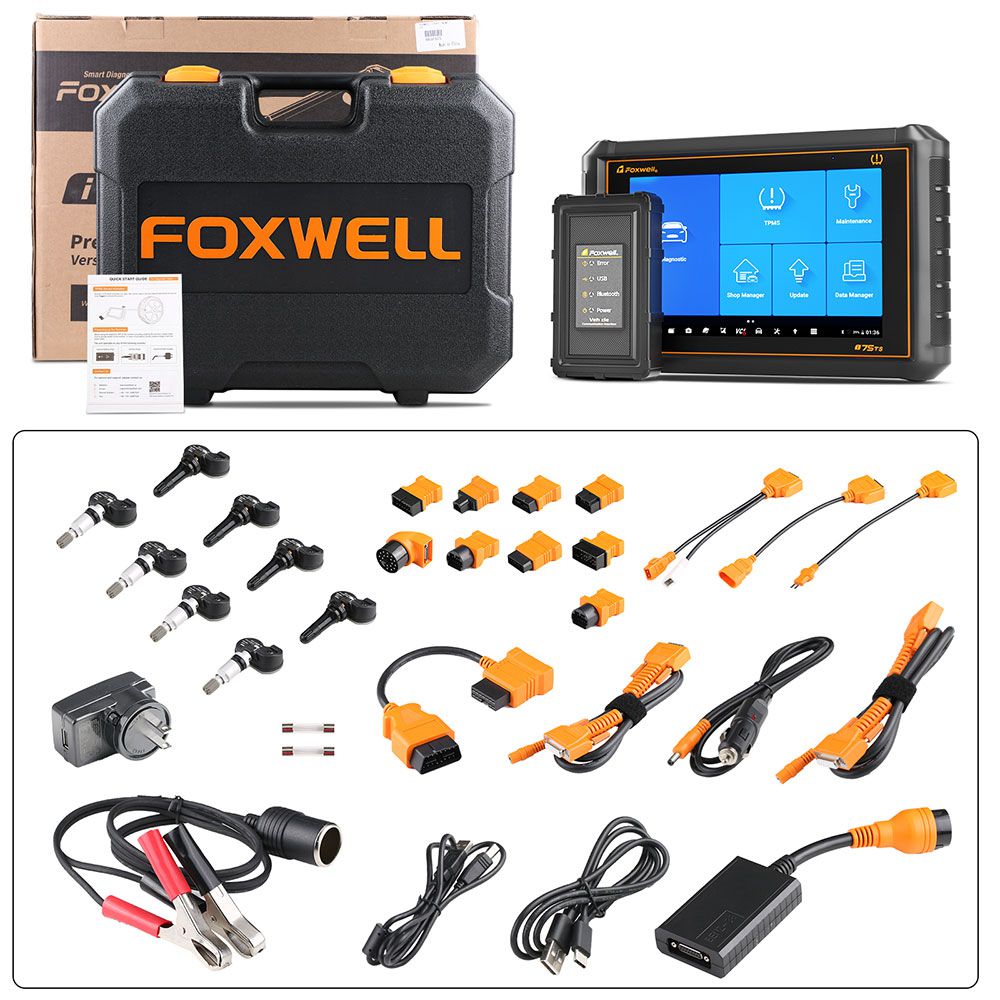 Foxwell i75TS Premier Diagnostic Tool with 35 Service Reset Functions Support TPMS Programming and Online Programming
Foxwell i75TS Premier Diagnostic Tool with 35 Service Reset Functions Support TPMS Programming and Online Programming.
Shipping:

Airmail Post


Estimated delivery time: 7-45 working days.

See details»

Returns:

Return for refund within 7 days,buyer pays return shipping.

Read details »

Support:
Product Details

Product's Reviews
Foxwell i75TS Premier Diagnostic tool with 35 Service Reset Functions Support TPMS Programming and Online Programming
The latest tablet device i75TS stands for
Foxwell
new generation of intelligent diagnosis revolution in automotive aftermarkets. The device not only continues powerful OE-level
Diagnosis
strength of
Foxwell
premier diagnostic platform series, but also initially integrates with TPMS service function, including TPMS health check, sensor activation & programming and
TPMS
relearn. It brings great convenience and efficiency for global workshops and technicians.
Foxwell i75TS Highlights:

1. Compatible with the latest 2021 models,including cars,SUVs, minivans,light-duty trucks sold worldwide
2. Full System OE-Level diagnostic to all systems including powertrain,chassis and body systems.
3. Supports 35 most commonty required service features like brake deactivation,service resets,and transmission adaptations
4. Provides a complete solution for TPMS service to activate / decode universal TPMS sensor and program the Foxwell T10 TPMS sensor and perform TPMS sensor relearn procedures
5. Supports adaptations and control module coding for BMW, Toyota and FORD.
6. Key coding for several vehicles
7. Mutilingual Supported:English, Traditional Chinese, French, German, Spanish, Portuguese, Dutch, Polish, Swedish, Korean, Japanese, Russian, Italian.
8. Free update online for 3 years. When it is expired, USD400 for 1 year, USD700 for 2 years,USD900 for 3 years
9. Two Years Warranty.

Foxwell i75TS Features:

i75TS is easy to use
i75TS Comes with Menu-Driven Navigation
The operation process and vehicle information are so user friendly presented that you can quickly navigate through to find what youneed to get the vehicle fixed.No training is needed.

Automatic VIN Reading
175TS offers a variety of VIN recognition methods, eliminating the need for navigating through complicated car identification process. It saves your time and increases your productivity.

Auto Scan of Vehicle Systems
Auto Scan finds the electronic systems installedin your car automatically and provides you with an overall look at your vehicles status including trouble codes just in seconds.

Updates at Your Fingertips
One touch update via WIFI makes the scanner keep the latest system status at all times

Find Problems more accurately
i75TS shows tive vehicle sensors data in text, graph and gauge formats and allows you to focus on any suspicious or symptom-specific data parameters.
You can view multiple PID graphs simultaneousty and merge them into one coordinate, so you can easily see how they affect each other, providing you with the most comprehensive and functional look at live data possible.
The unique data parameter self-learning technology from Foxwell gives you the ability to learn good live sensor data values during idle, KEKO, acceleration, deceleration, part load and heavy load on each vehicle comes into your shop and records them for future reference.

Aadaptations and control module coding
i75TS cannot only read your codes, but it can also actuate components, run system tests, program control modules.It allows you to use the scan tool temporarity activate or control a vehicle system or component.
Provided that a module can be re-coded, i75TS allows for the coding and programming of a replacement control module or changing previously stored incorrect coding as expensive factory tools do.

Built-in Complete TPMS Functions
i75TS integrates TPMS antenna module and is designed to offer complete solution for TPMS service, including activate /decode universal TPMS sensors, program Foxwell T10 TPMS sensor, diagnose the original car Tire Pressure Monitoring system and perform TPMS sensor relearn procedures etc. to help technicians complete mutiple projects quickly with one wireless and touch screen scan tablet.

TPMS Service: Activate/Decode TPMS Sensors; Program Foxwell T10 TPMS sensor; Diagnose car tire pressure; TPMS sensor relearn.

Wireless Connection, lets your diagnostic tool reach the distance
The built-in Bluetooth module provides easy connection to vehicles in any location throughout the shop and lets you increase your productivity. It allows technicians to work comfortably inside, leaving bad weather outside, and allows the scanning of a vehicle that will not fit in a bay or is up on a lift.

Offers Excellent Shop Management Capability
The history Diagnosis saves your time and increases your productivity.i75TS stores records of tested vehicles including vehicle information and DTCs from previous tests.
It also provides direct access to previously tested vehicles and allows you to restart a diagnostic session without the need to do vehicle identification again.
i75TS lets you create, edit and save customer information. It helps you organize alt customer information that is associated with the vehicle test records, which is a great support for the management of daily workshop business.

Instant Support
If a problem is encountered with the tool, upload the debug file and the problem via the i75TS'S debug log collection, and the Foxwell technical team will update the most appropriate solution in the shortest possible time for vehicles or systems.

Foxwell i75TS Functions Introduction
1. Full System Diagnose: Read and Clear Codes of All Electronice Modules, Help you accurately identify car's problem!
This option allows you to detect whether the system parameters are normal or not which Include :
ABS System,
Engine System,
SAS System ,
TPMS System ,
IMMO System ,
Battery System ,
Oil Service System ,
SRS System
DPF System
Air Conditioning System
Transmission System
ect...
2. Full System Active Test/Bi-directional Control
Also known as Actuator Tests, are bi-directional diagnostic tests on vehicle systems and components. The tests let you use the scanner to temporarily activate or control a vehicle system or component, and when you exit the test, the system/component returns to normal operation.
3. Support 35 Special Reset Functions

1). BAT Battery Service
Allows the scan tool to evaluate the battery charge state, monitor the close-circuit current, register the battery replacement, and activate the rest state of the vehicle.

2). CVT (Continuously Variable Transmission)
On these CVT transmissions, the timing of the release and application of elements (clutch packs and bands) is controlled by the transmission control module (a microprocessor).

3). DPF Diesel Particulate Filter Reset
Specially works for Diesel Particulate Filter system with DPF regeneration, DPF component replacement teach-in and DPF teach-in after replacing the engine control unit.

4). EPB Electronic Park Brake Reset
It is important in the maintenance of electronic braking system's safety and efficiency.

5). Gear Learning
The scan tool monitors certain camshaft position sensors signals to determine if all conditions are met to continue with the procedure for Engine running.

6). Injector Coding
Leaking injectors and some dead injectors can be missed even when an injector is disabled. Other problems with the ignition system and mechanical components also may not show an rpm loss when an injector is turned off.

7). Cluster Calibration
This function allows you to revise the data and write the original data into new instrument.

8). Oil Reset
Allows you to perform reset maintenance mileage and data intervals for a new calculation of Engine Oil Life system once changed the oil.

9). SAS Reset (Steering Angel Sensor)
Helps clear the fault steering angle sensor memories and plays an important role in the steering angle sensor calibration.

10). TPS System
Also called TBA, throttle body alignment. Using the throttle position sensors in the throttle body, the ECU learns the full open and full closed positions through various states (idle, part throttle, WOT) known as a Throttle Body Alignment (TBA).

11). TPMS Reset (Tire Pressure Monitoring Sytem)
Makes tpms senser in displaying sensor IDs from the vehiclersquos ECU, inputting TPMS sensor replacement IDs and activate tpms sensors.

12). ABS Bleeding ( Antilock Brake System)
Helps clear the fault airbag memories to reset.

13). PFP

14). Seat Match
A memory seat is essentially an electrically-adjustable car seat which can be moved into pre-set positions at the push of a button. As a result of the removal of the DCC fuse, the "driving position memory" function of the driver and passenger side seat will be inoperative due to the loss of Seat.

15). A/F Adjust
Correspondingly change the fuel supply to change the steam production of boiler and maintanin the energy balance in the combustion process.

16). CLUTH Adaptation
Importance of clutch pedal free-play. Anything less than the correct amount of free play (or clearance) will result in clutch slip, because the pressure plate will be unable to exert its full pressure on the friction plate, clutch linkage adjustment to compensate for clutch wear.

17). Language Change
This function is used to change the system language of the vehicle central control panel.

18). Windows Calibration
This feature is designed to perform door window matching to recover ECU initial memory, and recover the automatic ascending and descending function of power window.

19). Turbo
The routine is required if the secondary turbo charger is repleased. This will learn the pffset values for the turbine shut-off value.

20). Headlamp
Allowing for adaptive headlights to be relearnt.

21). Transmission Adaption
This command allows the adaptive shift points to be relearnt.

22). TCMOIL
This routine is used to clear the oil degradation and downgrade counter.

23). airbag Reset
This function resets the airbag data to clear the airbag collision fault indicator.

24). EVAP Test/Smog Test
The EVAP system monitor checks for fuel vapor leaks by performing either a pressure or vacuum test on the fuel system.

25). EGRRESET(Exhaust Gas Recirculation)
(1)Reduce the exhaust temperature, reduce the production of NO compounds and CO carbon monoxide.
(2)Can appropriately reduce fuel consumption and improve engine efficiency

26). ODS Initialization

27). OPDS Initializaiton

28). OSTEST
Nox sensor is a sensor used to detect the content of nitrogen oxides (Nox) in engine exhaust. lf the Nox fault is re-initialized and the Nox catalytic converter is replaced, it is necessary to reset the catalytic converter learned value stored in the engine ECU.

29) FUEL PRESSURE

30) CHANGE_TIRE_SIZE

31) GSENSOR

32) LIMIT

33) POWER BALANCE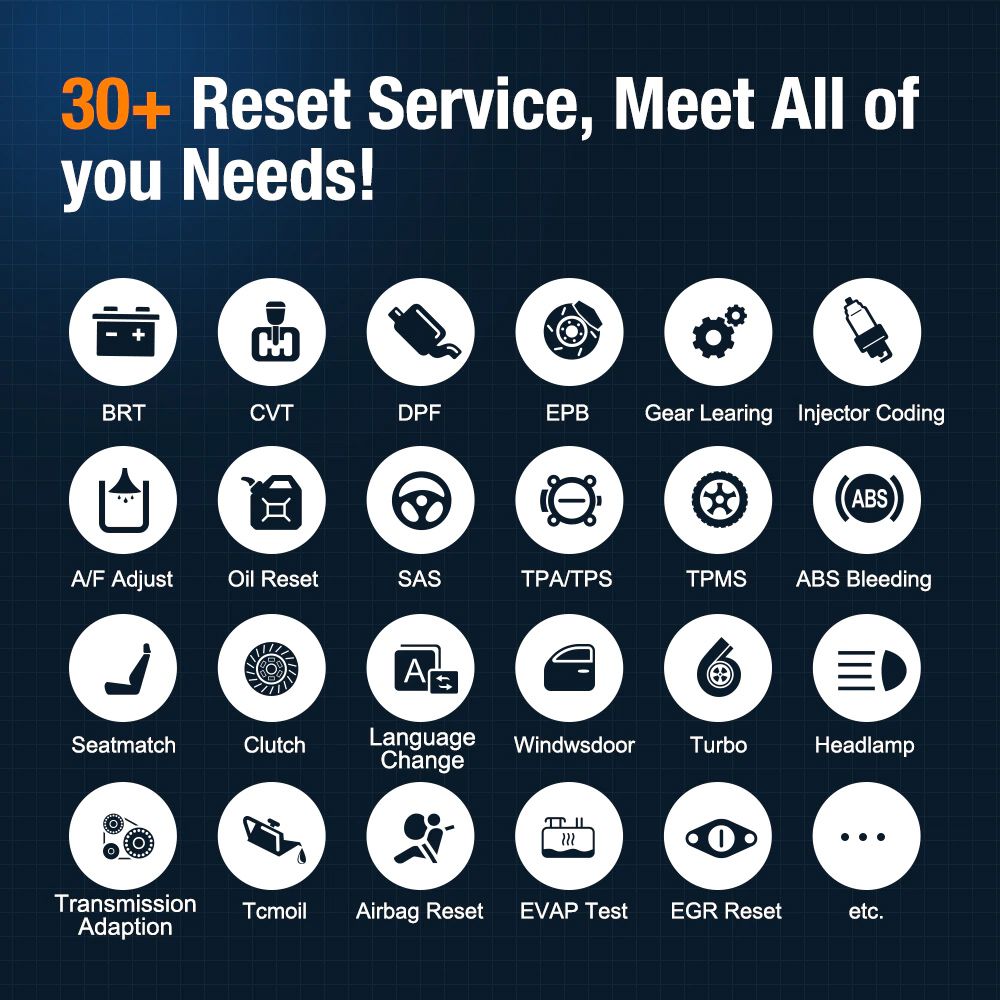 4. Complete TPMS Functions for Boost in TPMS Work

This tablet automotive diagnostic tool is built with complete TPMS Functions for you to quickly look up the tire sensor IDs from the vehicle's ECU, knowing the running status of Tire Pressure Management System, further improving the diagnostic efficiency.
1). TPMS Check: allows users to activate TPMS sensors to view sensor data-sensor ID, tire pressure, tire temperature, battery condition and sensor location.
* Read and clear diagnostic trouble code of TPMS and view its live data stream;
* Perform the tire pressure and temperature resetting after TPMS maintenance;
2). TPMS Diagnosis: The Diagnosis function is used to check the status of the TPMS system. This function requires connection with the test vehicle.
3). Sensor Programming: The Programming function allows users to program the sensor data to the MX-Sensor and replace faulty sensor with low battery life or the one that is not functioning. There are four options available when programming MX-Sensor:
* Copy by Activation-Once the sensors mounted on the vehicle have been triggered and the sensor information displayed on the tool, the Copy by Activation can be used to program a new MX-Sensor.
* Copy by OBD -By using this function, the tablet will program the sensor IDs retrieved from the ECU of the test vehicle to the new MX-Sensors.
* Copy by Input-The Copy by Input allows users to program a new MX-Sensor with the ID of an original TPMS sensor.
* Auto Create-The Auto Create function is used to automatically create a random sensor ID to program a new MX-Sensor.
4). TPMS Relearn: This function is used to write the newly programmed sensor IDs into the vehicle ECU for sensor recognition. There are three ways for Relearn: Stationary Relearn; Active Relearn; OBD Relearn.
5). TPMS by OEM Part No.: If the sensor's OEM part number is known, this function is an efficient method to activate and program MX-Sensors.

5. Aadaptations and control module coding
i75TS cannot only read your codes, but it can also actuate components, run system tests, program control modules.It allows you to use the scan tool temporarity activate or control a vehicle system or component.
Provided that a module can be re-coded, i75TS allows for the coding and programming of a replacement control module or changing previously stored incorrect coding as expensive factory tools do.

Foxwell i75TS Models Covered

American Coverage
Chrysler, FORD, GM

Asian Coverage
Acura, Daewoo, Daihatsu, Fuso, HONDA, Hyundai, Hyundai CV, Infiniti, lsuzu, Kia, Lexus, Mahindra, MAZDA, Mitsubishi, Nissan, Perodua, Proton, Scion, Ssang Yong, Subaru, SUZUKI Samsung, Toyota

European Coverage
Abarth, Alfa-Romeo, Audi, Aston Martin, Bentley, BMW, Bugatti, Citroen, Dacia, EU FORD, Fiat, Ferrari, Jaguar, Lancia, Land Rover, Lamborghini, Maserati, Maybach, Mercedes Benz, Mini, Opel, Peugeot, Renault, Roll-Royce, Porsche, Saab, Seat, Skoda, Smart, Sprinter, Vauxhall, Volvo, Vw, VW_CV.

Chinese Coverage
BJHyundai,BRILBMW,DFHONDA,DYK,FORDCHINA,GQFIAT,GZHONDA,MAZDACHINA,SAICSkoda,SACIVW,TOYOTCHINA,FAWAudi,FAWVW,DFXK/DFFG BAICMOTOR,BRILLIANCE,BYD,CHANGAN,CHANGHESUZUKI,
CHANGHEAUTO,CHERY,KARRY,RICH,RELY,CHERY_NE,CMC, DFXK,DFFG,FAWDAIHATSU,FOTON,FXAUTO, GACMOTOR,GEELY,GLEAGLE,MAPLE,ENGLON,EMGRAND, GMBRAZIL,GREATWALL,HAFEI,HAIMA,JAC,JIANGLING,LANDWIND,
LIFAN,LUXGEN,SAICMAXUS,SAICMG,ROEWE, SGMW,SOUEAST,TJFAW,ZOTYE,DORCEN

Foxwell i75TS Specifications

Screen: 8"diagonal,daylight readable color LCD screen;1280*800 pixel
Touch with Gloves: Supported
Operating System: Android system
CPU: Quad-Core,2.0GHz
Memory: 2GB LPDDR4
Hard drive: 32GB
Communication Interface: Buitt-in WIFI 802.11 ac/a/g/b/n Wireless LAN
micro USB 2.0 OTG, USB2.0
HOST standard Bluetooth 5.0(10-20m)
HDMI: Yes
Camera: 5 megapixels rear-facing
Battery: 8000mAh,Lithium-polymer battery,
chargeable via 12V/3A USB power supply
Protocols: IS09141-2, IS014230-2, IS015765-4,K/L lines, Double Klines, SAE-J1850 VPW, SAE-J1850PWM, CAN ISO 11898, High-speed, Middle-speed, Low-speed and Single-wire CAN, KW81, KW82, GM UART, UART Echo Byte Protocol, TP2.0, TP16, SAEJ1939, SAE J1708, Fault-Tolerant CAN
Dimensions: 272*163*39mm(L*W*H)

Foxwell i75TS Package List
i75TS Main Unit
VCI Dongle
USB Cable for VCI
MAZDA 17 Pin Adapter
USB TYPE C Cable
USB Charging Adapter
Mitsubishi 12+16 Pin Adapter
OBDII Adapter
Diagnostic Cable
Cigarette Lighter
Nissan 14 Pin Adapter
Toyata 22 Pin Adapter
Clipper Cable
Mercedes Benz 38 Pin Adapter
Fiat 3 Pin Adapter
Audi 4 Pin Adapter
BMW 20 Pin Adapter
Toyota 17 Pin Adapter
PSA 2 Pin Adapter
Kia 20 Pin Adapter
GM/Daewoo 12 Pin Adapter
HONDA 3 Pin Adapter
Sensor 8 pcs
Magnet
Lighter Fuse
Quick Start Guide&Warranty Card
User's Manual