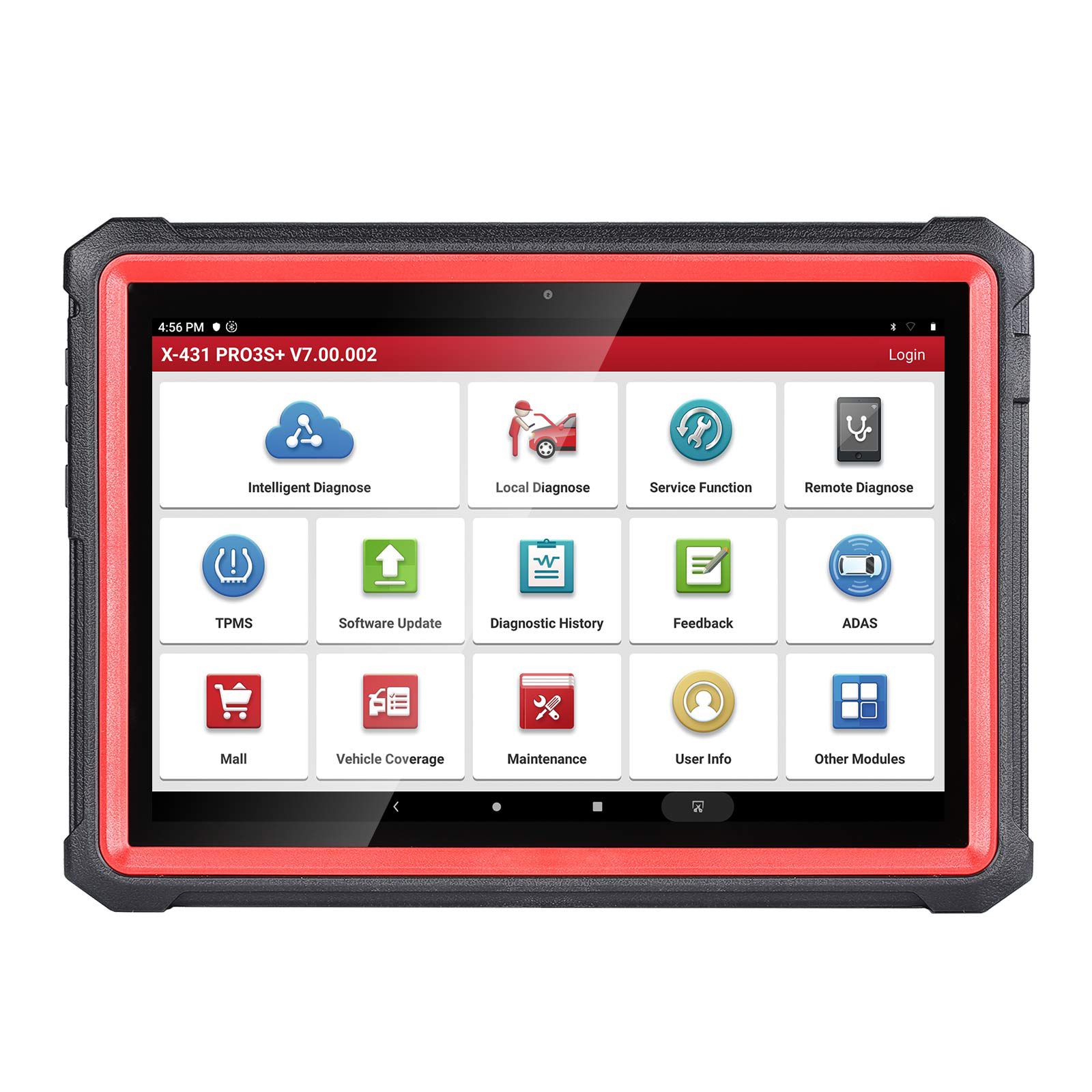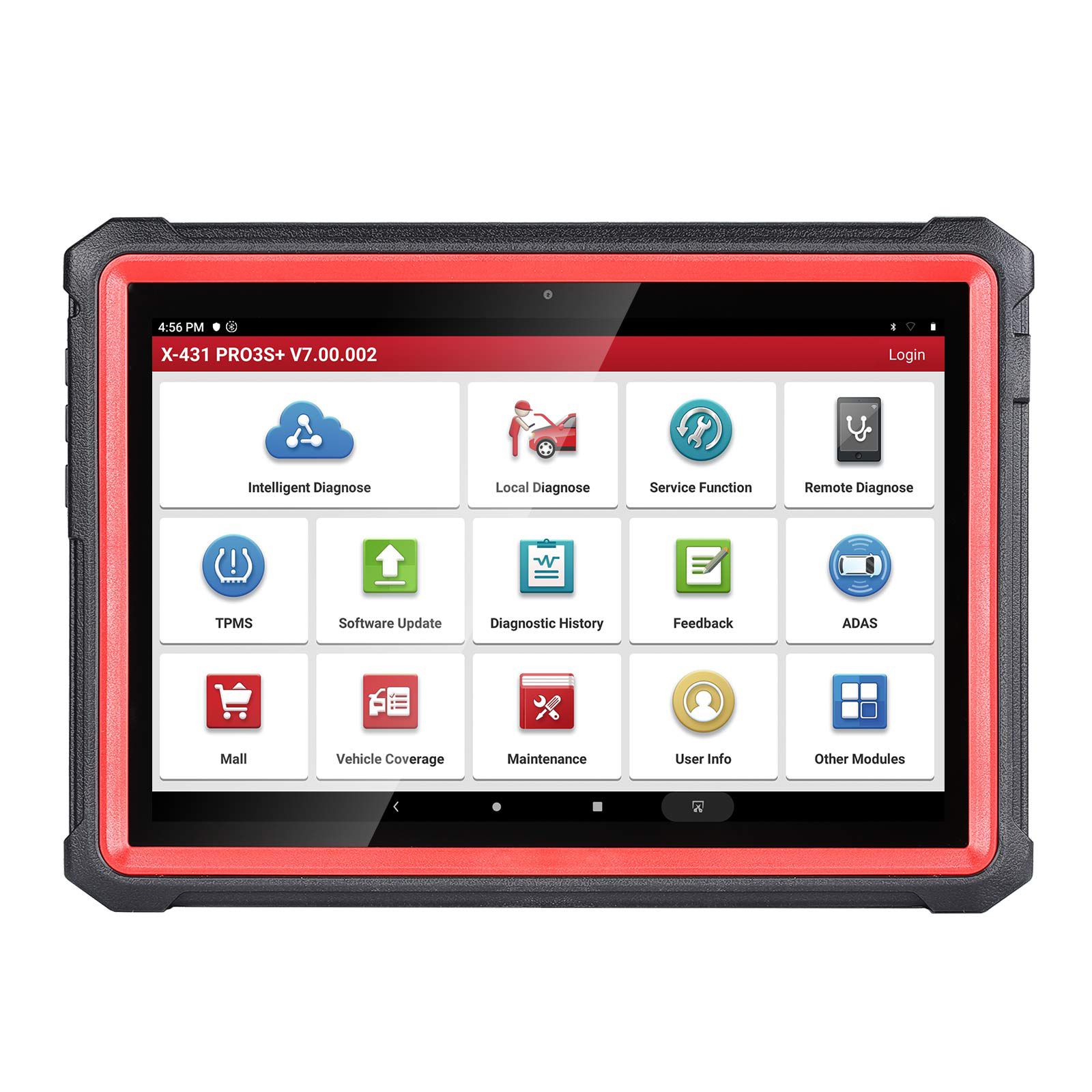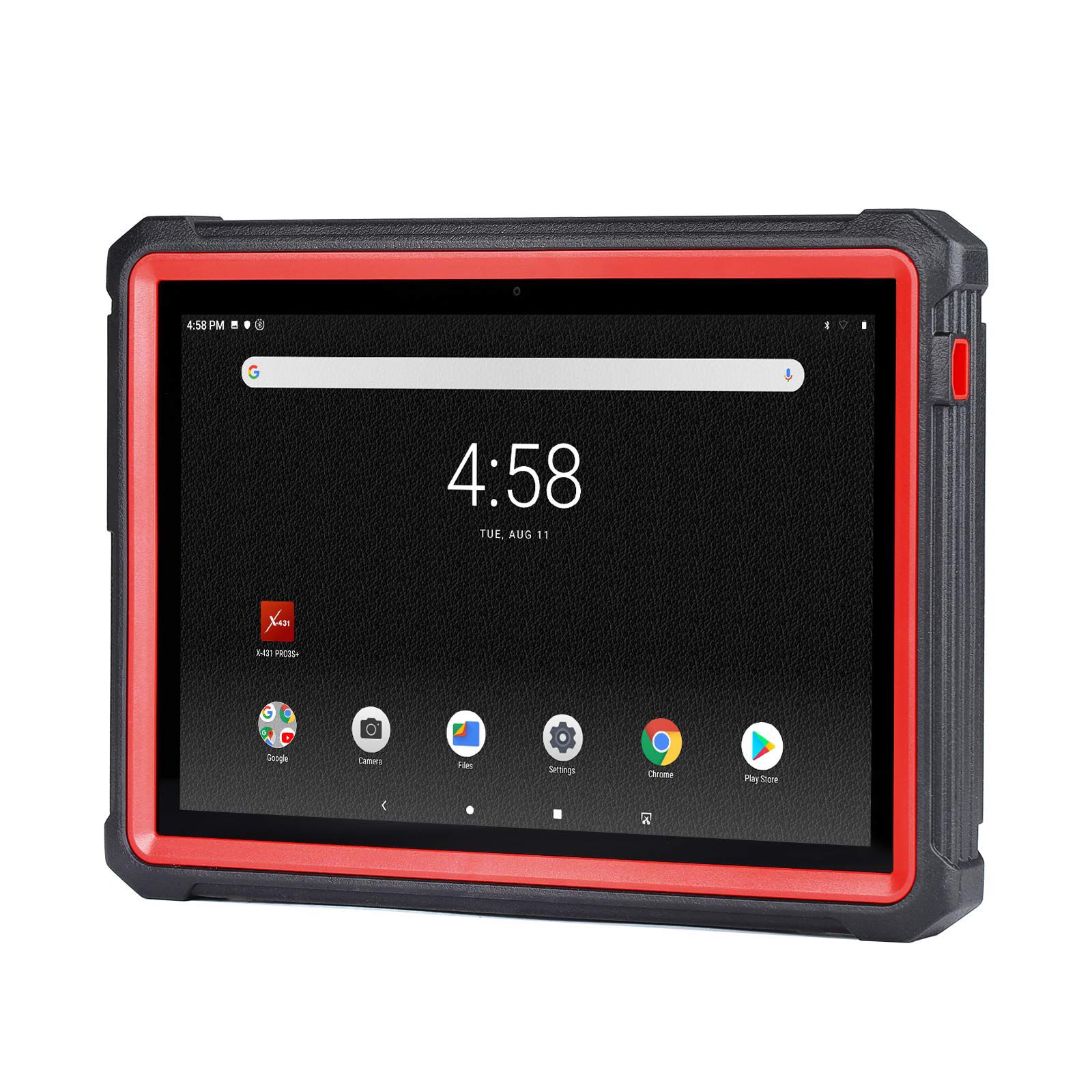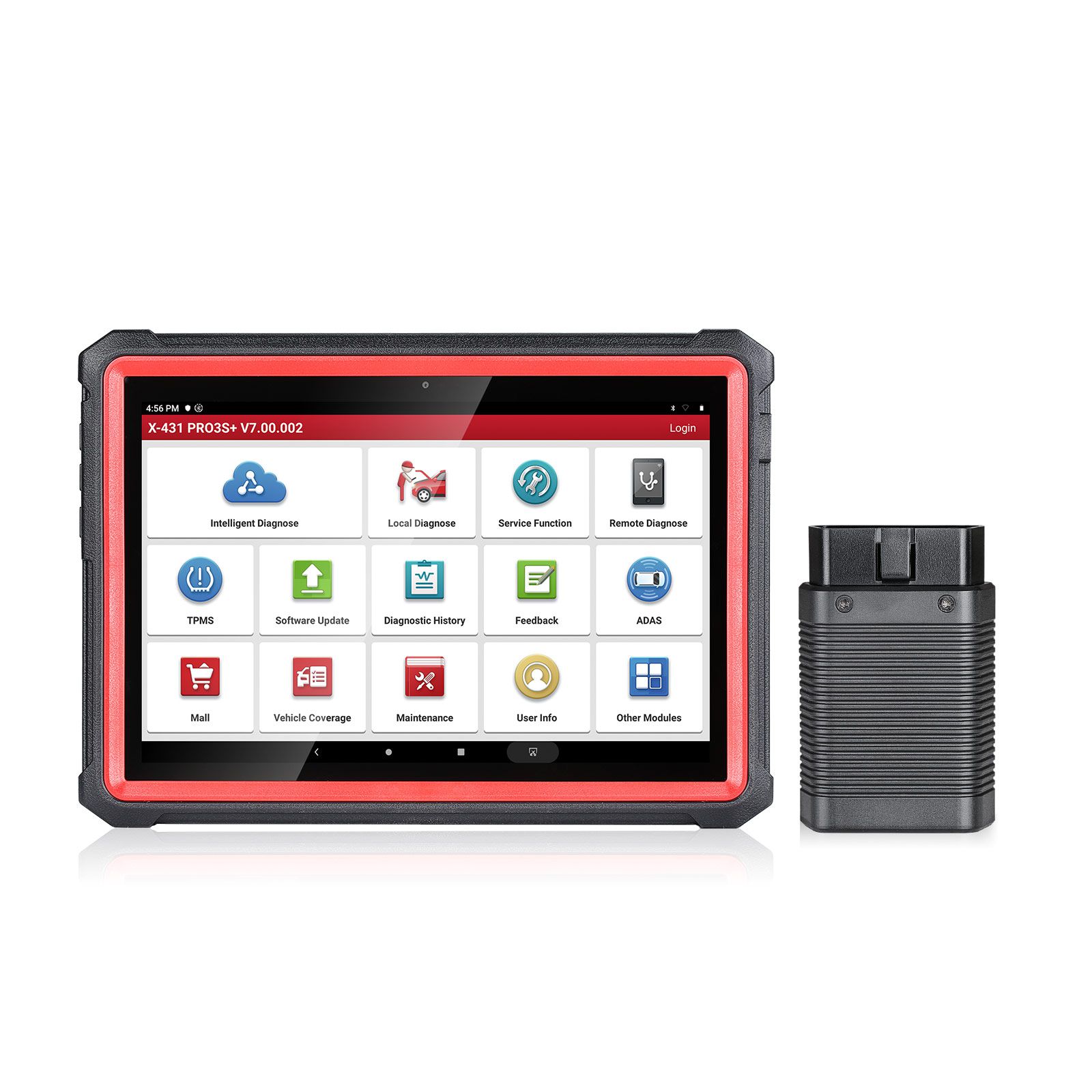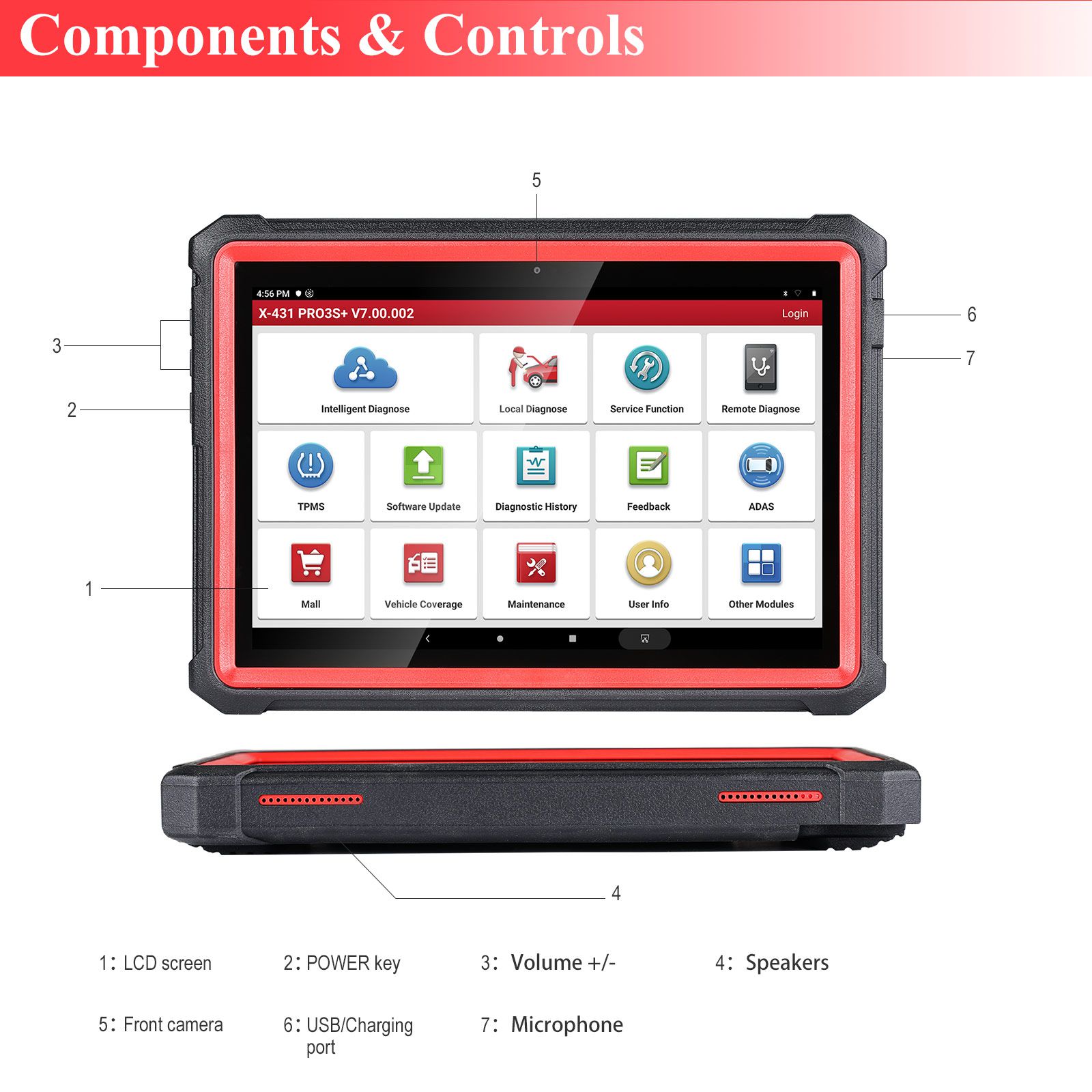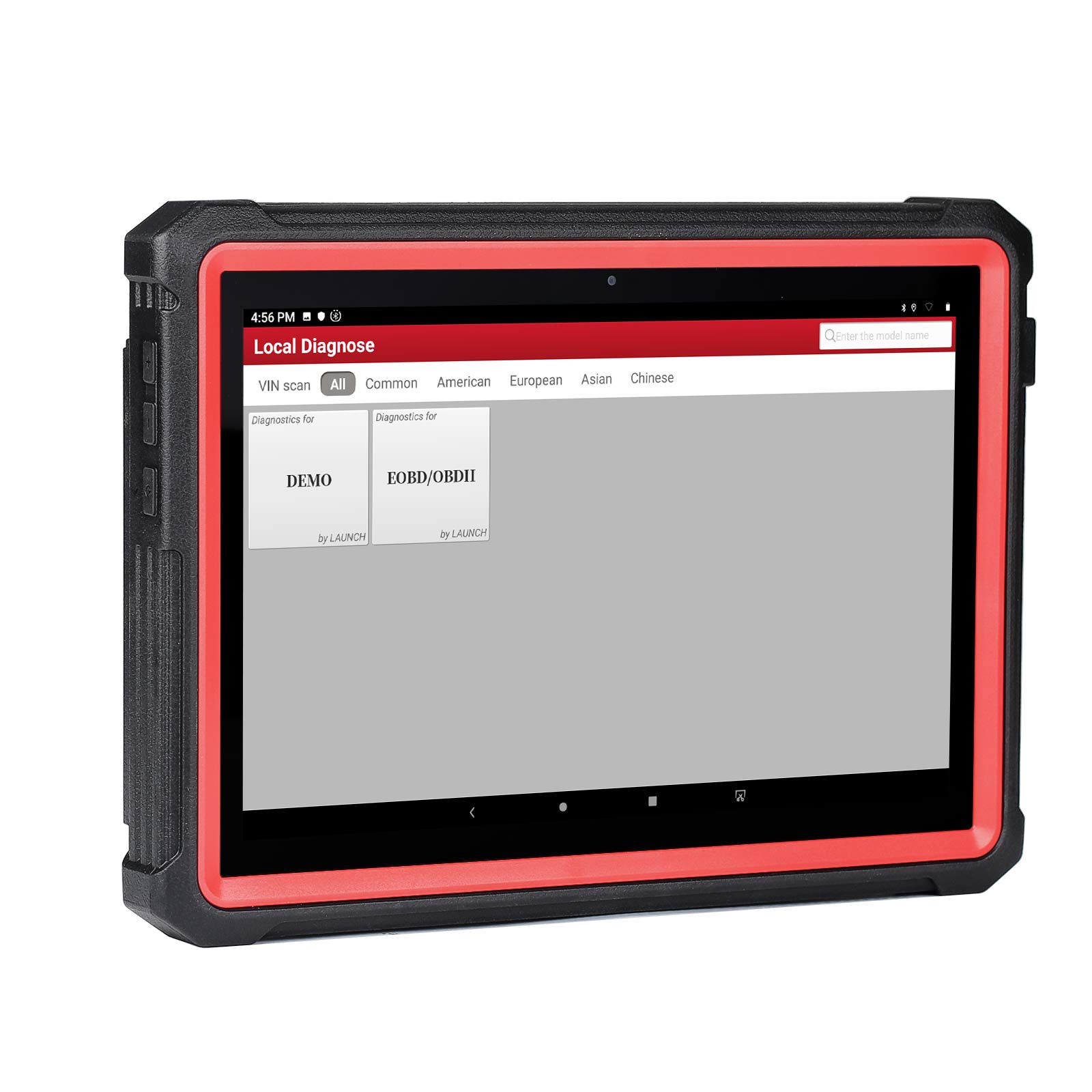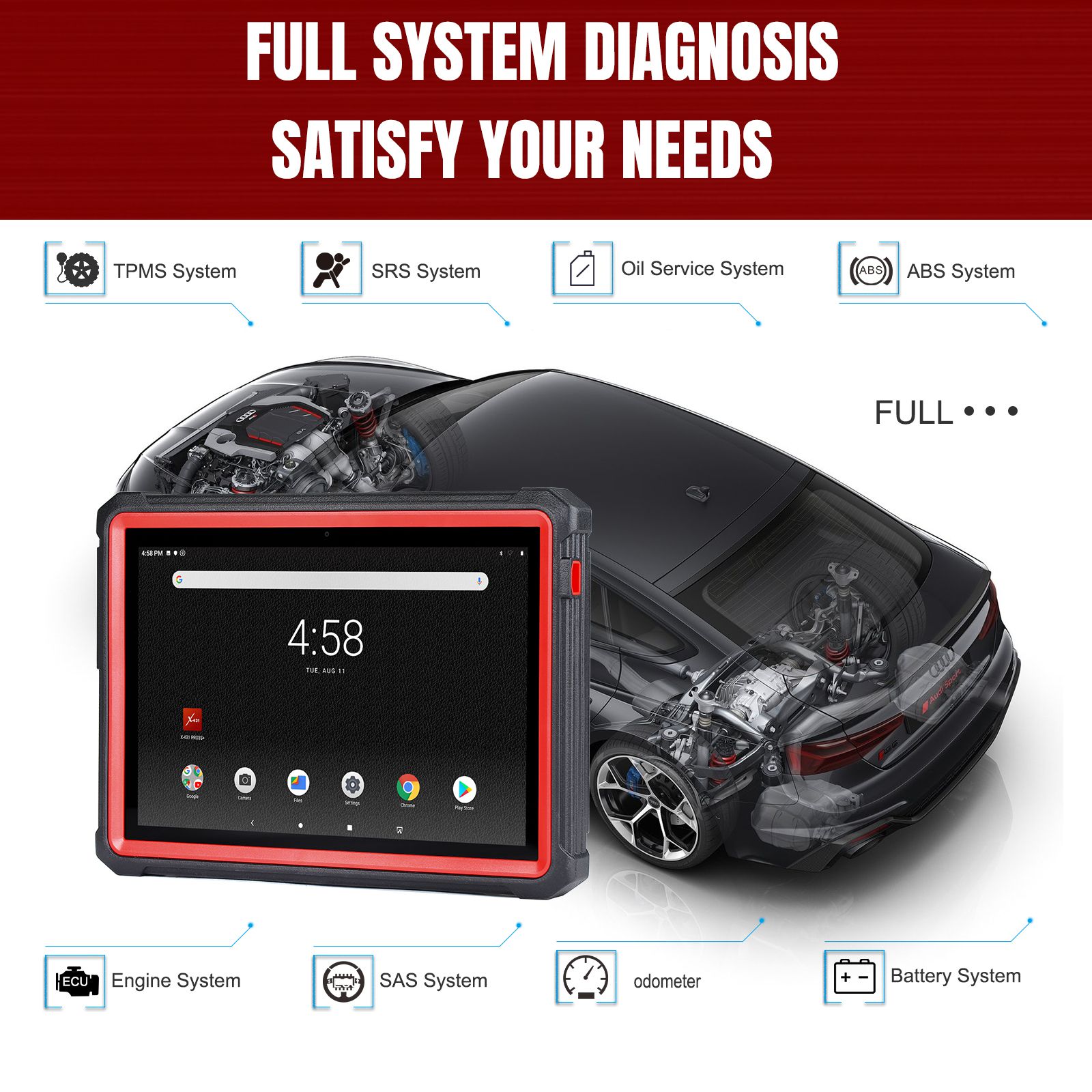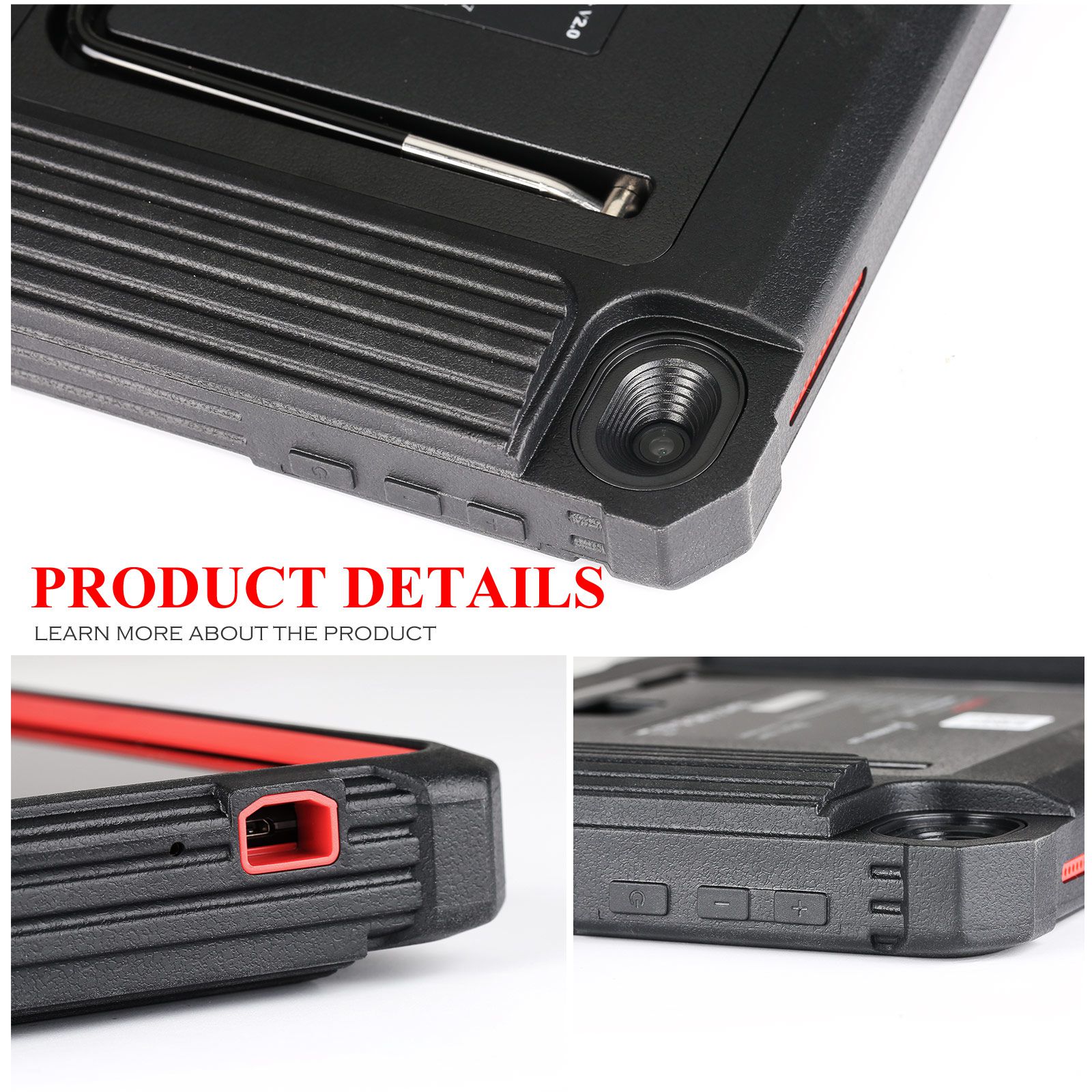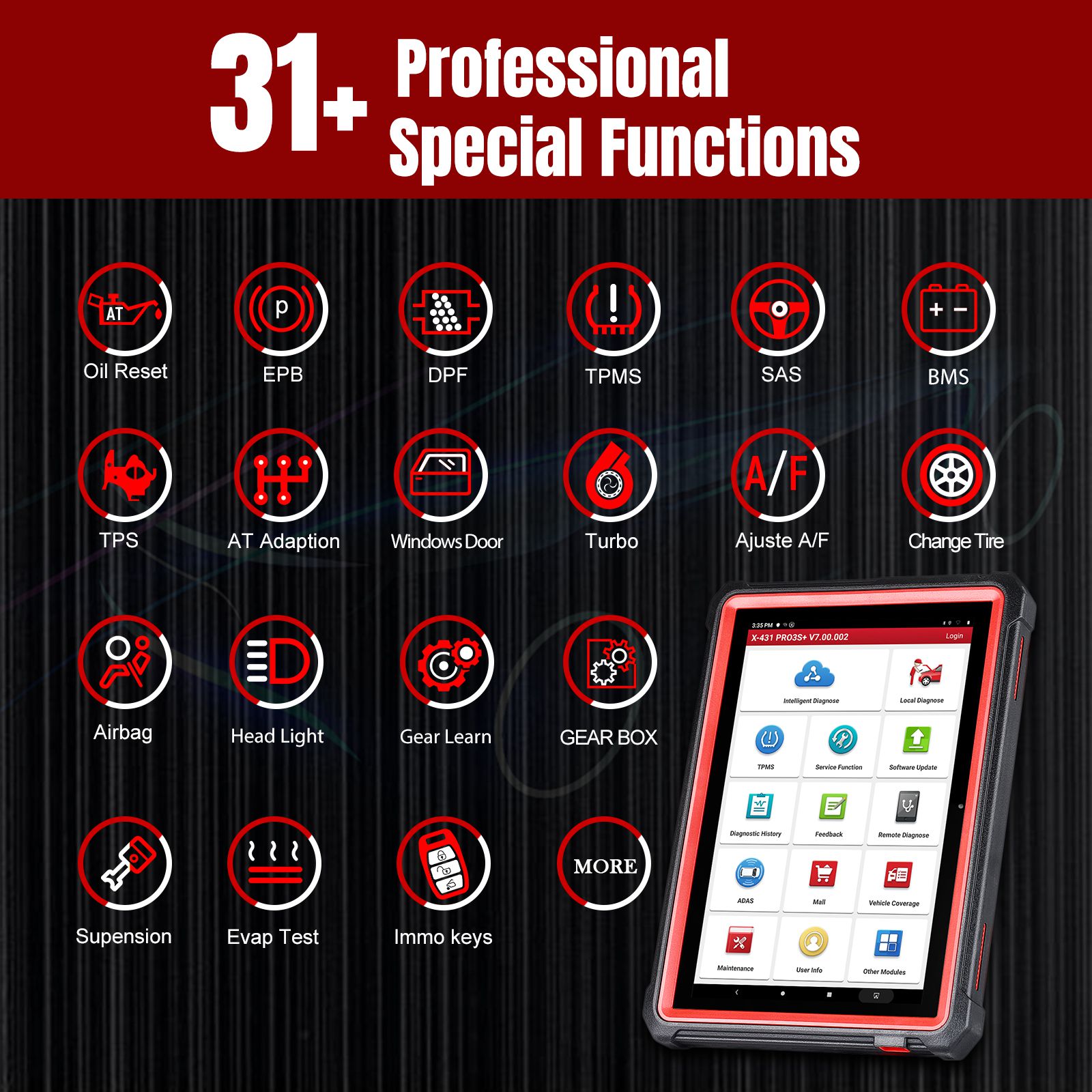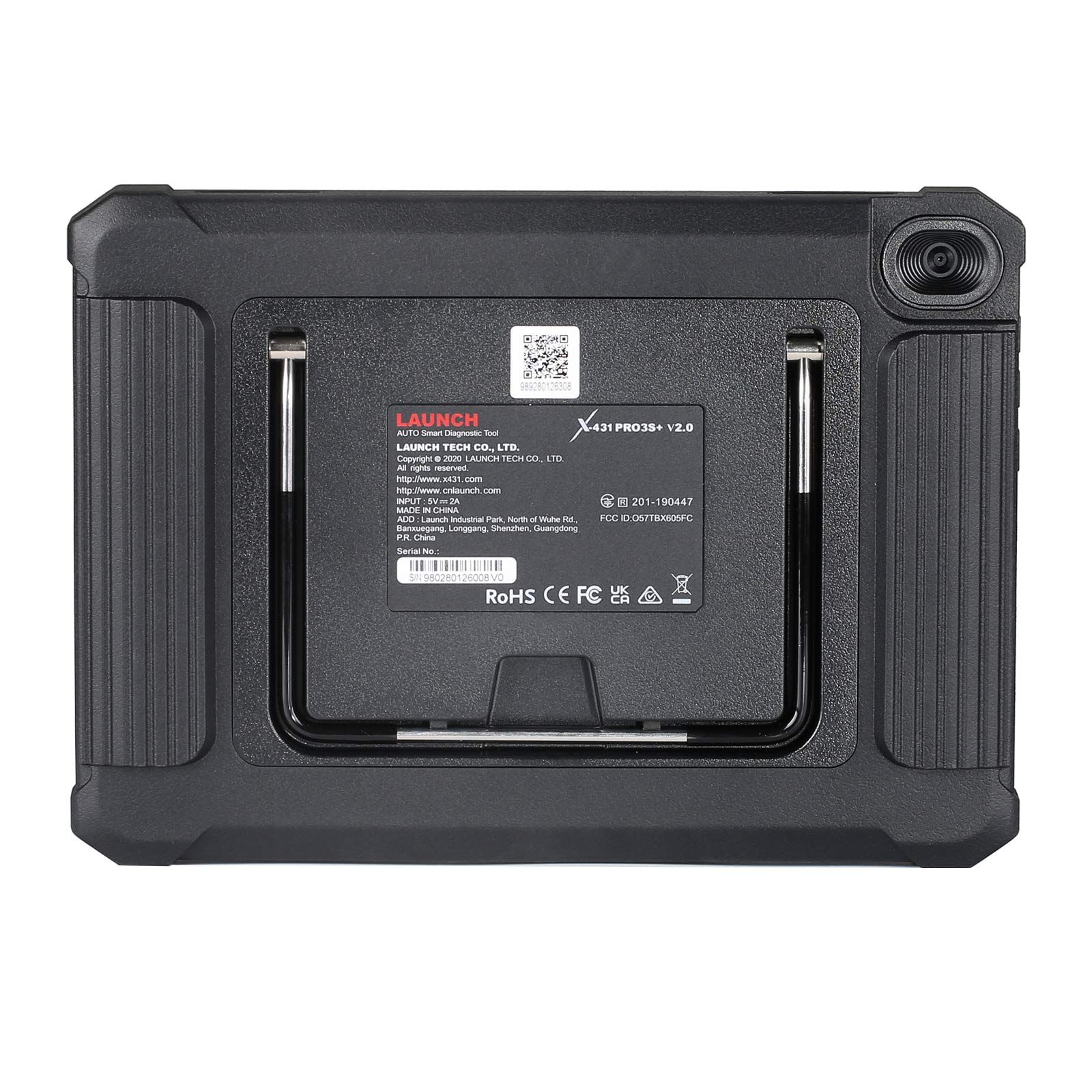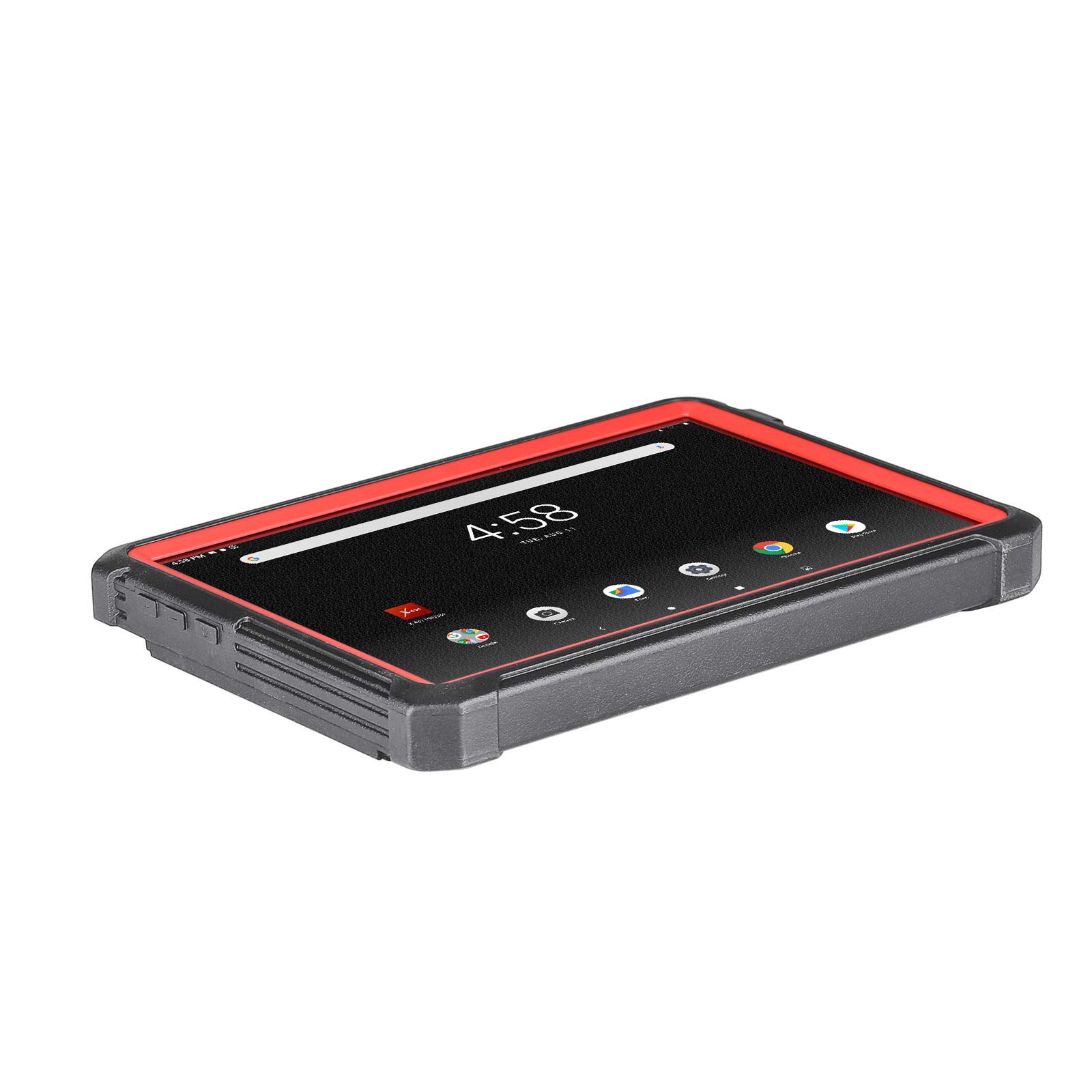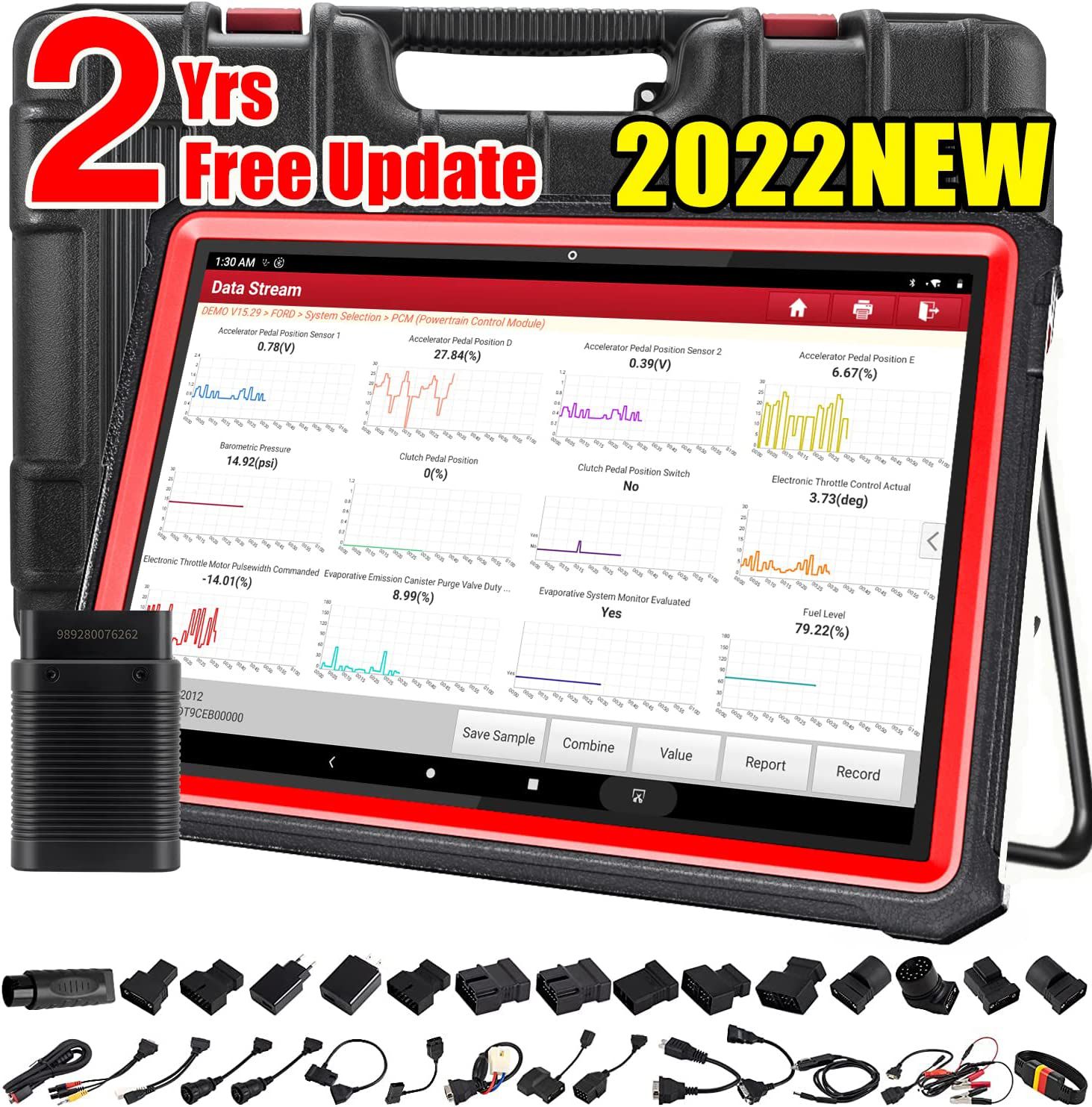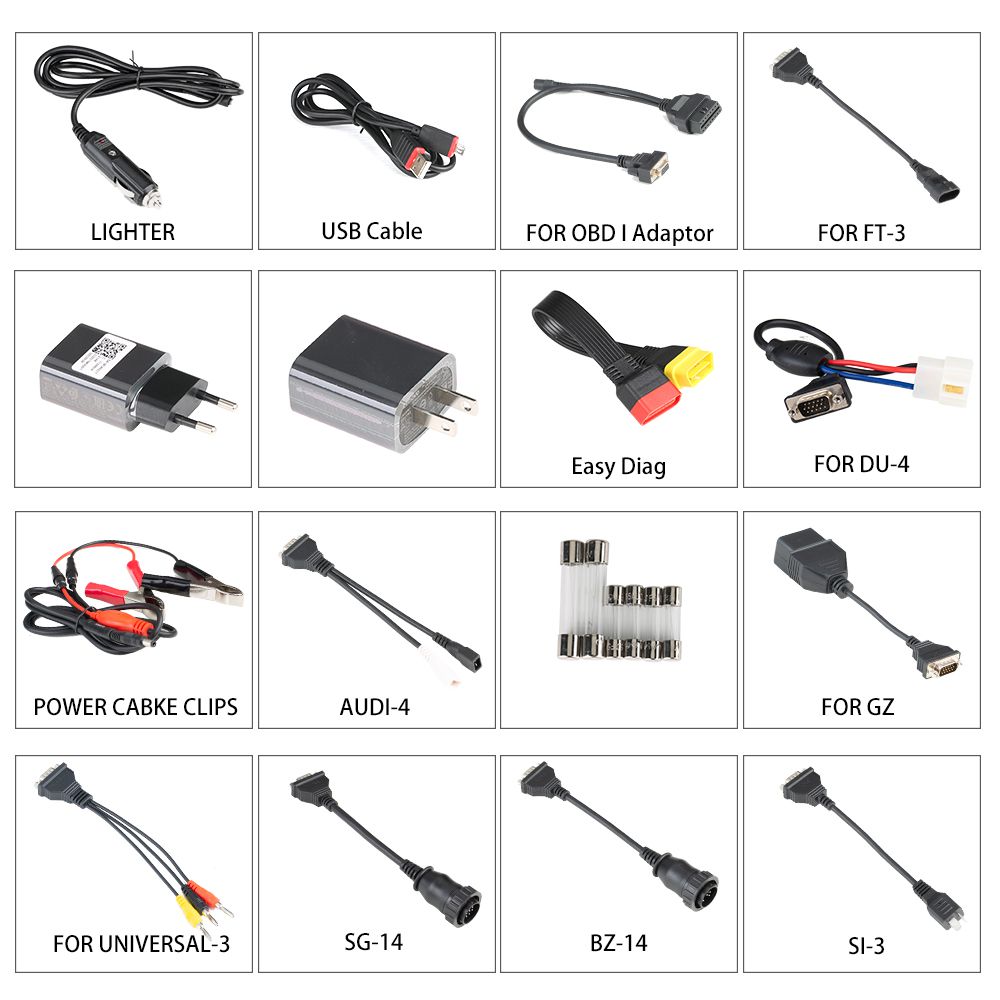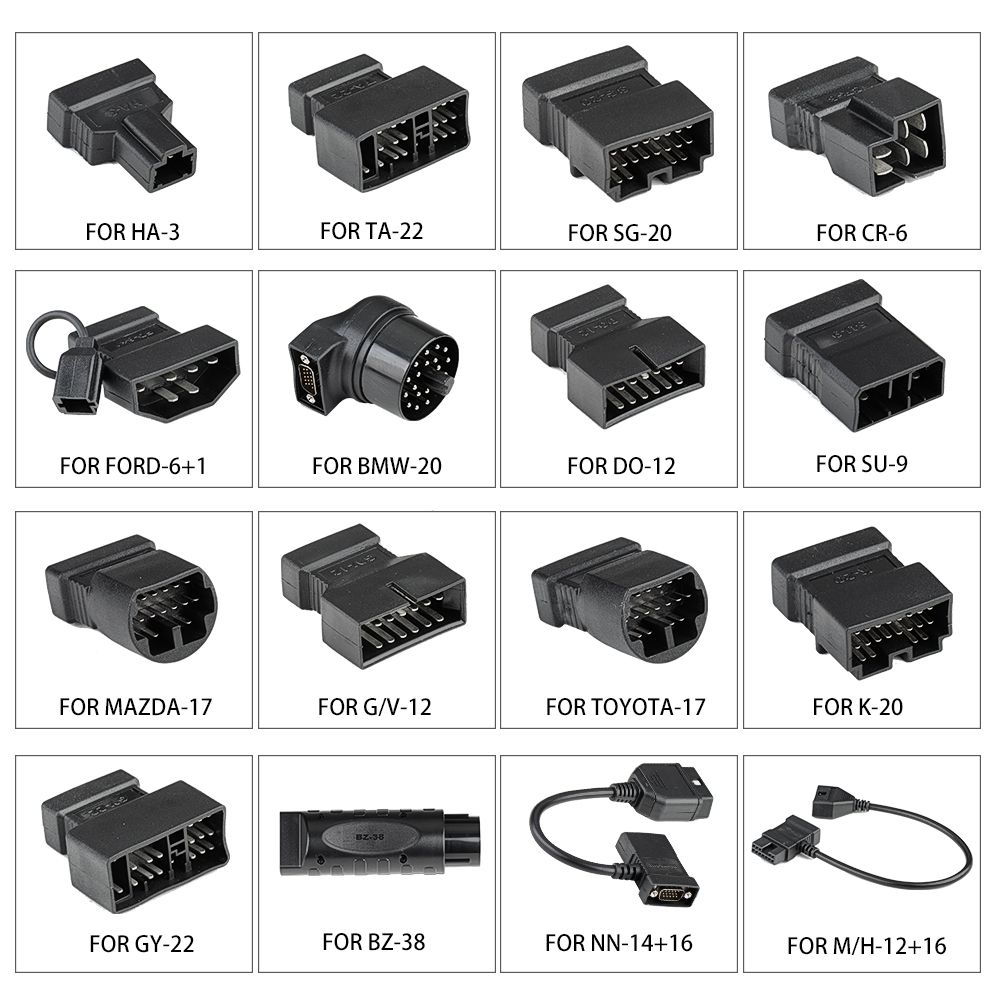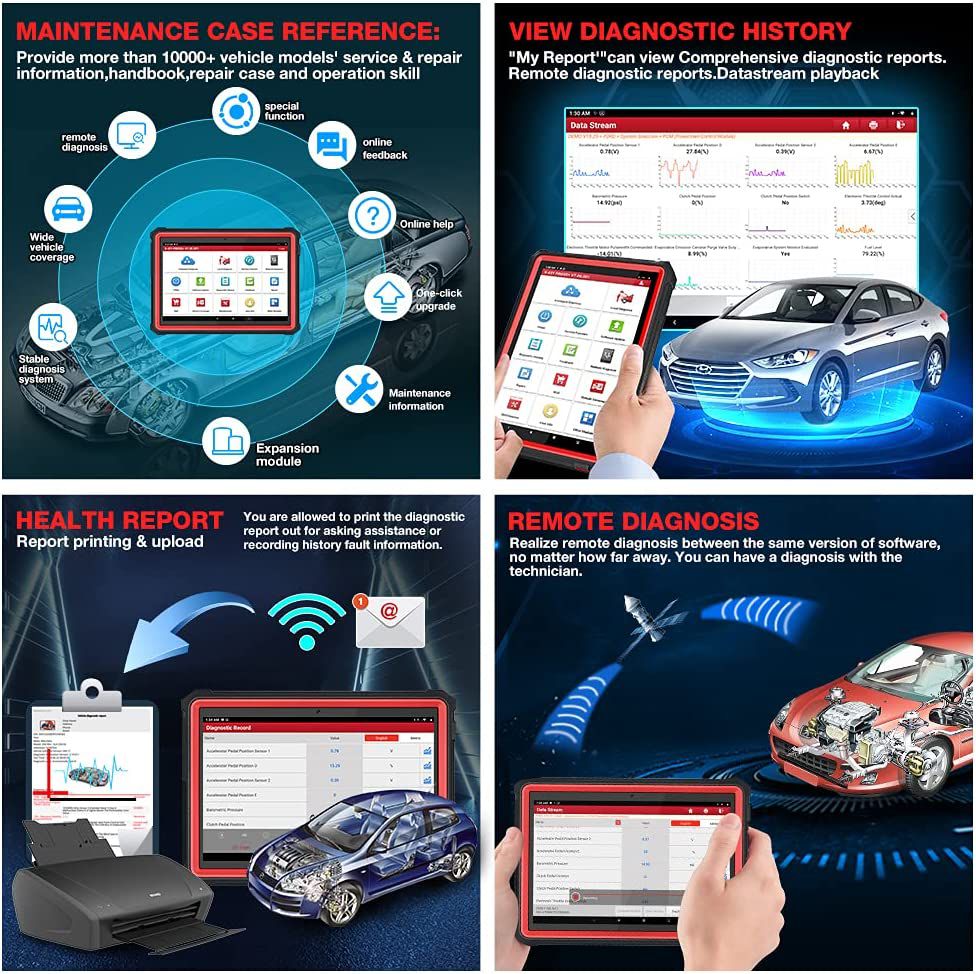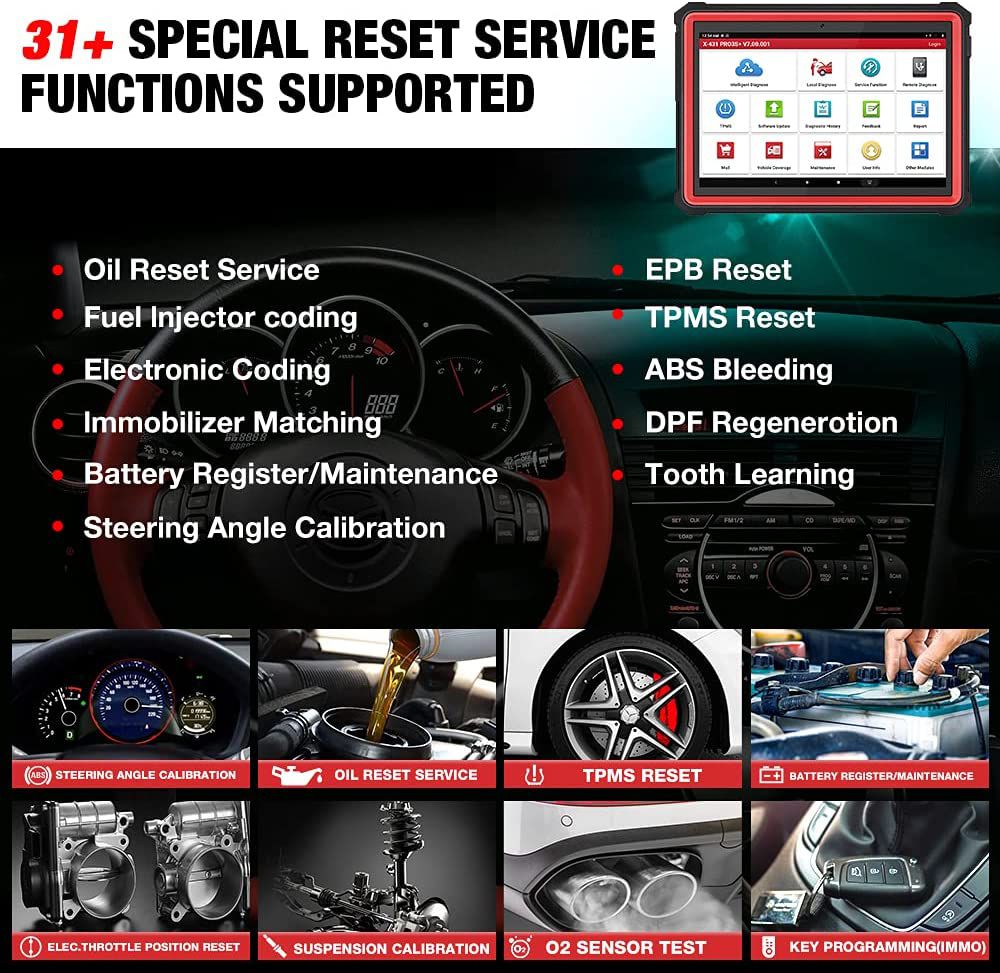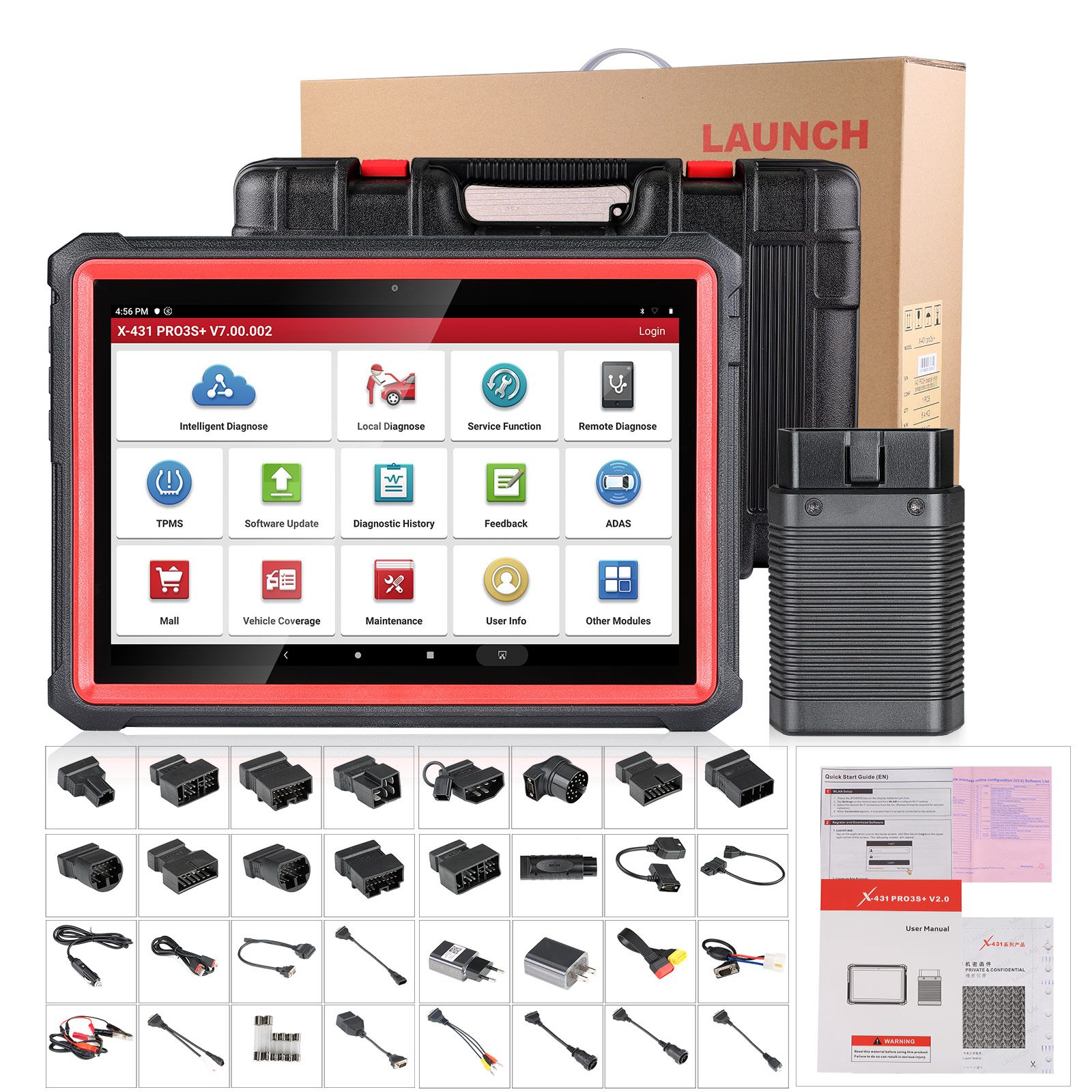 2022 Newest LAUNCH X431 PRO3S+ Bi-Directional Scan Tool with 31+ Reset Service / ECU Coding / AutoAuth FCA SGW
LAUNCH X431 PRO3S+ is a professional diagnostic scan tool that can diagnoses full systems in all vehicle systems on the ECU:read / erase codes, view live data, retrieve ECU version information, do active test and service functions for all systems including ECM, TCM, ABS, SRS, BCM, IMMO, BMS, TPMS, SAS, Fuel System, Light System and A/C system etc.
Shipping:

Express Shipping Service


Estimated delivery time: 3-15 Days.

See details »

Returns:

Return for refund within 7 days,buyer pays return shipping.

Read details »

Support:
Product Details

Product's Reviews
Launch X431 PRO3S+ Bi-Directional Scan Tool with 31+ Reset Service / ECU Coding / AutoAuth FCA SGW

Description:
Launch X431
PRO3S+ is a professional diagnostic scan tool that can diagnoses full systems in all vehicle systems on the ECU:read / erase codes, view live data, retrieve
ECU
version information, do active test and service functions for all systems including ECM, TCM,
ABS
, SRS, BCM, IMMO, BMS,
TPMS
, SAS, Fuel System, Light System and A/C system etc. with the coverage of up to 200000 of car models across the global.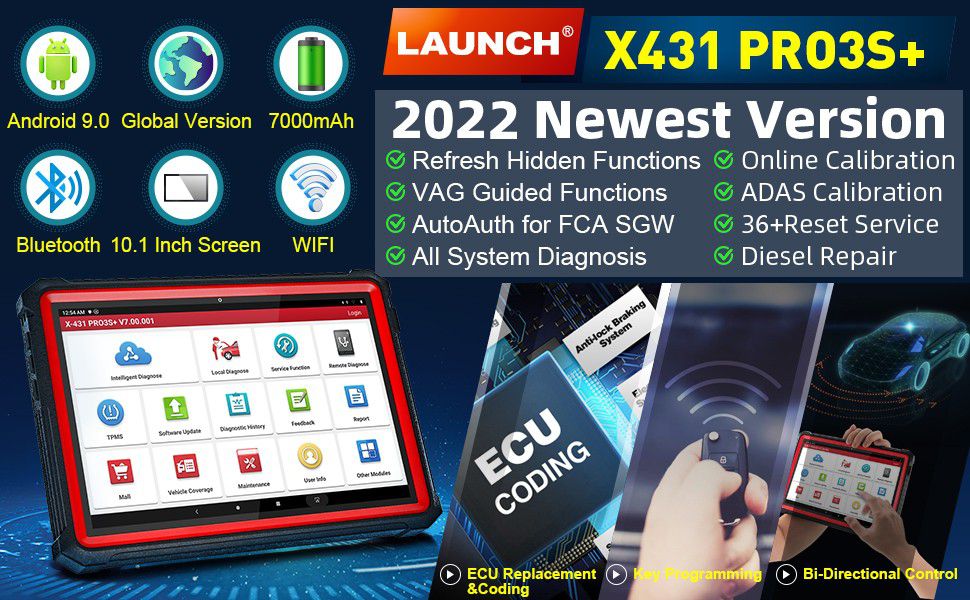 Launch X431 PRO3S+ Highlights:
1. 2022 NEW Upgrade Diagnostic Scanner
2. Advanced OE-LEVEL Functions +2 Years Free Update
3. All system diagnostics +Wider Regional Vehicle Coverage
4.
Smart
Bi-Diretional (Active Test)
5. 31+ Reset Service (Adaptation / Initialization / Matching) +
ECU
Coding
6. Advanced Hardware: With
Android
9.0 tablet, 10.1 touch screens, 1.8GHz 8 Core,32+ 128GB (expandable) storage
7. Wider Vehicle Coverage for Repairing Shops & Diyer
8. Compatible 24V Heavy Truck Module: Need to buy extra
Launch
HDIII
Truck
Adapter
9. 24 Kinds of Languages Supported:
English, French, Spanish, German, Russian, Korean, Japanese, Portuguese, Italian, Polish, Dutch, Hungarian, Finnish, Simplified, Czech, Turkish, Greek, Arabic, Danish Persian, Romanian, Serbian, Swedish, Chinese Traditional
Launch X431 PRO3S+ Functions:ALL Systems Diagnoses
Launch
X431
Pro3s+ automotve diagnostic tool will reach into all accessible vehicle systems to do detailed check/analyzing that can compare with OE level, read/clear
fault code
s, view live data, and view VIN information.
Read DTCs & Clear DTCs – It can access to the depth of every onboard systems to read and analysis the DTCs,clear the DTCs hidden in the ECU and clear the lights on the dashboard.
Live Data Stream – a valuable reference to determine the specific problems accurately. & ECU Information – get ECU information in detail.
Engines | Auto Transmission | airbags | Immobilizer | K-ey Coding | ABS | Cruise Control | Instruments | Self Leveling Suspension systems | Seats | Doors | Gateway | Steering Angle | Air Suspension | Body Systems | Electronic Power Steering & Motor Assisted | Power Steering | Tyre Pressure | Rain Sensors | 4WD System | Stabilizer | Intelligent Parking Assist | Door Motors | Audio Systems | Air Conditioning | Tiptronic | Anti Theft | Soft Top | Headlamp Leveling | Central Locking | Automatic Clutch | DPF Reset | Electric Windows | Plip Pro-gramming | Heated Rear Window | Xenon Headlights | Wash Wipe | Fuel Burning Heater | Transfer Box | Seat Memory | Oil Life Service Reset | Sliding Doors | Electronic Throttle | Navigation System | Rollover Sensor | Cruise Control | Multi-Function Steering Wheel | Aux Heating | Electronic Parking Brake | Clutch Electronics ...
HD Vehicles Diagnosis Supported(need extra HD3 adpater )
LAUNCH X431 PRO3S+ HDIII automotive scanner is ALL-IN-ONE Scan Tool for 12V cars and 24V Heavy-duty trucks which provide the most extensive multi-brand coverage and comprehensive diagnostics for you.Passenger vehicles:Cars, SUV, MPV, Pickup truck; Commercial vehicles:Heavy Duty Truck, Passenger Bus, Excavator, Tractor, Recreational Vehicle.
AutoAuth for FCA/SGW
AutoAuth is one of the authentication solution created to give Independent Aftermarket (IAM) Tools the ability to safely unlock the SGW module and perform all applicable diagnostic repairs in North America.
AutoAuth unlocked with the latest software update can securely serve modern FCA / SGW vehicles for OBDII diagnostics, active test, calibrations,relearns,actuations and more. *May require an annual subscription.
The scan tool must be connected to the internet to communicate with the FCA SGW Authentication System.
Auto VIN technology
LAUNCH X431 PRO3S+ features the latest VIN-based Auto VIN Scan function. It can identify CAN vehicles in just one touch, scan all the diagnosable ECUs on every vehicle quickly, and run diagnostics on the selected system easily.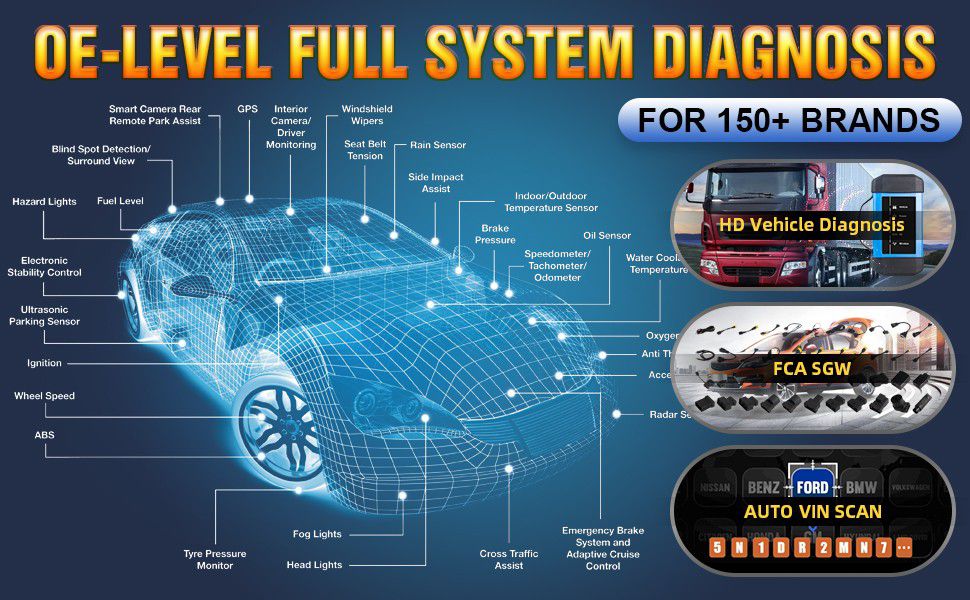 Active Test (BI-Directional Control)
Launch X431 PRO3S+ diagnostic tool features full Bi-directional control ability, to send commands to vehicle's systems/components, to verify system input/output without using the vehicle's controls, e.g. turn on the radiator fan, modulate the throttle, open/close windows, operate mirrors, Injector Buz Test,turn on interior & exterior lights, sound horn, test door lock actuators and such.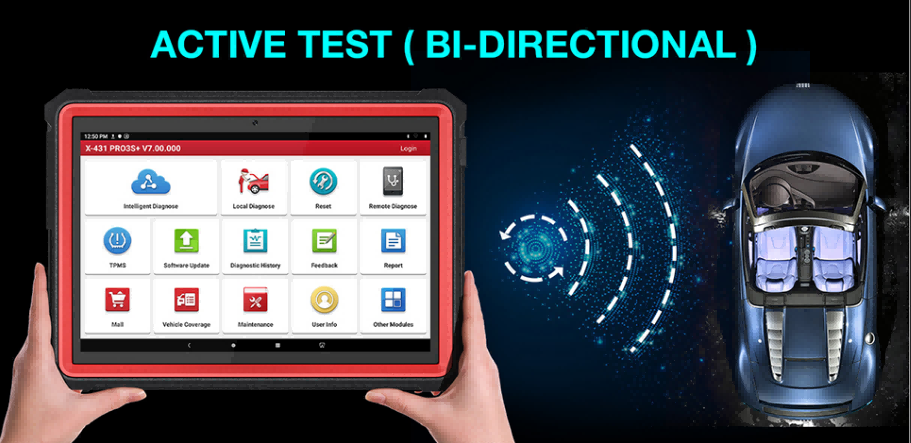 31+ Service Functions
1.OIL RESET – Reset the oil life systems every time the oil and oil filter are changed;
2. FUEL INJECTOR CODING– Code new injector nuMBers to replace the previous one when fitting the new injectors or after the replacement is completed;
3.BRAKE RESET – Deactivate and activate the brake control system, assist with brake fluid control, open and close brake pads, etc.;
4.SAS RESET – Perform steering angle sensor calibration and clear records;
5.BAT.RESET – Evaluate the battery charge state, monitor the closed-circuit current, register the battery replacement, etc.;
6.ABS BLEEDING– When the ABS contains air, the ABS bleeding function must be performed to bleed the brake system to restore ABS brake sensitivity;
7.ELEC.THROTTLE RLRN – Initialize the throttle actuators so that the "learned" values stored on ECU are returned to the default state;
8.TPMS RESET – Tire pressure resetting is required to be performed after maintenance is performed;
9.Key CODING: Help ECU to recognize the new keys when you need to add new keys.
10.DPF REG – Clear PM (Particulate Matter) from the DPF filter through continuous coMBustion oxidation mode to stabilize the filter performance;
11.GEAR(Crank Position Sensor Adaptive) LEARN – Perform gear learning for the car when the engine ECU, the crankshaft position sensor, or the crankshaft flywheel is replaced. (Available in the system menu and free.Depending on the specific car models, not for all cars, ). and more and more function will be improved and optimized.12.EPB RESET – Help replace and reset the brake pad. 13.AFS HEADLAMP RESET – Initialize the adaptive headlamp system. 14.SUNROOF INITIALIZATION – The sunroof needs to be reset when the sunroof control unit have communication problem or changed. 15.SUSPENSION RESET – Adjust the vehicle body height sensor for level calibration. 16.GEARBOX RESET – Help complete the gearbox self-learning to improve gear shifting quality. 17.TIRE RESET – Set the size parameters of the modified or replaced tire. 18.A/F RESET – Set or learn Air/Fuel ratio parameters. 19.ADBLUE RESET(Diesel Engine Exhaust Gas Filter) – Reset urea after the diesel exhaust treatment fluid is replaced or filled up.20.COOLANT BLEEDING – Activate the electronic water pump. 21.NOX SENSOR RESET – Reset catalytic converter learned value stored in ECU. 22.STOP/START RESET – Set up the automatic start-stop function in ECU. 23.Seat CALIBRATION – Calibrate the memory in replaced or repaired seats. 24.TRANSPORT MODE – Deactivate the transport mode. 25.WINDOWS CALIBRATION – Perform door window matching to recover ECU initial memory.26.AC SYSTEM RELEARN/INITIALIZATION. 27.EGR RESET. 28.RESET FUEL ALCOHOL LEVEL. 29.RESET FUEL TRIM. 30.HIGH VOLTAGE BATTERY DIAGNOSTICS. 31.GPF REGENERATION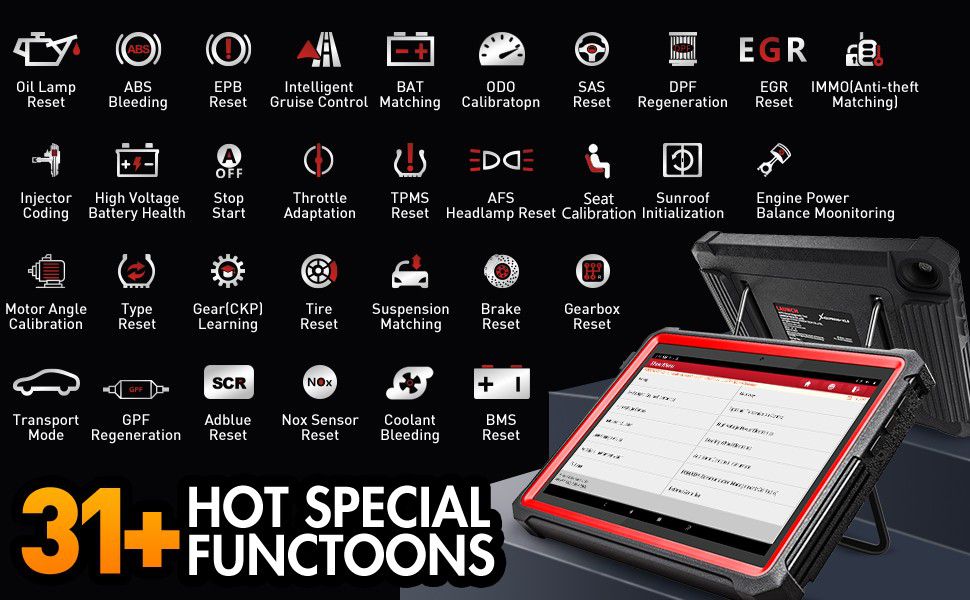 ECU Coding

Advanced ECU Coding & Active Test / Bidirectional Control: this car diagnostic tool quickly identifying replaced modules to ensure smooth information communication, activate hidden functions, and adjust the vehicle settings.it requests a module to perform a specific test and function.(Turn on and off actuators to determine whether there are problems with sensors and actuators)
ECU Coding used to re-flash the vehicle control modules, it allows you to reprogram adaptive data for certain components after making repairs or replacements.
Online Coding: empower you to access the online data from the OEM server to do high-level repairs.
Offline Coding: read the code from the original module, and then write the code to the new module.
After we replace control units, bad actuators, or certain parts we need to do the coding to make the replaced parts being stored and recognized by the ECU. Almost all systems that include engine, fuel, injector, gear shift, ABS, airbag system, and so on can be coded with this scanner. Before the coding, please read and record the original module's information.
ECU coding enables multiple car systems to recognize each other and then the actuators can start to work.
ECU coding helps to flash some hidden features for vehicles such as change the interior light, activate cornering headlights with fog lights, and deactivate buzzing sounds when locking the door, etc. You can use our x431 v pro to stimulate all the possibilities of the vehicles.
VAG Guided Functions
Come with the on-screen instructions to guide you on how to complete some complicated functions step by step (Compatible with
Volkswagen
/
Audi
/
Skoda
/ Seat): for various systems such as engine, gearbox, brake,
airbag
, instrument, air conditioner, and more.
Online Parameterization/Flash Hidden Functions
Customize your car as you want. Help you make full use of the hidden functions and disable the annoying features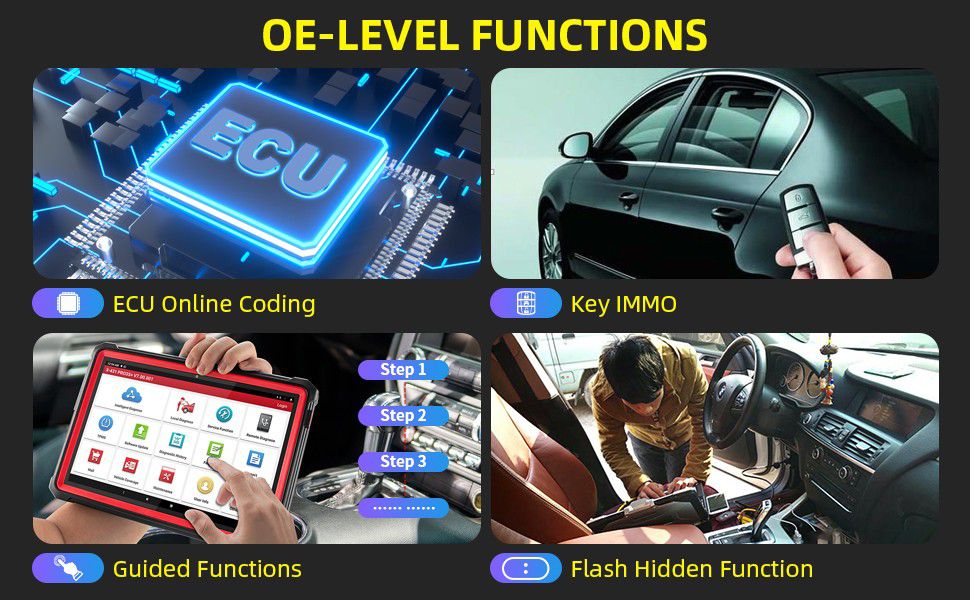 2022 New Added OE-LEVEL Advanced Functions of Launch X431 PRO3S+:
AutoAuth for FCA/ SGW,:Use the latest software update function AutoAuth to provide OBDII Diagnosis, active testing, calibration, etc. for modern FCA/SGW vehicles, making the diagnostics more secure.Applicable to FCA vehicles equipped with a security gateway module (SGW) in 2017 and later (NOTE: FCA Americas can be registered and used for free)
Cylinder Balance Test/Cylinder leakage test/Cylinder Pressure variations.
Component Matching: Compatible with Volkswagen / Skoda / Seat / BMW / GM / FORD / Opel / MAZDA / Fiat / HONDA / Nissan / Hyundai / Kia / Subaru etc.
Online Coding: Compatible with Volkswagen / Audi / Benz / BMW / Seat / Porsche etc.
Online Account Login Service: Compatible with Volkswagen / Audi / Skoda / Seat etc.
Online Calibration: Compatible with Volkswagen / Audi / Skoda / Seat etc.
Online Parameterization: Compatible with Volkswagen / Audi / Skoda / Seat etc.
Anti-theft IMMO Serivce: Compatible with Volkswagen / Audi / Skoda / Seat etc.
Guided Functions: Compatible with Volkswagen / Audi / Skoda / Seat etc.
Key Programming : Add, Delete & Reprogram Keys, Rewrite smart keys, Replace Smart key ECU, Replace KNOB IGNITION; Reset Key: Relearn a key.
Launch X431 PRO3S+ Supported Extended Modules (needs to buy additionally)
1. X431 VSP-600 Videoscope (Mainly applied to check unseen parts of engine, fuel tank, braking system, etc.)
2. X431 TSGUN (Not only can you use it to activate the sensor's ID, tire pressure, sensor frequency, tire temperature, and battery status; you can also program sensor data to a blank LAUNCH brand sensor in three ways: Auto, Manual, and Activation Copy; at the same time, you It can be used to write the newly programmed sensor ID to the vehicle ECU.)
3. X431 PROG 3(IMMO For
VAG
Group Above 3.5,advanced
Immobilizer
& key programmer)Vehicles that require cloning are not compatible with this accessory
4. X431 Heavy Duty Module -LAUNCH HDIII add-on moduld is an essential truck module which can turn your X431 scan tools into full function heavy duty truck diagnostic tools,working on both heavy-duty(Class 4 through 8) and medium-duty trucks(Such as heavy
Truck
s, city buses, bulldozers, excavators, etc.)
5. X431 ADAS Moblie/ADAS PRO (Calibrate a wide range of camera-based & radar-based driver assistance systems)
6. X431 Printer (Print out diagnostic data/reports.)
7. X431 BST360 Battery Test.(For Battery Cranking system Test, Battery Charging system Test, Battery Health Test)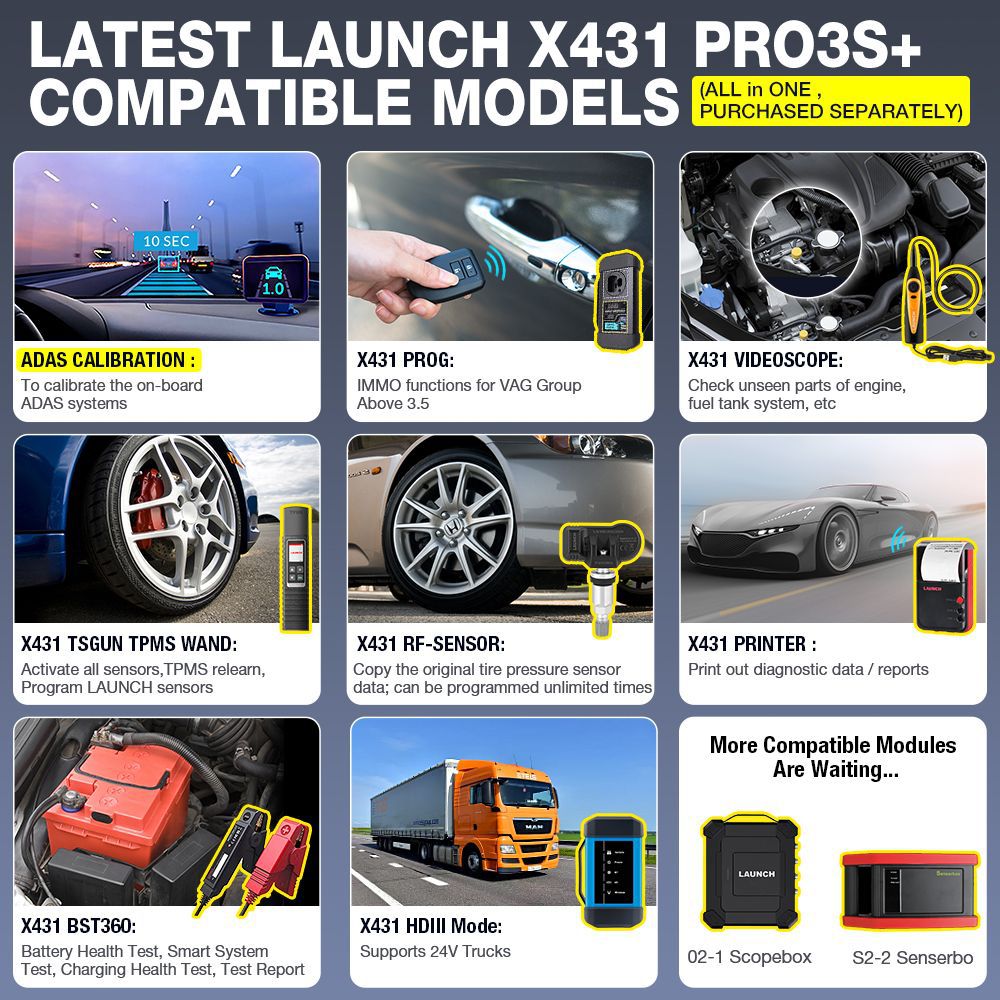 Vehicle Coverage
Launch X431 Pro3s+ Support 200000+ Vechiels coverage and keep growing.
Europe car models: Benz, Smart, SPRINTER, BMW, VW, SKODA, AUDI, Opel, LAMBORGHINI, Porsche, MAYBACH, EURO FORD, LANDROVER, DR, BENTLEY, RollsRoyce, ROVER, MINI, VAUXHALL, FERRARI, FIAT, Abarth, LANCIA, Alfa, Romeo, Maserati, BUGATTI, PEUGEOTCITROEN, RENAULT, SAAB, VOLVO, Opel, Dacia, SEAT.
ASIAN CAR MODELS: SAMSUNG, DAEWOO, SSANYYONG, Hyundai,KIA, HONDA, Acura, TOYOTA, SCION, LEXUSMAZDA, Nissan, Infiniti, JPISUZU, TLISUZU, DAIHATSUSUZUKI, MITSUBISHI, Subaru, CHANGCHENG, HUACHEN, ZHONGXING, JACTY, QIRUI_TY, ISUZU, JINLONG, CHANGAN, LIUWEI_TY, XINKAI, JPISUZU, ZHONGSHUN, HAOQING, HAFEI, XIALI, CHANGHE ZHONGTAI, FLYER, SSANGYONG, JIAO, WEILI,LUXGEN.etc.
OBDI&OBDII Connectors and cables,almost all vehicles in the world
14 Connectors :TOYOTA-17, HONDA-3, MAZDA-17,FORD-6+1,SSANG YONG-20 , Chrysler-6, SUBARU-9 , KIA-20, DAEWOO-12 ,GEELY-22 ,GMVAZ-12, DAEWOO-12, BMW-20, Benz-38
12 Cables : GAZ , OBDII-16 EXTEND CABLE , SSANG YONG-14, SUZUKI-3, AUDI-4, FIAT-3, MITSUBISHI Hyundai-12+16, OBD1 ADAPTOR, BENZ-14, Nissan-14+16, DAIHUATSU-4, POWER CABLE CLIPS.
3 Adapter Plugs applicable for US,UK,EURO.
Advanced Hardware:
Launch X431 Pro3s+ is with
Android
9.0 tablet, 10.1 touch screens. 2.4GHz&5GHz dual-band
Wi-Fi
, the transmission rate is 4 times faster than the old version. 7000mAh rechargeable battery (up to 15 hours or more of battery life),32+ 128gb (expandable) storage to save more vehicle documents and customer data. CPU processor updated from 1.4GHz to 1.8GHz eight-core to perform.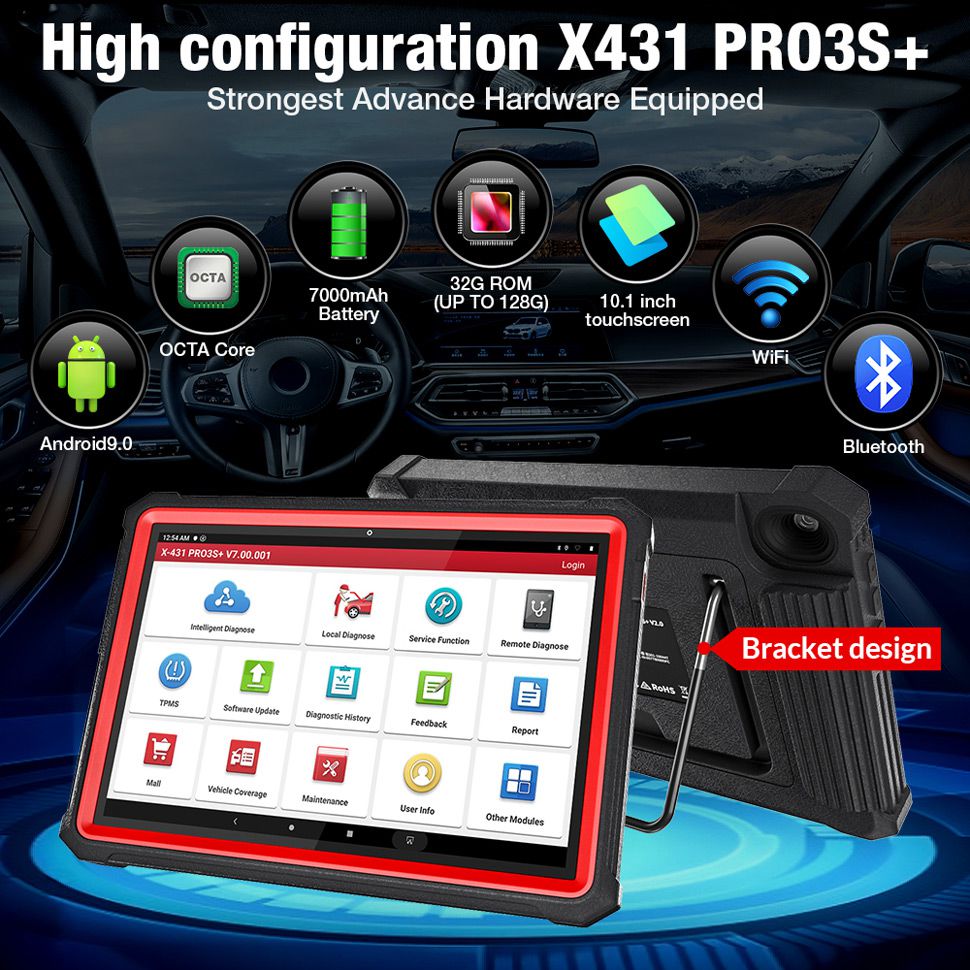 Launch X431 PRO3S+ Appearance Display: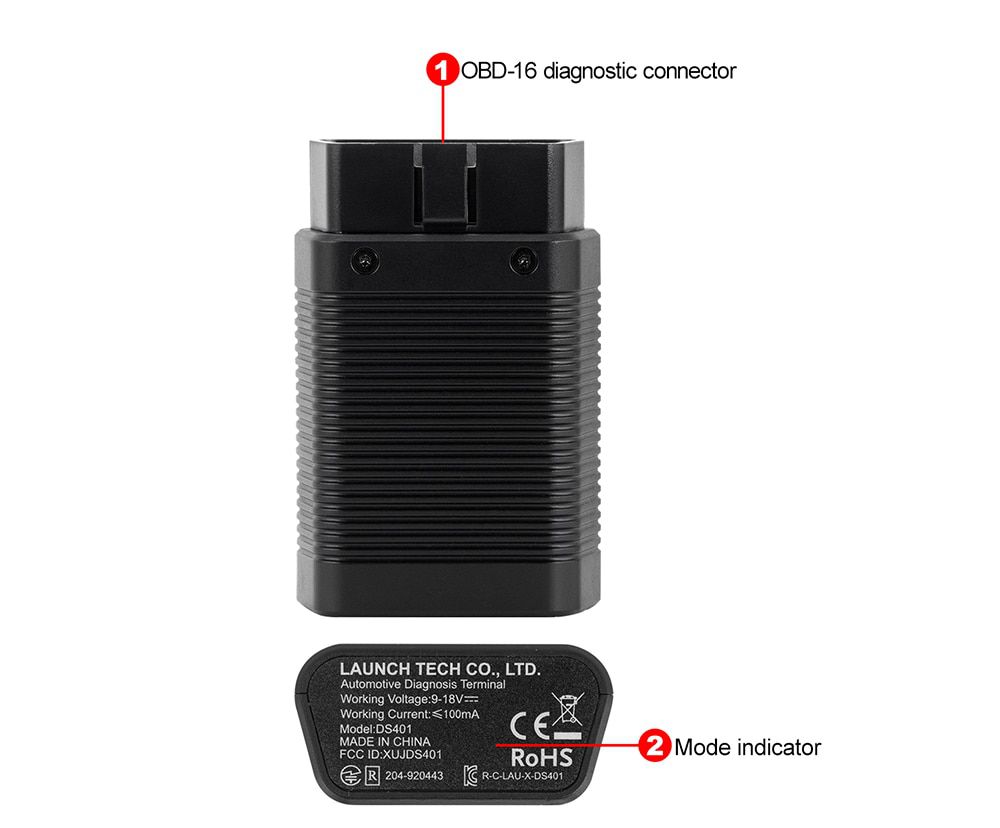 Launch X431 PRO3S+ Package List: