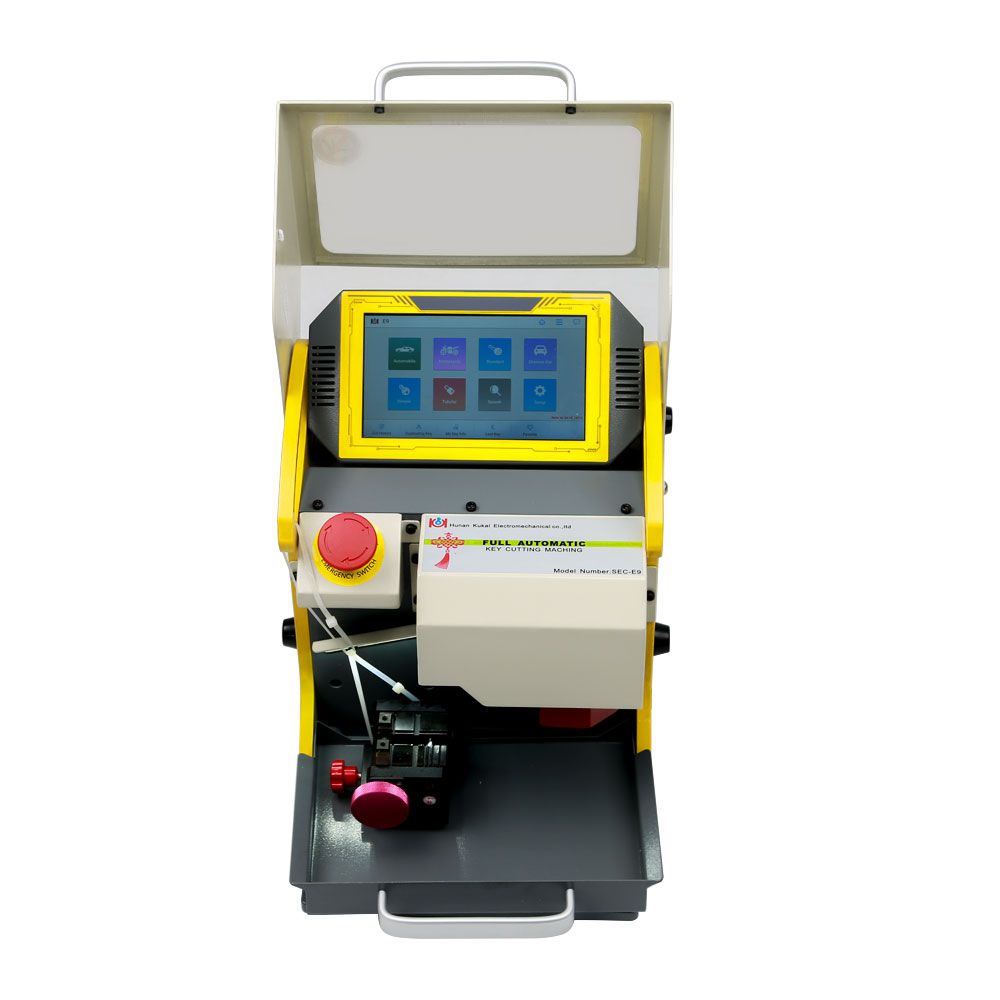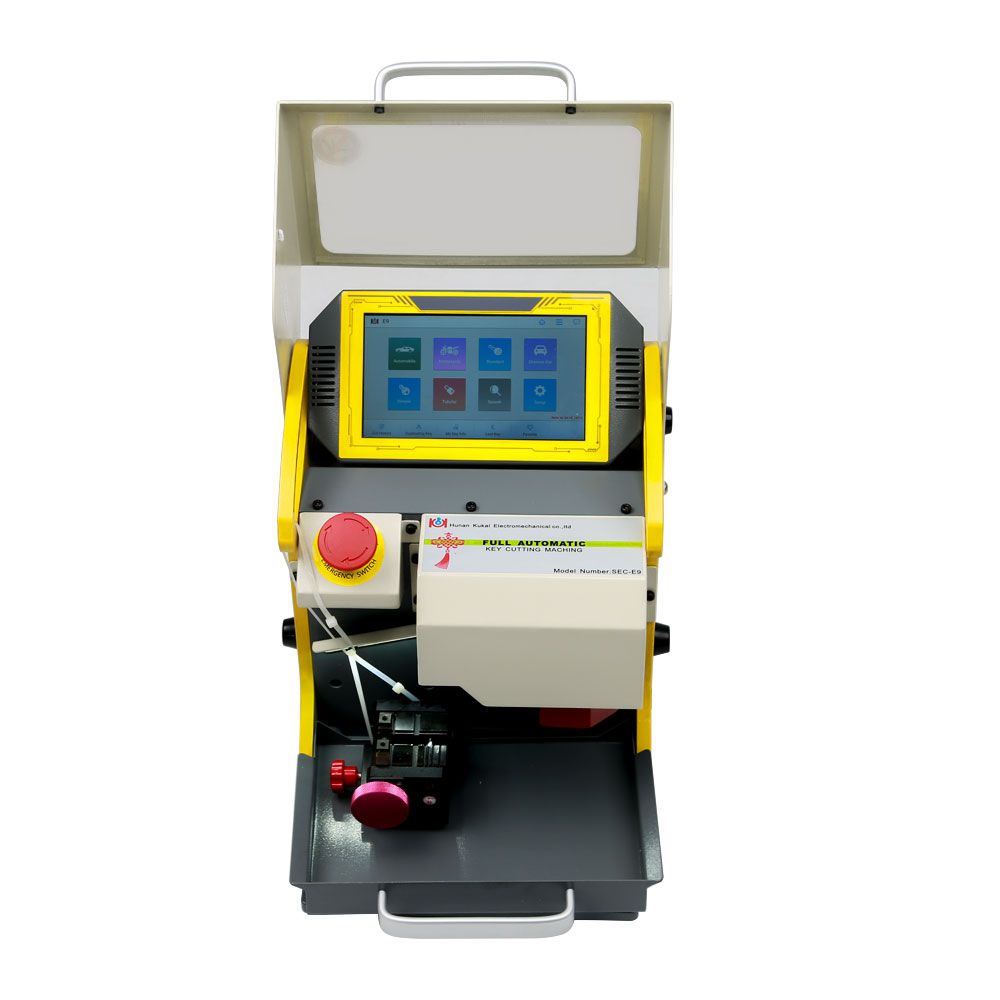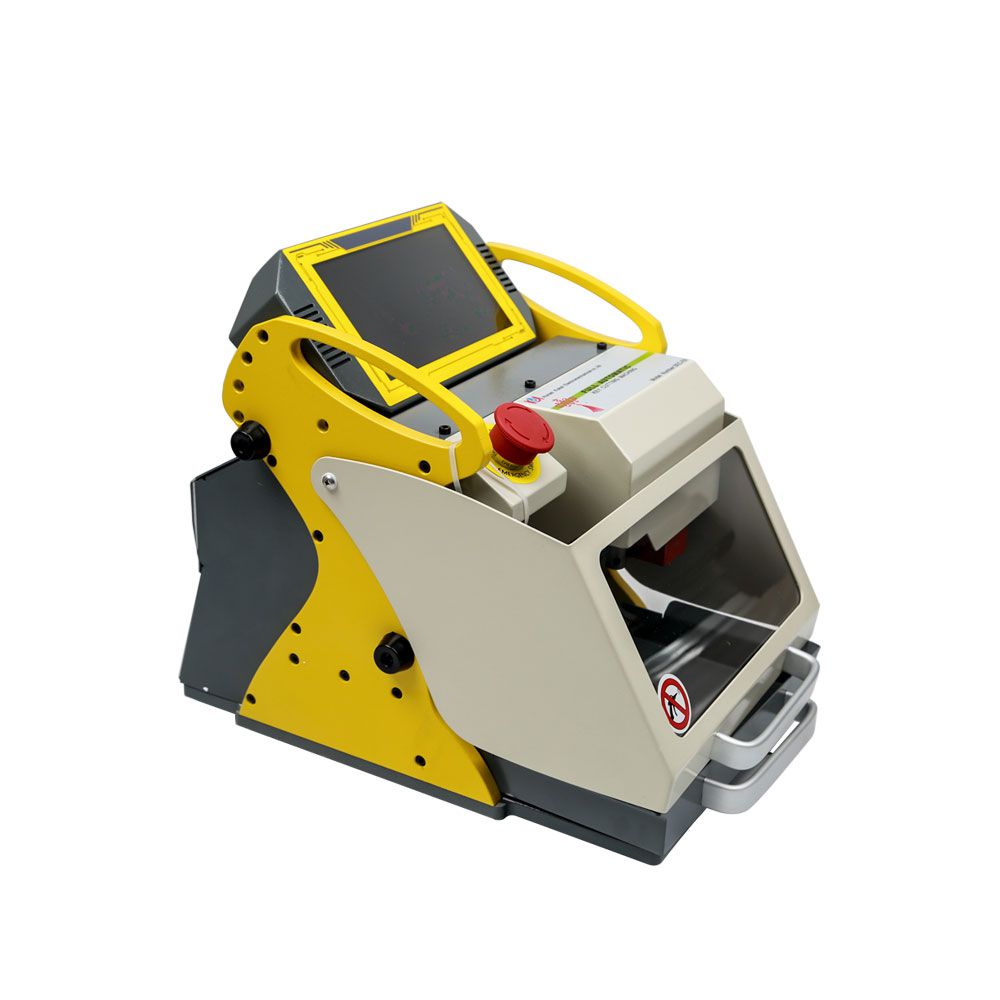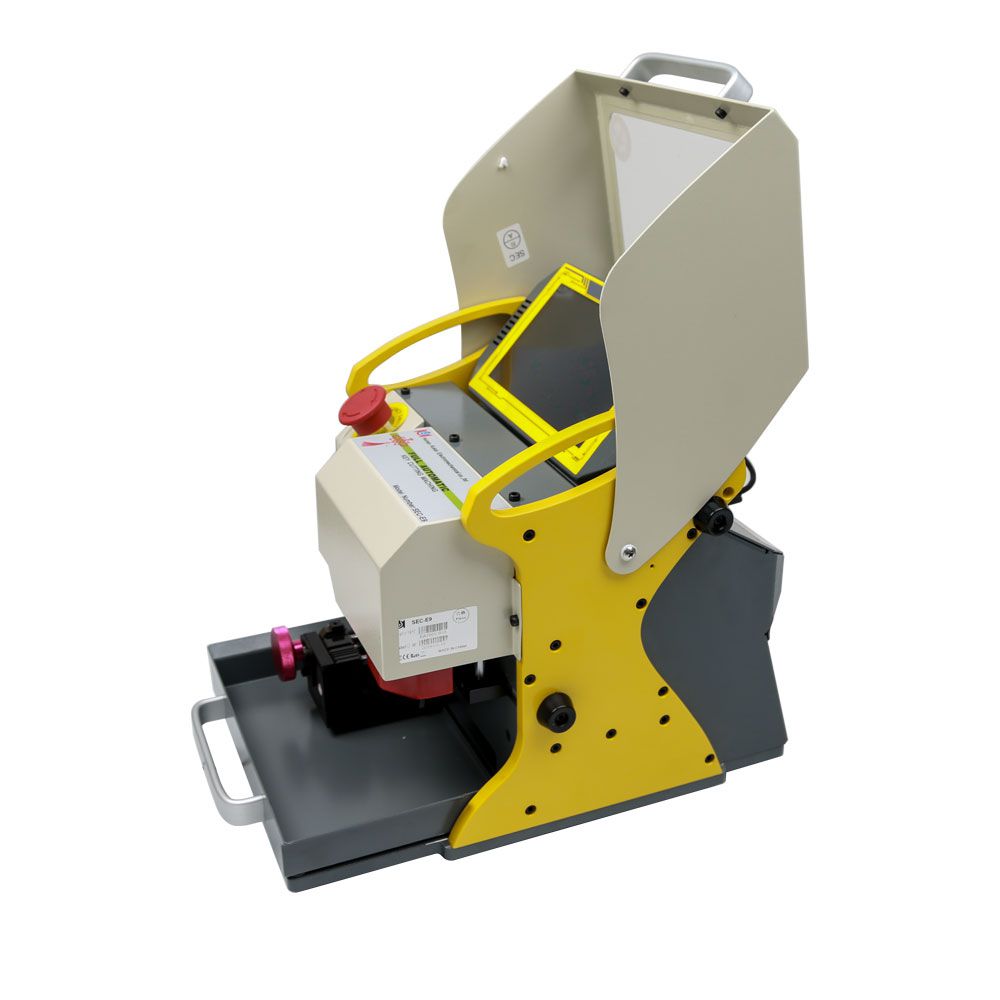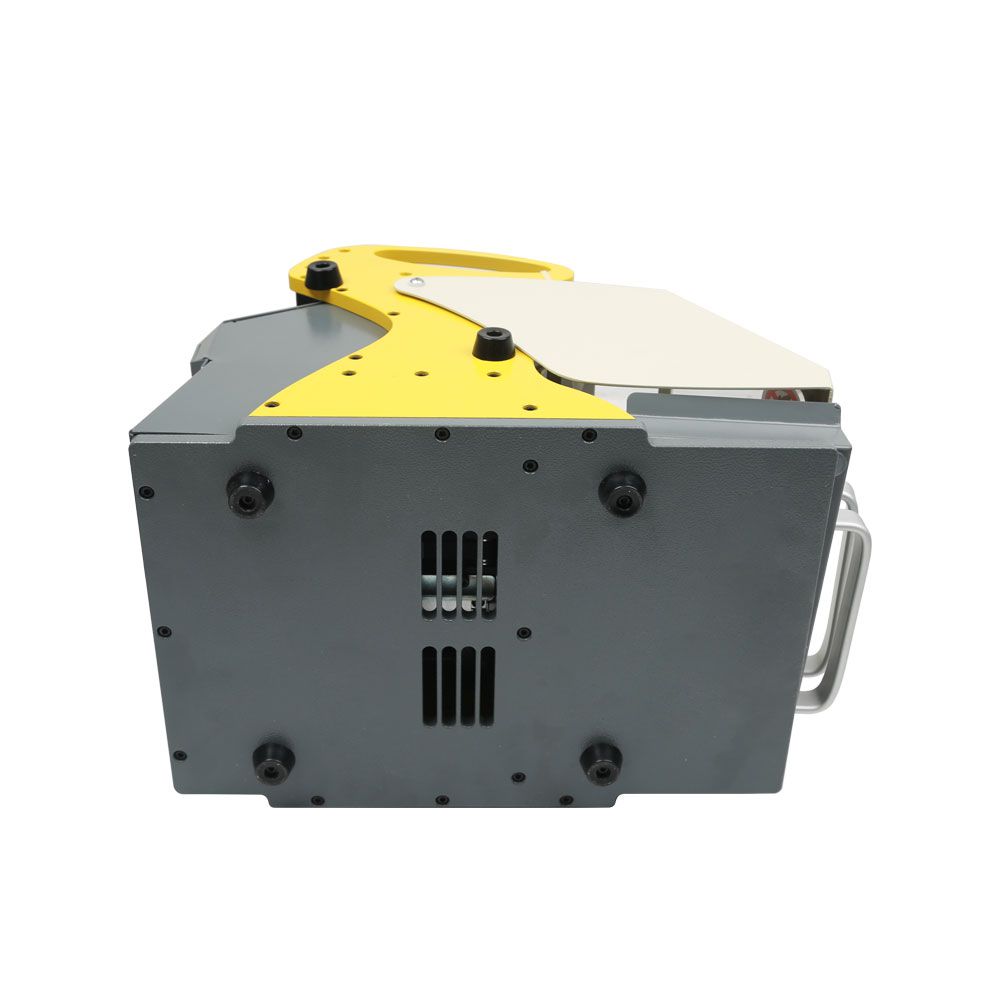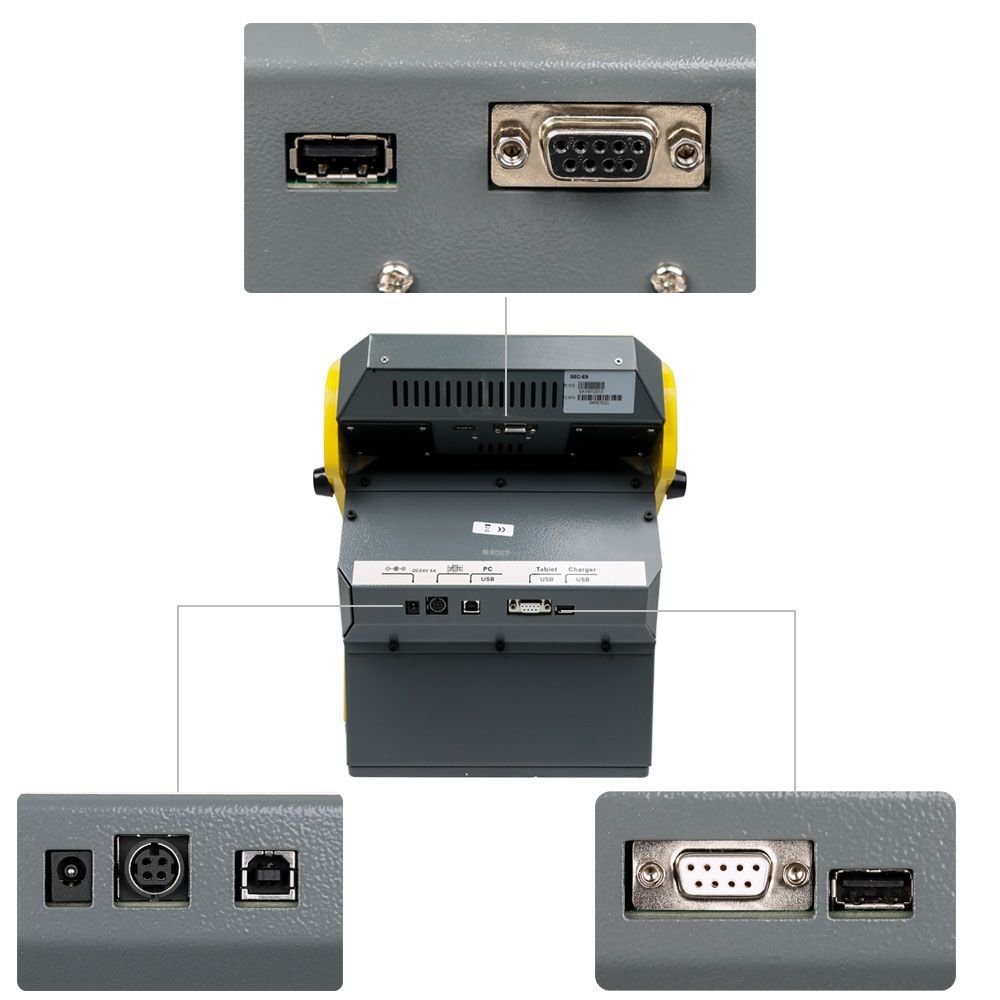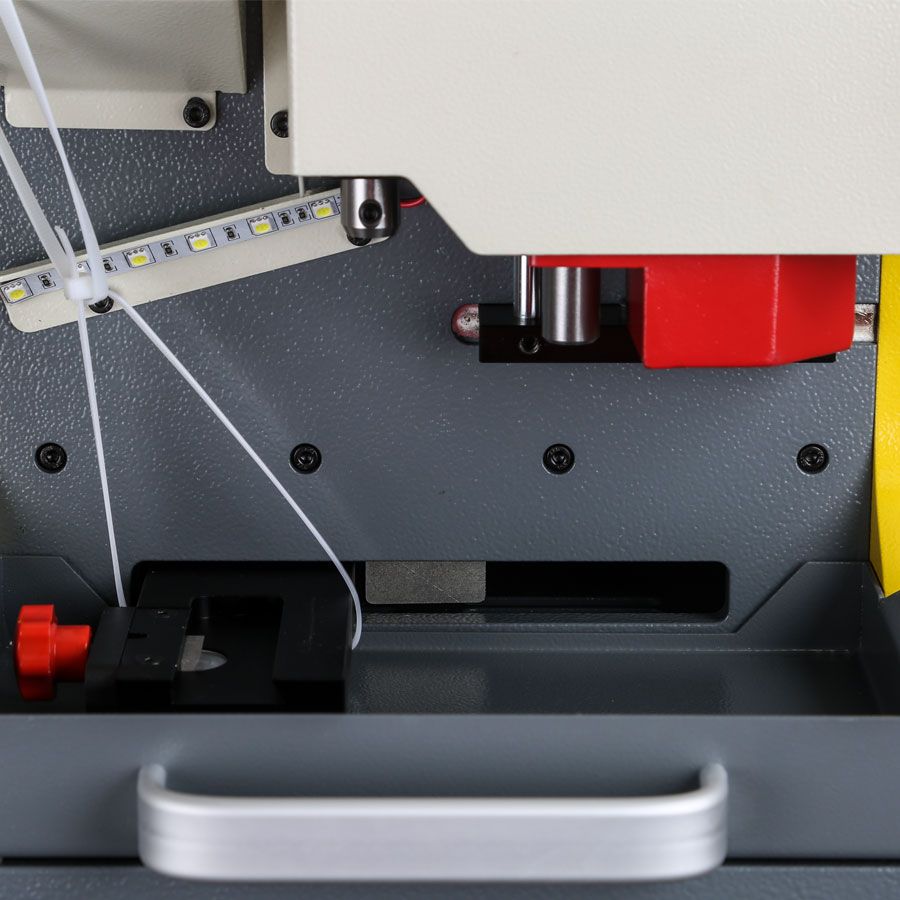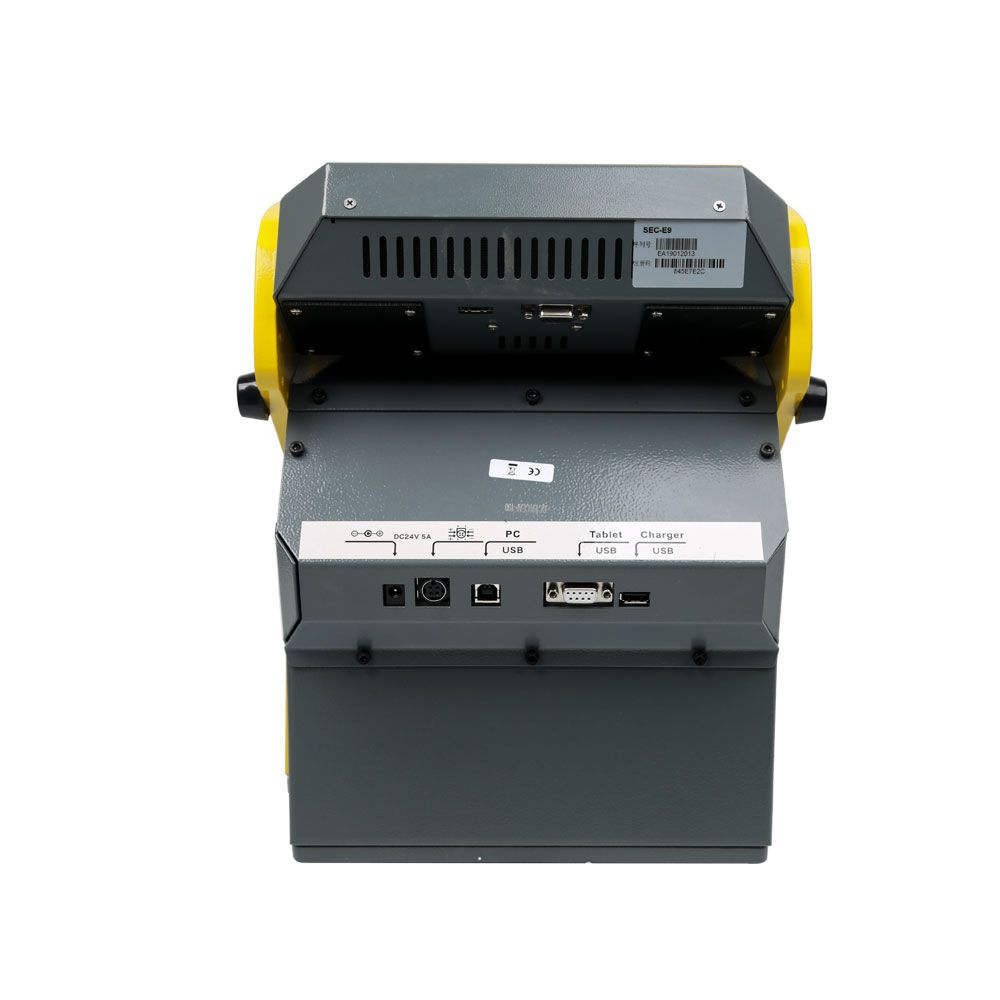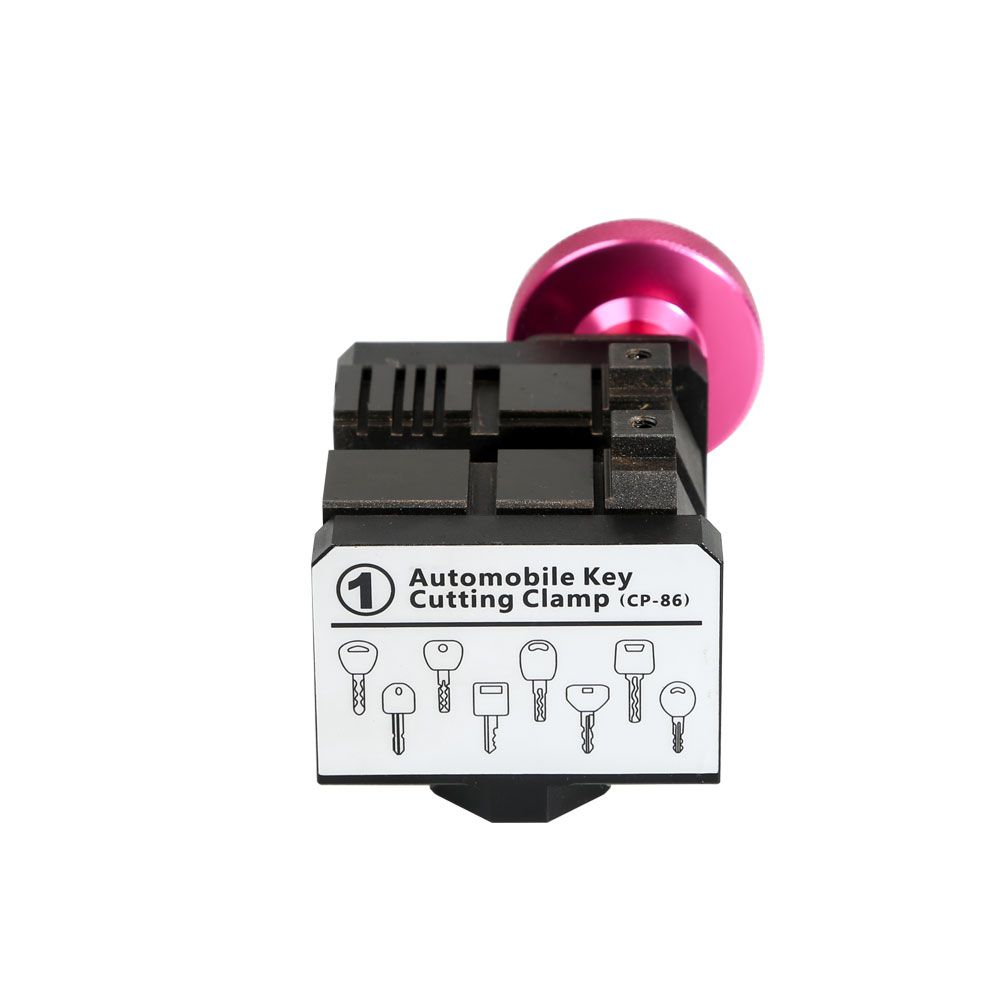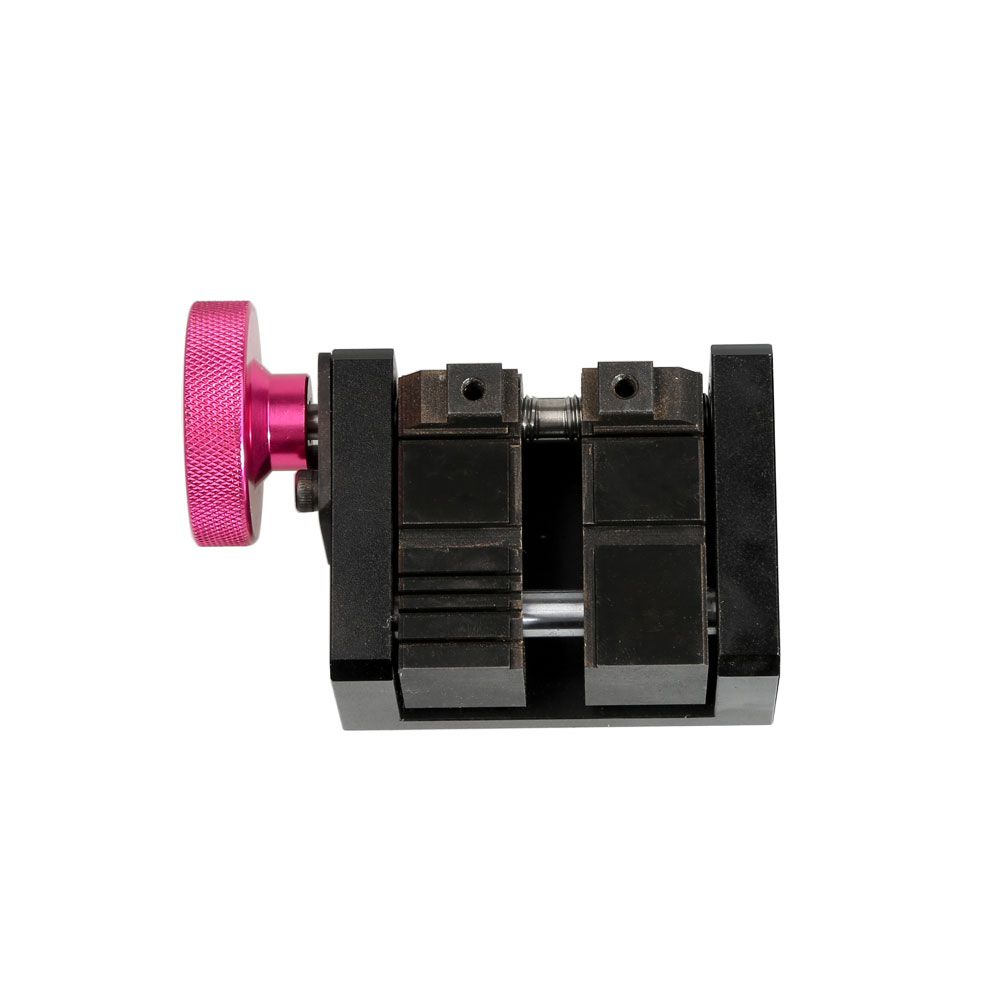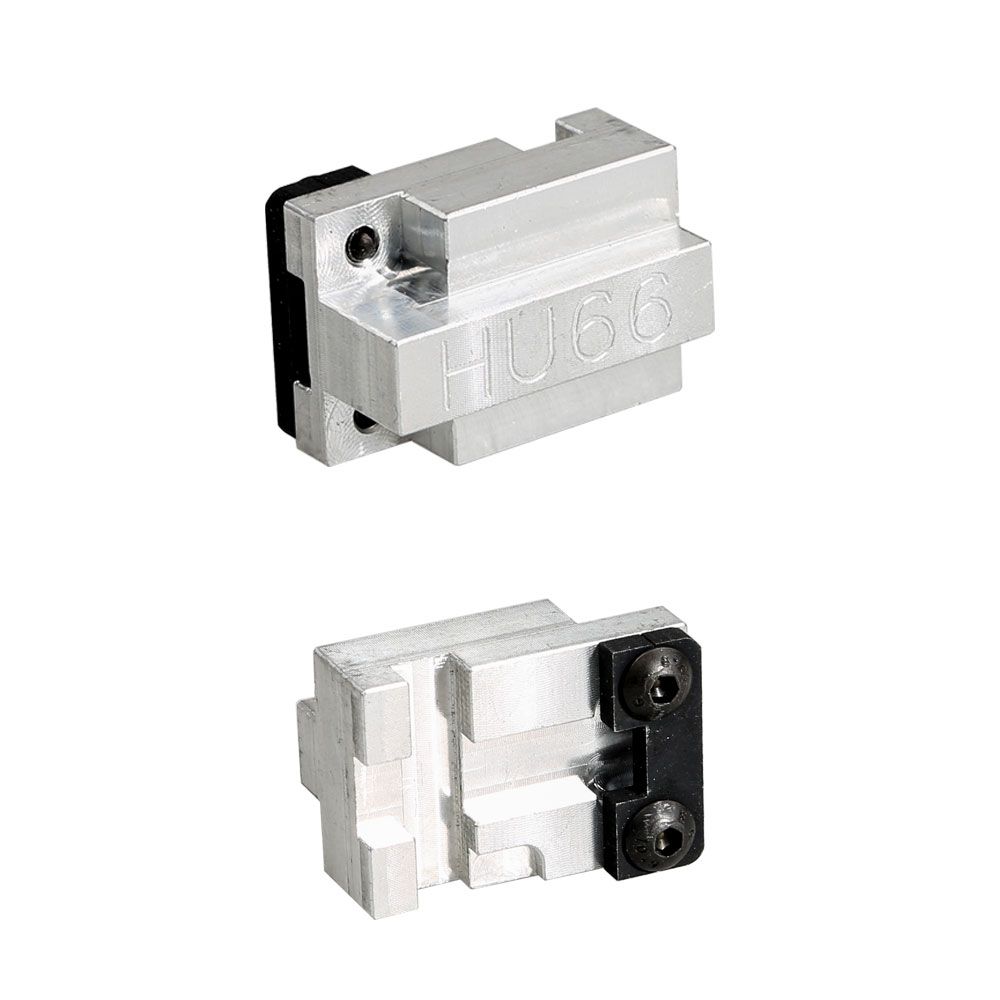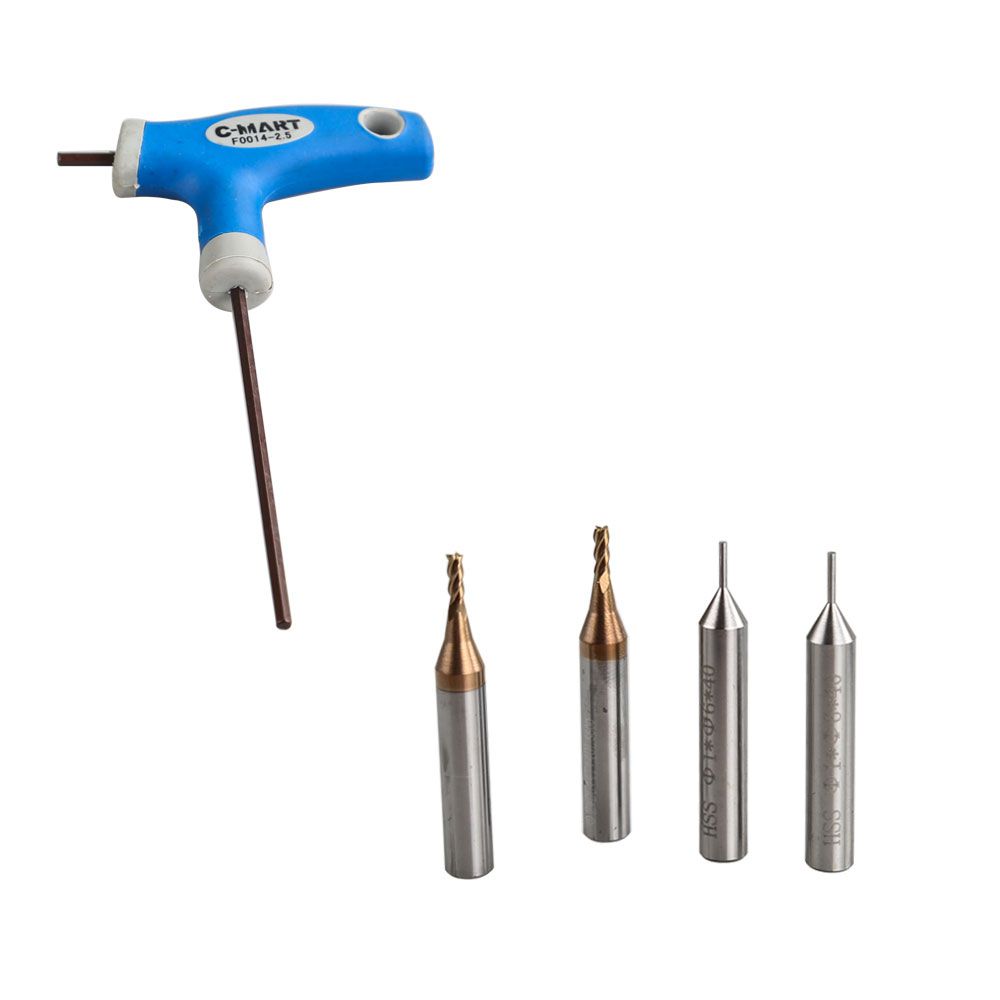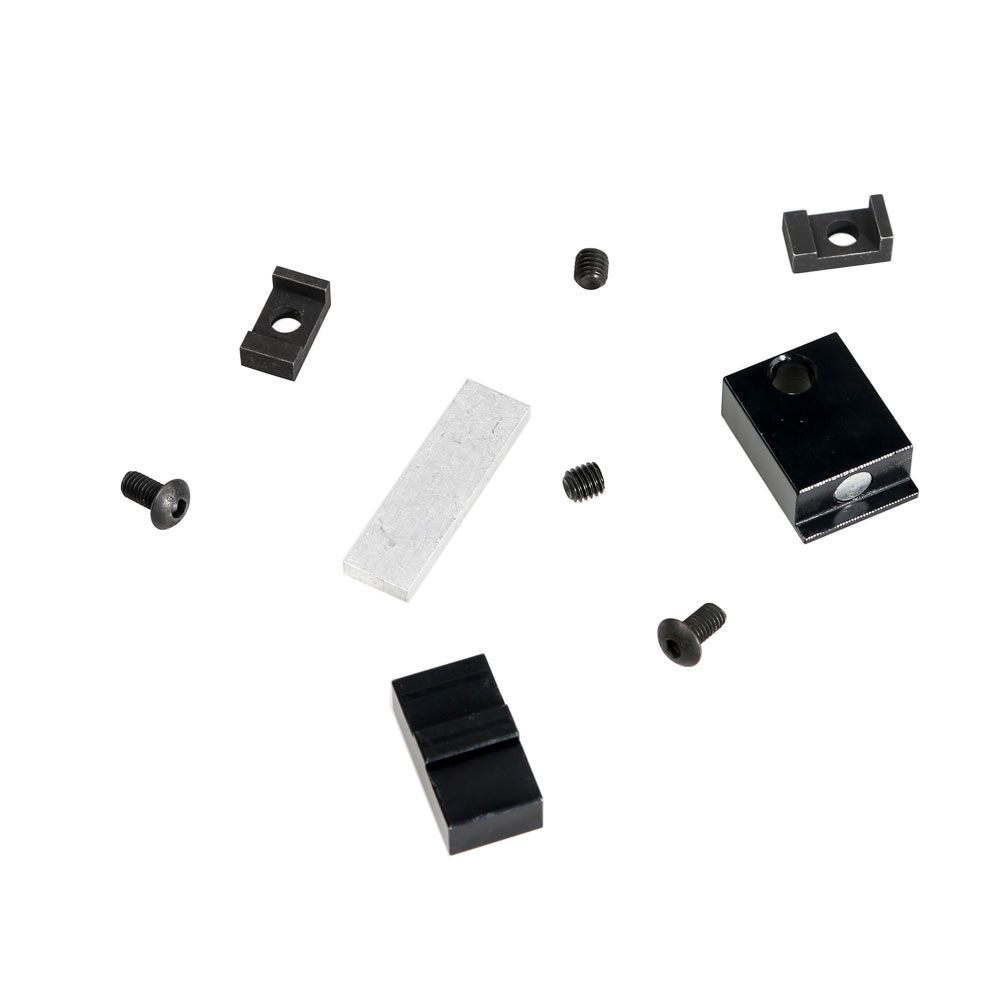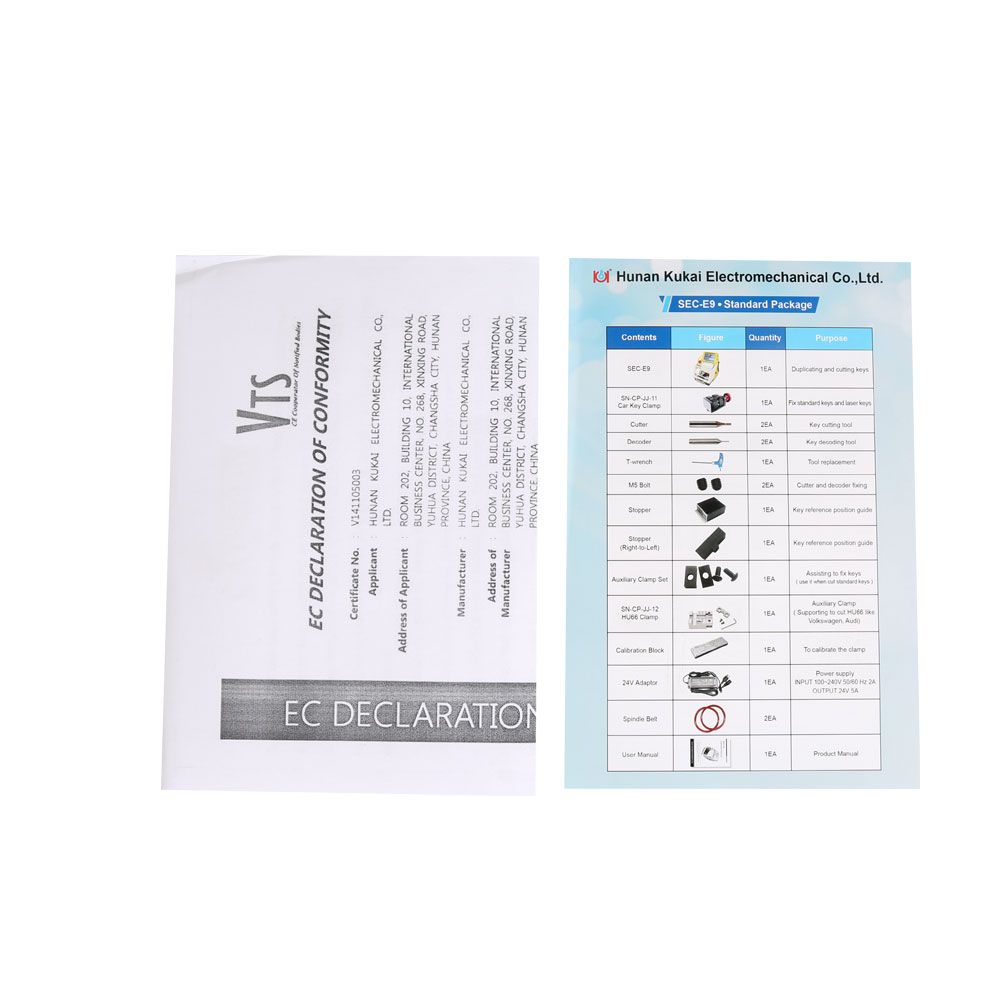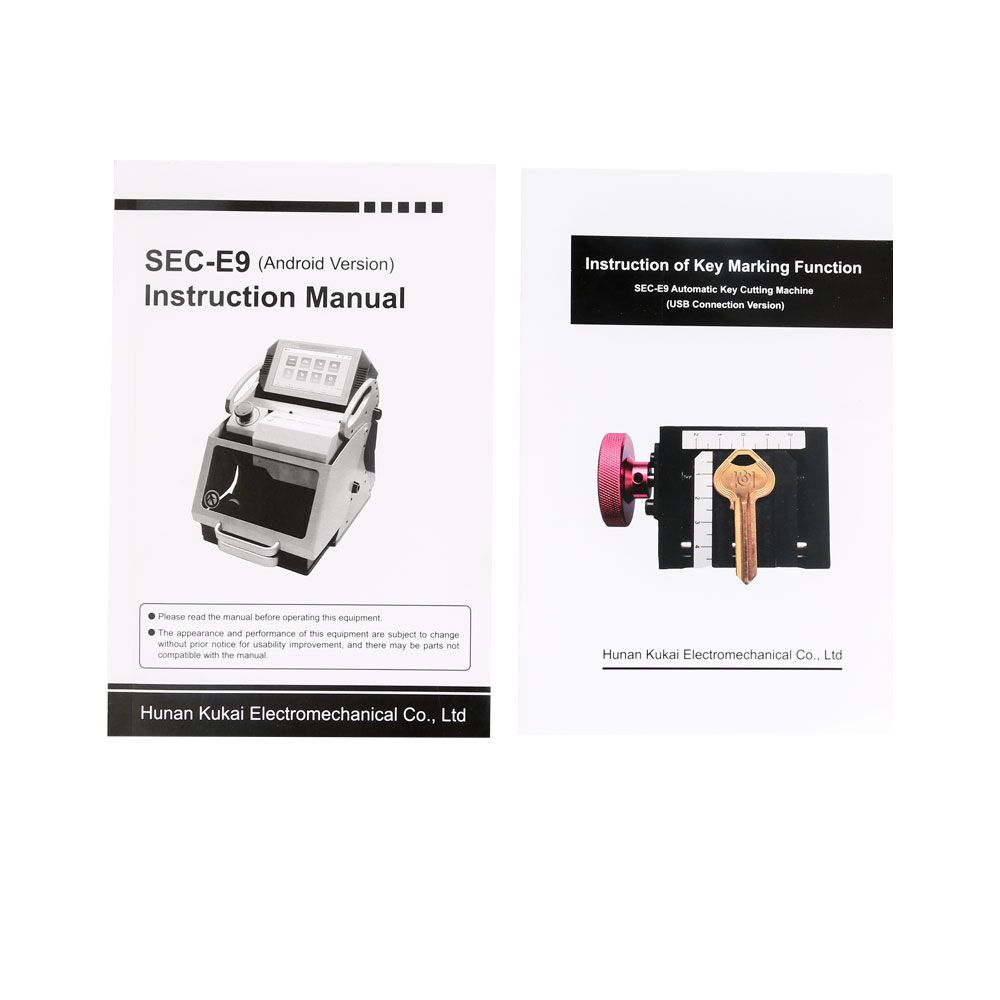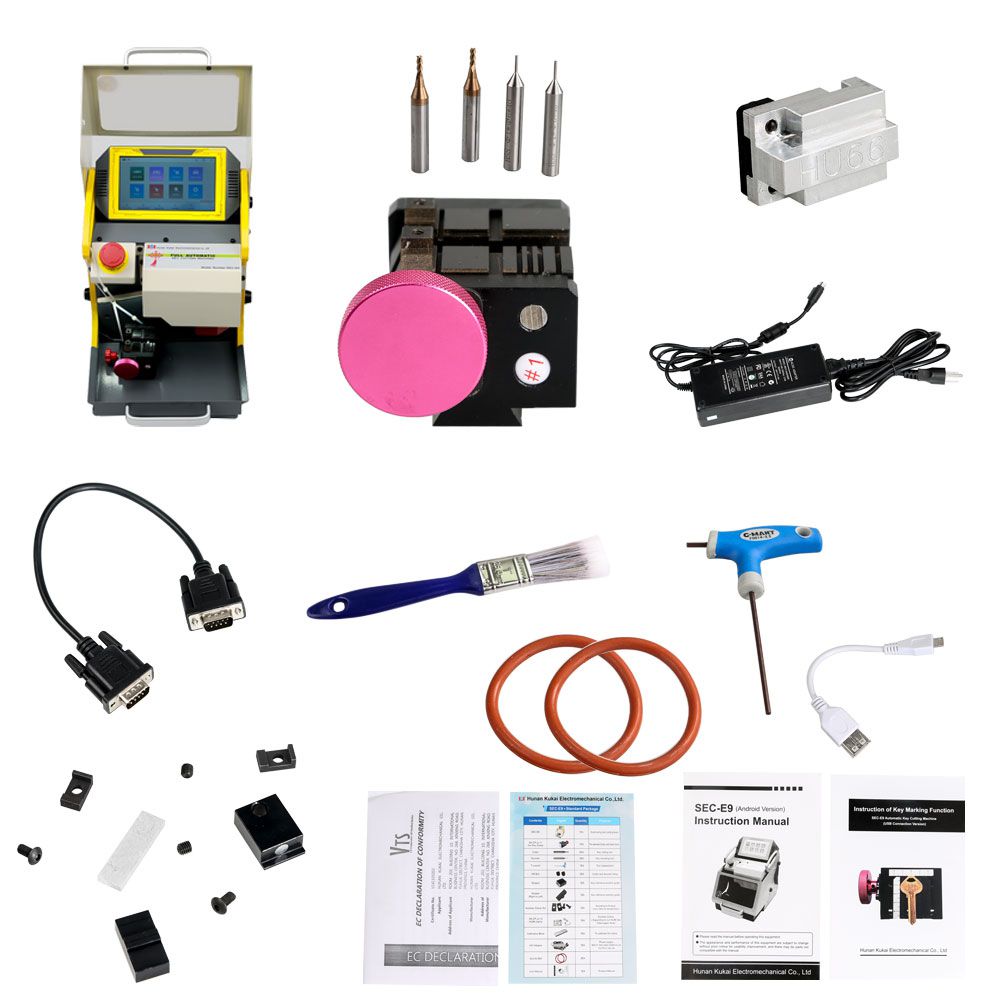 2019 SEC-E9 CNC Automated Key Cutting Machine with Android Tablet Free Shipping by DHL
SEC-E9 is an all-in-one key cutting and duplicating machine. Its embedded 8-inch tablet eases the machine use dramatically. Thanks to the built-in decoder and key reading capability, it's the machine that suitable for key duplicating as well as creating key from bitting.
Shipping:

Airmail Post


Estimated delivery time: 7-45 working days.

See details»

Returns:

Return for refund within 7 days,buyer pays return shipping.

Read details »

Support:
Related Accessories/Similar Items
Product Details

Product's Reviews
SEC-E9 CNC Automated Key Cutting Machine
SEC-E9 Description:

SEC-E9 portable metal desktop air cooling fully automatic Smart key cutting machine is able to cut standard keys and high security keys, such as BMW, VW, HONDA, Opel,etc, SEC-E9 also supports to cut house keys, including dimple keys, tubular keys, single standard keys and Motorcycle keys. Ford Tibbe keys and LDV keys are available to cut. SEC-E9 is a good choice for locksmith since you do not need to buy other small key cutting machines for house keys, just need to buy the corresponding clamps for different key types. Moreover, SEC-E9 can cut a new key without original key. It is the main difference from the traditional MANual Key Cutting Machine.

Top 10 Reasons to Get SEC-E9 CNC Automated Key Cutting Machine:

1. Latest Version: V16.0.0.4 Newly added key data includs: Scion, Toyota, Lexus, Renauit, Nissan, Acura, Subaru, Chrysler
2. Can directly search key bitting nuMBer by key code for some keys. No need to search from Instacode
3. Support all key lost, can cut a new key by bitting nuMBer
4. Multi-Language: English, Spanish, French, GerMAN, Italian, Korean, Portuguese, Russian, Turkish, Czech.
5. Can cut veritcal milling, flat milling, internal milling and external milling.
6. Work on Car, Truck, Motorcycle, House Key, Dimple & Tubular Keys, cut automobile keys,Motorcycle keys ,dimple keys, tubular keys, and single-sided standard keys.
7. Can cut Tibbe keys and LDV keys
8. Auxiliary Clamp is available
9. CE Approved
10. Free Update Online

Kindly Note: Clients from Spain, Israel, South Africa, Mexico, Brazil please do not buy SEC-E9 from China, or your device will get locked, please buy from your local dealer.

SEC-E9 CNC Automated Key Cutting Machine Features:

1. 8" capacitive tablet PC as display screen,operate quickly;smoothly,just one step for upgrade.
2. 1:1 copy a plain-milling key through fuzzy detection for keys no deta in the machine.
3. Built-in database, support key missing teeth inquiry;
4. Light weight,small size,poertable for mobile,easy to work outside.
5. Equipped with both decoder and cutter.Decoding and cutting can be done at one time.
6. Interpretation and cutting can be completed at one time;
7. Support plain milling key, face milling key, Allen key(F021), Stiletto key andCylinders key;
8. Repair the wear keys to recover the original precision.
9. One car key clamp supports to cut both standard keys and laser keys.
10.Multiple optional clamps and assistant
11.Clamps complete cutting household keys and special cars keys.
12.Intersecting roller guide for X & Y axis.
13.Professionla after-sale technical service,life time warranty & free upgrade service.
14.Ball screw to drive Z axis makes cutting powerful and in high precision
15.Cross roller guided XY axis makes machine more stable and accurate
16.Spindle driven by two spindle belts;Powerful motor in 27W and DC 24V.
17.Wide and bright LED light brings easily operation at night.
18.Replaceable clamp can be changed according to the key types.
19.Emergency stop switch Stable and reliable One press stop,Turn the switch to clockwise to swtich on and press it to switch off.
20.Matte aluminum handle,Durable,anti-fingerprint.
Quick Functions of SEC E9 Cutting Machine:

Key data search
Key cutting history
Frequently used key data registration
Last key
Clamp calibration
Tool length calibration
Automatic setting of clamp origin
Checking calibration value

Two Ways to Enter Key Data:
1. Search car manufacturer, model and MANufacture year
2. Search key blank or IC card

Three Ways to Get Key Cuts:
1. decode original keys
2. Input key cuts
3. Search key code

SEC-E9 Key Cutting Machine Car List:
Acura/Alfa Romeo/Aston Martin/Auti/BMW/Bentley/Buick/Cadillac/Carryboy/Chevrolet/Chrysler/Citroen/Dacia/Daewoo/Daihatsu/Dodage/Eagle/Ferrari/Fiat/ Ford(Australia)/Ford(Europe,USA)/Fuso Trucks/GMC/Hino Truck/Holden/HONDA/Hummer/Hyundai/Infiniti/Isuzu/Iveco/Jaguar/Jeep/Kia/LDV/LaMBorghini/
Lancia/Land Rover/Lexus/Lincoln/MAN Trucks/Mack Trucks/Maserati/Mazda/Mercedes/Mercury/Mini/Mitubishi/Neiman/Nissan/Opel/Peugeot/Plymouth/
Pontiac/Porsche/Range Rover/Renault/Rolls Royce/Rover/Saab/Saturn/Scania/Scion/Seat/Skoda/Smart/Ssangyong/Subaru/Suzuki/Tata/Toyota/Triumph/
Volkswagen/Volvo/Volvo Trucks
SEC-E9 Key Cutting Machine Household Key List:
AGA/ASSA/ATP/AXA/Abloy/Absa/Abus(SD)/Ace/Alpha/American Padlock/Anchor/Anker/Ankerslot/Atal(SD)/Atala/BAB/BKS/BMB/BTV/Basta/Batu/
Bauer/Bellville/Beram/Best/Beta/Brabantia/Briggs&Stratton/Brisant/Burg/CES(SD)/CIB/CL/Caver/Chicago(SD)/Chubb/Cisa(SD)/City/Clausor/
Colomenca/Corbin(SD)/CorbinRusswin/Corni/Cyber Lock/Dad/Detex/Diebold/Difi/Diplomat/Doblina/Dom(SD)/Dorma/Dubois/E-Z-SET/ERA/Elgin/Emhart/Emka/Etna/Eurolocks/Eurospec/Evva/FAB/FB/FFFacchinetti/FPB/FTH/Falcon/Fama/Feb/Flambo/Fort(SD)/Fral/ GEGE/GHE/GSA/Gete/Goa/GuLi/Guard/GuervilleRiquier/Hafele/Henkna/Hobes/Hon/Hudson/Hurd/Huwil/IFAM/Ideal/Ikea/Iseo(SD)/ JCB/JPM/JinDianYuanZi/Jore/Junkunc/Padlock/Kaba(SD)/Kale/Kasp/Keiper/Kiferm/Kwikset/LaFonte/Lane/Las/Legge/Lips(SD)/Lista/ Litto/Lockwood/Lowe&Fletcher(SD)/MCM/MEFA/MLM/Marco/Marks/Master/Mauer/Maxus/Merit/Meroni(SD)/MetalRousseau/ Mippart/Miwa/National/Neiman/Nemef/Nobo/Norwalk/ODA/Omec/PYCM/Papaiz/Penn/Pfaffenhain/Prefer/Presta/Protec/QLP/ Riople/Ronis(SD)/Royal/Ruko/Runo/Russwin/SOS/STA(SD)/Sama/Santos/Sargent/Sargent&Greenleaf/Schlage/Securemme/ Securicraf/ShangHaiQiuJing/Showa/Siam/Sofi/Sperrkolb/Squire/Strafor/Strattec/Sul/Talon/Technal/Teka/Technal/Teka/Teknion/ Terca/TesaThomee/Touch/Trelock/TriMark/TrioVing/UAP/Unifor/Union/VIP/Vachette/Vario/Veronelli/Vinco/Viro/Weiser/Weslock/
Whitco/Wigro/Wilka(SD)/Wilmont Breeden/Winkhaus(SD)/Yale(SD)/YueMa/Yvel/Zadi(SD)/Zwiss-Ikon
SEC-E9 Punch Key List
AGA/AGB/Abloy/Abus/Alpha/Atal/Atra/Avocet/Azbe/Baton/Bricard/CES/CVL/Cadman/Cays/Chubb/Cisa/Corbin/DOSSIV/DOM/Domus/
Esety/Ezcurra/FAC/FAG/GTV/Gerda/Goal/IFAM/Iseo/Kada/Kaken/Kale/Keso/Lince/Lips/Lock Focus/Lockman/M&C/M-loy/MCM/MLS/Magnum/Master/Mauer/Miwa/Mottura/Mul-T-Lock/Omec/Pfaffenhain/Potent/Royal/Guardian/STS/Securemme/Showa/Space/Squire/Tecon/Tesa/UCEM/Viro/WanJia/West/Wika/Winkhaus/Yale/Yardeni/Zadi
SEC-E9 Motorcycle Key List:
Aprilia/BMW Cycles/Ducati/Harley/Davidson/HONDA Cycles/KTM/Kawasaki/Kymco Cycles/Moto Guzzi/Peugeot Cycles/Suzuki Cycles/Victory/Yamaha
SEC-E9 Tubular Key List:
AGA/Beaver/Bilma/Bumil/Chicago/Dynaconsult/Fort/LYF/Lowe&Fletcher/Meroni/R.O.C/Ronis/SAG/Sentry
SEC-E9 Automated Key Cutting Machine Specification:
Product name: SEC-E9 Fully Automated Key Cutting Machine
Product No.: SEC-E9
Dimension: 255(W) * 360(H) * 340(D)m
Weight: 19.5KG
Resolution: XY: 0.005mm Z: 0.0015mm
Spindle Revolution: 16000+rp
Temperature: 0- 40
Humidity: 10-90
Usage : The duplicating and cutting of automobile keys and domestic key
SEC-E9 CNC Key Cutting Machine Update Information:

SEC-E9 Software Version:16.0.0.4, DB Version:15.18 (2019-6-14)
Improved system bugs
Newly added key data includes:
1. Toyota-Corolla 2015 VA2 8 cuts laser key (IC card 1423)
2. Ford-Fiesta 2017 HU198T 10cuts inner groove laser key (IC card 1434)
3. Dacia /
Renault
HU136 8cuts double side key (IC card 1891)
4. New
Volkswagen
and
Audi
HU162t 10cuts (IC card 1421)
5. Mazda 10cuts double side key (IC card 20131)
6.
Mercedes
HU64 key (IC card 20123)
7. Lada single-side key and double side key and code
8 .Triumph motorcycle key and code

Improved key data includes:
1. Improve Lexus,
Chevrolet
,
Subaru
menu: add new choices of manufacture year in and after 2015.
2. Improve Lexus, Chevrote, subaru key and key code
3. Improve Arco Rifkin (Rifkin),Rolls-Royce, MG, Ssangyong, House key, Aprilia (motorcycle) code
SEC-E9 CNC Key Cutting Machine Update (2018-12-10)
Software version is 16.0.0.3, Database version is 15.16.
Newly added key data includes:
1. YM23 8-cut(IC card 1896)key
2. FIAT 500L key and key code
3. ONDA motorcycle CB150 key
4. Oldsmobile, Mahindra, maruti key and key code
Improved key data includes:
1. Improved
Hyundai
,Kia,Toyota menu: add new choices of manufacture year in and after 2015.
2.
Hyundai
,Kia,Toyota key and key code
3. HONDA(IC card 982)key code
4.
Mitsubishi
,Maserati,
Chevrolet
key code
SEC-E9 Key Cutting Machine Update Guide:
1. Click "Setup"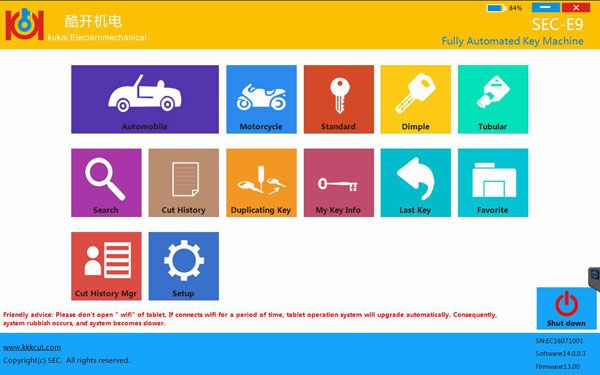 2. Click"Wifi"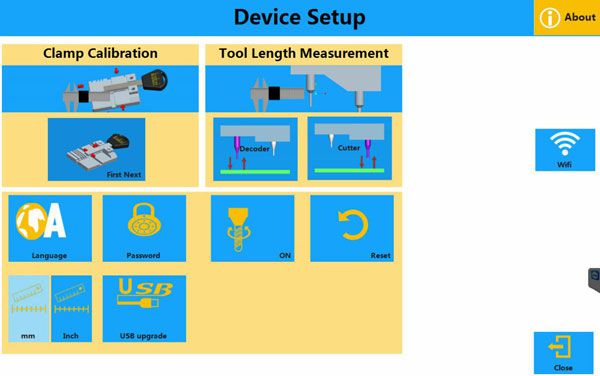 3. Connect Wifi
4. Press "UpdateCheck" after the wifi is connected successfully.
( Please notice that you just need to click the "UpdateCheck" once, no need to click it repeatedly)
5. Click "Upgrade" button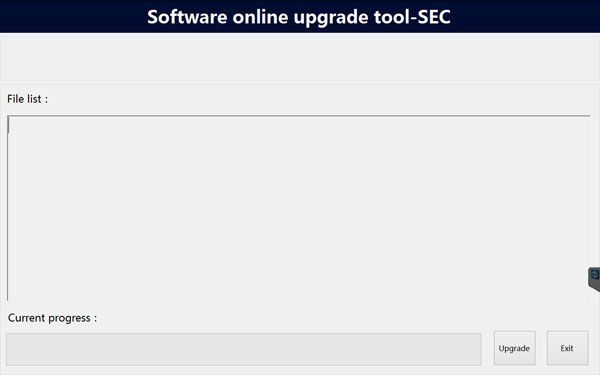 6. After upgrading successfully, the tablet PC will automatically jump to the main page.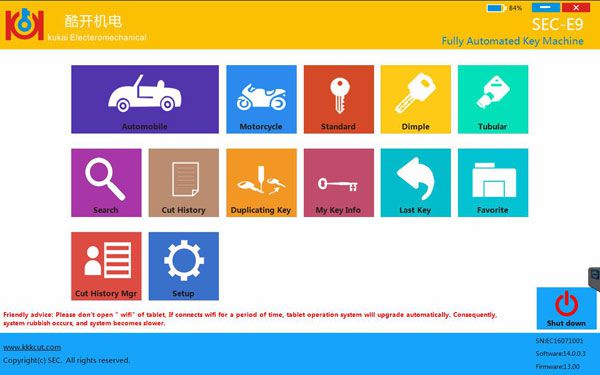 Notice
1. Please keep the Wifi conncted when upgrade
2. Please keep the network smooth
3. Please do not turn off tablet PC when upgrading
4. Please do not operate the tablet PC when downloading the upgrade files.
5. Please disconnect Wifi after upgrade is done. ( otherwise the system will generate garbage when tablet PC updates automatically . Also cause the system to run slowly.)
Difference Between SEC-E9 Machine Gen I to Gen VI: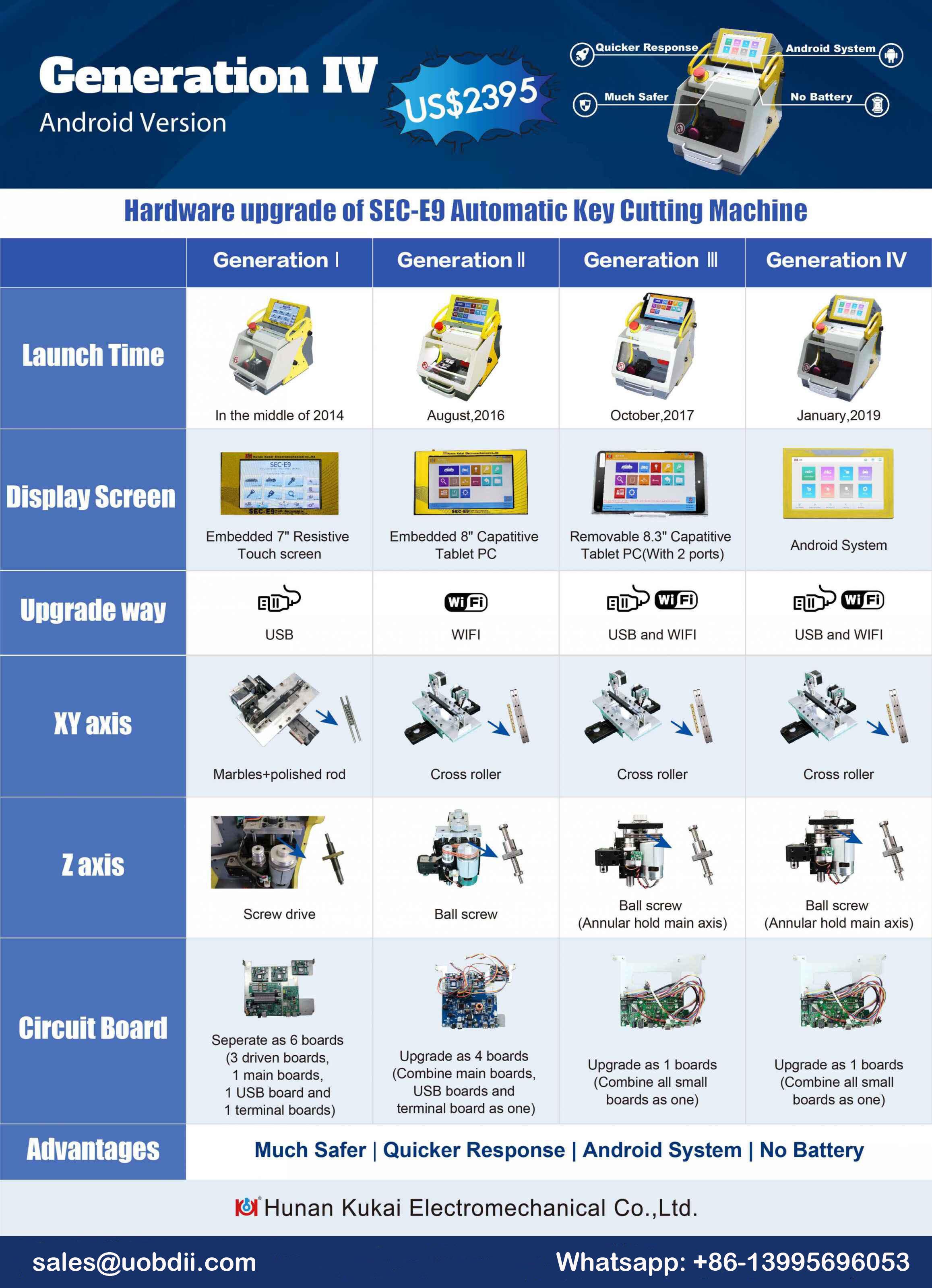 SEC-E9 Key Cutting Machine Product Details:

SEC-E9 Key Cutting Machine Standard Package:
| | |
| --- | --- |
| Contents | Purpose |
| SEC-E9 Key Cutting Machine | Key cutting and duplication |
| SN-CP-JJ-12 HU66 Clamp | Auxiliary Clamp, support to cut HU66 like VW, Audi |
| Standard Clamp | SN-CP-JJ-01 For car keys fixing and cutting |
| Cutter | Tool for key cutting |
| Decoder | Key decoding(copying) |
| T wrench | Tool replacment |
| M5 bolt | Cutter and decoder fixing |
| Stopper | Key reference position guide |
| Calibration block | To Calibrate the clamp |
| 24V Adapter | Power supply input 100-240V, 50/60Hz output 24.OV 5A |
| Spindle belt | Ensure high-torque key cutting |
| User manual | Product Manual |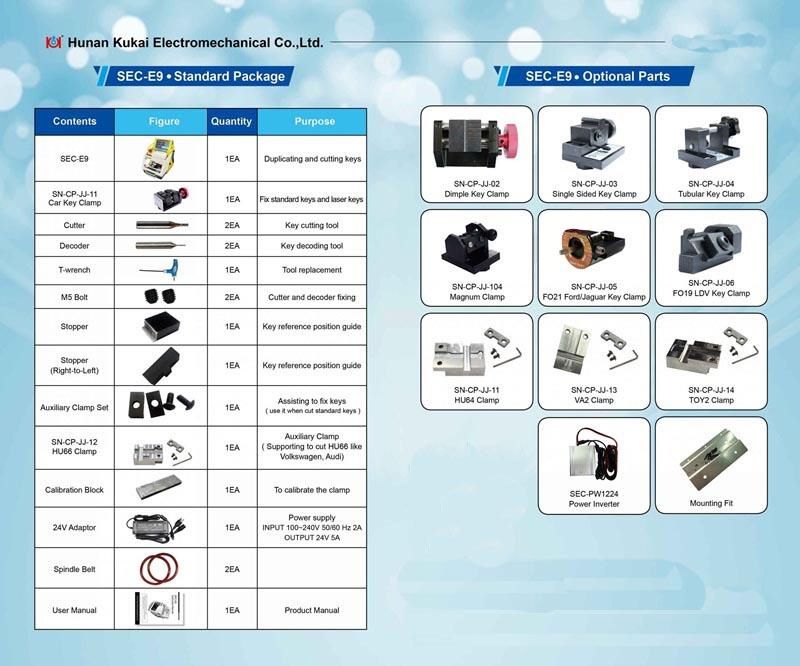 SEC-E9 Optional Parts:
Different kinds of key clamps for SEC-E9 Key cutting machine optional. You just need to install the corresponding clamps for different key types, no software is needed when replacing the clamps. Automabile key clamp is included in the standard specification.
SL433-1, SN-CP-JJ-01 for car keys fixing and cutting
SL433-12, SN-CP-JJ-12 HU66 Clamp for Sharon, Touareg, Phaeton, Beetle and other Volkswagen series
These two clamps are in default package already.
Item No.
Model
Clamp
Function
SL433-1
SN-CP-JJ-01
Standard Clamp
For car keys fixing and cutting, in default package
SL433-2
SN-CP-JJ-02
Dimple House Key
Cutting Clamps
Cutting dimple house keys, dimple key cutter and decoder are requested
SL433-3
SN-CP-JJ-03
Single-sided Standard
Key Clamp
Cutting Single Standard House Keys
SL433-4
SN-CP-JJ-04
Tubular Key Clamp
Cutting Tubular House Keys
SL433-5

SN-CP-JJ-05

FO21 Key Clamp
Cutting Ford and Jaguar Keys
SL433-6
SN-CP-JJ-06
LDV FO19 Clamp
Cutting LDV Car Keys
SL433-11
SN-CP-JJ-11
HU64 Clamp
For Benz C series, E series, GLK series, Linear,Viano and all imported
Benz Maybach
SL433-12
SN-CP-JJ-12
HU66 Clamp
For Sharan sharp way, Volkswagen phaeton,Beatles and other
Volkswagen series, TT, Q7 and other Audi series, Bentley, Lamborghini,
Skoda series, Porsche series, Roewe, in default package
SL433-13
SN-CP-JJ-13
VA2 Key Clamp
For New Renault Keys(one-side cut,thin laser key)
SL433-14
SN-CP-JJ-14
TOY2 Clamp
For New Toyota/Lexus/BYD Keys(one-side cut,thin laser key)
SL433-16
SN-CP-JJ-16
HU162T Clamp
For Volkswagen Golf 7, Magotan 2018, Lavida 2018, Phaeton etc.
also for Audi 2018 new models
SEC-E9 Key Cutting Machine FAQs:Q:
Can the SEC-E9 machine cut household keys?
A:
Definitely yes!
Q:
Condor mini cannot support the moto key; SEC-E9 support that?
A:
Yes, SEC-E9 can cut motorbike keys without issues.
SEC-E9 Key Cutting Machine Reviews:
Reviews 1:
SEC-E9 key cutting machine is used for cutting car keys and household keys. It covers cylinder and laser keys with adapters for other key styles.Computerized Electronic Automobile Key Cutting Machine, different with traditional key cutting machine,easy to operate and copy.
Reviews 2:
Sec-e9 fully automatic key cutting support cut 99% car keys, including standard keys and high security keys, such as BMW,
VW
, Audi,
Mercedes
, Honda,
Opel
,etc. It also supports to cut house keys, including dimple keys, tubular keys, single standard keys and more.Mainly applied to automobile key cutting and duplicating, especially for most foreign car key blanks(including ford tibbe), and household keys, standard key(edge or doubled-sided non laser keys).
Review 3:
SEC-E9 machine is working fine,my sister in law they are going to regret not buying it.Cause the machine is good and a good price.Later they going to see that they could have have it.
Review 4:
We reveived everything and cut may first key in it.Work perfect;Thank you for all the good tips.Keep up the good job you are the best.
Review 5:
We recently purchased a futura machine too,but we still use sec-e9,because sec e9 is faster and very smooth.now that we do is ofr indian brands we get the bitting codes from futura and cut keys using sec e9.
Review 6:
As you know,we're have been using the SEC-E9 for a few months and we've enjoyed the product.Do you have any specials currently,running?I would like to know the price for an additional SEC-E9.