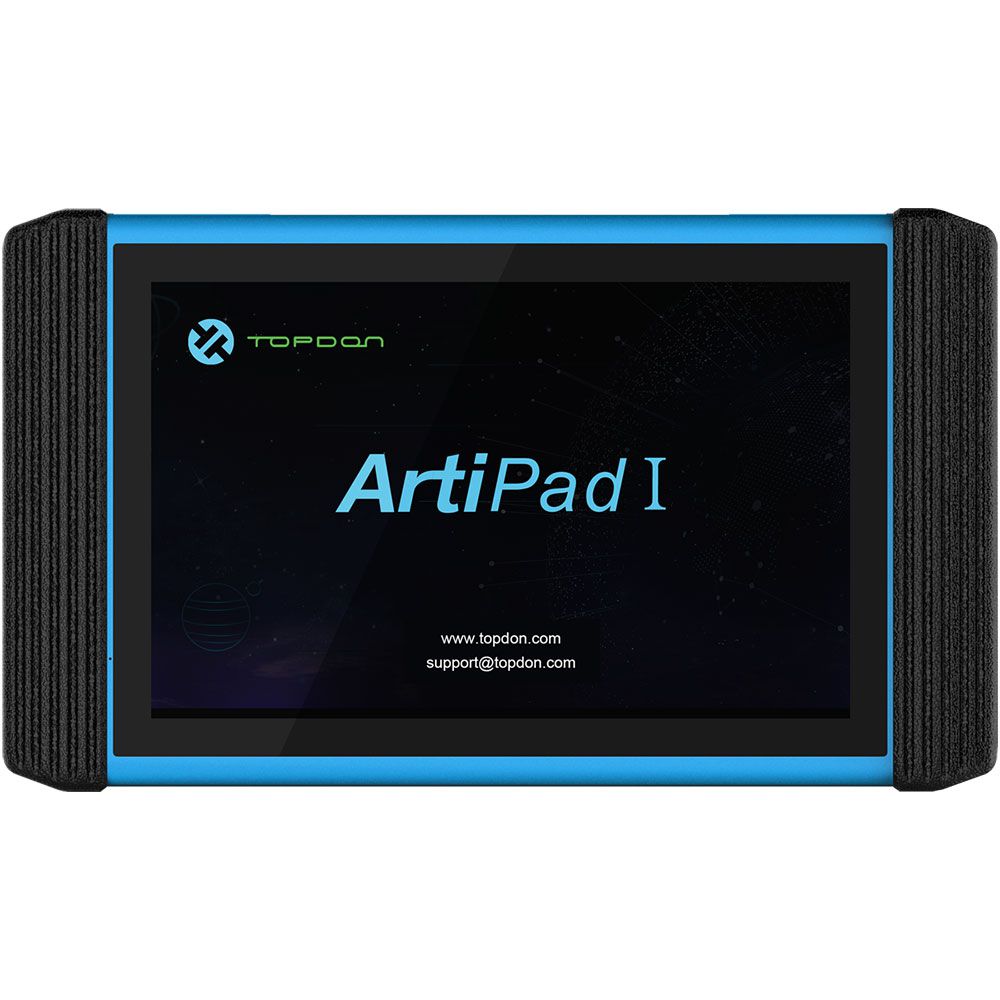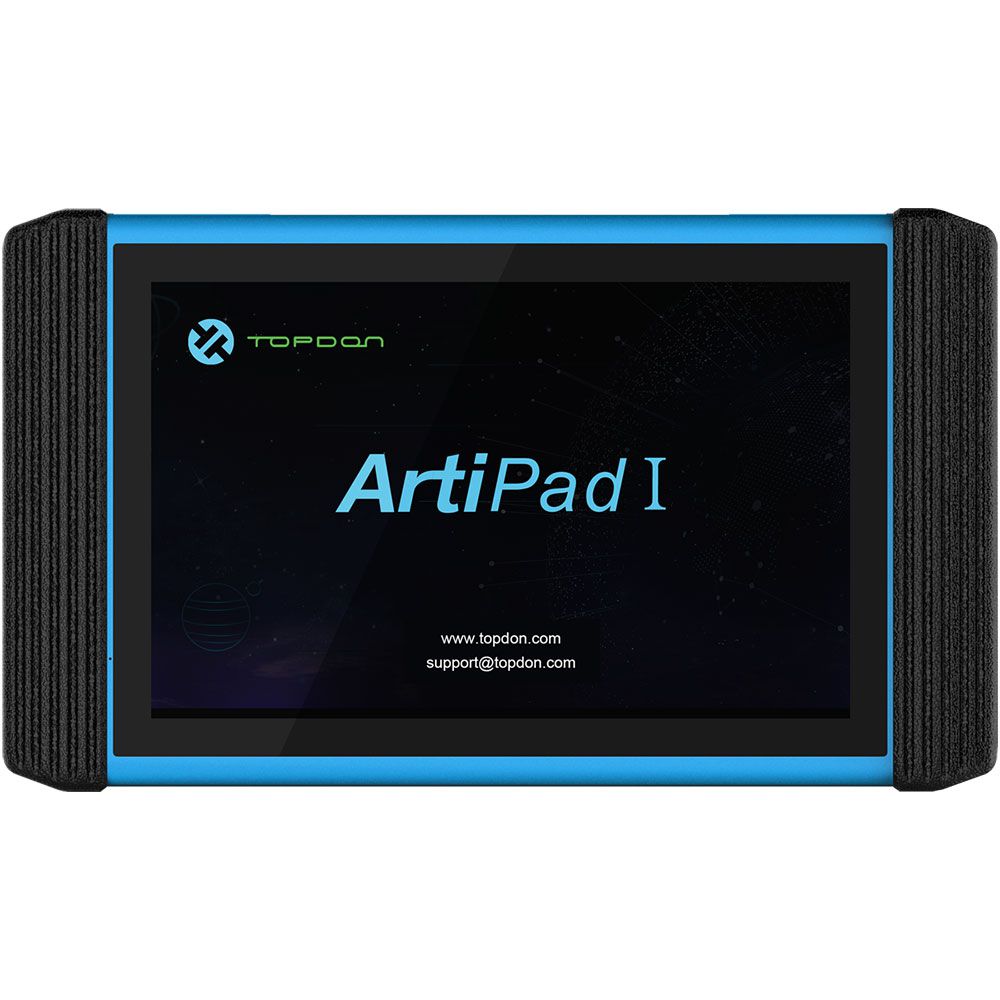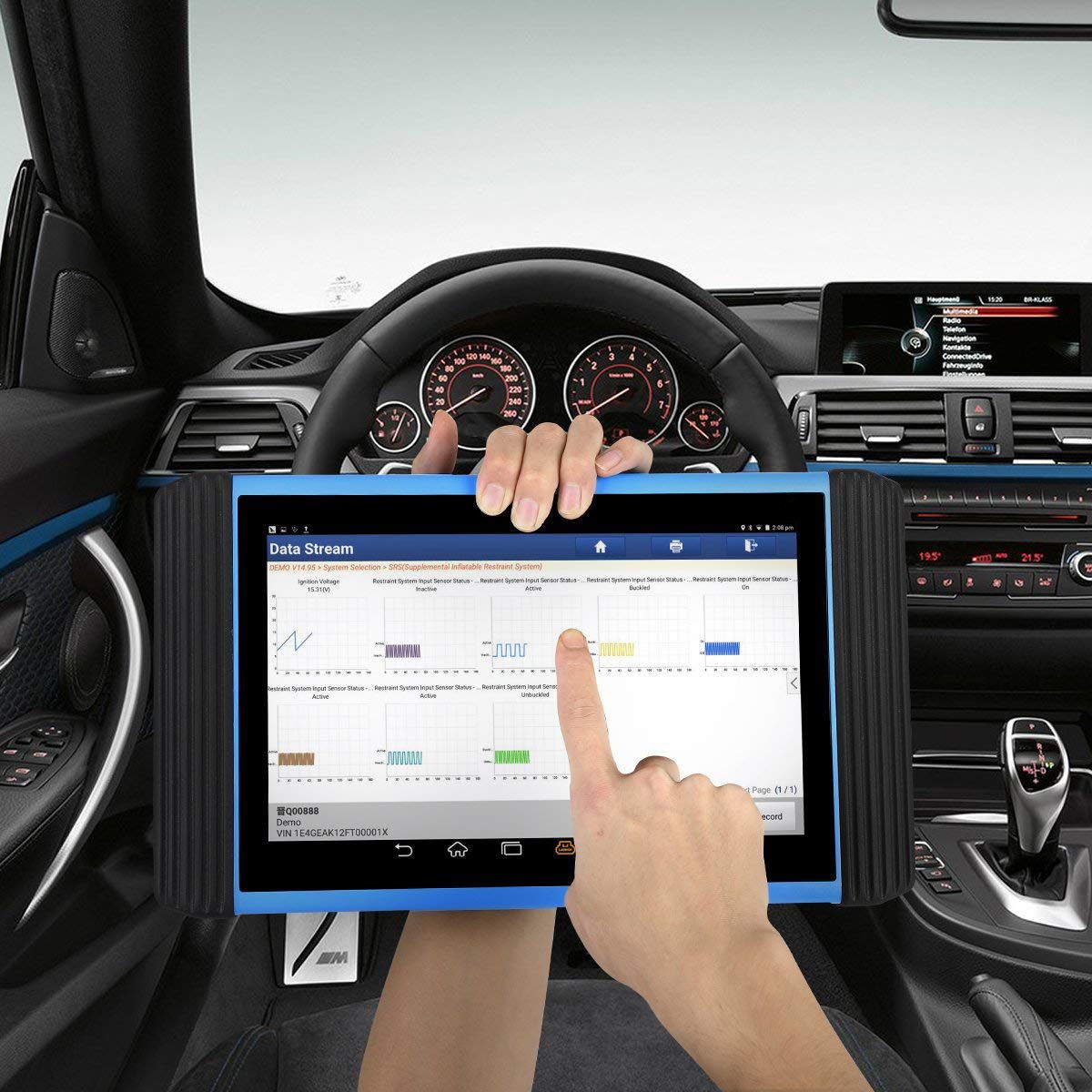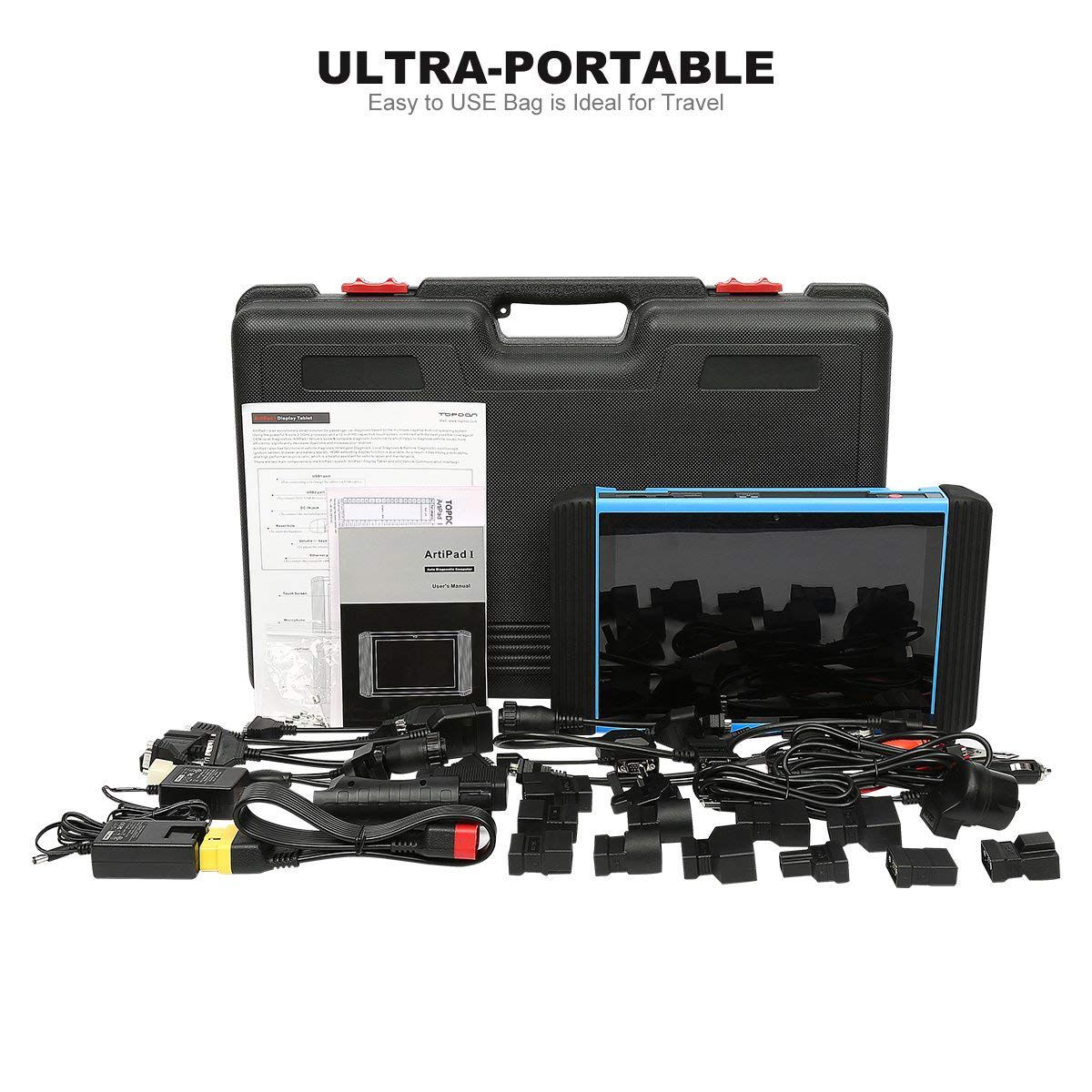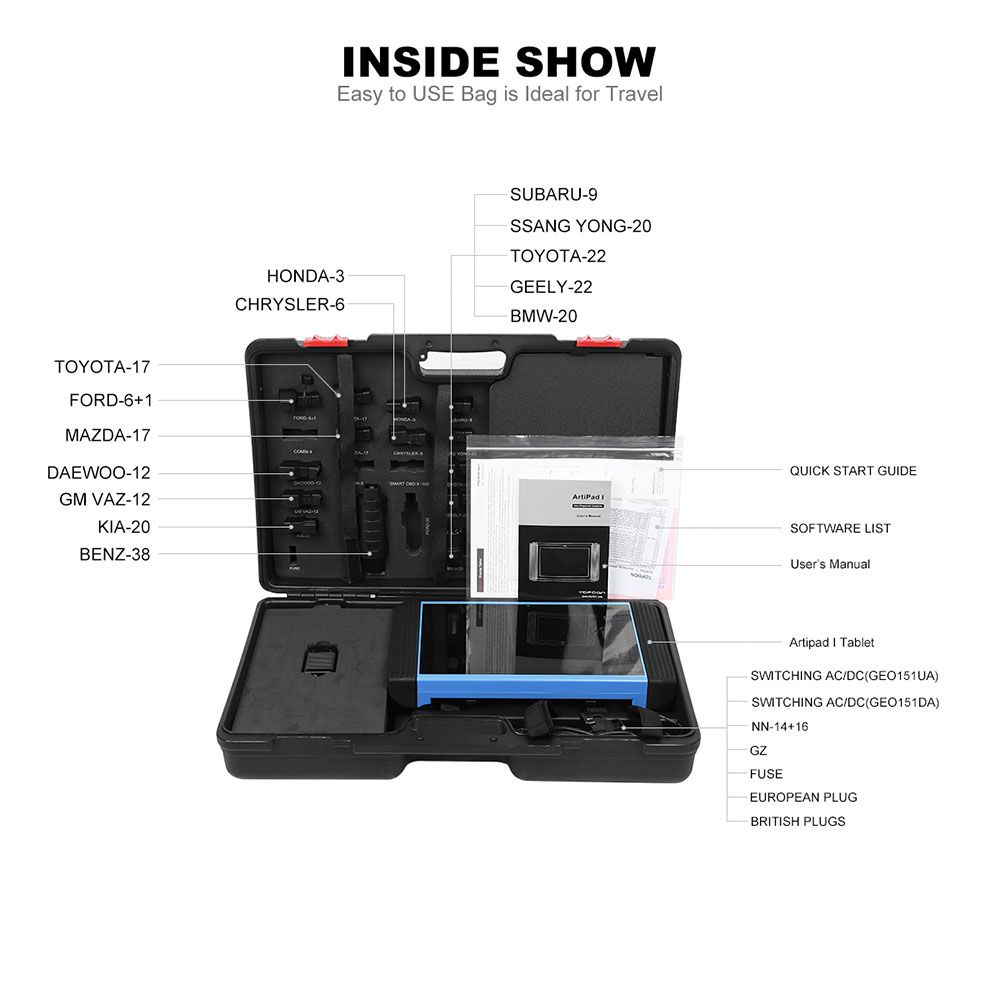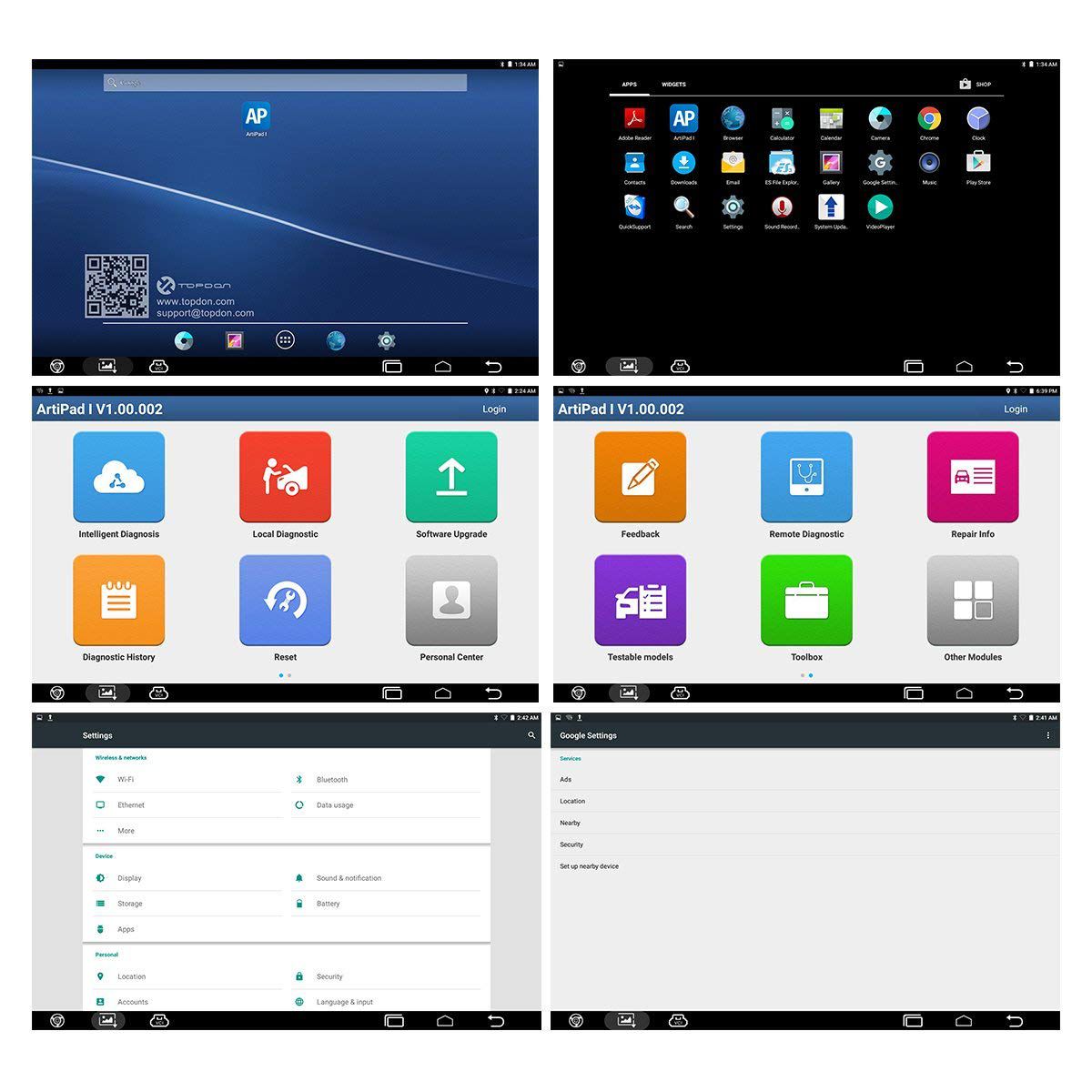 TOPDON ArtiPad I Diagnostic Tool Combination with Car ECU Coding & Programming for BENZ BMW VW AUDI Ford
TOPDON ArtiPad I Diagnostic Tool is an evolutionary smart solution for passenger car diagnosis based on the multitask-capable Android operating system, update online free for two years.
Shipping:

Free Shipping

Airmail Post


Estimated delivery time: 7-45 working days.

See details»

Returns:

Return for refund within 7 days,buyer pays return shipping.

Read details »

Support:
Product Details

Product's Reviews
TOPDON ArtiPad I– Diagnostic Tool Combination with Car ECU Coding & Programming for Benz BMW VW Audi FORD
TOPDON ArtiPad I Free Update Online for Two Years, $500 after 2 years.

Multi-Language Supported, which you can switch in device yourself:
English, Japanese, Korean, French, Spanish, Portuguese, Italian, Russian, German, Polish, Ro
MAN
ian, Dutch, Arabic, Czech, Danish, Greek, Persian, Finnish, Hungarian, Swedish, Turkish, Serbian & Chinese.
TOPDON ArtiPad I Description:
ArtiPad I is an evolutionary
Smart
solution for passenger car
Diagnosis
based on the multitask-capable
Android
operating system.
Using the powerful 8-core 2.0GHz processor and a 12 inch HD capacitive touch screen, combined with the best possible coverage of OEM-level diagnostics,ArtiPad I delivers quick & complete diagnostic functionality which helps to diagnose vehicle issues more efficiently, significantly decrease downtime and increase your revenue.
ArtiPad I also has functions of vehicle diagnosis (Intelligent Diagnosis, Local Diagnosis & Remote
Diagnosis
), oscilloscope, ignition, sensor, browser and battery test etc. HDMI extending display function is available. As a result, it has strong practicability and high perfor
MAN
ce-price ratio, which is a helpful assistant for vehicle repair and maintenance.
TOPDON ArtiPad I Function List:

Smart Diagnosis:
This module allows you to use the VIN information of the currently identified vehicle to access its data (including vehicle information,historical diagnostic records) from the cloud server to perform quick test.
Local Diagnosis:
VINscan quick test and
MAN
ual diagnosis are available.
Diagnosis functions include:
Read DTCs, Clear
DTC
s, Read Data Stream,Special Functions etc.
Remote Diagnosis:
This option aims to help repair shops or technicians
Launch
instant messaging and remote diagnosis, making the repair job getting fixed faster.
Reset:
All kinds of common maintenance and reset items including Oil lamp reset,
DPF
regeneration,
ABS Bleeding
can be done.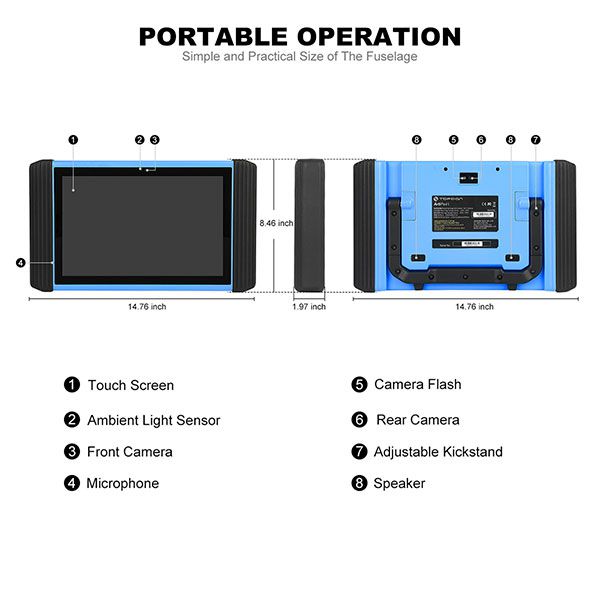 TOPDONArti Pad I– Diagnostic Tool Combination with Car
ECU
Coding &Programmingfor
Benz
BMW
VW
Audi
FORD
Bullet Point:

ECU CODING & PROGRAMMING:
With VCI device, this diagnostic tool is capable of
ECU programming
for
Benz
,
BMW
,
VW
,
Audi
and
FORD
; access to instant Remote Control Tech Support for operation anytime and anywhere
EXTENSIVE COVERAGE:
This exceptional OE-Level functionalitydiagnostic scanner is available for over 80 1996 US-based, 2000 European-based and newer
OBD
2 protocol vehicles with full
OBD2
functions, 11 special services and full systems diagnoses
EXCELLENT PERFORMANCE:
Worked with
X-431
Scopebox and Videoscope of
Launch
, this auto scanner provides users with an insight to the inner work of a vehicle's electronic circuits
TECHNICAL SUPPORT: This diagnostic tool supportsfirst-hand troubleshooting of diagnostic bugs and errors,and one-stop multitasking design for ideal management of workshop operations to keep all data files, customer information, and vehicle records well organized
THOUGHTFUL DESIGNS: With rubberized outer protection and a rugged internal housing, this diagnostic scanner is sturdy and durable. 12-in touch screen enables several wavelike data comparison on which a malfunction will stand out

Notice: Please close antivirus software when the software is updated

TOPDON ArtiPad I Features:

1. Exceptional OE-Level functionality from comprehensive
OBD2
diagnostics & services to advanced ECU coding and programming
2. Interactive Data Logging sessions enable direct contact with professional tech support for first-hand troubleshooting of diagnostic bugs and errors
3. Unparalleled sensor coverage for most vehicles worldwide
4. Reads data including sensor ID, tire pressure, temperature, battery condition, OE part number, relearn information
5. Checks Remote Keyless Entry (Key FOB) for transmissions
6. Big screen enables multiple data comparison to easily analyze results
7. Pre-selection process offers you faster activation and diagnostics
8. Proper LF signal to prevent being fooled by other RF signals
9. Save up to 10
TPMS
records for future data review
10.Automatic power-off to preserve battery life
11.Modular design allows for future capability expansions
12.Small 5.5mm diameter head allows it to be used in the tight spaces
13.Wonderful up-close visual inspections in confined areas, such as engine cylinders and small part inspections
14.One-click Update: Lets you update your diagnostic software online.
15.Diagnostic feedback: Enables you to submit the vehicle issue to us for analysis and troubleshooting.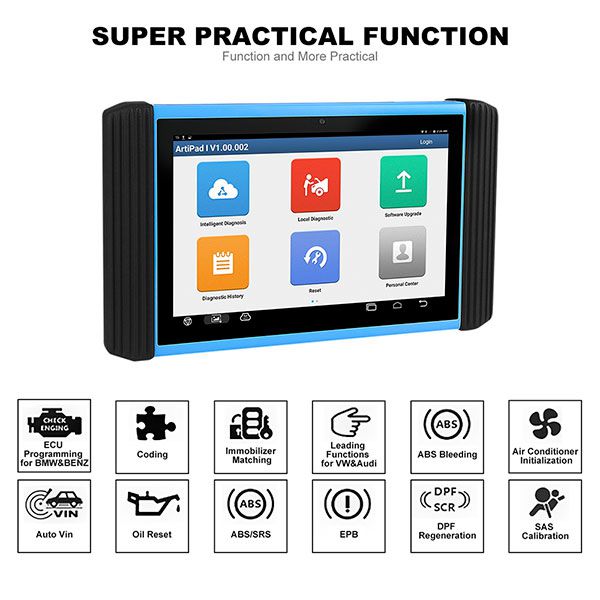 ECU programming & Coding for BMW, BENZ, AUDI, FORD, VW
Now in-car computers and software are one of the leading needs for automotive service, with the
OBD
II and the modern Hybrids and EVs expanding at an exponential rate. Updating software may be the only way to fix some of these issues: Drivability, Fuel Efficiency, Power Loss, Fault Codes, and Durability of Mechanical Parts.
Coding
– also known as Teach-in Program and Component Adaptation, used to reprogram adaptive data for vehicle control modules after repairs or replacements of vehicle parts;
Reprogramming
– download newest version of software subscription from the online server database through internet access, and reprogram the software version to vehicle's ECU.
TOPDON ArtiPad I, equipped with the best possible coverage for online programming, supports the
ECU programming
& Coding function for the most common vehicle makes on the road – BMW, BENZ, AUDI, FORD and VW. Combined with the APP, the diagnostic tool provides you with the extreme ease of vehicle maintenance.
Get All System Diagnostic Solutions for Extensive Vehicles with ArtiPad I
Extensive Car Coverage
– the diagnostic tool is available for over 133 1996 and newer US-vehicles, 2000 and newer EU-vehicles and more with a full set of adapters, which is an excellent choice for talented DIY enthusiast and professional mechanics;
Intelligent Diagnosis – you can easily get the VIN information of the vehicle and have a deep diagnosis through
Bluetooth
communication between the ArtiPad I handset and VCI connector;
Local Diagnosis
– the scan tool enables you to enter the vehicle selection page and perform the Quick Test to access all the ECUs and get a detailed report about vehicle health, System Scan to scan systems installed on the vehicle, or System Selection to manually select the test system and function;
Remote Diagnosis
– the diagnostic scan tool helps technicians get instant messages and remote diagnoses for prompt technical support, making the repair job getting fixed faster;
Diagnosis History – this scanner allows you to directly access the previously tested vehicles to resume from the last operation, without the necessity of starting from scratch.
11 Special Reset Functions for You to Have More Repair Works Done
Oil Reset Service
– reset the vehicle service
mileage
for the engine oil life system;
EPB Service
– reset the brakes after replacement in Electronic Parking Brake system;
SAS Service
– perform the calibration for the Steering Angle Sensor and reset memory;
ABS Bleeding
– perform bi-directional tests to check the Anti-lock Braking System;
TPMS Service
– Retrieve the sensor IDs and perform
TPMS
replacement and sensor test;
Gear Learning
– perform tooth learning for a car equipped with
Delphi
engine and turn off MIL;
IMMO Service
– disable a lost vehicle key and program the one or more replacement key fob;
Injector Coding
– make the cylinder better identify injector after ECU or injector is replaced;
BMS Service
– clear the fault memory of original battery and perform the battery matching;
DPF Regeneration
– clear the particulate matter captured in the Diesel Particulate Filter;
Electronic Throttle Position Reset
– make initial settings to throttle actuators and returns the "learned" values stored on ECU to the default state.
Advanced Hardware Configuration
For your best user experience and highest work efficiency, this diagnostic tool is built with multitask-capable
Android
5.1 operating system, 2.0GHz 8-core processor for working much faster than competing devices, 64GB hard disk (expandable to 128GB via memory card) for better performance, and 12 inch touch screen with a resolution of 1920*1200P for easy operating and easy-to-read results.
VCI Bluetooth Wireless Diagnosis
Annoyed by the cables when diagnosing vehicles? It's fine. This scanner will help you perform diagnosis freely around workshop via the simple
Bluetooth
connection between the ArtiPad I handset and VCI which is used to read the vehicle data and then send it to the handset. Now, you can experience the limitless wireless diagnosis within the working range of 80ft in an extremely fast and stable way.
Instant Remote Technical Support
ArtiPad I has the Repair Info application which provides users with a vast database of repair and diagnostic tips along with proven filed fixes. It's easy to look up the information you need in Automotive Technology Handbook, Repair Case, Operating Skills, and
DTC
Lookup. Moreover, you can send help requests in Feedback and get
Launch
remote diagnosis to quickly get your repair works done.
TOPDON ArtiPad I Specifications:
Processor: 8-core 2.0GHz processor
Memory: 2GB RAM &64GB Embedded Memory
Display: 12" Retina display with 1920X1200 resolution & Capacitive touch screen
Connectivity: 802.11a/b/g/n/ac
WIFI
2.1 3Mbs Bluetooth
RJ45 Ethernet Connection
3.0 USB (2.0 Compatible)
HDMI 1.4a
SD Card (Support up to 128GB)
Camera: Rear: 8.0 Megapixels, Autofocus with Flashlight
Front: 2.0 Megapixels
Sensors: Gravity Accelerometer
Audio Input/Output: Microphone, Dual Speakers, 3.5 mm stereo/standard headset jack
Power and Battery: 3.7V/15000mAH Lithium-polymer battery
Input Voltage: DC/5V/3A
Power Consumption: Max 20W
Operating Temperature: -10°C ~ 55°C (14℉ to 131℉)
Dimensions (W x H x D): 376 X 220 X 50 (mm)
Weight: 2.1 KG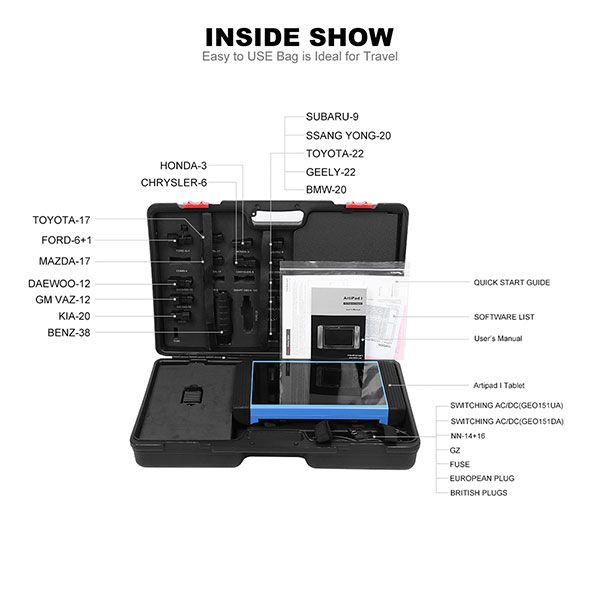 TOPDON ArtiPad I FAQs:

Q1:How to save power?
A1:
Please turn off the screen while ArtiPad I keeps idle.
Set a shorter standby time.
Decrease the brightness of the screen.
If WLAN connection is not required, please turn it off.
Disable GPS function if GPS service is not in use.
Q2:What should I do in case I forgot the screen lock?
A2:
You can set screen lock as pattern or password. If you forgot the password,please consult your device provider or reset your device.
Warning:
Resetting may cause data loss. Before use, please make sure important data has been backed up.
Q3:How to do if the system runs slow?
Q3:
In this case, please do the followings:
> Check all running applications and stop the unnecessary applications (Steps:Settings -> Apps -> Running -> Tap the desired application and then tap "Stop").
> Check all installed applications, remove the unnecessary applications (Steps:Settings -> Apps -> Downloaded -> Tap the desired application and then tap"Uninstall").
If all steps mentioned above are finished and the system still works slowly.
Please try to close the system and reboot your ArtiPad I.
Q4:How to reset ArtiPad I?
A4:
Resetting may cause data loss. Before doing so, please make sure important data and information has been backed up.
Do the following to reset ArtiPad I:
1. Tap "Settings" -> "Back & Reset".
2. Tap "Factory data reset".
3. Tap "Reset tablet".
4. Tap "Clear all data" to start resetting until the tool automatically reboots.
Q5:How to register your ArtiPad I or new VCI connector?
A5:
Note: Before registration, please make sure the network is properly connected.
A. If this is the first time using the handset, please refer to "Chapter 4.2.1" in the user manual for product registration.
B. If you have activated a VCI connector before, but bought a new VCI connector due to the loss or other reasons, please follow the below steps to
activate:
1. Tap the application icon on the home screen to run it.
2. Tap "Personal Center" -> "Activate Connector".
3. Input product S/N and activation code, which can be found from the included password envelope, then tap "Activate".
4. After activation completed, tap "Personal Center " -> "My Connector" to check if the activated VCI connector is displayed in the connector list or
not. Multiple VCI connectors can be bound to one tool. If you intend to use one of the VCI connectors to diagnose or test a vehicle, just switch to the
corresponding VCI connector.
Q6: How to update the APK and diagnostic software?
A6:
1. Tap the application icon on the home screen to run it.
2. Tap "Software Upgrade".
3. Tap "Select all" if all the software needs to be downloaded. To cancel the selection of certain software, just click the check box before it. Tap "Update" on the bottom of the screen to start the download. During the upgrade, please make sure the handset has a stable network connection.
Q7.:How to pair the VCI connector with the ArtiPad I handset?
A7:
Users can pair the VCI connector with the ArtiPad I handset via Bluetooth when testing the vehicle or in system settings.
1. Turn the ignition on.
2. Plug the VCI connector (or use the
OBD
-II extension cable to connect the VCI connector and the VCI) into the vehicle's DLC.
3. On the home screen, tap Setting -> Bluetooth.
4. Set Bluetooth "ON". ArtiPad I will search for all the available Bluetooth devices automatically.
5. Tap the name of the connector (98********00, where ******** stands for 8 digits) to start pairing. Input the Bluetooth request code (default value: 0000 or 1234)
TOPDON ArtiPad I Package includes:

1pc x ArtiPad I tablet
1pc x VCI connector
1pc x
OBDII
extension cable
1pc x Power adaptor
1pc x USB cable
1pc x OBDI adaptor
1pc x Battery clamps cable
1pc x Password envelope
1pc x Adaptor cable kit
1pc x AUDI-4
1pc x BENZ-14
1pc x BENZ-38
1pc x BMW-20
1pc x CHRYSLER-6
1pc x DAEWOO-12
1pc x DAIHATSU-4
1pc x FIAT-3
1pc x FORD-6+1