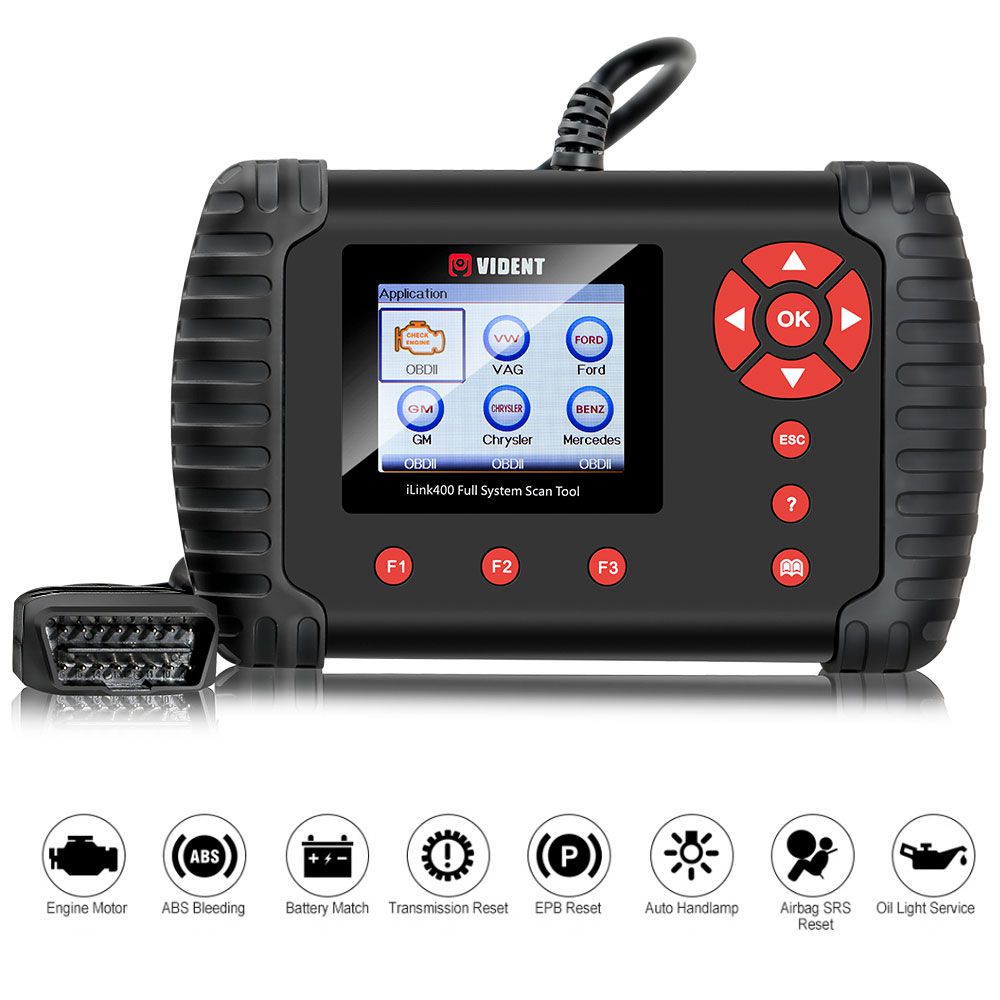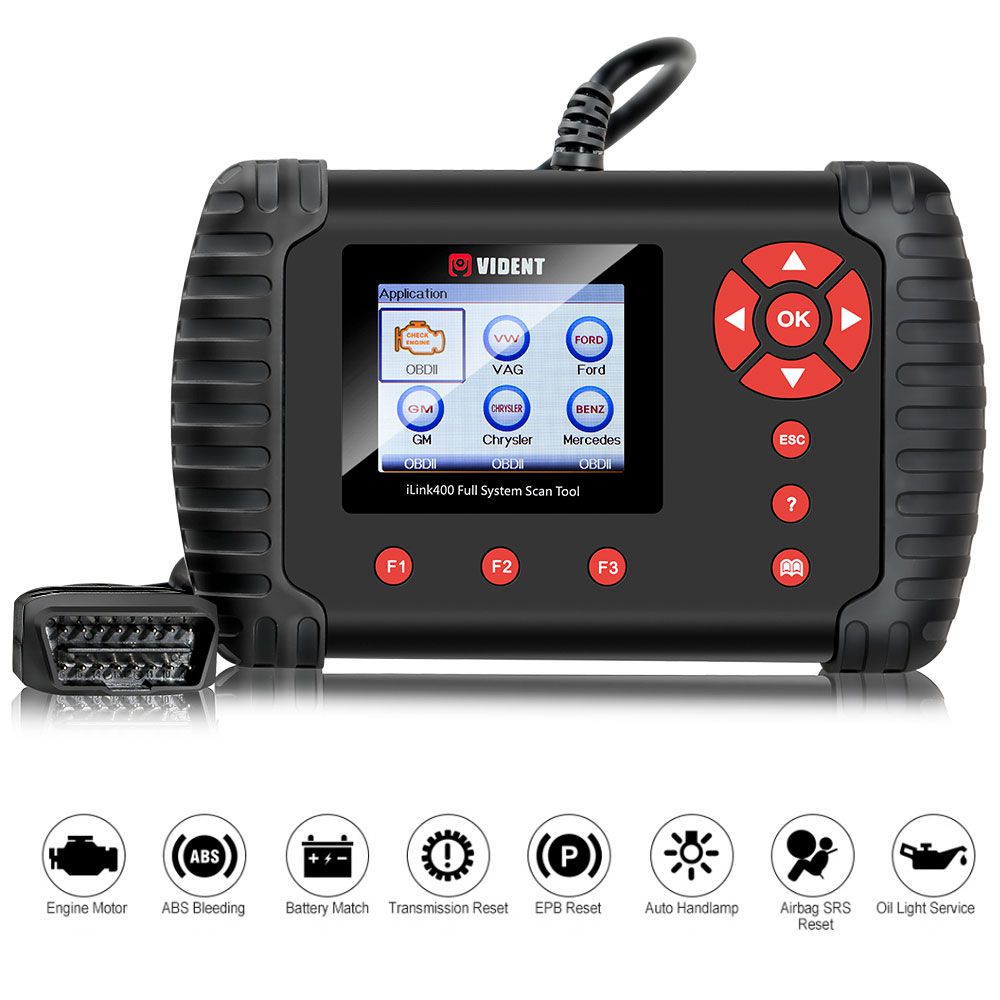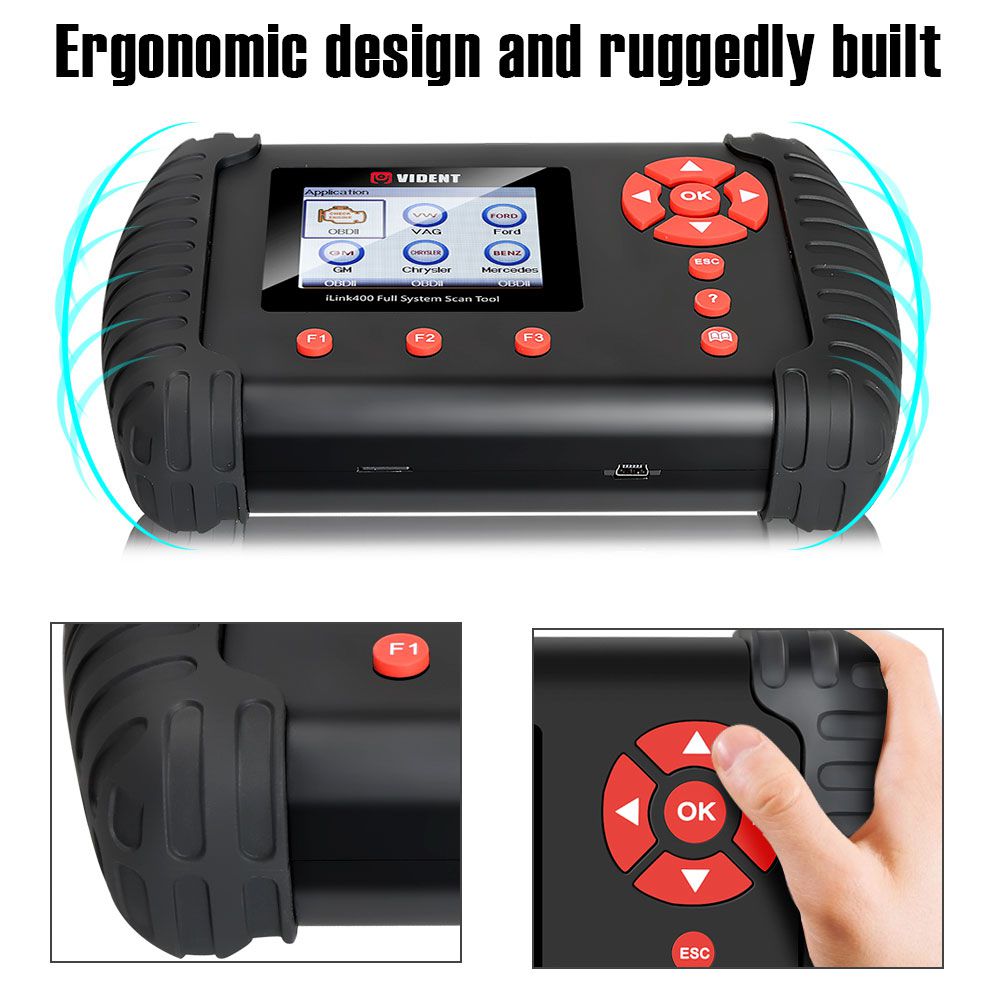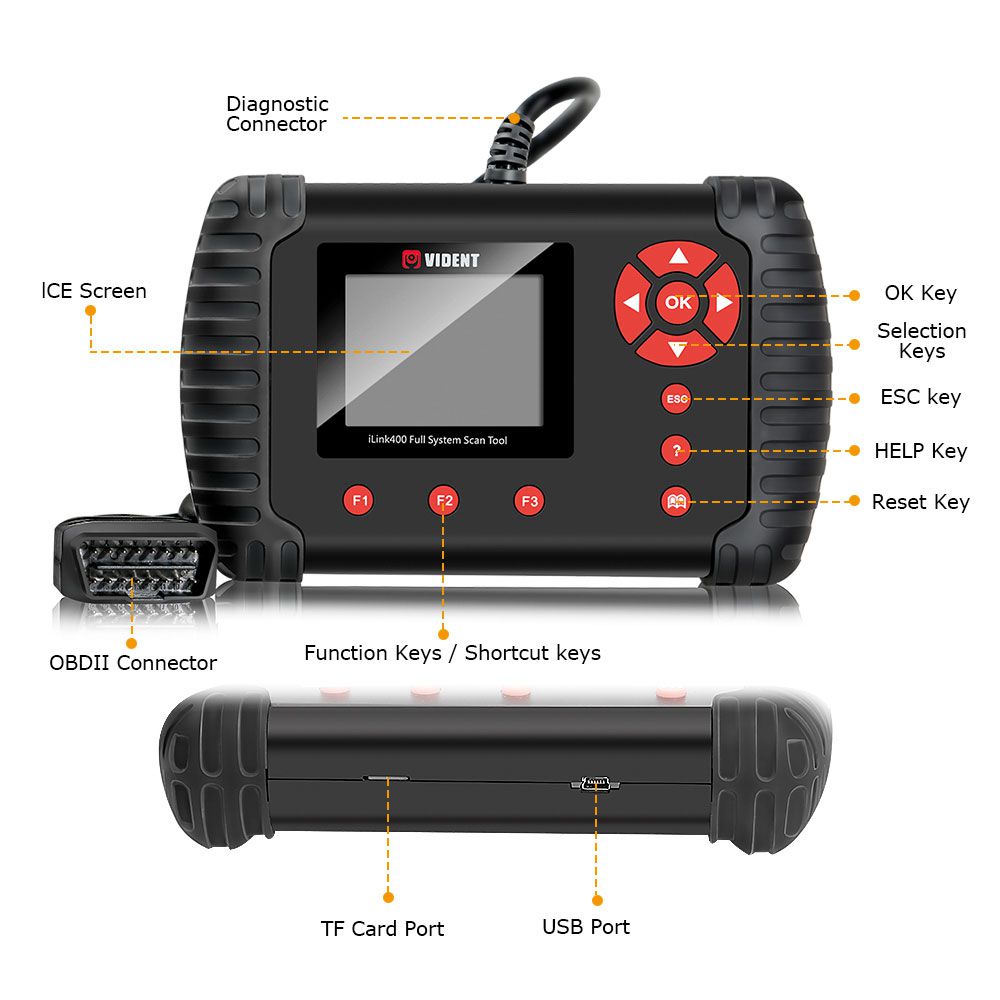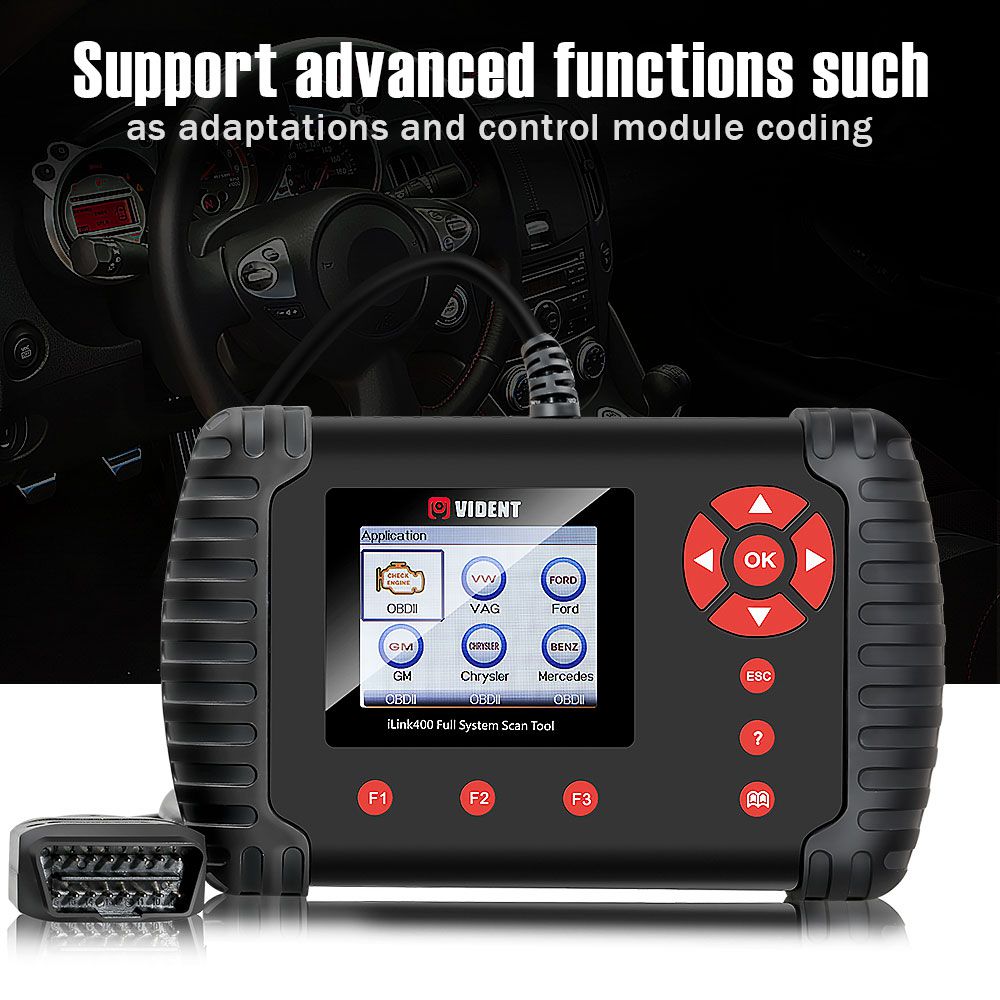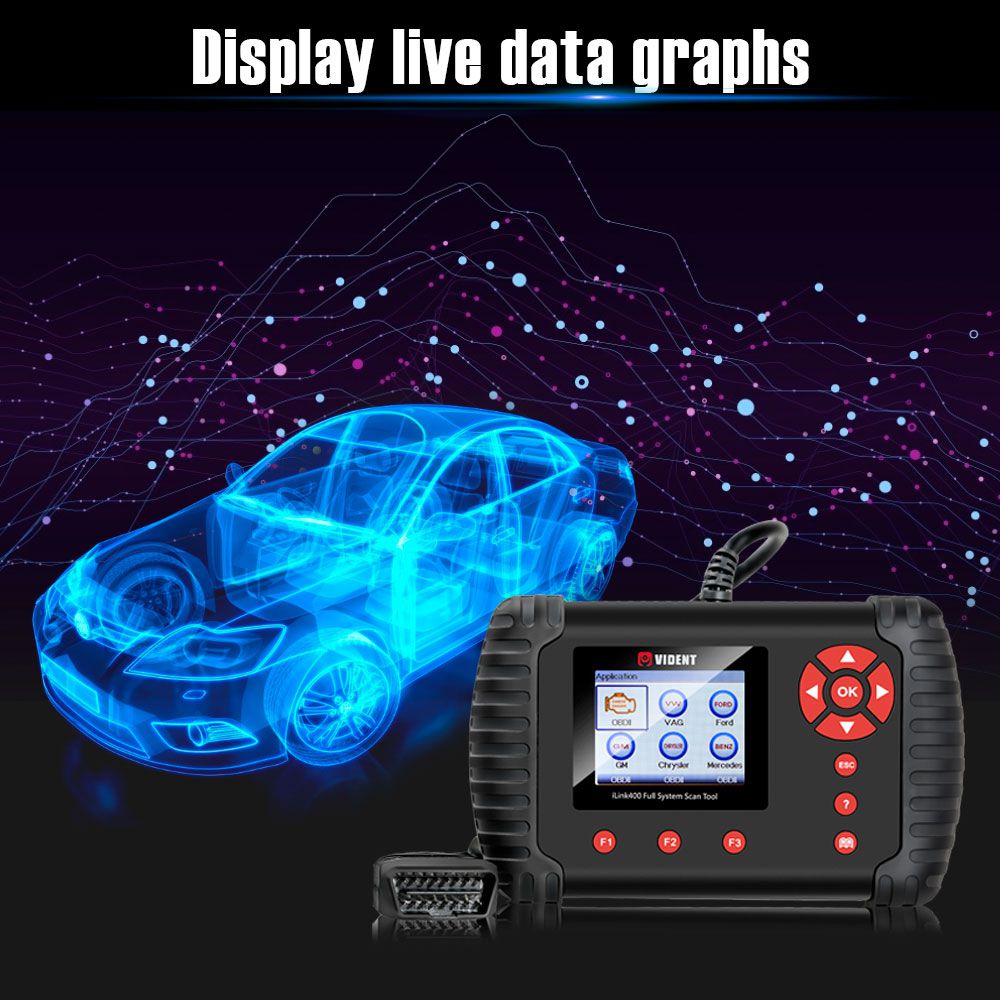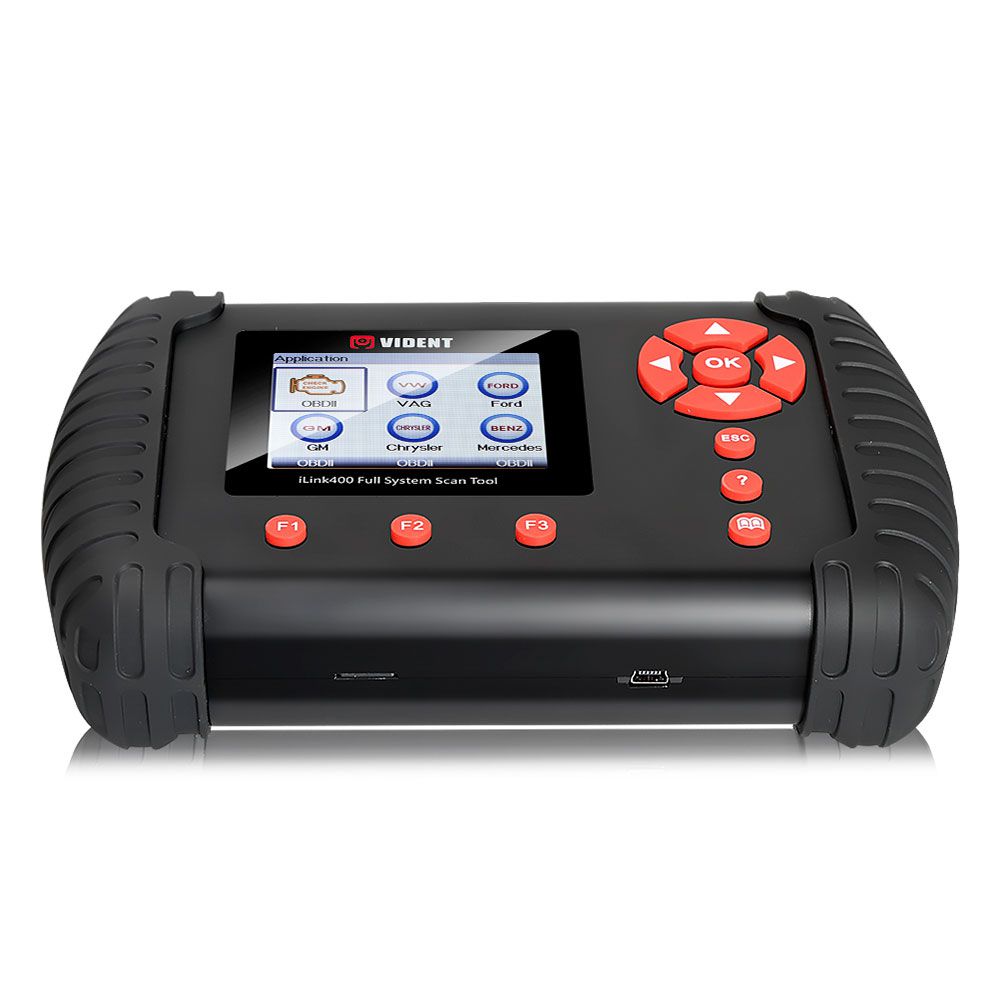 Original VIDENT iLink400 Full System Scan Tool Single Make Support ABS/SRS/EPB//DPF Regeneration/Oil Reset
Original VIDENT iLink400 Full System Scan Tool Single Make is the most cost-effective professional multi-system scan tool that delivers OE-level diagnosis for all electronic systems of different car brands.
Shipping:

Express Shipping Service


Estimated delivery time: 3-15 Days.

See details »

Returns:

Return for refund within 7 days,buyer pays return shipping.

Read details »

Support:
Related Accessories/Similar Items
Product Details

Product's Reviews
Original VIDENT iLink400 Full System Scan Tool Single Make Support ABS/SRS/EPB//DPF Regeneration/Oil Reset
Viden iLink400 Full System Single Make Scan tool is the most cost-effective professional multi-system scan tool that delivers OE-level
Diagnosis
for all electronic systems of different car brands. It does not only include basic functions such as read/erase codes and live data, but also it's capable of advanced functions such as actuation, adaptation and programming. In addition, it lets you to access the most commonly required service features such as Oil service Light Reset, Throttle Body Alignment, Electronic Parking Brake Service, Battery configuration, Steering Angel Sensor Calibration, CBS correct and much more.
VIDENT iLink400 Highlights:
1. Compatible with both
OBD
I and
OBDII
vehicles
2. Works on the latest 2017/2018 vehicle mdoels
3. Multi-system
Diagnosis
4. Quick Test Function to test most common vehicle system
5. Turn off dashboard warning lights
6. Perform bi-directional actuation tests
7. Retrieve
ECU
information
8. Key coding for serveral veicle
9. Request and record live sensor data and display live data graphs...
10. Support advanced functions such as adaptations and control module coding
11. Support commonly service features:brake deactivation,service reset,SAS,
DPF
,
ABS
,BCM/SIR setup,TPS/TBA,etc.
12.Upgradable to cover more car makes
13. TF memory card for data backup and software update
14. As easy as 1-2-3 with large TFT color screen and menu-driven operations
15. Ergonomic design and ruggedly built for both shop and road tests
16. 3 Years Free Update Online
17. Support Multi-language: English, French, German, Russian, Spanish Portuguese, Swedish and more.Notice:
Can't sell to Poland since March, 2019.
VIDENT iLink400 Function List: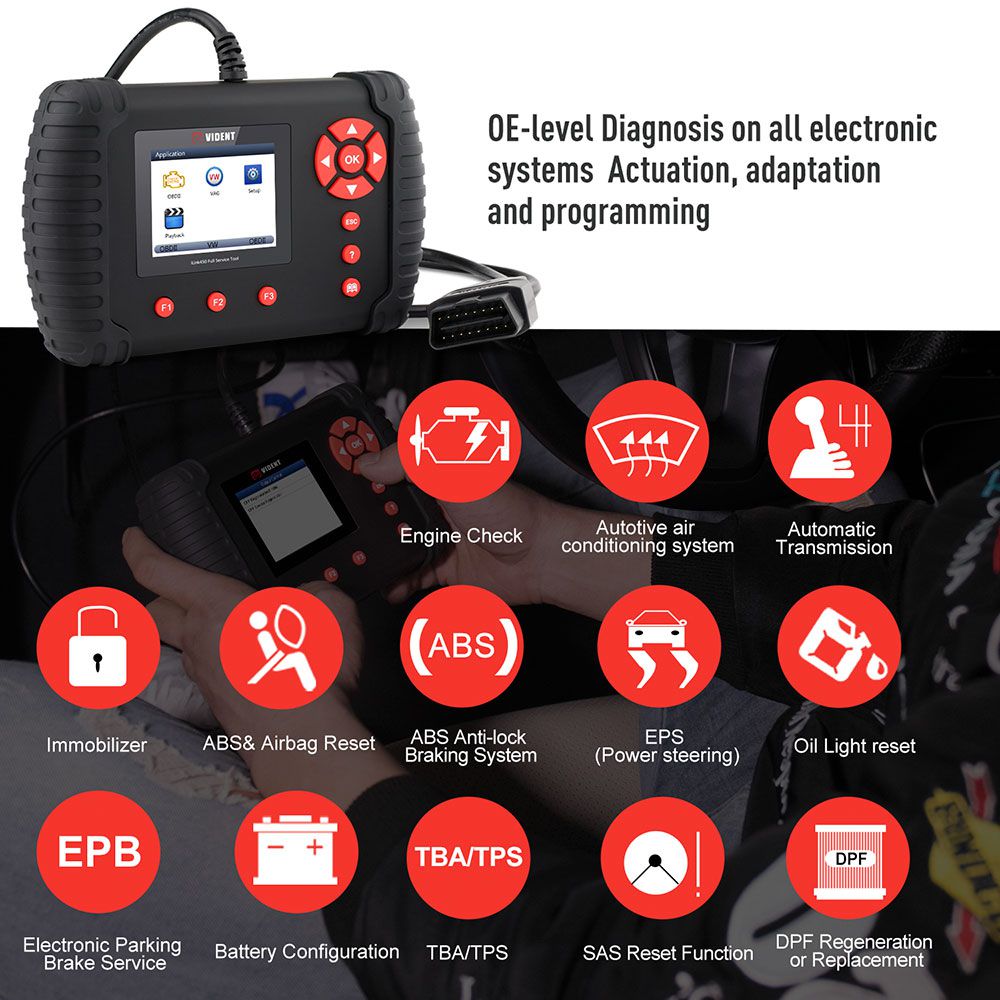 Diagnostic Functions
Read Codes
Freeze Frame Data
Erase Codes
ECU
information
Live Data
Custom Data
Active test
Advance ID
Basic setting
S
ECU
rity access (Login)
Adaptation
Readiness test
ECU Information
Complete Data List
Coding
I/M Readiness
O2 Sensor Test
On-board Monitor Test
Component Test
Vehicle Information
Modules Present
Unit of measure
Special Functions:
Oil Service
Electronic Parking Brake (
EPB
)
Calibration of Steering Angle Sensor G85
Adapt Battery After Replacing
Throttle Body Alignment (TBA)
Special function of Diesel Engine
Read Anti-theft Code
Reset Airbag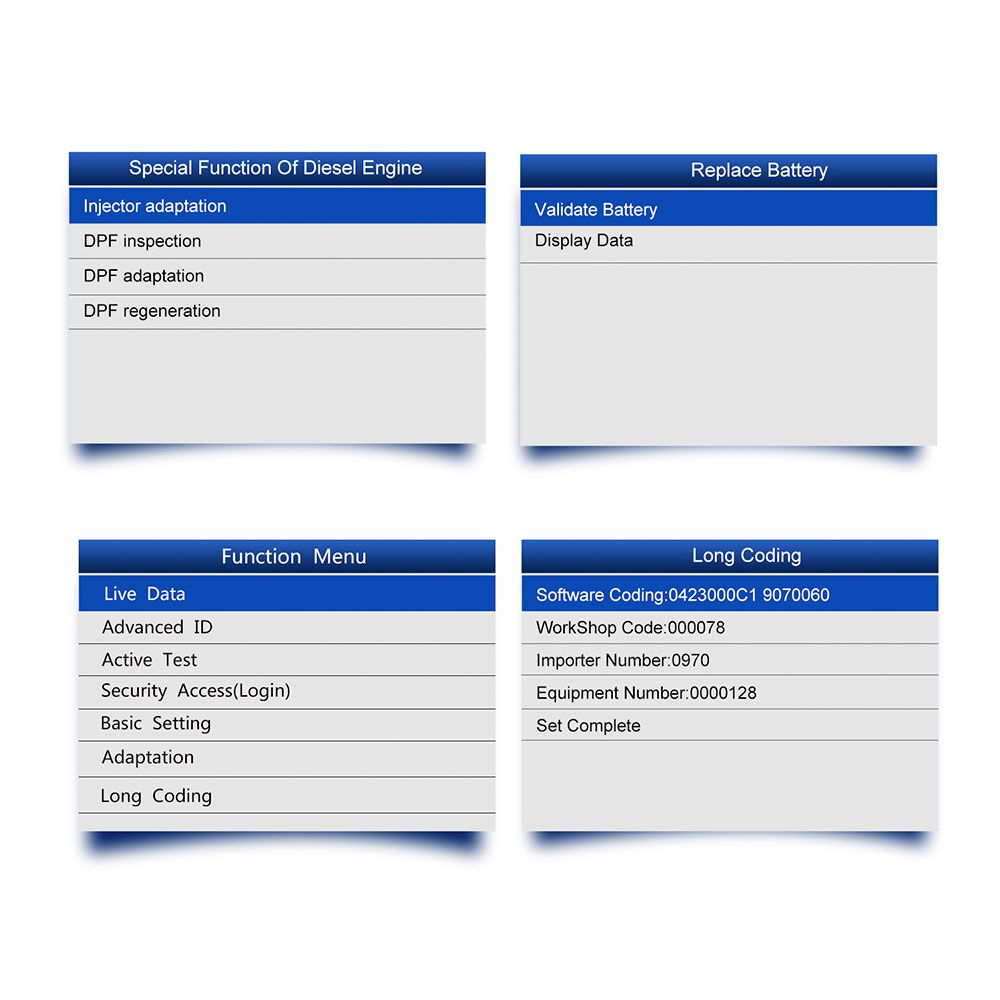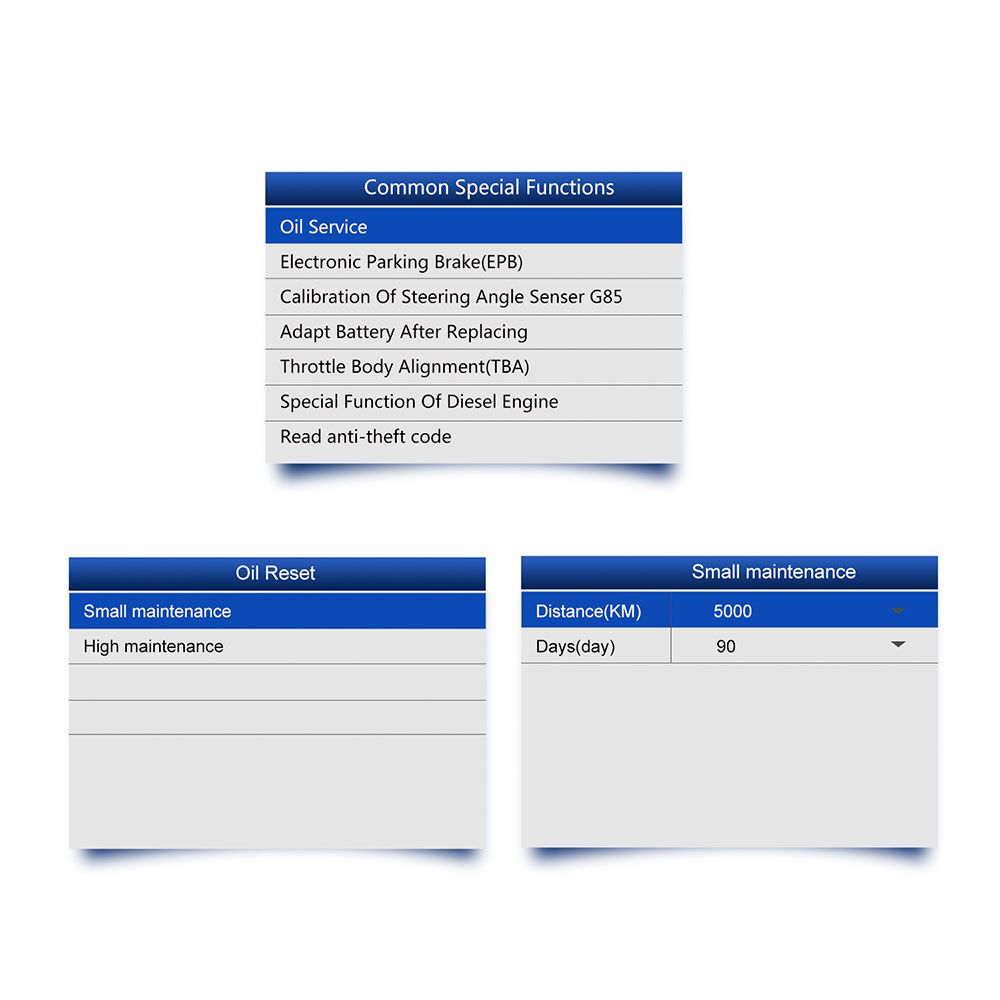 Vident iLink400 Vehicle List:
iLink400 comes with no software installed. You can select any of the car make software below to update on your scan tool. The first software is free of charge with your purchase. Any additional software costs $60 each. One hardware can have 5 car makes at most.
SC367-2 VIDENT iLink 400 - EU Ford
SC367-3 VIDENT iLink 400 -
BMW
, Mini and Rolls Royce
SC367-4 VIDENT iLink 400 - Citroen
SC367-5 VIDENT iLink 400 -
Chrysler
SC367-6 VIDENT iLink 400 - Fiat, Alfa Fiat, Abarth, Alfa Romeo, Lancia
SC367-7 VIDENT iLink 400 - Ferrari
SC367-8 VIDENT iLink 400 -
Land Rover
,
Jaguar
SC367-9 VIDENT iLink 400 -
GM
SC367-10 VIDENT iLink 400 -
Opel
, Vauxhall
SC367-11 VIDENT iLink 400 - Honda
SC367-12 VIDENT iLink 400 -
Hyundai
, Kia
SC367-14 VIDENT iLink 400 -
Porsche
SC367-15 VIDENT iLink 400 - Toyota Lexus Toyota, Lexus and Scion
SC367-16 VIDENT iLink 400 -
Mercedes
Benz
, Sprinter
SC367-17 VIDENT iLink 400 - Maserati
SC367-18 VIDENT iLink 400 - Mazda
SC367-19 VIDENT iLink 400 -
VAG
VW,
Audi
,
Skoda
,
Seat
, Bentley, Bugatti, Lamborghini,
VW
Commercial
SC367-20 VIDENT iLink 400 - Volvo
SC367-21 VIDENT iLink 400 -
Renault
, Dacia
SC367-23 VIDENT iLink 400 -
Subaru
SC367-24 VIDENT iLink 400 -SsangYong
SC367-25 VIDENT iLink 400 -
Peugeot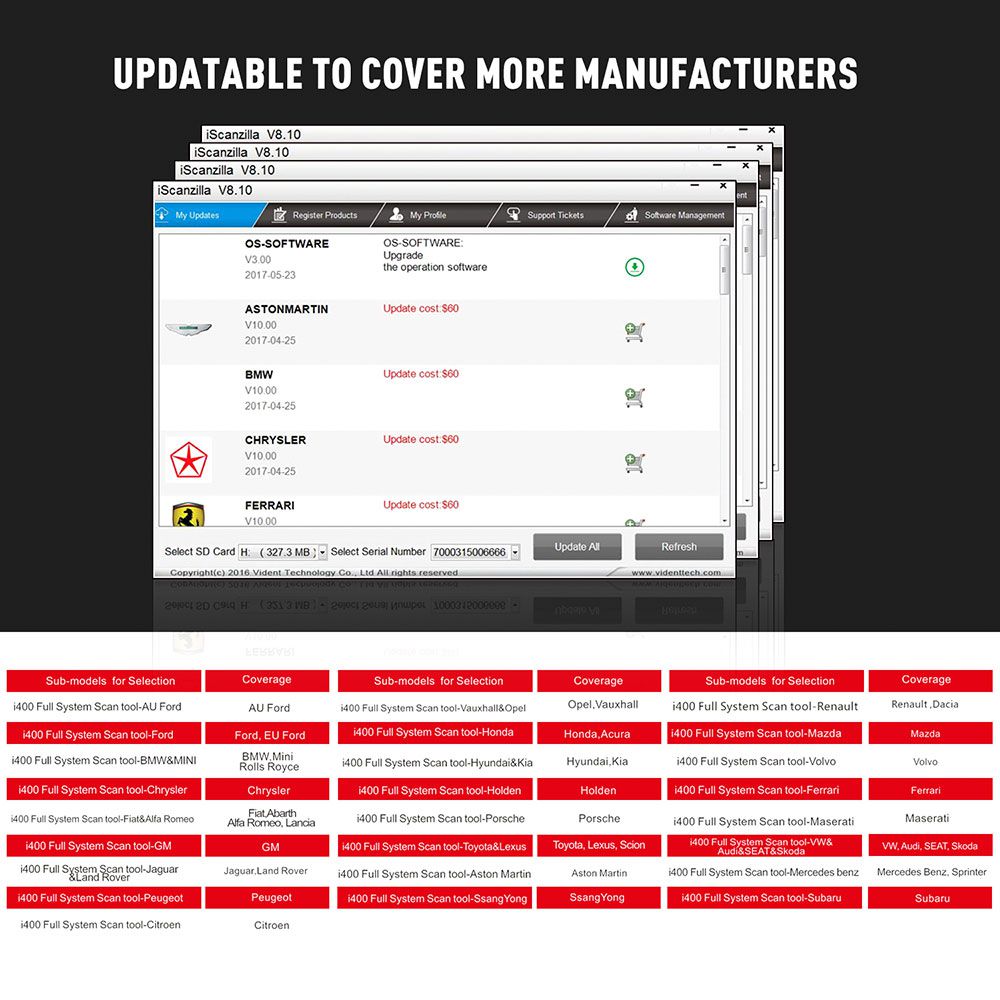 Please refer to
VIDENT iLink400 Car List
here for more detailed car models.
Vident iLink400 Overview:

1 LCD Screen -to display the software.
2 Function Keys / Shortcut keys - three keys that correspond with "buttons" on some screens
for executing commands or provide quick access to most frequently used applications.
3 Diagnostic Connector – to connect to vehicle's DLC.
4 OK Key –to confirm the current operation.
5 Selection Keys – to select an option or scroll through a screen of data or text.
6 ESC Key – to returns to previous screen.
7 HELP Key – provide tips for
Diagnosis
or for the tool itself.
8 Reset Key – Press and hold for 5 seconds for emergency reboots.
9 TF Card Port – holds the TF memory card for data backup and software update.
10 USB port -NOT IN USE
How to Update Vident iLink400 Software?
1. Remove the TF card from your tool (making sure the tool is turned off first!) and connect it to the PC via an TF card reader.
2. Once Windows has detected the TF card, run the iScanzilla software and login again. click the 'My Updates' button. After a few seconds, a list of the available software updates will appear.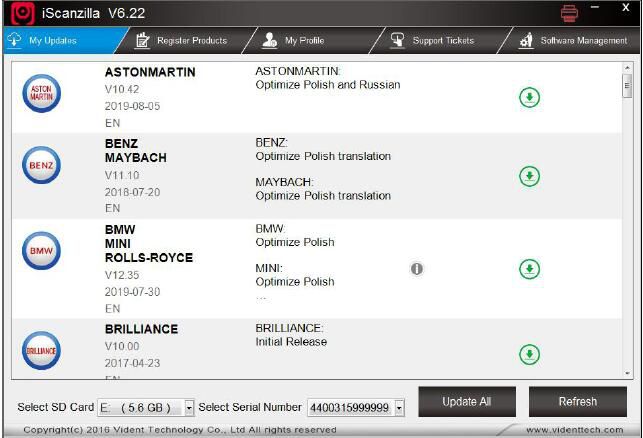 Ensure that the correct serial number is displayed in the drop-down list.
3. Click the Update button to download and install available updates.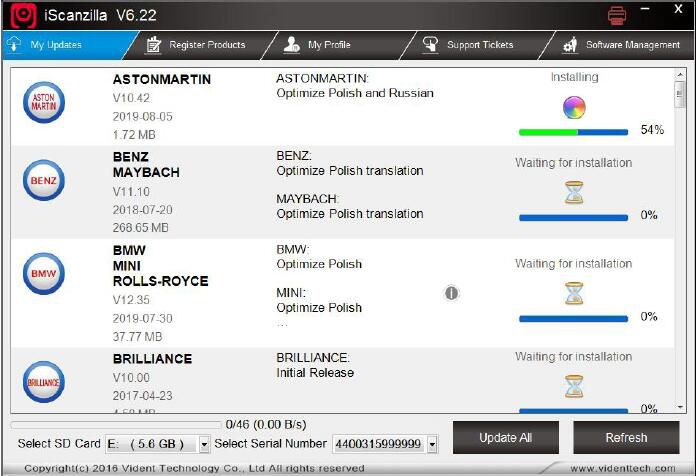 Please Note:
the update process can take a long time. If your tool has not been updated recently, it may take a few hours for the update process to complete. Once the update has completed, don't forget to
'safely remove' the SD card in Windows before unplugging it, to avoid the possibility of data corruption.
How to Buy Extra Software for Your Vident iLink400?Vident iLink400
is authorized with one free software when delivery and can cover up to six vehicle makes. More software can be added anytime at extra cost.
You can contact the reseller or following the steps below to buy extra software.
1. Log in at our website www.videnttech.com and go to your Member Center, click Registered Products.
2. Find the iLink400 serial number you wish to adds extra software and click the Software Details
3. You will see all software already installed on this tool as well as all software available to add. Select the software you need and click Add To Cart button.
4. You can manage your shopping cart by clicking Delete to delete the software that you don't need or click Continue Shopping to go back to Member Center page to add more into the cart.
5. Continue to process the payment and check out through Paypal.
6. Log in the update client iScanzilla. When the payment has been made successfully, the software you purchased would be listed in the available updates list for you to download.
Vident iLink400 Specifications:
Display: 2.8" Backlit, 320X240 TFT color screen
Operating Temperature: 0 to 60°C (32 to 140°F)
Storage Temperature: -20 to 70°C (-4 to 158°F)
Power: 8 to 18 V provided via vehicle
Supported Protocols: J1859-41.6, J1850-10.4, ISO9141, KWP2000 (ISO 14230), and CAN (Control Area Network ISO 11898)
Tool Dimensions: 194*117*47mm (L*W*H)
Color Box: 220*165*85mm (L*W*H)
Vident iLink400 FAQs:

Q1:
Is iLink400 software open for all car manufactures or need to buy software for each car manufactures ?
A1:
It have a free model,and you need to pay for extra software
Q2:
Will this support
ABS
bleeding on a 1999 ford e350 super duty?
A2:
Yes, it is support abs bleeding on a 1999 ford e350 super duty.
Q3:
Can iLink400 program key for 98 taurus?
A3:
Sorry, Ilink400 no key program key function.
Q4:
Will this initiate bleeding for
GM
abs
A4:
Yes, it is support.
Q5:
Does this perform tcm quick learn for
Chrysler
45rfe/545rfe transmission?
A5:
It is support.
Q6:
How do i download the software on macbook / os?
A6:
You can download from Official website.
Q7:
Will it go into the RVC soft top module on a w208?
A7:
sorry, it can't support.
Vident iLink400 Reviews:Review 1:
Very useful and capable device. You can run programs to test certain things such as injectors, abs, tps ect. You can pay for other manufacturers programs too. Each additional one is 60 dollars but it comes with 1 for free.
Review 2:
Awesome tool works on my 2010
Dodge
Ram & my wifes 2015
Jeep
Wrangler. both were throwing codes which my
OBD2
was no help for. This tool showed me the live data as well as the saved data from when the first error was seen. Has live testing where you can from inside the vehicle check to make sure everything works.. Highly recommend!! save yourself time and money using this tool then going to a dealership.
Review 3:
My only concern is case being tight when trying ot put cable inside. Unit works well and saves data from vehicle. Powers on with
OBD
or USB port connected.
Vident iLink400 Package Includes:
1 x pc iLink400 Scan Main Unit
1 x pc
OBD2
diagnostic cable
1 x pc User's Guide
1 x pc Memory Card
1 x pc USB Cable
1 x pc Leather Carrying Pouch