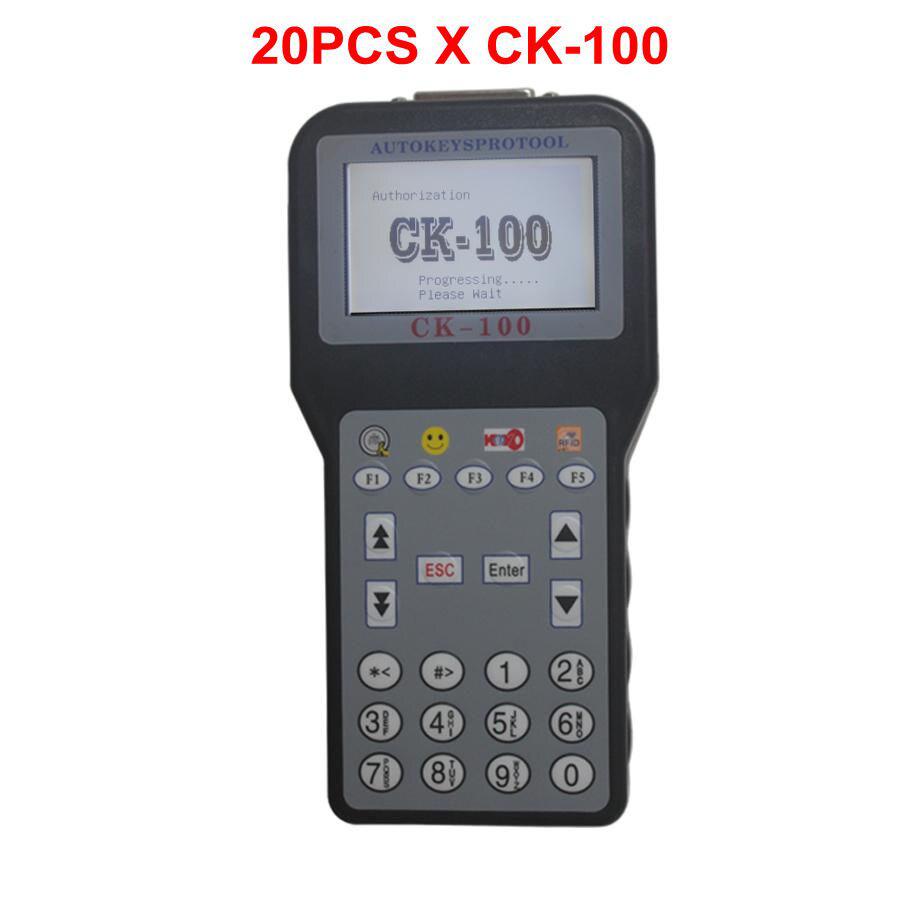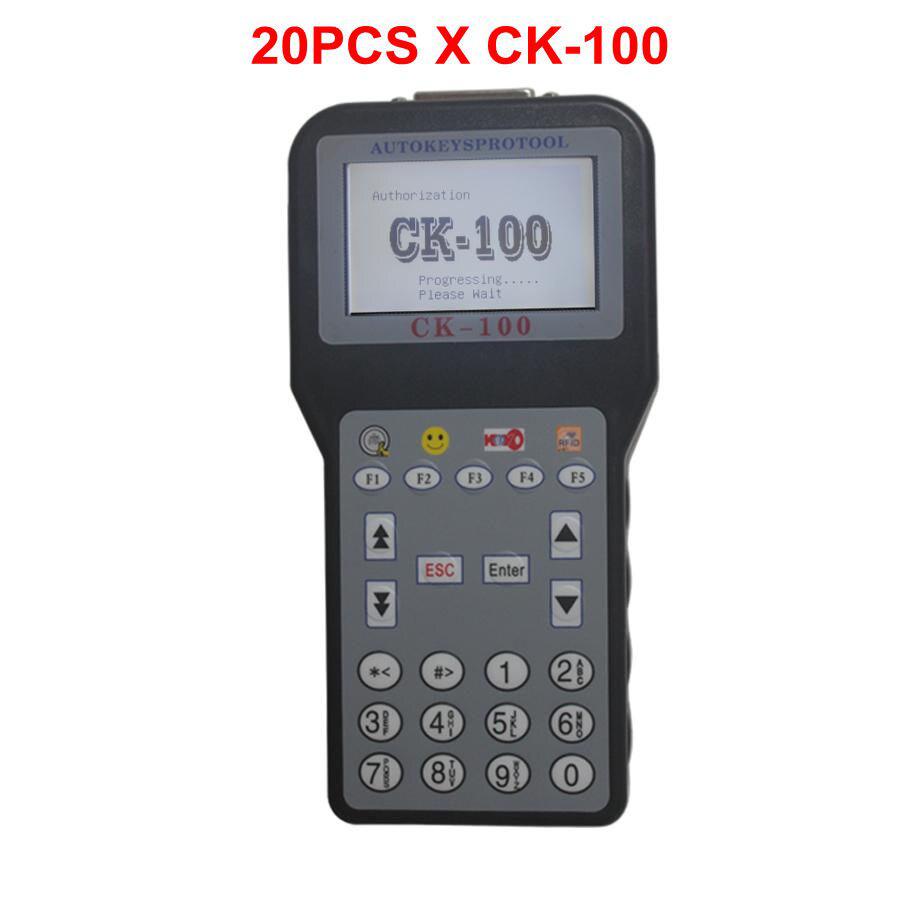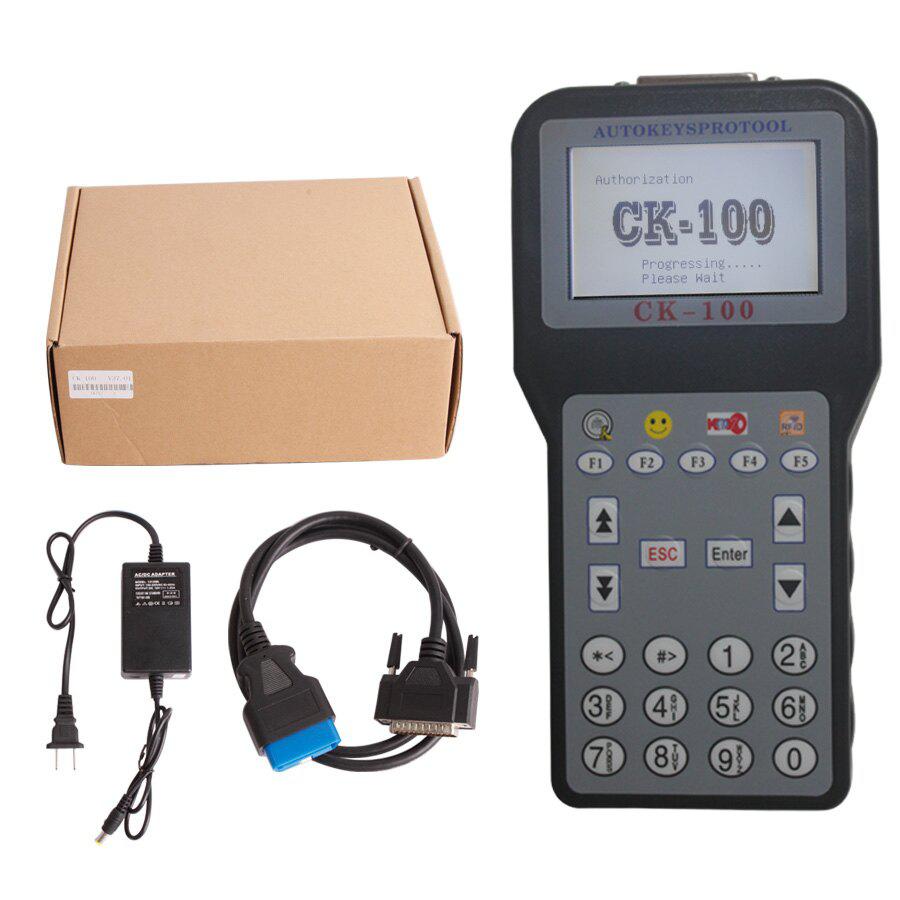 20PCS/lot CK-100 Auto Key Programmer CK 100 V45.02 SBB The Latest Generation
CK-100 Auto Key programmer is a new generation of the SBB Key Programmer, the replace version.CK100 key programmer alternative to function and feature of the SBB V33.02.Increase much more features and functions.More powerfull and functional.Excellent Quality.
Shipping:

Airmail Post


Estimated delivery time: 7-45 working days.

See details»

Returns:

Return for refund within 7 days,buyer pays return shipping.

Read details »

Support:
Product Details

Product's Reviews
20PCS/lot CK-100 Auto Key Programmer V45.02 SBB the latest generation
Feature:
Software Version: 45.02
Supported Languages: English,Italiano,Deutsch,Francais,Espaniol,Portugues,Turkey
Old machine can be update free and you can send back.
Note:
When using if it fails to adapte key, then disconnected OBD16 adapter and car connection, after 10 seconds connect again,
otherwise vehicle immo system may damaged, CK-100 locked.
---
IMMOBILIZER List
ACURA
* TSX
04-06
INFINITI
* EX35 [PRX]
08-11
* TSX
07-08
* FX35 [IK]
03-11
ALFA REMEO
* GT[CAN]
03-10
* FX35 [NT5]
03-09
* 147[CAN]
00-10
* FX45 [IK]
03-09
* 166
04-08
* FX45 [NT5]
03-09
AUDI
* S4
00-05
* FX50 [IK]
09-11
BUICK(CAN)
* Allure
05-09
* G35 [IK]
05-08
Enclave
07-11
* G35 [PRX]
07-08
* Lucerne
06-11
* G37 [PRX]
09-11
CHEVROLET S.AMERICA
* AGILE[CAN]
09-
* QX56 [IK]
08-10
* ZAFIRA
01-05
JEEP
* COMMANDER[CAN]
08-09
CHEVROLET US (CAN)
* AVALANCHE
07-11
* COMMANDER[CAN]
09-10
* COBALT
05-10
* G.CHEROKEE[CAN]
09-10
* EXPRESS
08-11
KIA
* JOICE
00-03
* HHR
06-11
MAZDA
* CX-7[CAN]
07-11
* IMPALA
06-11
* CX-7[PRX]
10-11
* MALIBU
04-11
* CX-9[CAN]
07-11
* TAHOE
07-11
* CX-9[PRX]
09-11
CHEVROLET-DAEWOO
* LACETTI
04-09
* MAZDA 2[CAN]
11-
CHRYSLER
* ASPEN[CAN]
07-09
* MAZDA 3[PRX]
10-11
* SEBRING C.
01-06
* MAZDA 5[CAN]
08-12
* SEBRING C[CAN]
07-10
* MAZDA 6[CAN]
08-11
* TOWN&COUN[CAN]
10-11
* MAZDA 6[PRX]
09-11
* 300[CAN]
08-09
* MX-5[CAN]
06-11
* 300[CAN]
09-10
* MX-5[PRX]
09-11
CITROEN
* XSARA PICASSO
00-06
* RX-8[CAN]
09-10
DODGE
* CARAVAN[CAN]
10-11
* RX-8[PRX]
10-11
* CHALLENGE[CAN]
08-11
* TRIBUTE[CAN]
10-11
* CHARGER[CAN]
08-09
MITSUBISHI
* GALANT[PIN1]
02-05
* CHARGER[CAN]
09-11
* GALANT[PIN2]
02-05
* DURANGO
01-03
* MONTERO IO
00-06
* DURANGO
03-04
* SPACE GEAR
96-
* DURANGO[CAN]
04-06
* SPACE RUNNER
98-99
* DURANGO[CAN]
07-10
* SPACE RUNNER
99-02
* DURANGO[CAN]
11-
MITSUBISHI GREEK
* GALANT
02-05
* JOURNEY[CAN]
10-11
* PAJERO NEW
02-03
* MAGNUM[CAN]
08-09
MITSUBISHI USA
* ENDEAVOR
03-05
* MAGNUM[CAN]
09-
* GALANT[CAN]
08-10
* RAM [CAN]
09-
NISSAN
* ALTIMA
00-04
FIAT
* IDEA[CAN]
03-08
* NAVARA
03-05
* SEDICI[D]
06-
* SENTRA
00-06
* SEDICI[G]
06-10
NISSAN JAPAN
* MICRA MARCH
00-03
* FIAT S.AMERICA
* DOBLO[CAN]
00-06
NISSAN USA
* MURANO[PRX]
08-09
* DOBLO'[CAN]
06-
OPEL-VAUXHALL
* CORSA
04-06
* IDEA[CAN]
03-08
PONTIAC(Basic)
* Aztrk
01-05
* IDEA[CAN]
09-
* Bonneville
00-05
* MILLE
05-
PONTIAC(CAN)
* G5
07-10
* PALIO[CAN]
04-08
* G6
05-10
* PALIO[CAN]
09-
* G8
08-09
* PUNTO[CAN]
99-07
* Outlook
07-09
* PUNTO[CAN]
07-
SCION
* TC[CAN]
11-
* SIENA (ARG)
09-
SEAT
* CORDOBA
02-09
* SIENA (BRA)
09-
* IBIZA
02-09
* SIENA [CAN]
02-07
SUZUKI
* SX4[D]
06-
* STILO[CAN]
02-08
* SX5[G]
06-10
* STILO[CAN]
09-
* WAGON[R]
00-08
* STRADA[CAN]
05-
* WAGON[R]
00-08
FORD EU
* TRANSIT
00-02
TOYOTA - USA
* CAMRY[CAN]
11-
FORD USA
* EDGE[CAN]
10-10
* CAMRY[PRX]
11-
* EDGE[CAN]
11-12
* COROLLA[CAN]
09-10
* EXPLOERE[CAN]
10-10
* COROLLA[CAN]
10-
* EXPLOERE[CAN]
11-
* FJ CRUISER[CAN]
08-10
* FIESTA[CAN]
11-
* FJ CRUISER[CAN]
11-
* FIESTA[PRX]
11-
* PRIUS[PRX]
09-
* FLEX[CAN]
11-
* RAV 4
06-10
* FOCUS[CAN]
11-
* RAV 4[CAN]
06-10
* F-150[CAN]
11-
* RAV 4[CAN]
11-
* F-250 SD[CAN]
10-10
* SEQUOIA[CAN]
08-10
* F-250 SD[CAN]
11-
* TUNDRA[CAN]
09-10
* F-250[CAN]
11-
* TUNDRA[CAN]
11-
* F-350 SD[CAN]
10-10
* TUNDRA[CAN]
07-10
* F-350 SD[CAN]
11-
* VENZA[CAN]
11-
* MUSTANG[CAN]
07-10
* 4RUNNER[CAN]
09-10
* RANGER V6[P2]
99-00
* 4RUNNER[CAN]
11-
GMC(CAN)
* Savana
08-11
VOLKSWAGEN
* FOX
05-08
HONDA
* STREAM
01-03
* JETTA
00-04
HONDA USA
* ACCORD CROSST
10-
VOLKSWAGEN S.AMERICA
* FOX
09-
* CIVIC
06-11
* GOL(Trend)
09-
* CR-V
07-11
* VOYAGE
09-
* INSIGHT
10-
* ODYSSEY
07-10
* ODYSSEY
11-
HYUNDAI
* H-1
99-06
* MATRIX
02-10
* STAREX
98-06
REMOTE CONTROLS
BUICK
* ALLURE
05-06
* GMC
* ACADIA
07-11
* Century
00-05
* CANYON
04-08
* ENCLAVE
07-11
* DENALI
07-11
* LACROSSE
05-06
* SAVANA
03-07
* LeSabre
00-05
* SAVANA
08-11
* LUCERNE
06-11
* YUKON
07-11
* Park Avenue
04-05
* HUMMER
* H3
05-09
* REGAL
00-05
* HYUNDAI USA
* ACCENT
06-
* RENDEZVOUS
02-07
* AZERA
06-
* SRX
04-06
* ISUZU
* I-280
06-07
TERRAZA
05-07
* I-350
06-07
CADILLAC
* CTS
03-07
KIA USA
* FORTE
08-
* CTS
08-10
* FORTE
10-11
* Deville
98-05
* OPTRUS
04-
* DTS
06-11
* OPTIMA
06-
* ESCALADE
07-11
* RIO
06-
* SEVILLE SLS
98-04
* SEDONA
06-
* SEVILLE STS
98-04
* SEDONA
06-
* SRX
04-06
*SORENTO
09-
* SRX
07-09
* SOUL
10-11
CHEVROLET S.AMERICA
* ASTRA
08-
* SPORTAGE
08-10
* BLAZER
06-
* MAZDA
* CX-9
10-
* CORSA
05-
OLDSMOBILE
* ALERO
99-04
* S-10
06-
* SILHOUETTE
99-04
* VECTRA
09-
OPEL-VAUXHALL
* ZAFIRA
99-05
* ZAFIRA
06-
PONTIAC
* Aztek
01-05
CHEVROLET USA
* AVALANCHE
01-06
* Bonneville
00-05
* AVALANCHE
07-11
* Grand Am
99-05
* AVEO
04-10
* Grand Prix
00-03
* COBALT
05-05
* Grand Prix
04-06
* COBALT
06-10
* G5
07-10
* COLORADO
04-10
* G6
05-07
* EXPRESS
02-07
* G6
08-10
* EXPRESS
08-11
* G8
08-09
* HHR
05-07
* Montana
99-04
* HHR
08-11
* Montana
05-07
* IMPALA
02-05
* PURSUIT
06-09
* IMPALA
06-11
* SOLSTICE
06-09
* MALIBU
04-07
* TORRENT
05-06
* MALIBU
08-11
* TORRENT
07-09
* MALIBU Clasio
01-06
* SATURN
* AURA
07-09
* MONTECARLO
00-02
*OUTLOOK
07-09
* MONTECARLO
03-05
* SKY
07-09
* MONTECARLO
06-08
* SUZUKI USA
* XL-7
07-09
* SILVERADO
07-11
TOYOTA USA
* COROLLA
08-
* SSR
04-05
* PRIUS
04-08
* SUBURBAN
07-11
* TAHOE
07-11
* TRAVERSE
09-11
* UPLANDER
05-07
---
Image display:


---
Packing Including:
20pc x Main Unit
20pc x USB Cable
20pc x Power Supply
20pc x Packing Carton
---