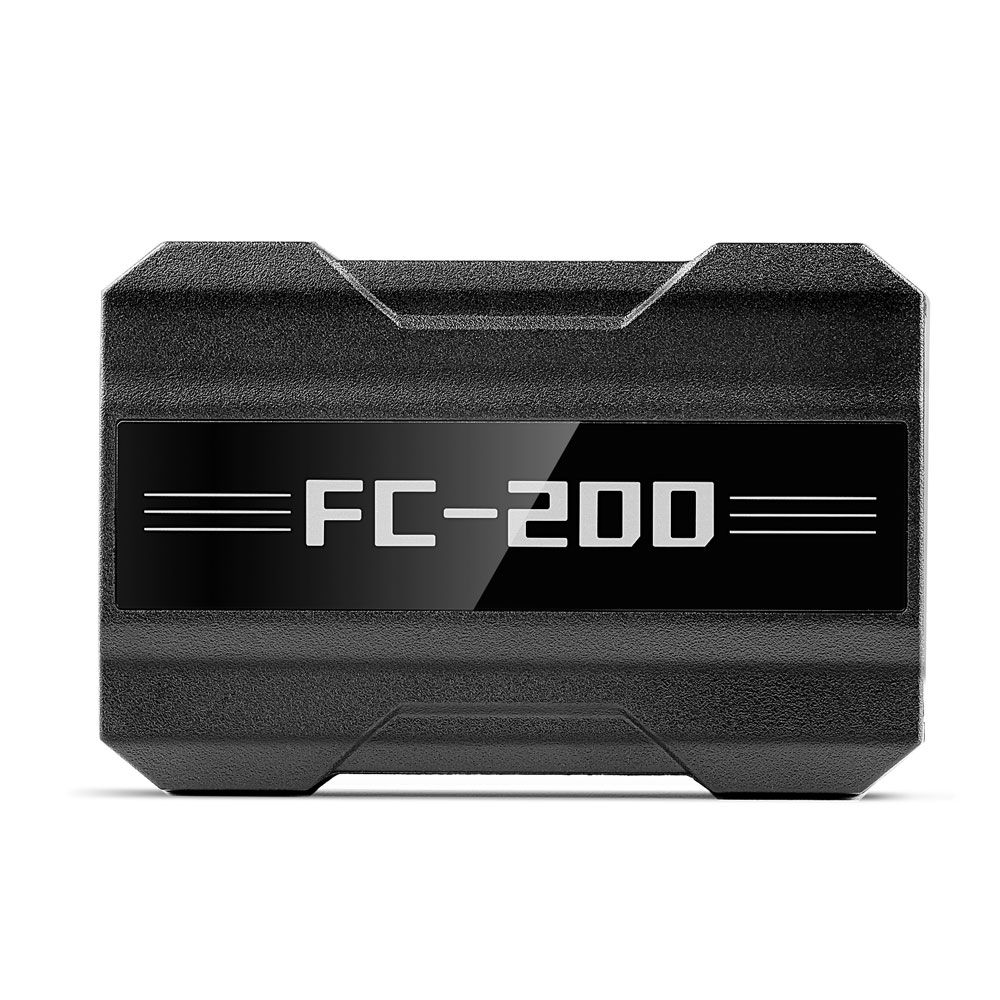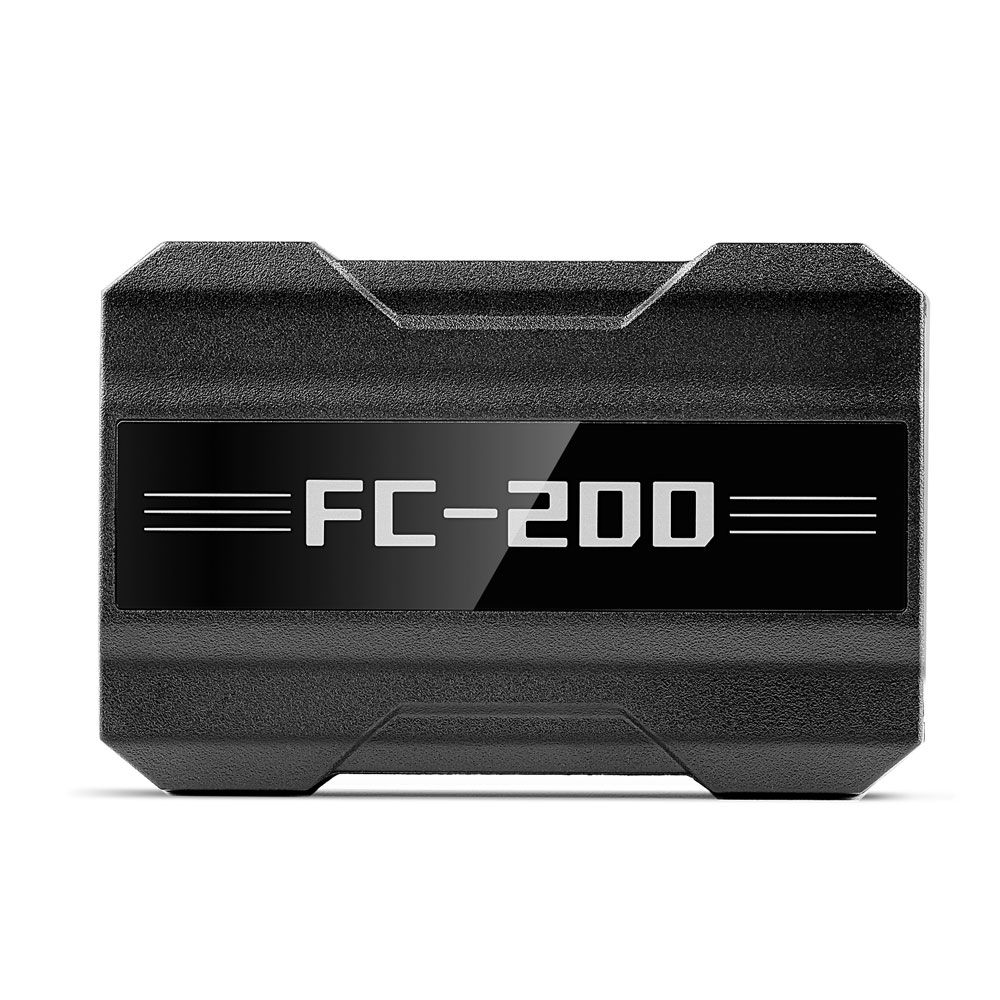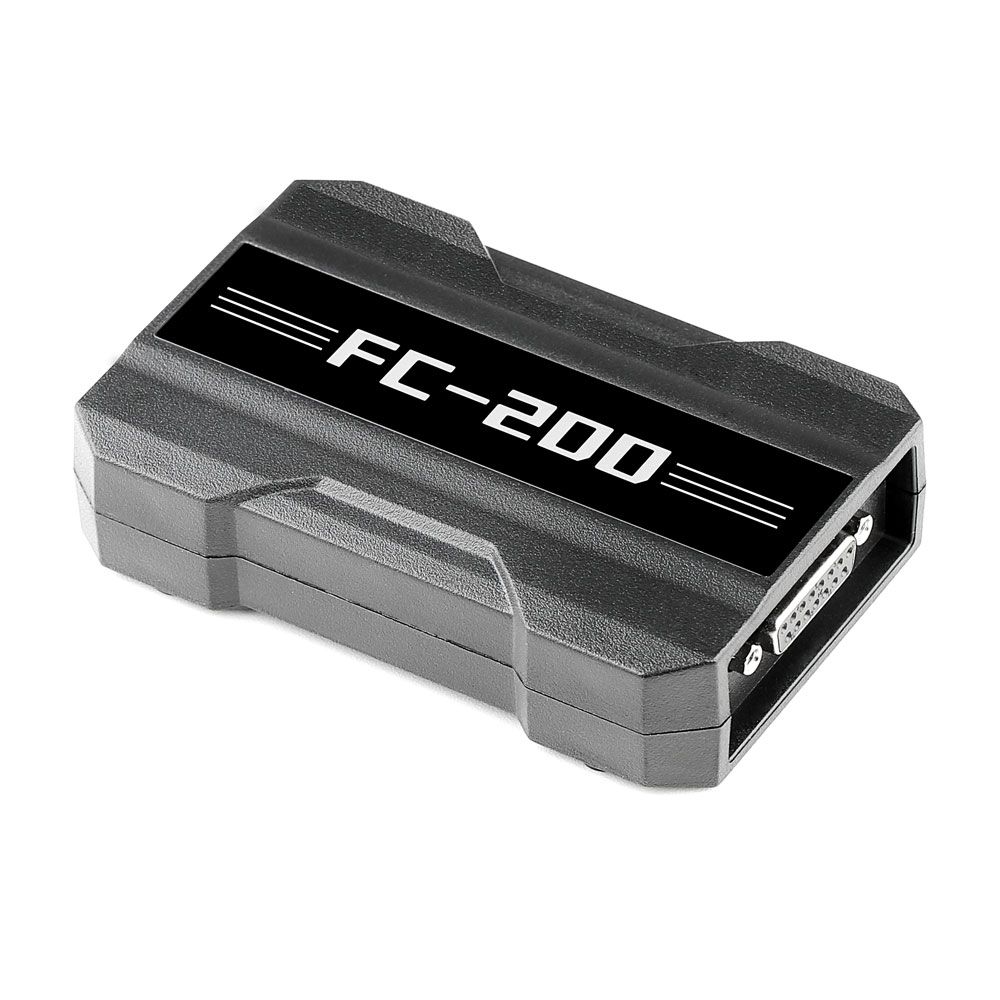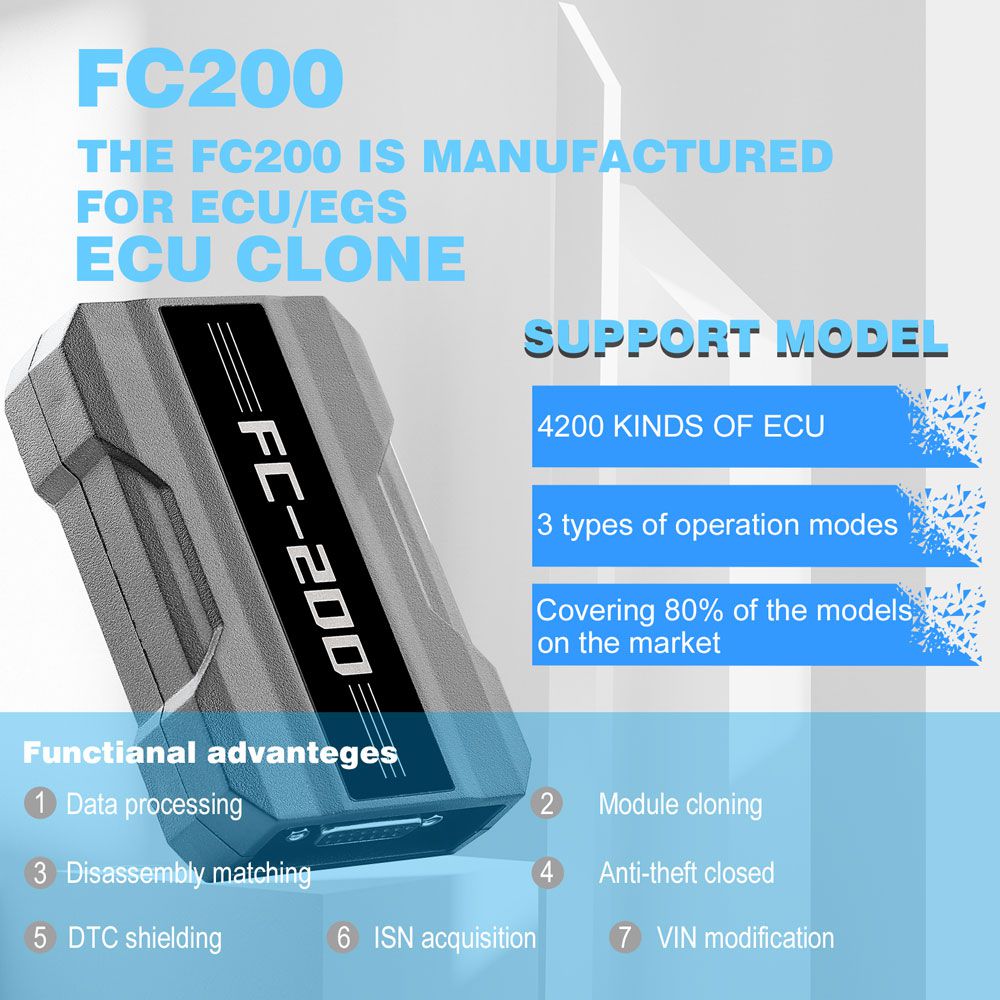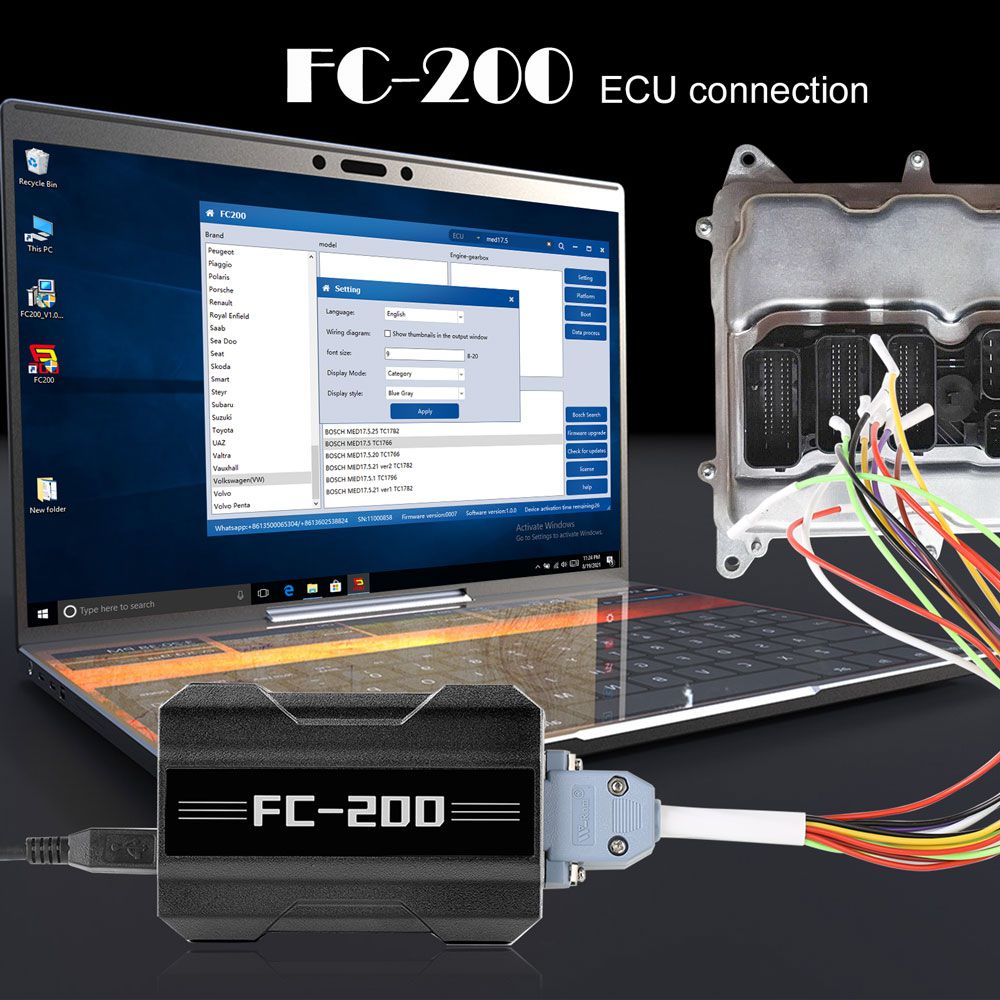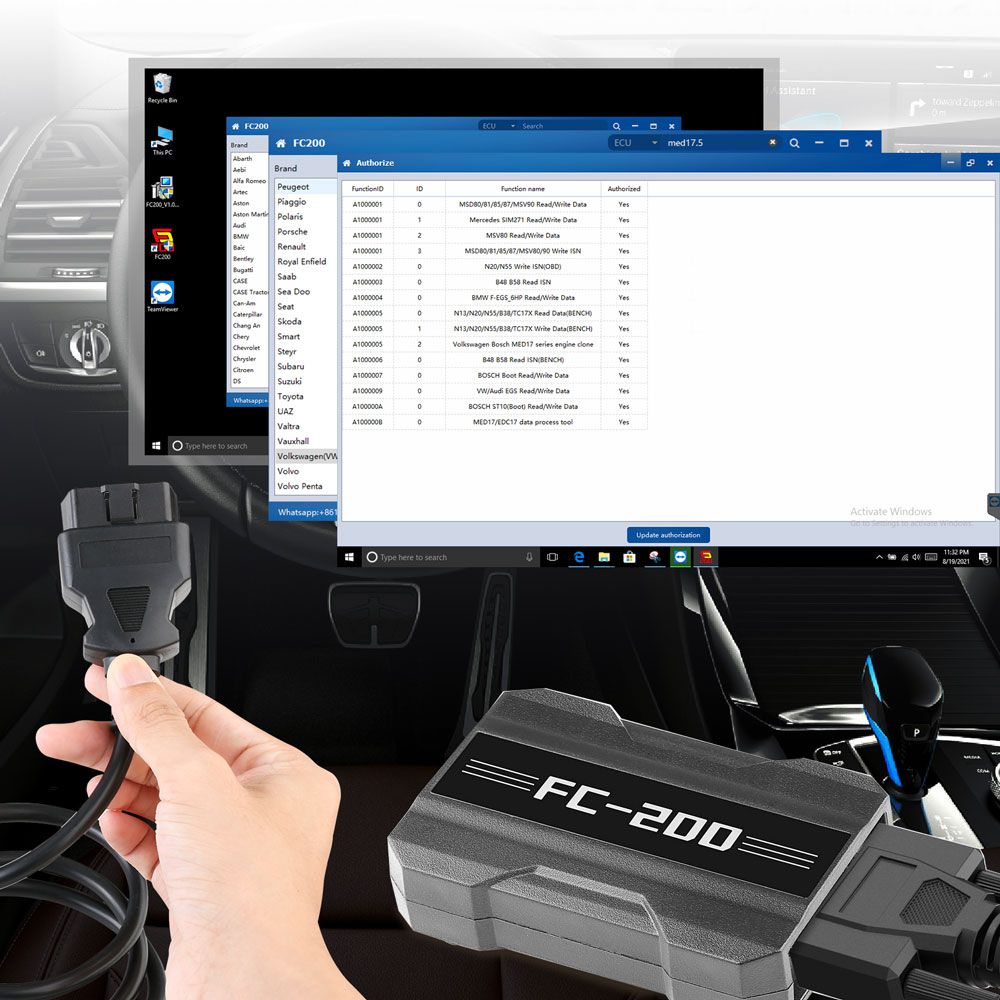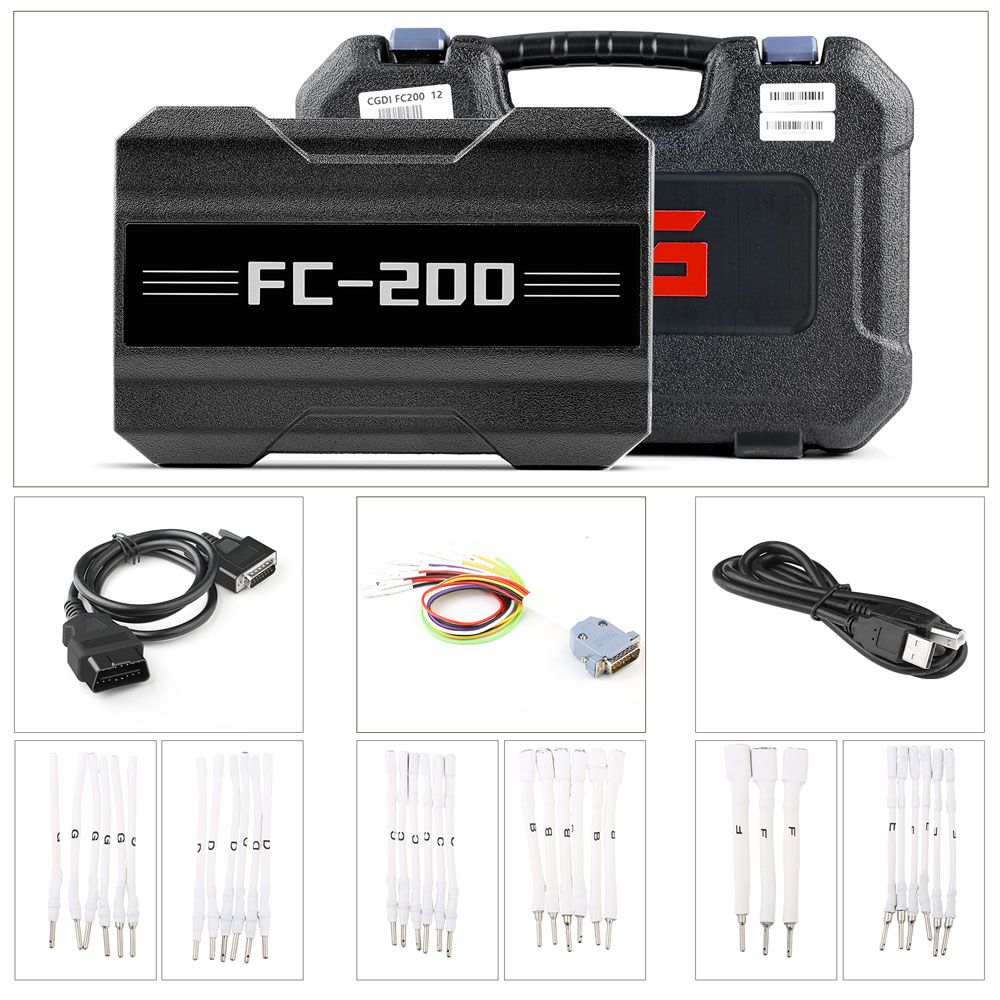 V1.0.8 CG FC200 ECU Programmer Full Version Support 4200 ECUs and 3 Operating Modes Upgrade of AT200
No open shell, no punch, keep the original parts, support 4200 kinds of ECUS/EGS, involving 80% of the models on the market.Data loss prevention, automatic verification, 100% accurate analysis of BMW's ISN code, support for VIN code modification and data cloning of various models.Exclusive support for DTC shielding and function shutdown, exquisite design, adapt to various operating environments, FC200 is your trusted auto repair assistan.Update Version of AT200, with All License Activated and Free Update Online for One Year.
Shipping:

Express Shipping Service


Estimated delivery time: 3-15 Days.

See details »

Returns:

Return for refund within 7 days,buyer pays return shipping.

Read details »

Support:
Product Details

Product's Reviews
CG FC200 ECU Programmer Full Version Support 4200 ECUs and 3 Operating Modes Upgrade of AT200
CG FC-200
ECU Programmer
is new device which is designed for
ECU
/EGS clone, supports functions including data reading and writing, ISN acquisition, disassembly matching, module clone, VIN modification and
DTC
shielding ect FC200 supports 4200 kinds of
ECU
, 3 tyeps of operation modes, and covers 80% of the models at the market.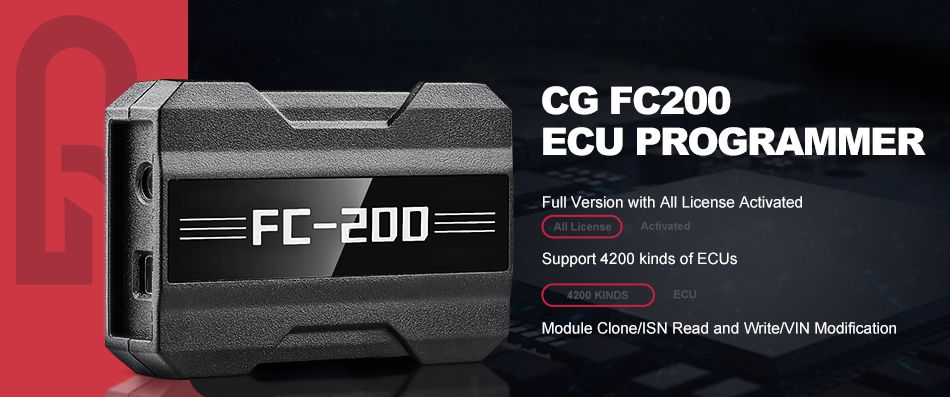 FC-200 Highlights:
1. Auto ECU Programmer for repair necessary-Support BMW ECU Data reading, writing and clone.
Effectively solve the problem of replacing the second-hand computer after the damage of BMW ECU control unit, just need to read the original computer data and then clone it.
Support almost all the BMW ECU model for reading and writing: MSV90/ MSD85 MSD87 N20 N55 B48 B58 etc.
Successfully make up the market for BMW ECU reading and writing equipment, save you high equipment costs.

2. Auto Locksmith necessary-Support BMW IMMO functions, Read BMW ISN Code by OBD
Quickly solve the problem for data collection of bmw all key lost.
With more stable and efficient unremovable functions.
If you want to do all key lost for BMW 3 Series 5 Series 7 Series X5 X6 GT535 Six-cylinder engine, must need ISN code to program the keys.

3. Original from CGDI and Free Update Online for One Year
After one year, it will cost $125/year

4. FC200 not only support BMW ECU but also support over three thousands of ECUs like KTAG, Kess,kessy ,Dimsport etc.
Check FC200 Support ECU List

5. Bosch search: Free to find out what ECU type

6. With CAN-bus, and No Disassembly (platform mode) and Boot mode

7. Multi-Language: English, French, Spanish, Polish, Traditional Chinese and Simplified Chinese

8. Full Version with All License Activated and Free.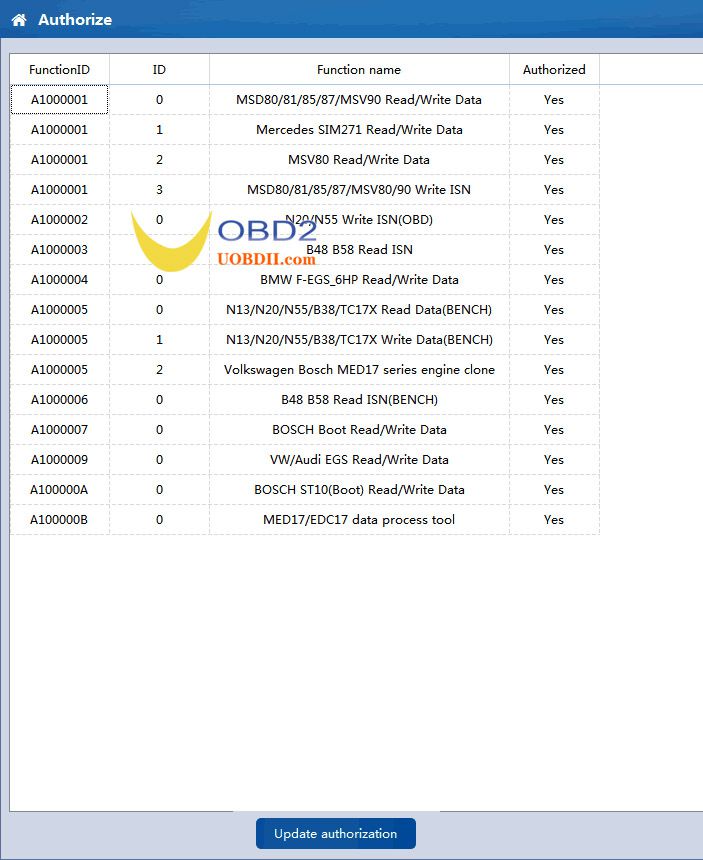 CG FC200 Latest Updae Information:

FC200 V1.0.3.0 (2021.12.23) NEW
1.New online store button: query the validity period of the equipment service
2.Added FC200 support list
3.Added Bosch engine platform modes: MEG17.0, MEG17.9.2, MEG17.9.8, MEG17.9.12, MEG17.9.13, MEG17.9.21
4.Added Bosch engine boot mode: MEG17.9.8, MEG17.9.12, MEG17.9.13
5.Added Bosch engine (test version): MD1CP004, MG1CS001, MG1CS002, MD1CS004, MD1CS005, MD1CS006
6.Optimize data processing-close the anti-theft system function (add a second closing method)
7.Optimize the engine menu and wiring diagram
8.Increase the zoom in and zoom out buttons in the wiring diagram interface
9.Optimize the clone function of Volkswagen DL382 gearbox
10.Fix some bugs and optimize software performance
Note: The equipment produced before 2021.09.10 will be automatically activated, and the service time will be valid until 2022.09.10. For equipment produced after this time, after the software is updated, a pop-up window will prompt to activate. Only after activation, some functions related to the server can be used normally. The validity period starts from the day of activation, and the validity period is one year.

FC200 V1.0.2.1 (2021.11.15)
1. Optimize the wiring diagram of BOOT mode of Bosch engine
2. Relaunch Bosch ME17.9.11 engine
3. Upgrade log for handling Spanish errors
4. Fix some bugs and optimize software performance

FC200 V1.0.2.0 (2021.11.02)
1. New ECU (Audi /Seat /Volkswagen /Skoda /Benz /Aston Martin /Aston /Maserati /Hyundai /Kia /Piaggio /Suzuki /Dacia /Renault /Smart /Ford /Opel / Saab /Vauxhall /Citroen /Jaguar /Land Rover /Peugeot) Read and write VIN: MED17.1.21, MED17.1.27, MED17.1.10, EDC17C66, MED17.7.7, MED17.7.5, MED17.3.4, EDC17C08, EDC17C57, ME17 .9.61, ME17.9.20, MED17.0.1, EDC17C19, EDC17CP42, MED17.4.2, MED17.9.9, MEDC17.9
2. New Bosch engine platform mode: MG1CS042
3. Optimize the password reading method of the boot mode of the doctor series engine
4. Optimized the operation interface of PFLASH calibration function
5. Fix some bugs and optimize software performance

FC200 New Software V1.0.1.0 (2021.09.11):
1. Added SH725XX gearbox computer clone: read and write MAPS, read and write EEPROM, backup data, and restore data.
(1) Support all ZF_8HP gearbox computer clones: Alfa Romeo /Alpina /Aston Martin /Audi /Bentley /BMW /Chrysler /Dodge /
Great Wall /Iveco /Jaguar /Jeep /Lamborghini /Land Rover /Mann /Maserati /Porsche /Rolls-Royce /VinFast /Volkswagen
(2) Support VW/Audi/Skoda/Seat DQ380/DQ381 gearbox computer clone
(3) Support Benz/Nissan 9GTronic (VGS-NAG3) gearbox computer clone
(4) Support MINI/Renault/BMW 7-speed dual-clutch (Getarg 7DCT) gearbox computer clone
2. Added BMW gearbox clone model:
DKG(TC1766): Read and write DFLASH, EXT DFLASH, PFLASH
3. Added ECU (Chevrolet, Opel, Vauxhall) to read and write VIN: EDC17C59
4. New sub-function of BMW 6HP: Erase reset function
5. Added Bosch engine boot mode: MEVD17.2.7
6. Added Delphi engine boot mode: CRD2.x TC1797, CRD3.x TC1797
7. Optimize the engine computer read and write speed
8. Fix some bugs and optimize software performance

FC200 ECU Programmer Powerful Functions:

1. Original parts Protection
FC200 supports OBD and platform mode for more than 98% ecu and egs, no need to open shell, no punch, protect origianal parts of the vehicle.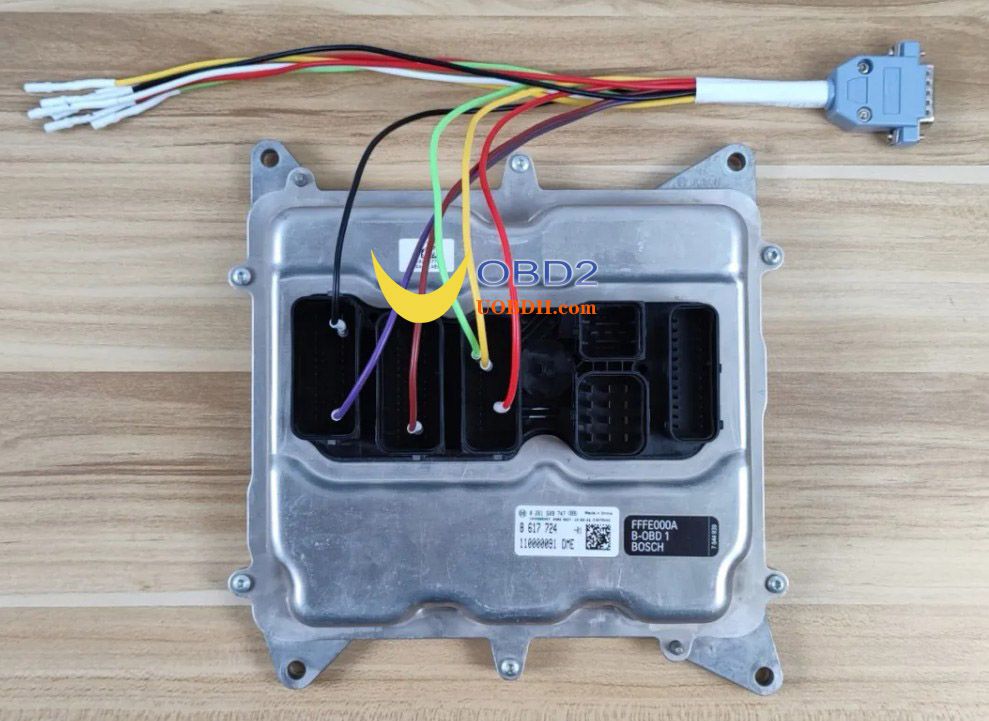 2. Smart Identification
The "identification" function can help users diagnose whether the ECU module is communicating and check whether the wiring is wrong.
If ECU module is not damaged and can be communicated, wiring is correct and identification is successful, can read chip and firmware information.

3. Module Clone
Supports ECU/EGS reading& writing and modules clone, synchronization matching free, no need online programming.
Flash data by area, automatically check, protect chips and modules furthest

4. ISN Reading and Writing
Supports all BMW series (including Mini) ECU ISN code acquisition , convenient for all keys lost matching and anti-theft fault maintenance.

5. VIN Writing
Solve the problem of double VIN or VIN mismatch of vehicles, convenient for vehicle maintenance.

6. Data Processing
Support data analysis and modification for the 4th and 5th generations of Audi/Seat/Skoda/Volkswagen ECUs
Turn off anti-theft system for Bosch MED/EDC17 series ECU
TPROT off function of Bosch VAG MEDC17 series, BMW/Mini MEVD17/EDC17 series, Hyundai/Kia EDC17/MED(G)17 series.

FC200 ECU Programmer Software Display:

1. Interactivate Software Interface
brand-model-engine/gearbox-ECU interface structure to help users save time and find the operating directory accurately.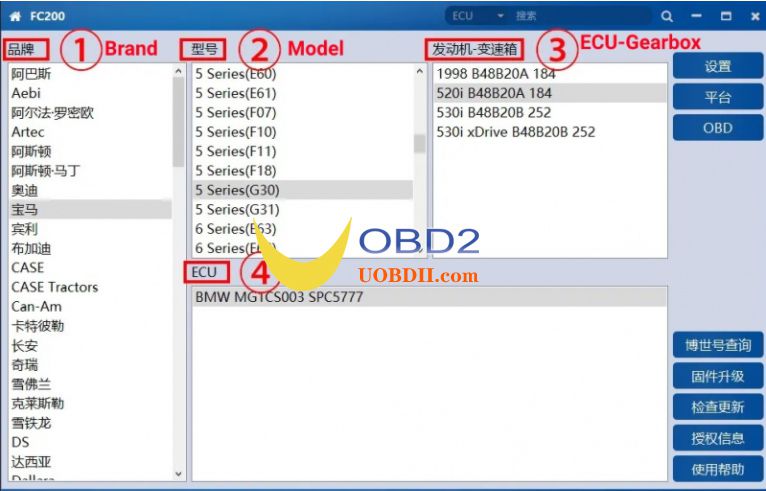 2. Built-in Model Search Function
Support ECU model and Bosch search by number, avoid the trouble of level selection, and enter the function interface as quickly as possible.

3. ECU Search
Take the BMW MSV90 ECU as an example, First select "BMW", selct "ECU" as the search condition, enter "MSV90",click the search button, and the ECU type will show up.
Same search procedure for Bosch ECUs.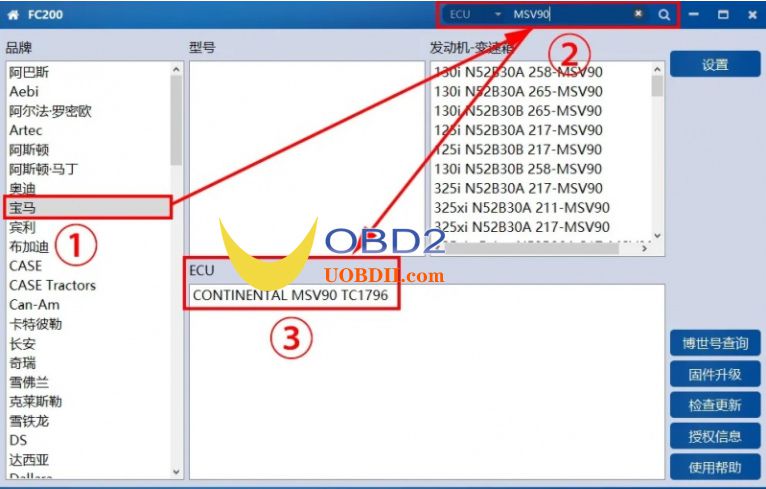 4. Visualized Wiring Diagram
1:1 simulation, bright colors, to avoid wiring errors.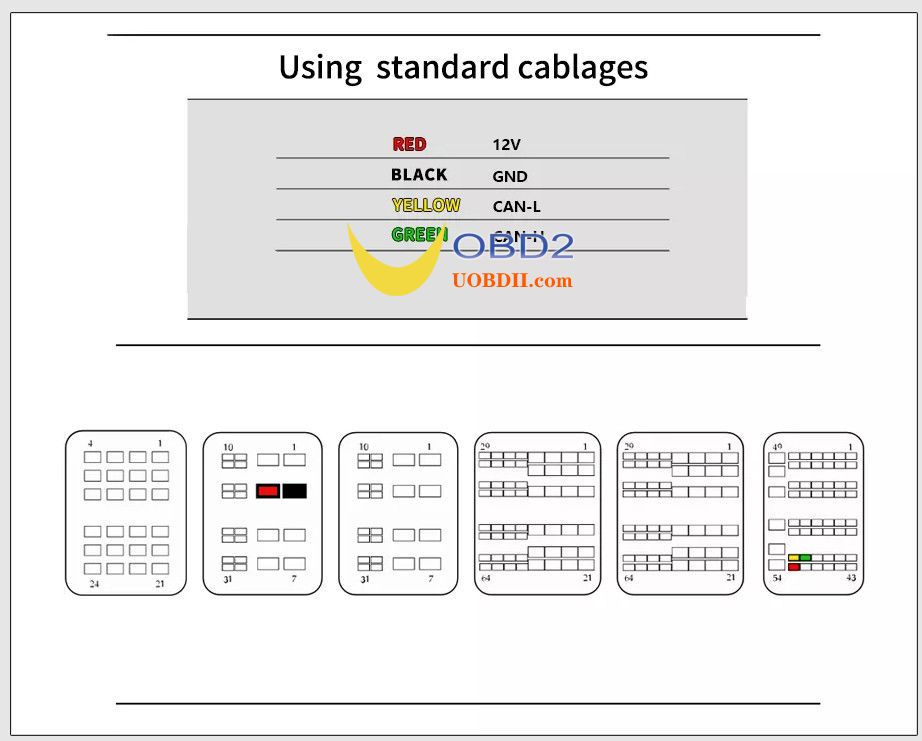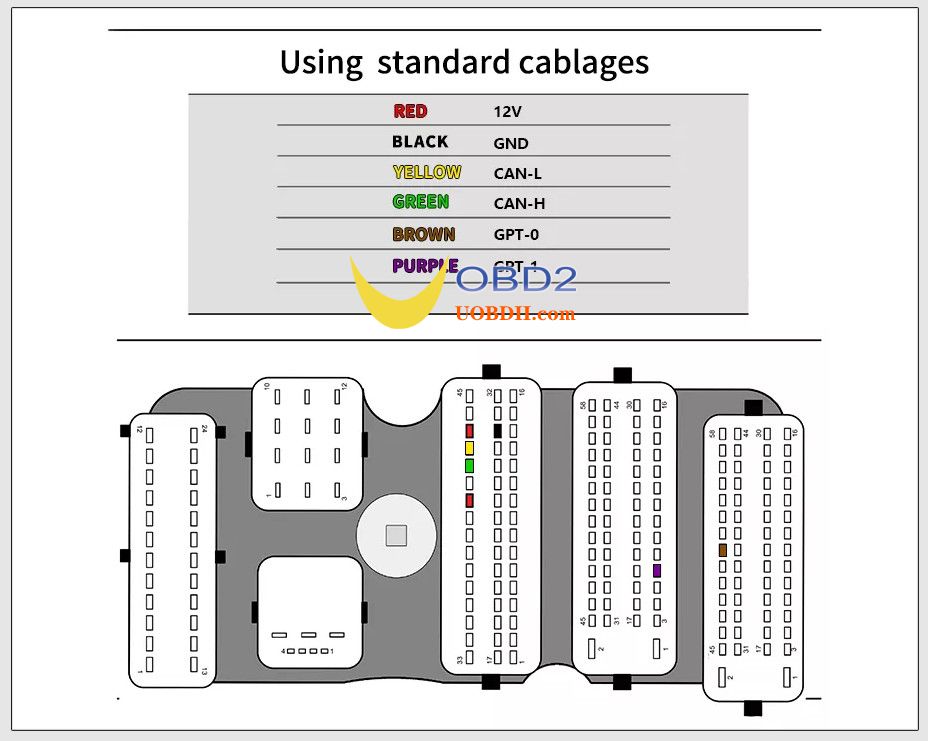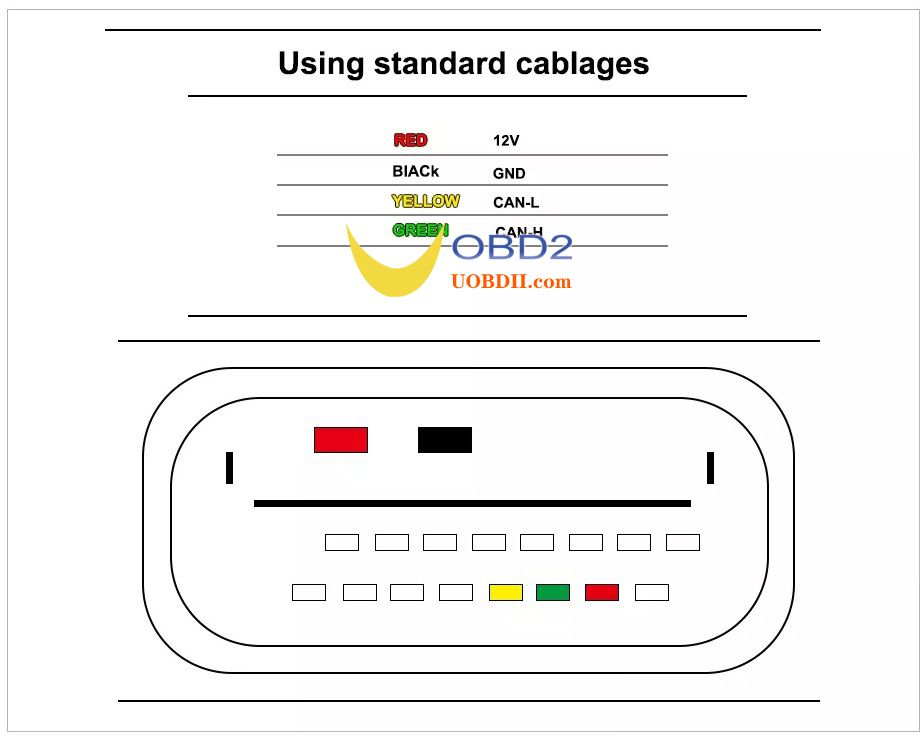 FC200 ECU Programmer Hardware:

FC200 Main Unit

1. Integrated injection of polymer materials, professional customized internal circuit boards, national patent certification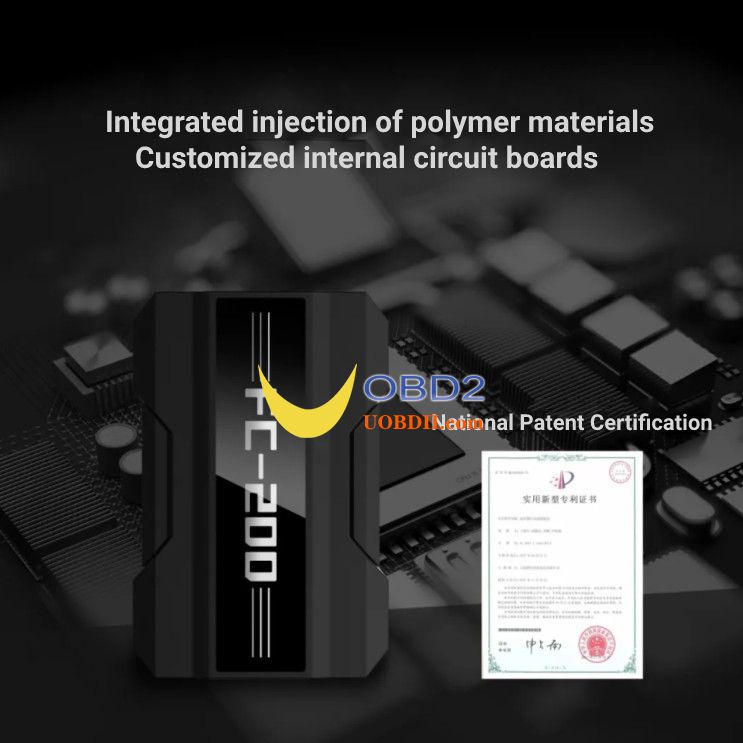 2. Exquisite design, easy to carry, can shield surrounding interference signals, adapt to various operating environments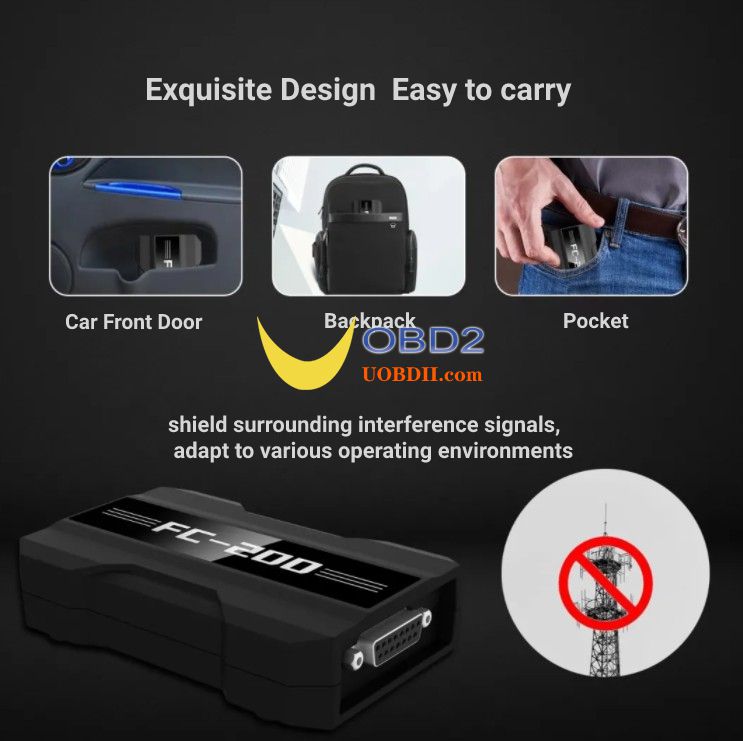 3. There are 3 expansion ports for peripherals, which are automatically diagnosed and identified. They are 12V power port, USB port and DB15 port.The DB15 port can be connected to a free-dismantling adapter and OBD cable.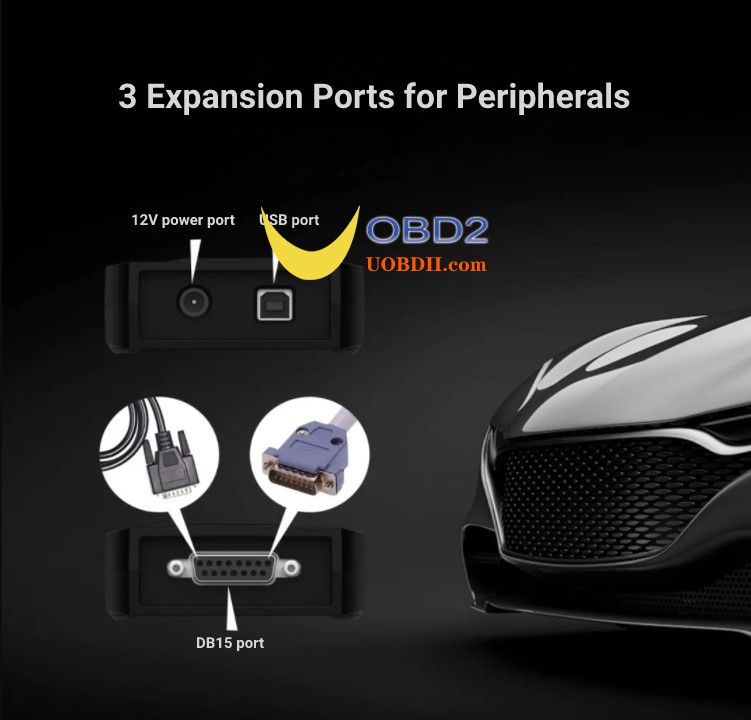 FC200 Adapters

1.Vehicle-grade wiring harness, made of synthetic metal, has excellent internal conductivity, and can be used continously for 10,0000 times.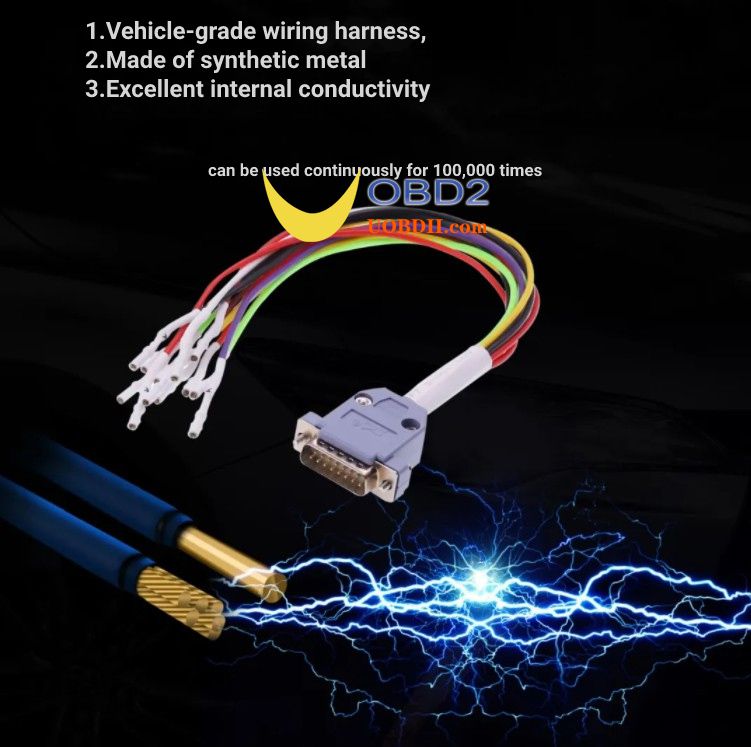 2. Tight design, seemless connection between ECU and host to ensure continuours communication and excort your operation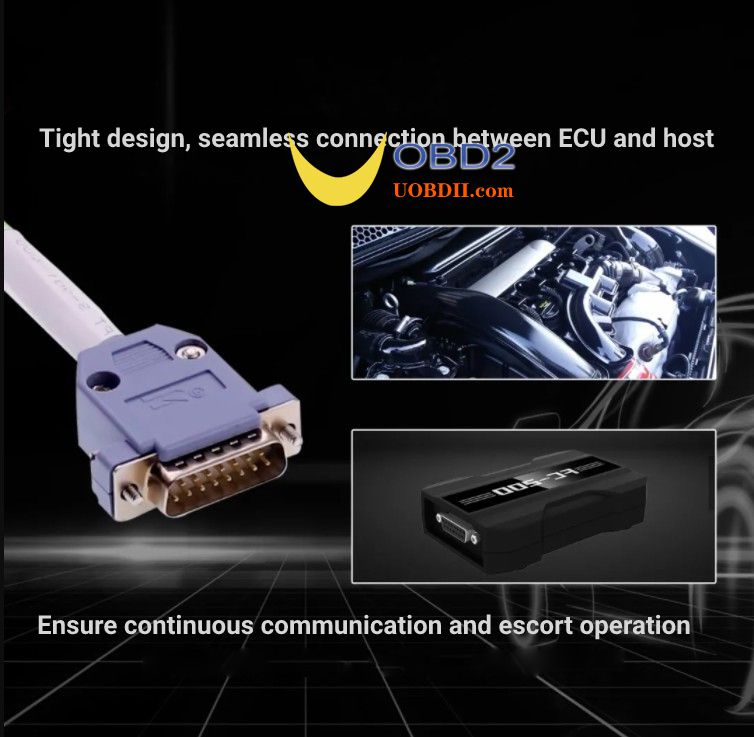 3. Equipped with B-type, C-type, D-type, F-type and G-Type pin interfaces, suitable for many types of ECU and EGS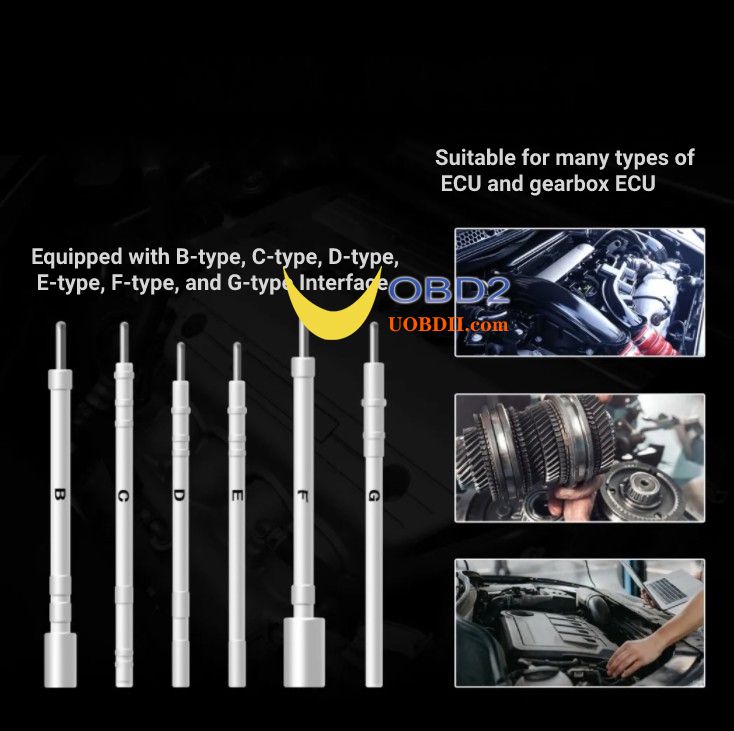 OBD2 Cable

FC200 OBD2 cable mainly suitable for BMW B48/B58 ECU at present, read ISN via OBD without disassembly.
110cm, made of synthetic material, resistant to high temperature water-proof, anti-corrosion is designed according to OBD port of the vehicles, built-in anti-falling buckle make connection stable