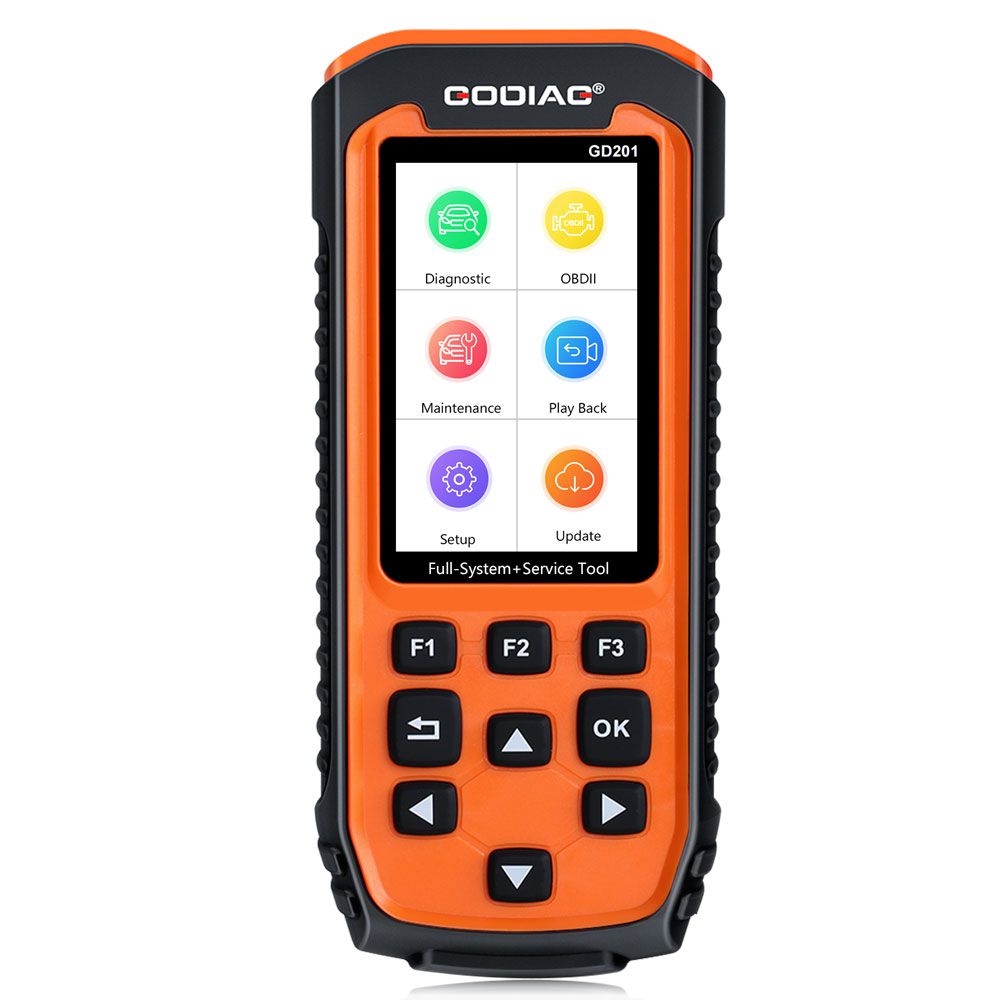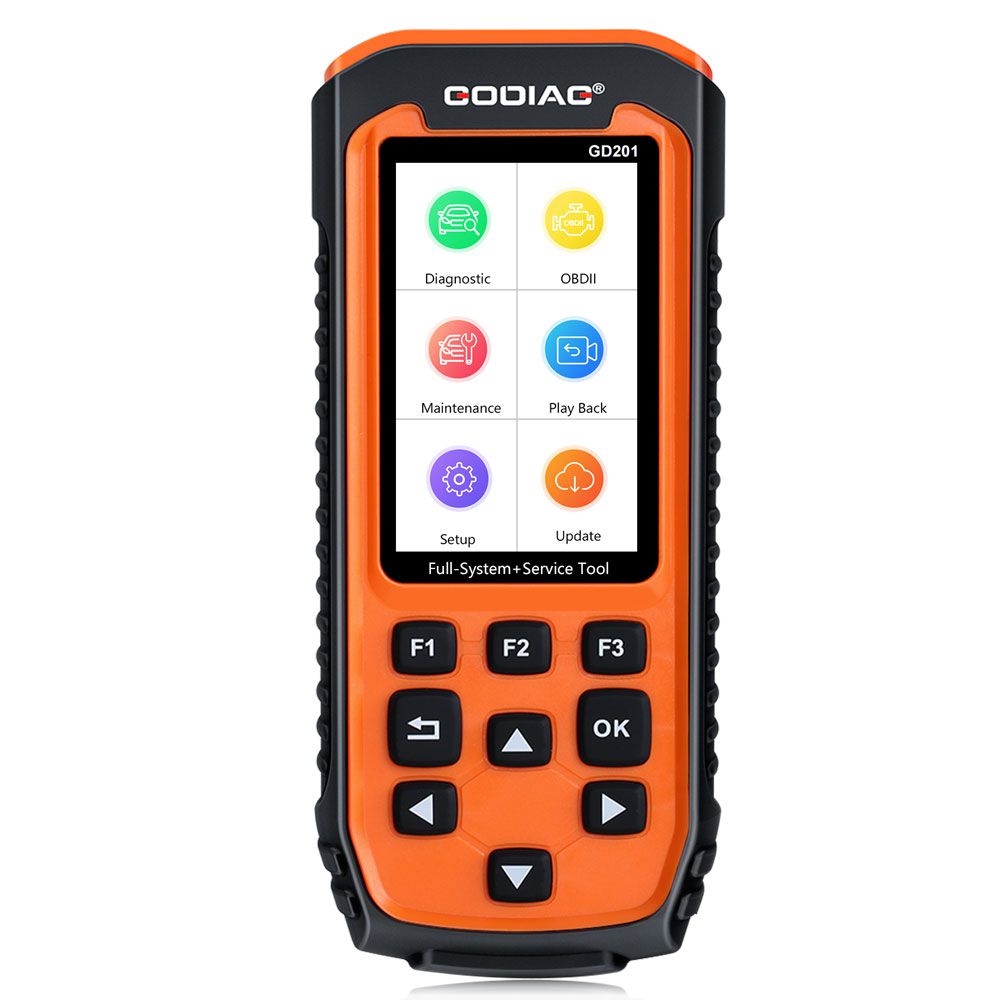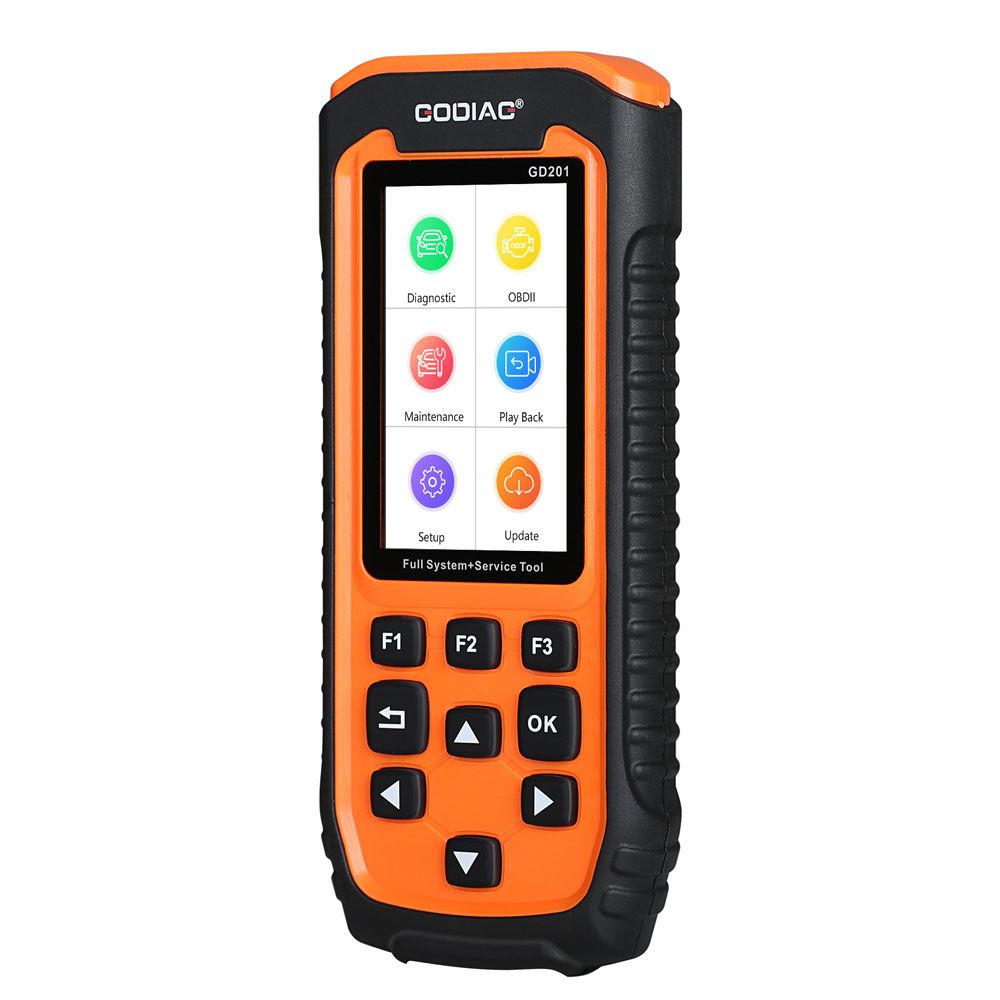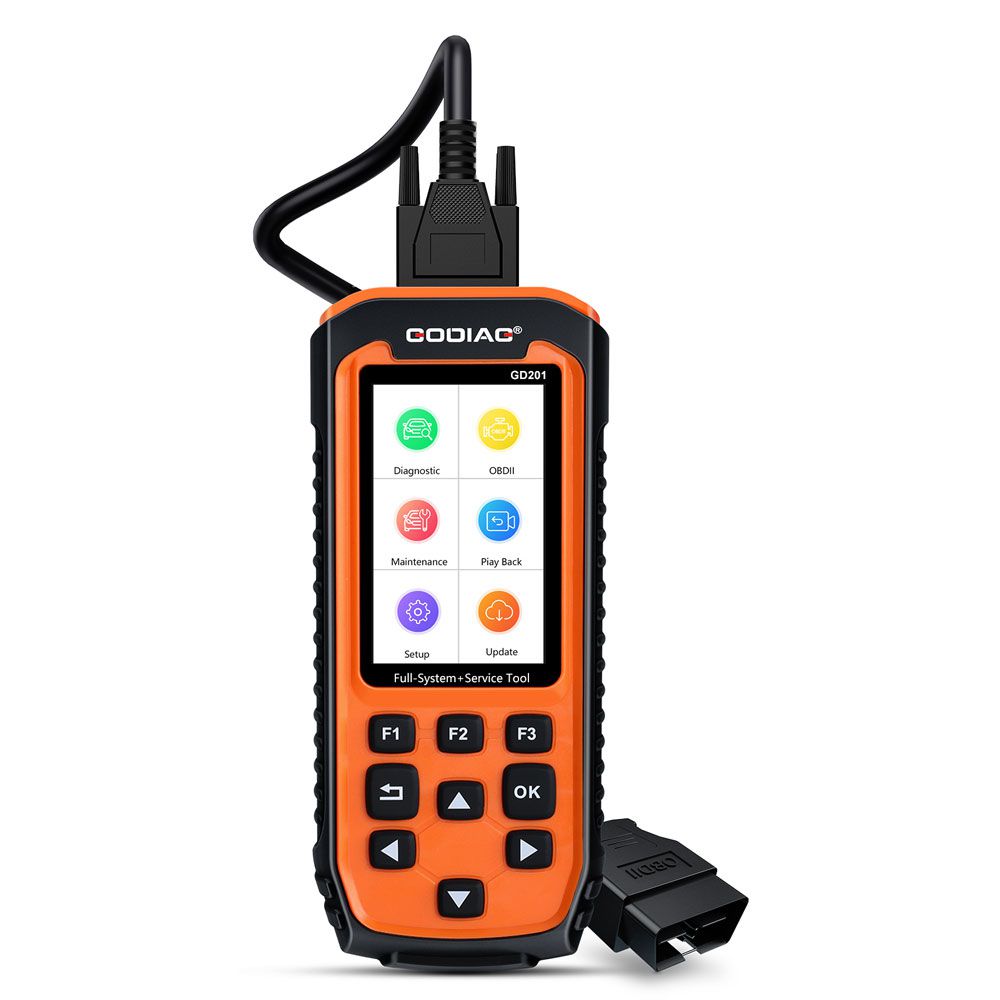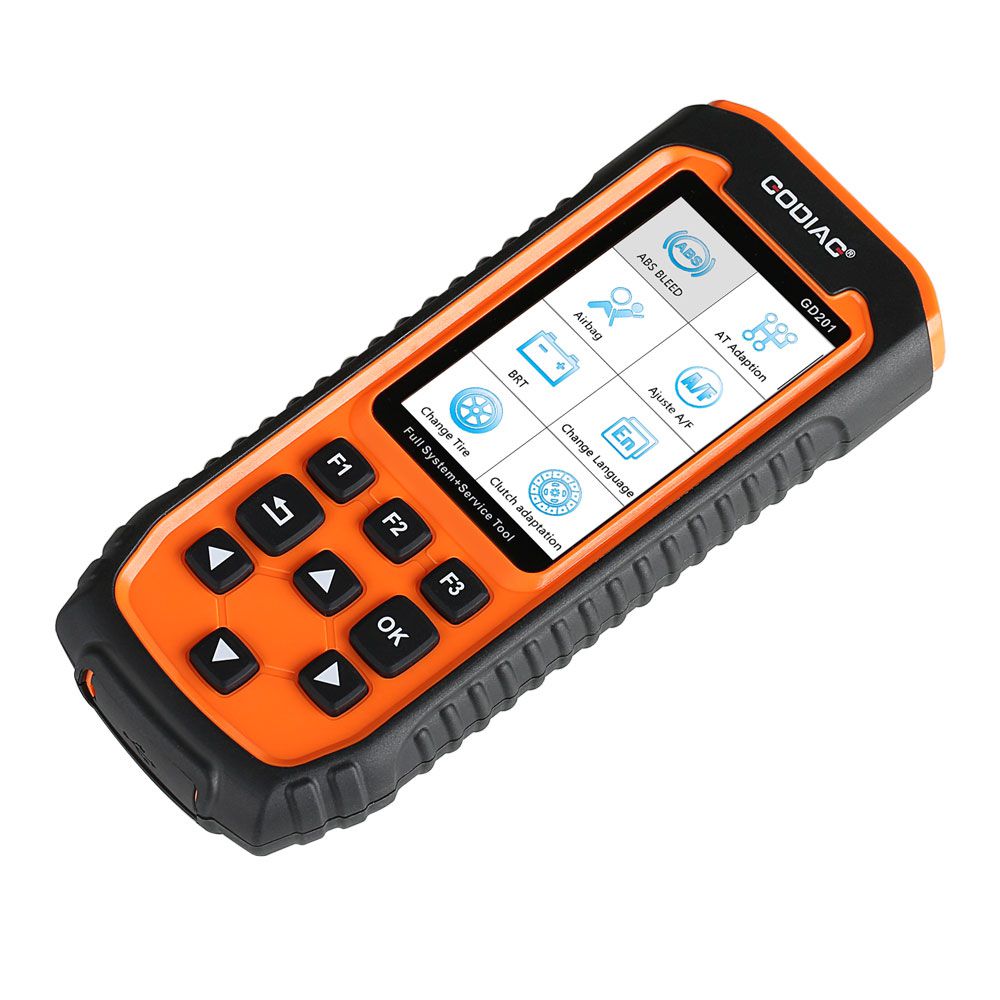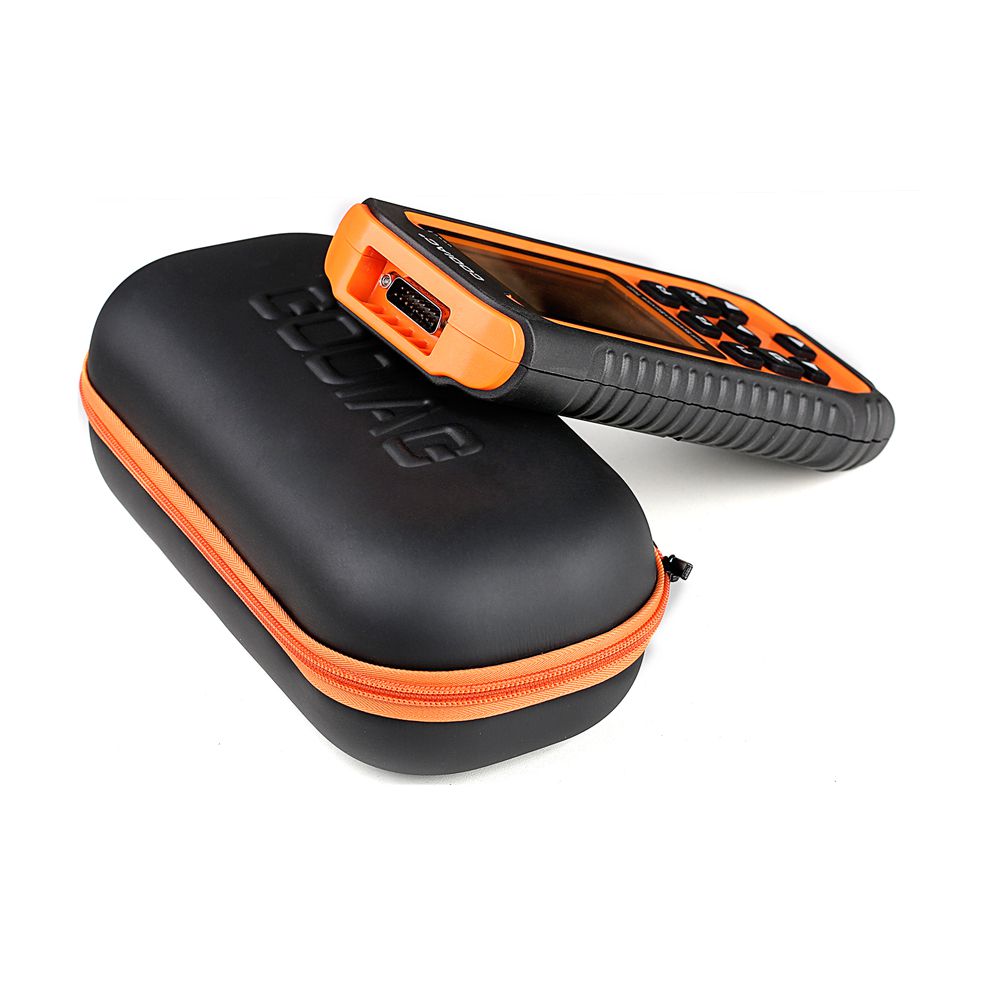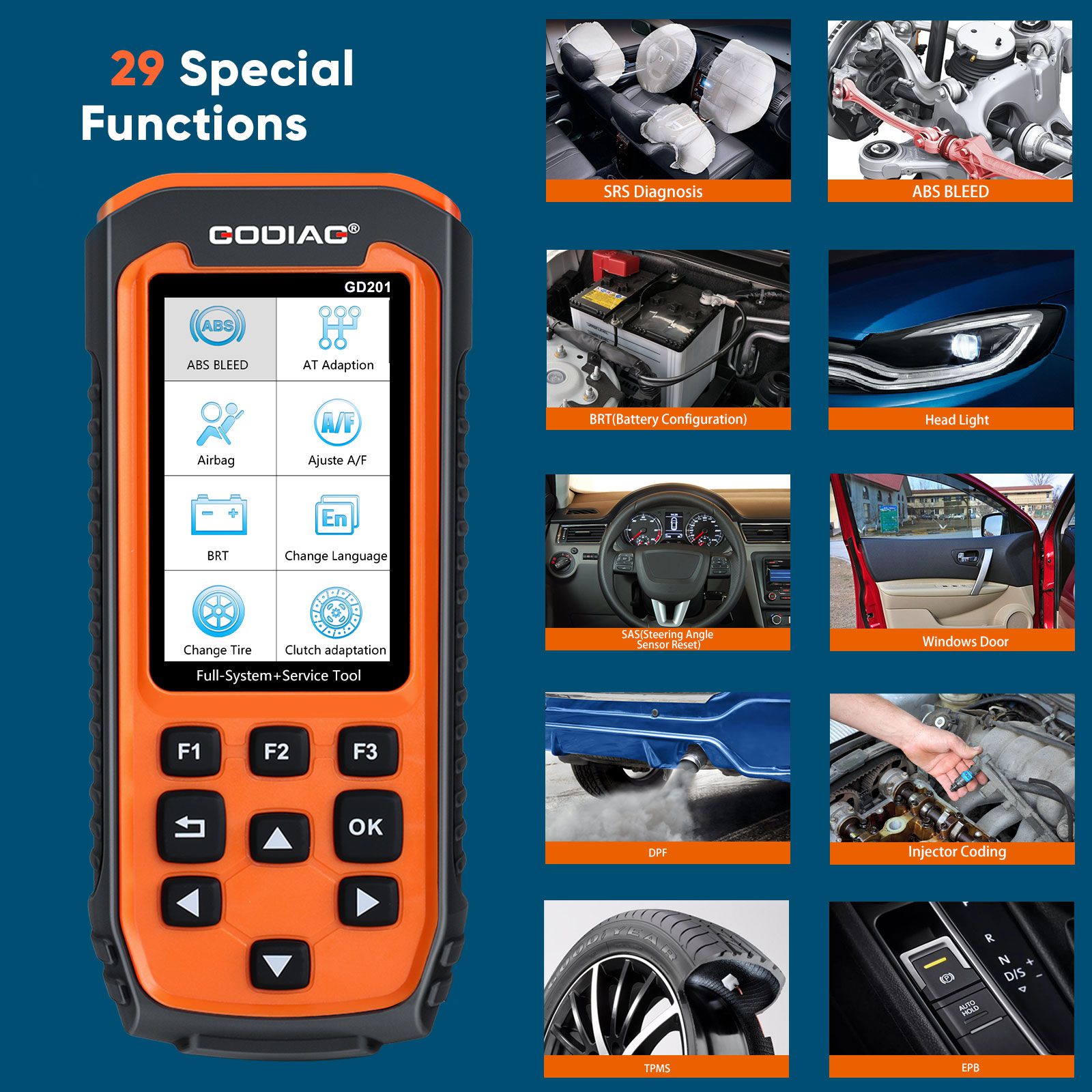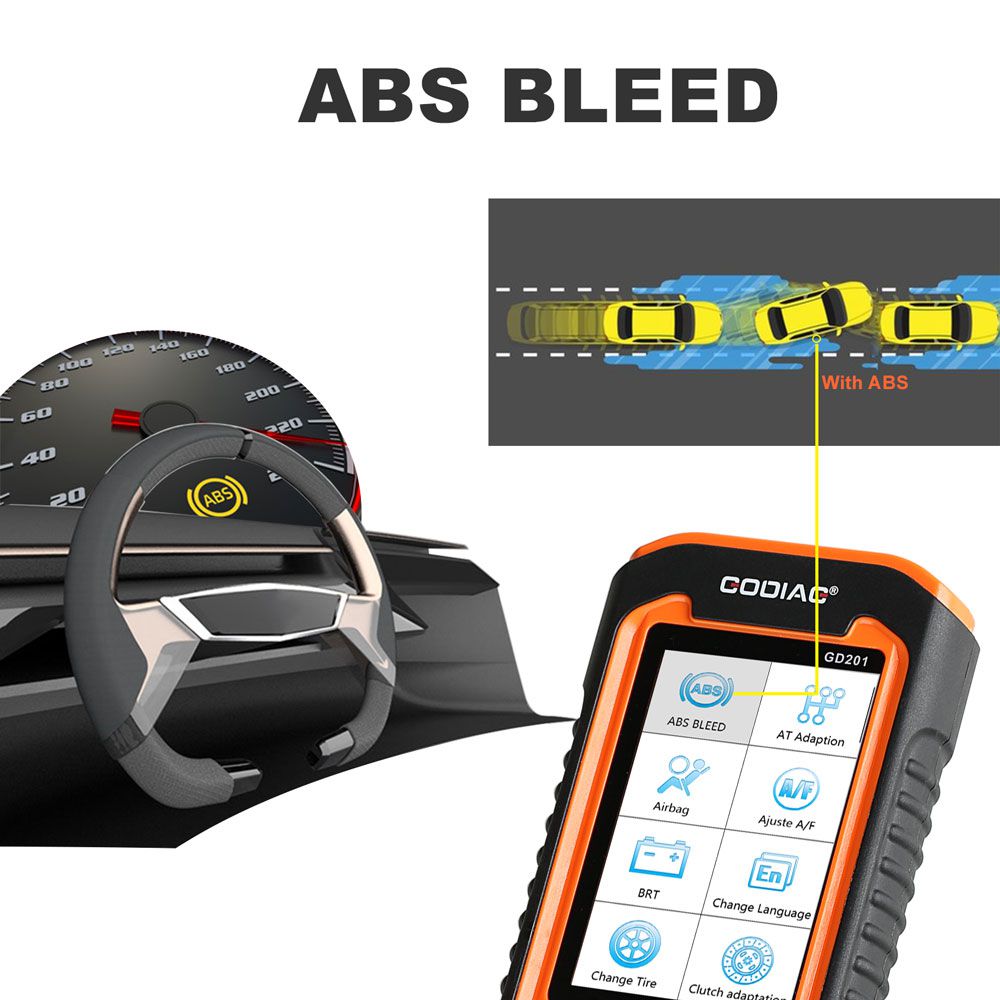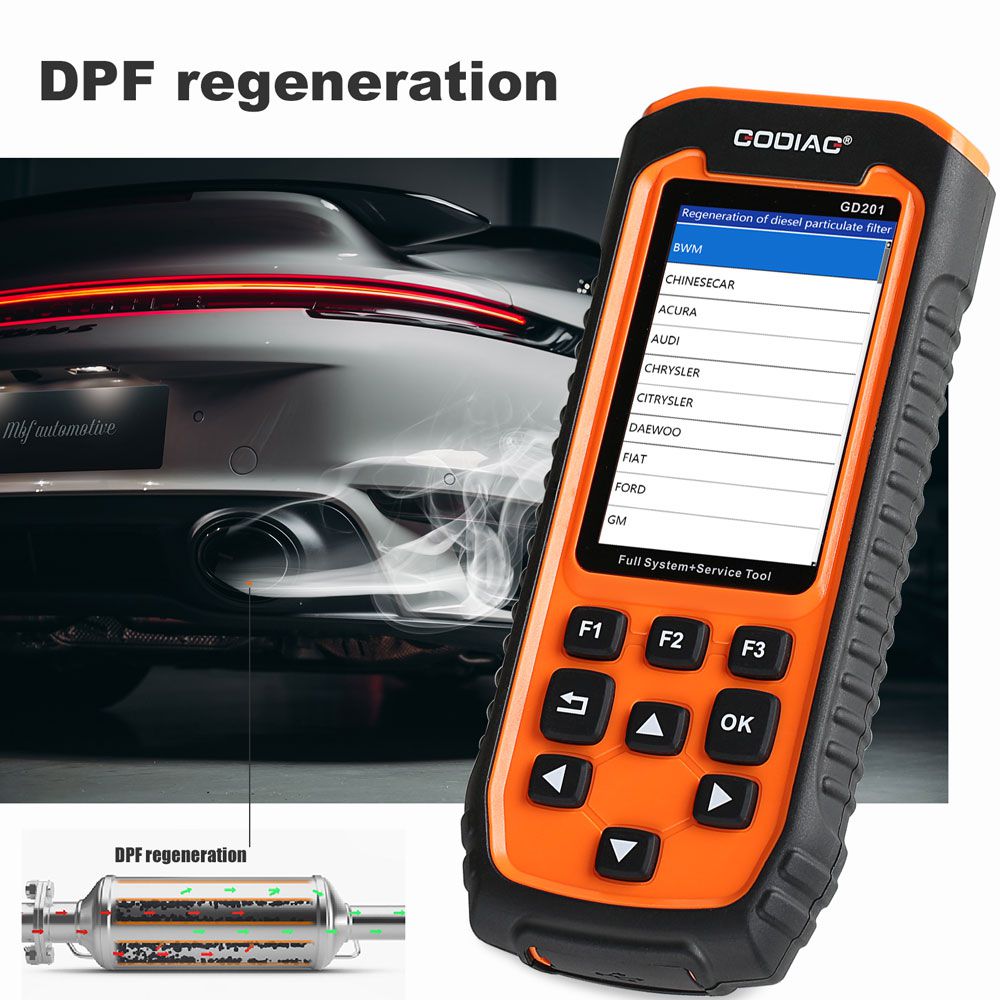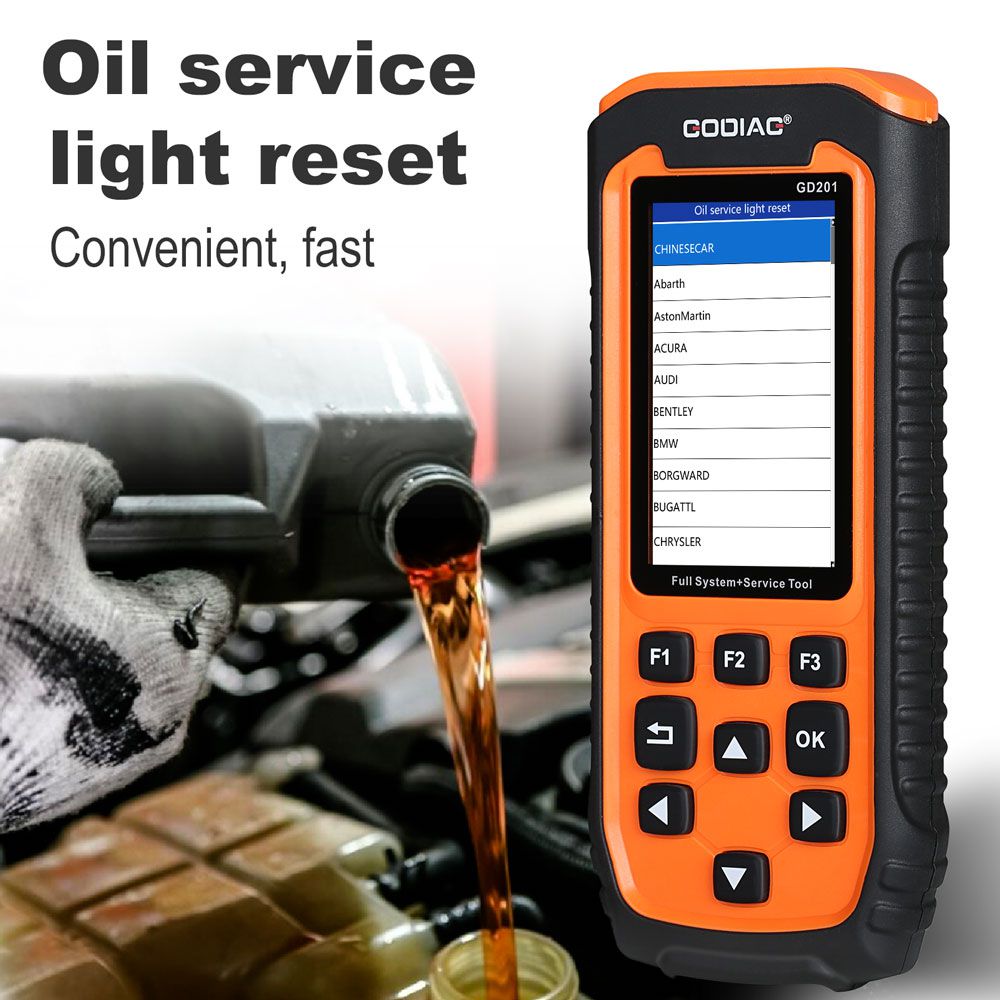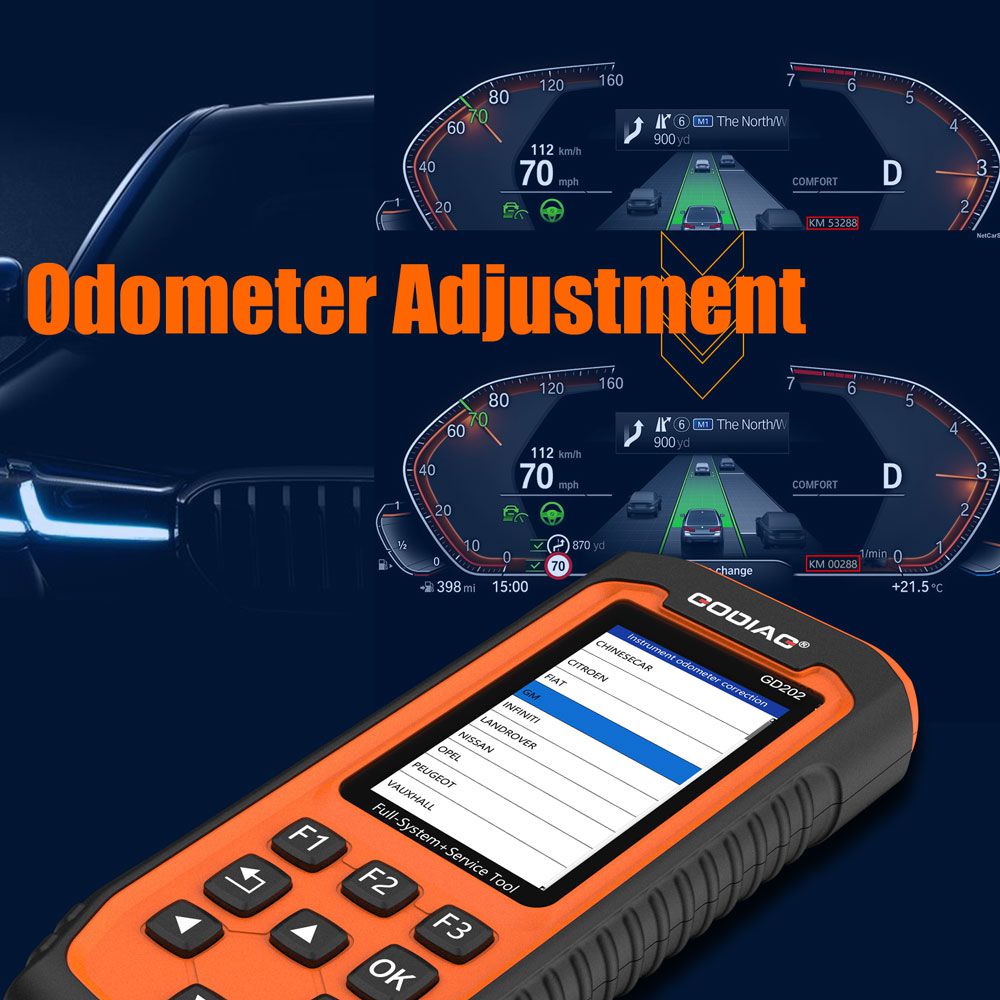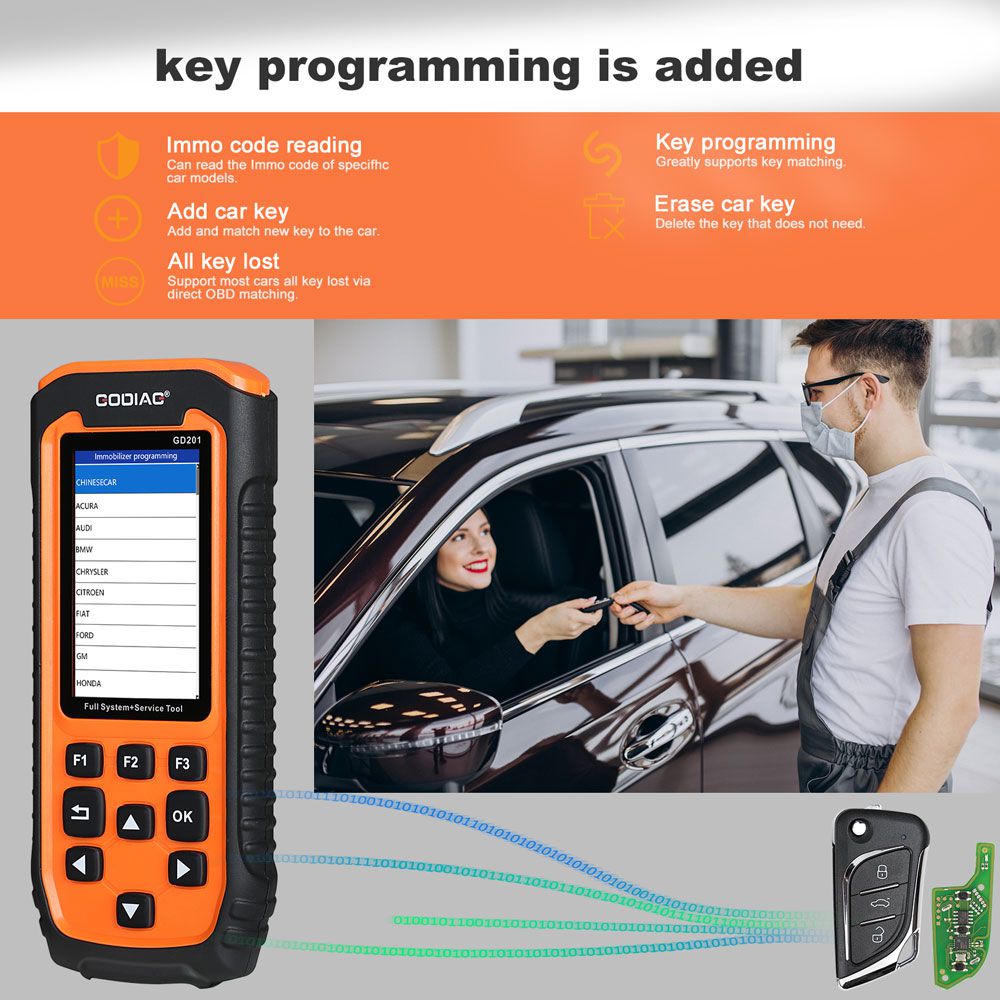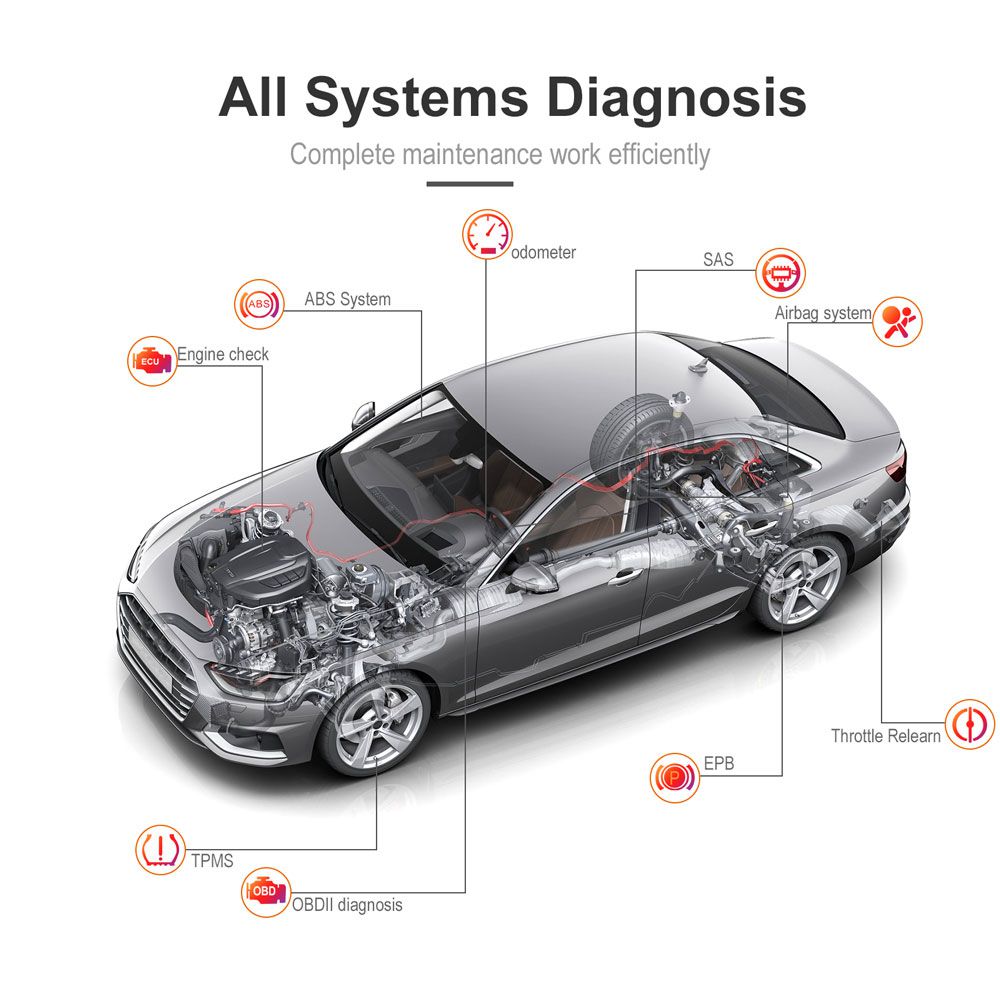 GODIAG GD201 Professional OBDII All-makes Full System Diagnostic Tool with 29 Service Reset Functions
GD201 provides workshops, technicians and enthusiasts alike affordable diagnostic solutions. Through hardware and software upgrades, technical staff can now approach problems with greater speed and accuracy.Comprehensive Diagnostic& Maintenance Serive ToolWide Vechicle CoverageLifetime free online updateMulti-languages
Shipping:

Express Shipping Service


Estimated delivery time: 3-15 Days.

See details »

Returns:

Return for refund within 7 days,buyer pays return shipping.

Read details »

Support:
Product Details

Product's Reviews
GODIAG GD201 Professional OBDII All-Makes Full System Diagnostic Tool with 29 Service Reset Functions
GODIAG GD201 is a professional level diagnostic handheld tool, offering comprehensive system coverage for a vast array of car manufacturers. Featured with all system diagnosis including engine, transmission, ABS,
airbag
, instrument, steering wheel, etc., and the most commonly required service features OIL,
EPB
, SAS, BRT,
ABS
&SRS diagnosis, TPA(TPS),
TPMS
,
DPF
, ODOMETER, Injector coding,
Gear learning
. GD201 is built to take your diagnostic experience to a new level.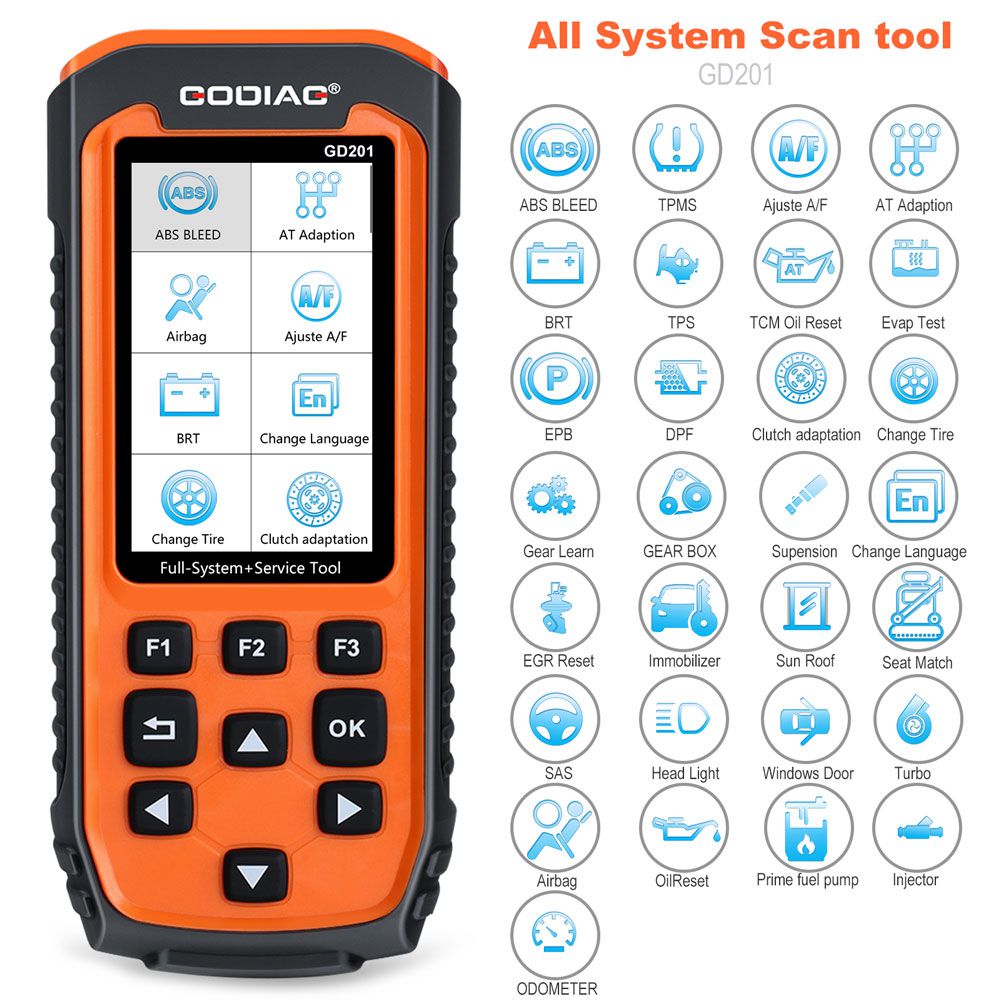 GODIAG GD201 Highlights:1. Comprehensive Diagnostic& Maintenance Serive Tool
Supports the most commonly used diagnostic and maintenance functions, which includes
OBDII
Engine Scan,transmission , oil reset,
ABS
SRS light reset,
EPB
reset,
DPF
regeneration, SAS Reset, BRT,
TPMS
reset, TPS, CVT, Injector,
Gear learning
, Exchange Odometer. It offers quick and easy solutions to everyday task in the workshop.
2.Wide Vechicle Coverage
Provides an easy and quick diagnosis on more than 80 American, Asian and European vehicle makes.
3. Lifetime free online update
You will always have the latest bug fixes, new vehicles, newly added parameters and functionality at your fingertips.
4.Multi-languages
English,Korea, Spanish, Portuguese, French, Thai, Hungarian, Swedish, Dutch, Japanese, Italian, Russian, German, Polish.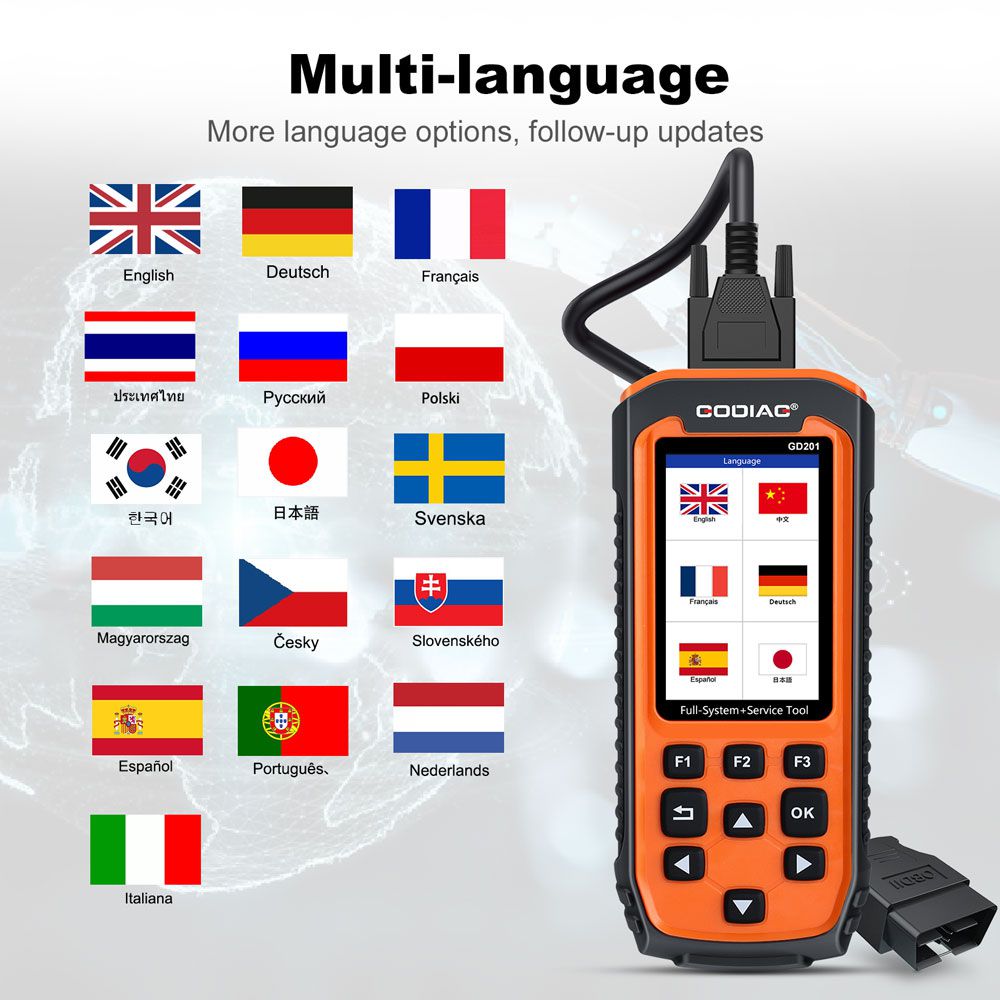 GODIAG GD201
Features and Benefits- Provides easy diagnosis on more than 80 vehicle makes
- Works on both OBDI and OBDII vehicles including the latest 2020/2021 models
- Identifies cars quickly and easily with one-key VIN reading
- Reads and clear codes and turns off MILs of all controllers
- Supports the most frequently performed services like
DPF
,
Gear learning
, etc
- Shows live vehicle sensors data in text and graph formats
- Merges interactive live sensor graphs for easy and intuitive diagnosis
- Records and playbacks your data-logs, including live sensor data and freeze data, to catch intermittent failures
- Extremely easy to use with clearly arranged keypad, menu-driven operation, shortcuts and 4.3"color display
- Multilingual menu options and codes for an international marketplace - English, French, German, Polish, Russian, Spanish and much more
- Life time free update lets you always have the latest bug fixes, new vehicles, newly added parameters and functionalities at your fingertips
- It is constructed to resist impact and damage in the tough workshop environment
GODIAG GD201 Functions IntroductionGodiag GD201 offers Diagnostic on all systems
Quick scan all electronic control modules including: Engine System; Powertrain System;
airbag
s System;
ABS
System; Transmission System; Brake System; Alarm System; Air Conditioning System; Door&Window System; Keyless Entry System;
TPMS
System; Steering System; Wheel System; Fuel System; And any other systems that controlled the car computer.
29 Common Service &Maintenance Functions

1. ABS & SRS Diagnostic
ABS Test – tests ABS motors, solenoids, solenoid enable relays, E
MB
s, and more.
ABS Version Test – displays the name of the brake system and the ABS controller version nu
MB
er, software ID, and sequence value.
Actuator Test – tests AYC valves, inlet valves, outlet valves, pump motors, and TRACS valves.
Auto Bleed Test– removes air from the internal brake fluid cha
MB
ers after servicing the brakes
2. Oil Service Reset
If the service lamp is on, you must provide service for the car. After service, you need to reset the driving
mileage
or driving time so that the service lamp turns off and the system enables the new service cycle.
Or After changing engine oil or electric appliances that monitor oil life, you need to use vident tools reset the service lamp.
3. EPB, Electronic Parking Brake
Allows you to perform the service and maintenance of brake systems,including deactivation and activation of the brake control system, bleeding brake fluid, opening and closing brake pads, and setting brakes after disc or pad replacement, on multiple brands of vehicles where electronic brake systems are fitted.
Brake pad replacement:
1.If the brake pad wears the brake pad sense line, the brake pad sense line sends a signal sense line to the on-board computer to replace the brake pad. After replacing the brake pad, you must reset the brake pad. Otherwise, the car alarms.
2.Reset must be performed in the following cases:
a) The brake pad and brake pad wear sensor are replaced.
b) The brake pad indicator lamp is on.
c) The brake pad sensor circuit is short, which is recovered.
d) The servo motor is replaced.
4. BRT, Battery Replacement
Use the car diagnostic device to reset the car battery monitoting unit to clear original fault information about insufficient battery electric quantity, and match the battery again and monitor battery based on current battery information.
Battery matching
must be performed in the following cases:
a) Main battery is replaced.
Battery matching
must be performed to clear original electric quantity insufficiency information and prevent the related control module from detecting false information. If the related control module detects false information, it will invalidate some electric auxiliary functions, such as automatic start&stop function, sunroof without one-key trigger function, power window without automatic function.
b) Battery monitoring sensor.
Battery matching
is performed to re-match the control module and motoring sensor to detect battery electric quantity use information more accurately, which can avoid the instrument panel displaying false information.
5. Throttle Position Sensor(TPS)- Electronic throttle sensor reset
Using the throttle position sensors in the throttle body, the
ECU
learns the full open and full closed positions through various states (idle, part throttle, WOT) known as a Throttle Body Alignment (TBA).
Throttle matching must be performed in the following cases:
a) The ECU is replaced and the
ECU
does not yet store throttle working features.
b) The ECU is disconnected and the
ECU
memory is lost.
c) The throttle assembly is replaced.
d) The intake passage is replaced or removed, which affects idle speed control by ECU and throttle body.
e) The throttle is cleaned. Although the idle throttle potentiometer features are not changed, with the same throttle opening, the intake quantity has changed and idle speed control features have changed.
6. SAS, Steering Angle Sensor Calibration
Let you perform calibration of the Steering Angle Sensor.
Steering angle reset:
1.To reset the steering angle, first find the relative zero point position for the car to drive in straight line. Taking this position as reference, the ECU can calculate the accurate angle for left and right steering.
2.After replacing the steering angle position sensor, replacing steering mechanical parts (such as steering gearbox, steering column, end tie rod, steering knuckle), peforming four-wheel alignment, or recoving car body, you must reset the steering angle.
7. CVT Reset
This function is used to reset the compensation code and initialize the ECT after a solenoid valve or valve body assembly has been replaced
8. Gear Learning
Crankshaft position sensor adaptive learning.
9. DPF, Diesel Particulate Filter Regeneration
DPF regeneration is used to regularly clear PM (particulate matter) from the trap in combustion oxidation mode (such as high temperature heating combustion, fuel additive or catalyst reduce PM fire point combustion) to stabilize trap performance.
DPF regeneration matching must be performed in the following cases:
a) The bleeding backpressure sensor is replaced.
b) The PM trap is removed or replaced.
c) The fuel additive injector is removed or replaced.
d) The catalytic oxygenizer is removed or replaced.
e) The DPF regeneration MIL is on and maintenance is performed.
f) The DPF regeneration control module is replaced.
10. Tire pressure sensor reset(TPMS)
Tire pressure reset:
1.After the tire pressure MIL turns on and maintenance is performed, the tire pressure resetting function must be performed to reset tire pressure and turn off the tire pressure MIL.
2.Tire pressure resetting must be performed after maintenance is performed in the following cases: tire pressure is too low, tire leaks, tire pressure monitoring device is replaced or installed, tire is replaced, tire pressure sensor is damaged, tire is replaced for the car with tire pressure monitoring function
11. Injector Coding
Write injector actual code or rewrite code in the ECU to the injector code of the corresponding cylinder so as to more accurately control or correct cylinder injection quantity.
After the ECU or injector is replaced, injector code of each cylinder must be confirmed or re-coded so that the cylinder can betteridentify injectors to accurately control fuel injection.
12. Odometer calibration
1.Instrument panel mileage calibration is used to copy, write, or rewrite mileages. That is, use the car diagnostic computer and data line to copy, write, or rewrite chip data on the instrument panel to make the instrument panel display actual
mileage
s.
2.Usually, when the vehicle speed sensor is damaged or the mileage is incorrect due to instrument panel faults, you must perform
mileage
calibration after maintenance.
13. A/F Adjust
Correspondingly change the fuel supply to change the steam production of boiler and maintain the energy balance in the combustion process.
14. ABS Test/Bleeding
ABS Test – tests ABS motors, solenoids, solenoid enable relays, E
MB
s, and more.
ABS Version Test – displays the name of the brake system and the ABS controller version nu
MB
er, software ID, and sequence value.
Actuator Test – tests AYC valves, inlet valves, outlet valves, pump motors, and TRACS valves.
Auto Bleed Test– removes air from the internal brake fluid cha
MB
ers after servicing the brakes
15. Seat Macth
A memory seat is essentially an electrically-adjustable car seat which can be moved into pre-set positions at the push of a button. As a result of the removal of the DCC fuse, the 'driving position memory' function of the driver and passenger side seat will be inoperative due to the loss of seat position memory stored in the seat ECU. The seat (position control) ECU may need to be initialized if the
Seat
memory settings cannot be recorded.
16. Prime Fuel Pump
1.The program can detect the Prime Fuel Pump function.
2.Air often gets into the fuel line when a diesel vehicle change fuel or assembly fuel system. This causes a vehicle to have problems starting, forcing you to 'prime' the fuel system to remove the air.
17. Clutch adaptation:
Importance of clutch pedal free-play. Anything less than the correct amount of free play (or clearance) will result in clutch slip, because the pressure plate will be unable to exert its full pressure on the friction plate, clutch linkage adjustment to compensate for clutch wear
18. Language Change
This routine is to change language displayed in the instrument.
19. Windows door
When replacing door glass and after battery replacement on certain year, make, model vehicles special steps need to be taken in order to properly replace and reprogram the vehicle so the electric windows work properly, the door window glass position can be learned by executing this routine, which enables pinch protection and one touch up function.
20. Turbo
This routine is required if the secondary turbo charger is replaced. This will learn the offset values for the turbine shut-off valve.
21.Adaptive Front Lighting System(AFS)Headlamp matching:
This function is used to initialize the adaptive headlight system. The adaptive headlight system determines whether to automatically turn on the headlight according to ambient light intensity, monitors driving speed and body posture, and adjusts the headlight lighting angle.
22. Sunroof initialization
This function is used to set sunroof lockup close, close on rainy days, slide/tilt sunroof memory function, outside temperature threshold, etc.
23. Suspension Matching
1.This function is used to adjust car body height.
2.When the car body height sensor and control module in the air suspension system are replaced or the car level is incorrect, perform this function to adjust the car body height sensor for horizontal calibration.
24. Immobilizer
Anti-theft matching:
1.To prevent the car being used by unauthorized keys, the anti-theft key matching function must be performed so that the
Immobilizer
control system on the car identifies and authorizes remote control keys to normally use the car.
2.When the ignition switch key, ignition switch, combined instrument panel, ECU, BCM, or remote control battery is replaced, anti-theft key matching must be performed.
25. EGR
This Function Is Used To Learn The EGR (Exhaust Gas Recirculation) Valve After It Is Cleaned Or Replaced.
26. Change Tire Size
The vehicle's computer calculates your vehicle's speed based on the diameter of the stock tires. After changing the tire size, the vehicle's computer doesn't know how fast your vehicle is running, which will affect speedometer accuracy or transmission shift time. This routine is to recalibrate speedometer after changing the tire size.
27. AT Adaption
After each repair or transmission service, the transmission adaptation control will cause the Transmission Control Module (TCM) to relearn the change in transmission tolerances to improve the transmission quality, and to adjust the transition of the gear shift according to the driving style.
This procedure is used to clear the adaptive values in the transmission control unit. This may be required when changing the transmission, downloading software, or performing any other gearbox-related activity.
This command allows the adaptive shift points to be relearnt. CAUTION: Refer to workshop manual for correct procedure.
28. Replace Aibbag ECU
This program can be executed to replace the
airbag
ECU module.
29. Evaporative test
The EVAP system monitor checks for fuel vapor leaks by performing either a pressure or vacuum test on the fuel system. This routine is will create a positive pressure in the tank to determine if there are any leaks in the fuel system.
30. Gearbox matching
1.This function is used to learn the gearbox to improve shift quality.
2.After the gearbox is dismounted or repaired (after battery powered off for some car series), shift delay or impact is caused. In this case, perform this function to make the gearbox compensate automatically according to driving conditions so as to reach more comfortable and ideal shift quality.
GODIAG GD201 Supported Car List:
Diagnostic Functions

America Coverage:
Chrysler, FORD, GM, Brazilian GM (For Brazilian Market Only)

Asian Coverage:
Au FORD (For Australian Market Only), Acura, Daewoo, Daihatsu, HONDA, Holden (For Australian Market Only), Hyundai, Hyundai_CV, Infiniti, Isuzu, Kia, Lexus, Mahindra, MAZDA, Mitsubishi, Nissan, Perodua, Proton, Ssang Yong, Scion, Subaru, Suzuki, TATA, TOYOTA

European Coverage:
Abarth, Alfa-Romeo, Aston Martin, Audi, Bentley, BMW, Bugatti, Citroen, Dacia, EU FORD, Fiat, Ferrari, Jaguar, Lamborghini, Lancia, Land Rover, Maserati, Maybach, Mercedes Benz, Mini, Opel, Peugeot, Porsche, Renault, Rolls-Royce, Saab, Seat, Skoda, Smart, Sprinter, Vauxhall, VOLVO, VW, VW_CV

Maintenance Functions

Oil Light/Service Reset

Abarth, Acura, Alfa Romeo, Aston Martin, Audi, Bentley, BMW, Bugatti, Chrysler, Citroen, Dacia, Ferrari, Fiat, Ford, GM, Holden, HONDA, Hyundai, Infiniti, Isuzu, Jaguar, Kia, Lancia, Land Rover, Lexus, Maserati, MAZDA, Mercedes Benz, Mini, Mitsubishi, Nissan, Opel, Peugeot, Porsche, Renault, Rolls-Royce, Saab, Scion, Seat, Skoda, Smart, Sprinter, Subaru, Suzuki, TOYOTA, Vauxhall, Volkswagen, VOLVO

EPB

Abarth, Acura, Alfa, Audi, Bentley, Bjxd, BMW, Bugatti, Byd, Chery, Chrysler, Citroen, Daewoo, Dfcitroen, DfHONDA, DfPeugeot, Faw-Besturn, Ferrari, Fiat, Ford, GM, Gqhonda, GqTOYOTA, Hc BMW, Honda, Hyundai, Jaguar, Kia, Lamborghini, Lancia, Landrover, Lexus, Maserati, Maybach, MAZDA, Mercedes-Benz, Mini, Opel, Peugeot, Porsche, Renault, Rolls-Royce, Romeo, Saab, Scion, Seat, ShVW, Skoda, Subaru, Toyota, VW, Vauxhall, VOLVO

BRT

Audi, BMW, Citroen, Ford, Holden, Hyundai, Infiniti, Jaguar, Land Rover, Lexus, Mazda, Mini, Mitsubishi, Nissan, Opel, Peugeot, Porsche, Renault, Seat, Skoda, Toyota, Volvo, VW

DPF

Acura, Alfa Romeo, Audi, Bentley, BMW, Bugatti, Chrysler, Citroen, Dacia, Daewoo, Fiat, GM, Holden, Hyundai, Honda, Infiniti, Jaguar, Kia, Lancia, Land Rover, Lexus, Maserati, Maybach, Mazda, Mercedes Benz, Mini, Mitsubishi, Nissan, Opel, Peugeot, Porsche, Renault, Rolls-Royce, Scion, Seat, Skoda, Sprinter, Subaru, Toyota, Vauxhall, Volkswagen, VOLVO

TPS/TBA

Acura, Audi, BMW, Brilliance, BYD, Chery, Citroen, Daewoo, Ford, Geely, GM, Great-Wall, Honda, Hyundai, Infiniti, JAC, Kia, Land Rover, Lexus, Lincoln, Mitsubishi, Nissan, Opel, Peugeot, Porsche, Saab, Seat, Skoda, Toyota, VW

SAS

ACURA, ALFA ROMEO, AUDI, BJXD, BMW, BYD, CHANGAN FORD, CHRYSLER, CITROEN, DACIA, DAIHATSU, DAEWOO, DFFX, DF NISSAN, DFPV, DF YUEDA, FAW CAR, FERRARI, FIAT, FORD, GEELY, GM, GREAT WALL, GQ TOYATA, HAIMA, HC BMW, HONDA, HYUNDAI, INFINTI, JAC, JAGUAR, KIA, LANCIA, LAND ROVER, LEXUS, MASERATI, MAYBACH, MAZDA, MERCEDES-BENZ, MINI, MTSUBISHI, NISSAN, OPEL, PEUGEOT, PORSCHE, RENAULT, SCION, SEAT, SH VW, SKODA, SUBARU, TOYOTA, VAUXHALL, VOLVO, VW

CVT

Mitsubishi, Nissan, Toyota

Gear Learning

Chery, GM

TPMS

Acura, Audi, BMW, Chrysler, Citroen, Ferrari, Fiat, Ford, GM, Honda, Holden, Hyundai, Infiniti, Jaguar, Jeep, Kia, Lancia, Land Rover, Maserati, Mazda, Mercedes Benz, Mini, Mitsubishi, Opel, Peugeot, Porsche, Renault, Scion, Seat, Skoda, Smart, Subaru, Suzuki, Toyota, Volvo, VW

Odometer

Citroen, Fiat, GM, Infiniti, Landtover, Nissan, Opel, Roewe, Vaixjall, Peugeot

Injector Coding

Acura, Audi, Bentley, BMW, Bugatti, Chery, Chrysler, Citroen, Dfcitroen, Dfpeugeot, Creat Wall, Dfhonda, Fiat, Ford, GM, Gqhonda, Honda, Hyundai, Inifiniti, Isuzu, Jaguar, Kia, Lamborghini, Lancia, Landrover, Lexus, Mahindra, Mazda, Mercedes- Benz(Passenger Car), Mini, Mitsubishi, Nissan, Opel, Peugeot, Porsche, Renault, Romeo, Scion, Seat, Skoda, Smart, Ssangyong, Subaru, Suzuki, Toyota , Volvo, VW
Immobilizer
Acura, Audi, BMW, Chery, Chrysler, Citroen, Fiat, Ford, Geely, GM, Honda, Hyundai, Infiniti, Isuzu, Jac, Jaguar, Kia, Lancia, Landrover, Lexus, Mazda, Mercedes-Benz, Mitsubishi, Nissan, Nissan Zhengzhou, Peugeot, Renault, Romeo, Scion, Seat, , Skoda, Smart, Ssangyong, Suzuki, Toyota, VW
ABS Bleed
Acura, Bjxd, BMW, Byd, Changan, Changhe, Chery, Chrysler, Citroen, Daewoo, Daihaisu, Dffx, Dfhonda, Faw Besturn, Ferrari, Fiat, Ford, Geely, GM, Gqhonda, Gqtoyota, Greatwall, Haima, Hc BMW, Honda, Hyundai, Jac, Jaguar, Jiachuang, Karry, Kia, Lancia, Landrover, Lexus, Liebao, Mahindra, Maserati, Mazda, Mercedes-Benz, Mini, Mitsubishi, Myhr, Njywk, Opel, Peugeot, Porsche, Proton, Rely, Renault, Riich, Romeo, Saab, Scion, Smart, Ssangyong, Tata, Toyota, Vauxhall, Volvo
Adaptive Front Lighting System (AFS)
Chery, Roewe, Audi, Bentley, Jaguar , Landrover , Skoda , Seat , VW , Chrysler , GM, Opel
Seat Entry/Exit Enable
Jaguar, Landrover, Ssangyong
Language Change
Peugeot
Turbo
Jaguar, Landrover
Sunroof
BMW, Jaguar, Landrover, Chrysler, GM
Clutch
BMW, Jaguar, Landrover, Peugeot
Suspension
Audi, Chrysler, Citroen, GM, Jaguar, Landrover, Mercedes-Benz, Peugeot, Seat, Skoda, VW
Prime Fuel Pump(PFP)
Audi, Bentley, Bugatti, Lamborghini, Seat, Skoda, VW
EGR
BMW, Citroen, GM, Peugeot, Renault, Volvo
Change Tire Size
Landrover, Volvo
AT Adaption
Landrover, Jaguar
Replace Airbag ECU
Landrover, Jaguar, Opel
Evaporative Test
Landrover, Jaguar
Windows Door
Landrover, Jaguar, Daewoo
Gearbox Matching
Chrysler, Ford, GM
Ajuste Fuel
Fiat, Ford, GM, VW
GODIAG GD201 Display: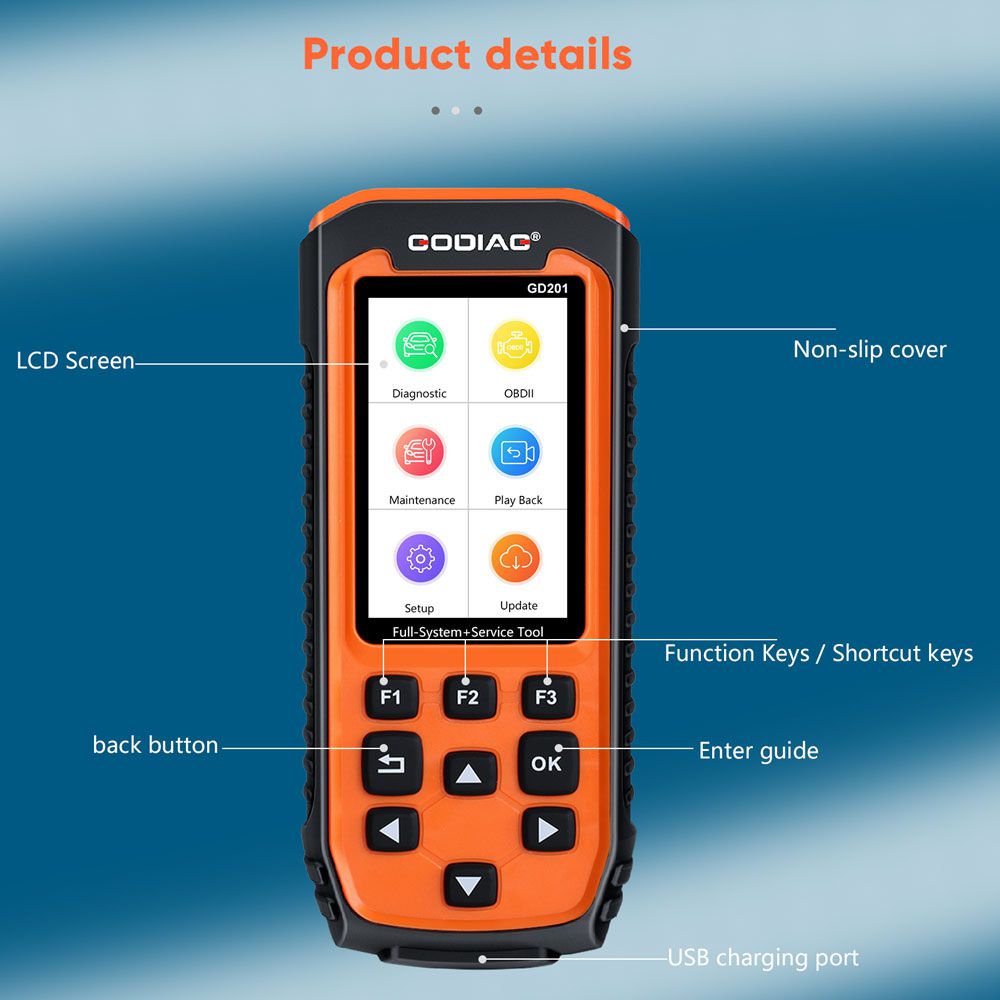 Package includes:
1pc x GD201 Scanner
1pc x Cipher paper
1pc x usb cable
1pc x Test line
1pc x English version of instruction manual
1pc x Multilingual Quick Guide